Aisles
Stories and Memories, but No Easy Solutions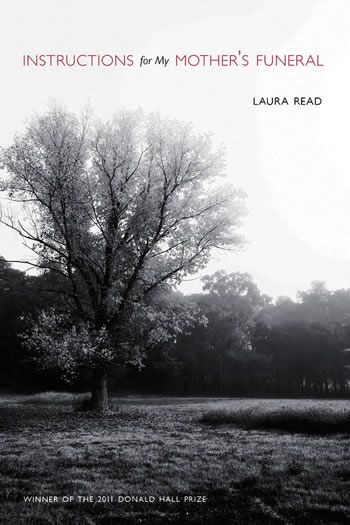 Instructions for My Mother's Funeral
By Laura Read
Review by Sarah Seybold

I was drawn to the title of Laura Read's debut poetry collection, Instructions for My Mother's Funeral, winner of the 2011 Donald Hall Prize. Perhaps I was looking for an instruction manual, some easy how-to guide for dealing with the inevitable, since as I write this review, two major things are happening in my own life: my mother-in-law is dying of a brain tumor, and I'm soon going to be a mother. As I began Read's collection, though, my mind preoccupied with death and pregnancy, I was bored and frustrated. At first I found the poems too simple, too flat. Where were the instructions? Where were the answers? But when I let myself settle into the book, I realized Read's poems aren't simple at all—multiple readings reveal deeper complexities. By telling her own stories through poetry that is both quiet and matter-of-fact, Read manages to capture the convergence of death and life that is ever present for all of us.

The title suggests the book is about a mother's death, but the central event is actually the death of a father. Over the course of the book, Read traces the effects of early loss on one's way of experiencing and seeing the world. The poems are gracefully placed—each can stand on its own, but reading in order is best, since Read's imagery builds and takes on new meaning as the larger narrative unfolds. The poet divides the work into three parts, with Part I centering on childhood, as a young girl tries to make sense of her father's death, her mother's remarriage, and a move to a house in which her father never lived. In Part II, the poems transition into young womanhood, recounting relationships, sexual encounters, and travel. In Part III, Read writes about becoming a mother, and loops back to childhood memories. Throughout the book, Read sprinkles in details about her father's childhood in Brooklyn and her mother's childhood in Long Island, alongside stories of her own experiences. As her memories and her memories of her parents' memories meld, the poems become opportunities to preserve her family's stories and her own.

The poems often move in slow, dreamlike fashion as the father's absence continues to haunt the poet. The father's cuckoo clock continues ticking after his death, but Read now measures time in a different way. In a poem recounting a childhood trip to Coney Island with her mother, who has "still-young legs," the speaker bluntly asserts, "It's the summer after my father's death." Years later, a mother herself, making memories on a trip to the sea with her children, the father's death is still with the poet: "I came here a long time ago," she writes, "but my father was already dead." These matter-of-fact statements, along with the touching details Read includes, make the sadness in this collection palpable. In Read's prose poem "Ars Poetica," she describes "a green coat with white embroidered flowers and white fur trim from the Sears catalogue" her ailing father bought her from his bed, and how she clings to this tangible gift he left behind, even after outgrowing it. In "For the Bible Tells Me So," the speaker describes hearing an old tape recording:

This is your father, dead so long
you don't remember his voice
even when you hear it.

All those years, your mom dusted him
like that empty vase
she kept up on the mantle

made of pink Depression glass.

The poetry's details, often emphasized by beautifully crafted line breaks, point to an anxiety that permeates much of the collection. In "This Time We'll Go to Kentucky Fried Chicken," the speaker recreates a moment with her younger brother:

who stood next to me and looked at our mother
not getting out of bed
after our father died,
his bed made, all the stripes pulled up vertical
under the pillow
where his head would never leave
another dent.
You said, If she dies too,
we'll go to Kentucky Fried Chicken
not Wendy's
where we went after the funeral

Here the young child's innocence is lost. If she dies too. Her father's death brings to her awareness that eventually she will lose her mother, too, and anyone else she loves.

Instructions for My Mother's Funeral offers no easy-to-follow directions for dealing with the inevitable. There are no easy solutions for coping with suffering and loss. But Read's poems, with their subtle details, resonant images, and skilled storytelling, affirm for us that we do have our memories. The ones who birthed us and the ones we birth will one day die. But we all get to be part of this miraculous experience.

---

Sarah Seybold's writing has appeared in So to Speak, North Dakota Quarterly, ZYZZYVA, and elsewhere. She recently reviewed Joy Castro's essay collection, Island of Bones.