Music
Rise of the Flip-Flop
Whittling the Field to Four last Bands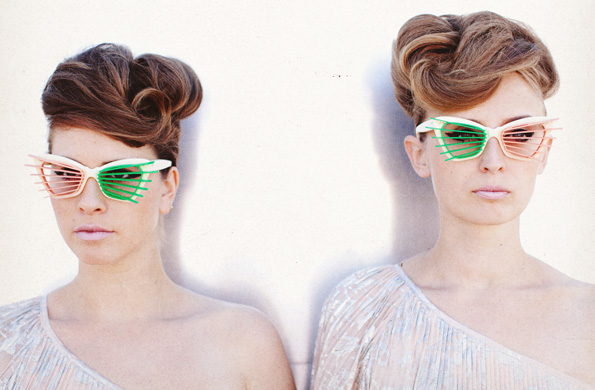 Lucius's lead singers dress the same. Will this give them the edge they need to win an imaginary tournament?

1: Rules | 2: Brackets | 3: God | 4: Underdogs | 5: Flip-flops | 6: Finals

By
Matthew Kauffman Smith


was having a cup of coffee with my friend the other day—let's call him Curt—and he was trying to pry some information out of me about album bracketology. I obliged to an extent, not giving away my final four, which I am revealing in this issue.

Two days later, as I was roller-skating merrily along at Oaks Park in Portland, Curt's wife—let's call her Karin—skated up to me.

"Curt said you may have ranked Vampire Weekend over the Avett Brothers," she said.

I smiled slyly, jealous of Karin's superior roller skating skills.

"Seriously?" she asked.

I explained how while I liked the Avett Brothers album (No. 12 is not too shabby), I liked it less than their last three full-length albums, and they weren't really doing anything new (and yes, I realize that that The National ranks high for me and they're not exactly doing anything new, either).

"Vampire Weekend over the Avett Brothers?"

I think she continued on for a bit, but all I could think was, "Oh my gosh. Two people actually read this stuff and cared!" But yes, Vampire Weekend defeated the Avett Brothers, who in the previous five years charted two albums in the top five of this tournament.

There were some other readers as well that took issue with this real-life imaginary tournament to find my top album of 2013. Let's go to the mailbag.

Dear Lying Sack of Pitino,

You promised in your first installment of this lowbrow garbage that you would give us "lame sports analogies." I haven't read many, if any.

A: I've got a glass slipper reference just for you later on.

Dear Tone-Deaf Dimwit,

I listened to Parquet Courts and all I heard was noise.

A: In the early 90s, when my parents were newly christened empty nesters [Ed. note: Not sure that's a thing, but whatever] they started going—indiscriminately, in some cases—to movies that received a good review on NPR. The Crying Game? Well, it turns out that wasn't their thing. Then many years later they again heard a positive review on NPR, went to the movie ticket counter and said, much to the amusement of the teenage girls behind them in line, "Two seniors for Knocked Up, please." That didn't end well, either.

In 2009, Raekwon's Only Built 4 Cuban Linx... Pt. II received amazing reviews, so I bought it. I'm sure it's great for those who love the Mafioso rap genre, but Mafioso rap isn't really my thing. This year, the critics loved Deafheaven's Sunbather and I again took the bait. I'm sure that album is ingenious in its construction and in the subtleties of black metal, but here's the thing: I don't like black metal. So if you don't like punk music, you're probably not going to suddenly like Parquet Courts (but they're still awesome).

Dear Smitty,

Your article is awesome!! Except Phoenix's Bankrupt! is only #17? What's wrong with you? —Pete the Canadian

A: I don't currently have enough space to explain what's wrong with me, but I think you're looking at Phoenix's ranking in a glass-half-empty sort of way. Yes, it is No. 17, but it was the No. 1 French release of the year. Daft Punk may have won the Grammys, but Phoenix won French March Madness. Vive le Phoenix!

Dear Butt Nugget,

I have a hard time believing anything you say. You seriously have been doing this for five years?

A: Again, the name is Matthew, although my Canadian fans may call me Smitty. But you bring up a good point. As we head into the Final Four, here is a recap of my top four albums from each of the previous four years.

2009:
4. Decemberists: Hazards of Love
3. Avett Brothers: I and Love and You
2. Thao and the Get Down Stay Down: Know Better Learn Faster
1. Mos Def: The Ecstatic

2010:
4. The Roots: How I Got Over
3. The National: High Violet
2. Surfer Blood: Astro Coast
1. Dr. Dog: Shame Shame

2011:
4. Charles Bradley: No Time For Dreaming
3. Raphael Saddiq: Stone Rollin'
2. The Head and the Heart: The Head and the Heart
1. The Decemberists: The King is Dead

2012:
4. Titus Andronicus: Local Business
3. Avett Brothers: The Carpenter
2. Kishi Bashi: 151a
1. Japandroids: Celebration Rock

Instant analysis: You know how the Super Bowl runner-up often struggles the following season? Consider this: in 2013, Surfer Blood and The Head and the Heart both released their follow-up full-length albums (Surfer Blood charted with an EP at No. 37 in 2011) and neither one of those cracked the top 53. That does not bode well for 2012 runner-up Kishi Bashi, who releases his next album in six weeks. Mos Def, meanwhile, has more name changes than album releases in the last four years. After charting first in the inaugural album bracketology, he has yet to release a solo album as Mos Def or under his new name of Yasiin Bey. No artist has ever won two championships—and that won't change this year. [Ed. note: Technically, no artist has won any championships, because this thing you are doing is not real. But I'm not going to ask you to change the line, because I know you'll say something about it being real TO YOU, and then I'll just feel sad for you, etc.] The Decemberists and the Avett Brothers are the only artists to reach the Final Four twice, though the Roots narrowly missed, finishing fifth with Undun in 2011. But wait! A group will have repeat Final Four appearances this year. More on this development later.

Losers brackets: Before we get to the updated winner's bracket, let's take a peek at the loser bracket and since we here at Propeller are all about breaking news, we will offer the instant analysis for which we are known.

Loser bracket round 7 (losers comprise final rankings 13-16)
Parquet Courts def. Kacey Musgraves
Kurt Vile def. Houndstooth
Moon Hooch def. Dr. Dog
Lucius def. Neko Case

Instant Analysis: One of the trends of the year? Twang. This was an incredibly strong year for folk, country, and so-called alt-country. The best lyrics of the year came from this genre. From newcomers Sturgill Simpson, Brandy Clark, and Kacey Musgraves, to tournament darlings Futurebirds, to British folkies Frank Turner and Skinny Lister, to the incomparable Guy Clark, to tournament veterans Neko Case and the Avett Brothers, to separate stellar releases from wife and husband Amanda Shires and Jason Isbell, twang was the thang. Don't worry, that phrase felt worse for me writing it than for you reading it. [Ed. note: Doubtful] But I have to leave that phrase in because in March Madness, you don't get second chances. You're stuck with your fate, you're one and done—well, unless you're competing in a double-elimination tournament for album of the year.



Loser bracket round 8 (losers comprise final rankings 9-12)
Parquet Courts def. Skinny Lister
The National def. Kurt Vile
Moon Hooch def. Charles Bradley
Lucius def. The Avett Brothers

Instant analysis: After beating Gringo Starr and The Sadies, Parquet Courts lost in the third round to fellow Brooklyn upstarts Lucius, but then proceeded to mop up in the loser bracket, defeating Laura Mvula, Foxygen, the much-beloved Futurebirds, Kacey Musgraves, and then winner's bracket quarterfinalist Skinny Lister. This is basically like Stephen F. Austin beating VCU—mid-majors beating up on mid-majors—as Mvula, Foxygen, Futurebirds, Musgraves, and Skinny Lister are relative unknowns at the beginning of their careers. Could new rivalries be forming?

Losers bracket round 9 (losers comprise final rankings 7-8)
The National def. Parquet Courts
Lucius def. Moon Hooch

Instant analysis: This round of four featured an album bracketology blueblood in The National, and three New York newcomers. My love for Parquet Courts has been well established and I will express my love for Lucius later on. But for a true Cinderella story this year, the glass slipper goes to Moon Hooch. For some reason, two dudes playing dueling saxophones while another dude smacks a drum kit around resonated with me this year. I don't normally fall for instrumental albums, but I repeatedly sang along to their debut album this year. The band is known for drawing crowds in the subway station and when that became a growing problem, the police banned the band from playing in Bedford Station. But they have enough of a following now that they are touring outside of underground New York. And judging by the audience reaction in this video, the band is sure to sweep the nation.



Losers bracket round 10 (losers comprise final rankings 5-6)
The National def. Cloud Cult
Lucius def. Chvrches

Instant analysis: The winners bracket, while featuring some upsets, ended up in all chalk, with the top four seeds advancing. The beauty of the double-elimination tournament, however, is that losers can become winners in the span of one round. So while Cloud Cult and Chvrches made it to the national semifinals, they both perished in the losers bracket. And now we pay our respects:





One flaw of the tournament—or one unique, beautiful aspect of the tournament, depending on your view [Ed. note: flaw]—is that my moods can and will change, so one band might beat another band in a listen-off, only to have the fortunes reversed in a later round. This is a whole other article someday—and one of the reasons that I will never be elected to public office—but I find flip-flopping to be underrated. If I get new information on an issue, why wouldn't I change my mind? If I decide at a later listen-off that I have had a change of heart, then why be stuck in my ways? [Ed. note: "If a respectable web magazine lets me write a music tournament column, why make it comprehensible?"] So The National beat Lucius and then Chvrches beat The National in the quarterfinals. In the winners bracket semifinals, Jason Isbell beat Cloud Cult and Vampire Weekend then beat Chvrches, who dropped to the losers bracket to face Lucius, who had just ended an impressive run that saw it beat Waxahatchee, Neko Case, the Avett Brothers and Moon Hooch. Lucius then beat Chvrches. I told someone a few weeks ago that I find that a band that dresses uniformly is 25 percent better live than one that doesn't. I'm not saying that this is necessarily a factor, but I saw both Lucius and Chvrches live this year. Lucius's co-lead singers always dress the same and the backing band always matches each other, as well. So Lucius advances and now our final four is set:

Losers bracket: The National vs. Lucius





The loser wins fourth place. The winner faces the loser of:

Winners bracket: Jason Isbell vs. Vampire Weekend





In the next week, we will crown a champion and look ahead to 2014 and the preseason No. 1. Here are the updated winners brackets, followed by the final rankings of bands who have finished their tournament run:

2014 Album Bracketology: Isbell Region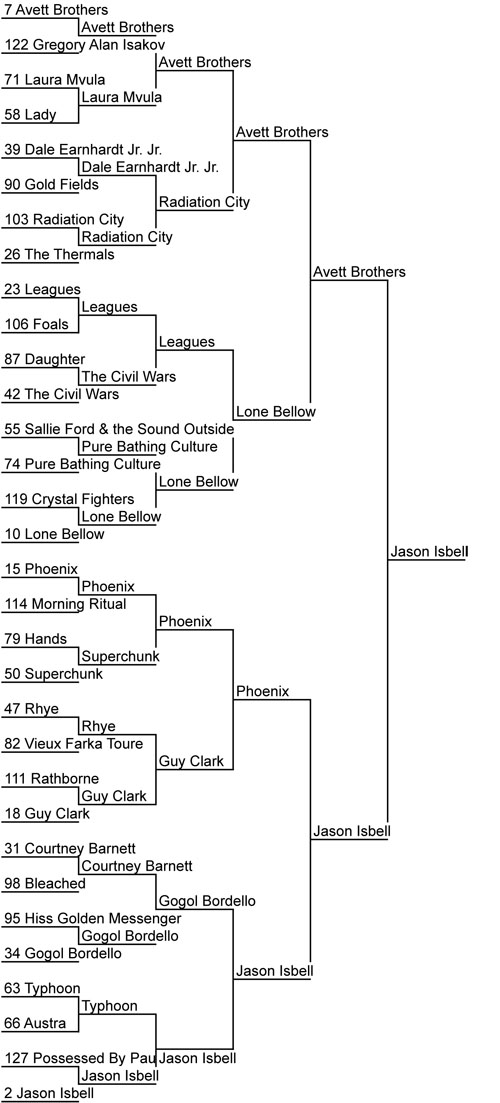 2014 Album Bracketology: Cloud Cult Region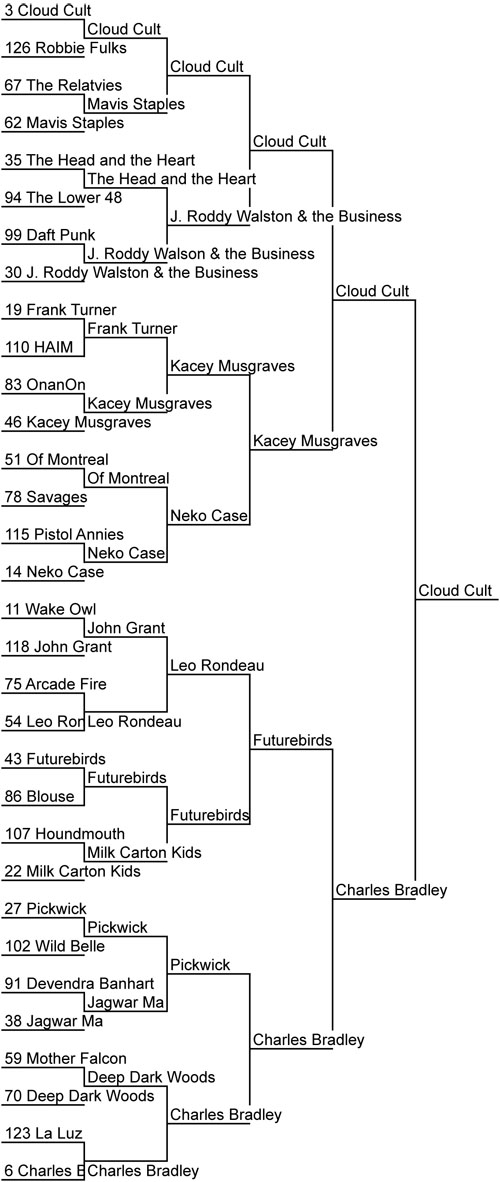 2014 Album Bracketology: Vampire Region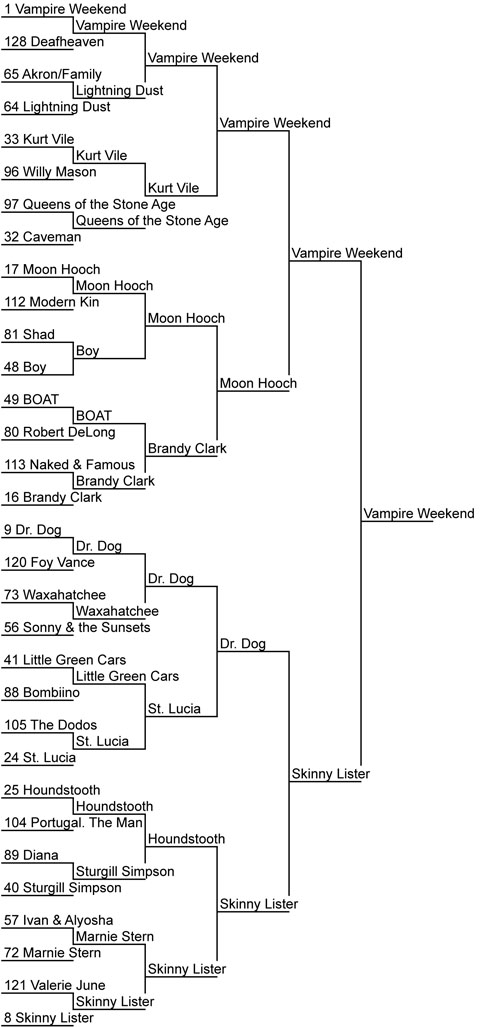 2014 Album Bracketology: Chvrches Region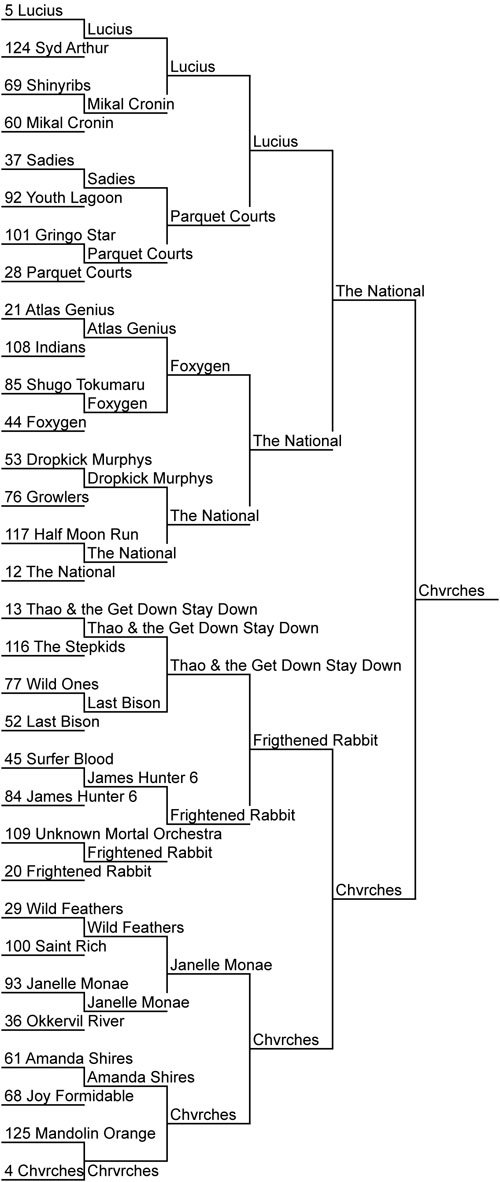 53. Valerie June: Pushin' Against a Stone
52. Rhye: Woman
51. Sturgill Simpson: High Top Mountain
50. BOAT: Pretend to be Brave
49. Of Montreal: Lousy with Sylvanbriar
48. Leo Rondeau: Take It and Break It
47. Milk Carton Kids: The Ash & Clay
46. Pure Bathing Culture: Moon Tides
45. The Last Bison: Inheritance
44. Mavis Staples: One True Vine
43. Pickwick: Can't Talk Medicine
42. Janelle Monae: The Electric Lady
41. Radiation City: Animals in the Median
40. Atlas Genius: When It Was Now
39. Laura Mvula: Sing to the Moon
38. J. Roddy Walston and the Business: Essential Tremors
37. Jagwar Ma: Howlin
36. Frank Turner: Tape Deck Heart
35. Superchunk: I Hate Music
34. Amanda Shires: Down Fell the Doves
33. Boy: Mutual Friends
32. St. Lucia: When the Night
31. Leagues: You Belong Here
30. Marnie Stern: The Chronicles of Marnia
29. Gogol Bordello: Pura Vida Conspiracy
28. Willy Mason: Carry On
27. Foxygen: We Are the 21st Century Ambassadors
26. Brandy Clark: 12 Stories
25. Queens of the Stone Age: Like Clockwork
24. The Lone Bellow: The Lone Bellow
23. Thao & the Get Down Stay Down: We the Common
22. Waxahatchee: Cerulean Salt
21. Frightened Rabbit: Pedestrian Verse
20. Futurebirds: Baba Yaga
19. Mikal Cronin: MCII
18. Guy Clark: My Favorite Picture of You
17. Phoenix: Bankrupt!
16. Houndstooth: Ride Out the Dark
15. Dr. Dog: B-Room
14. Neko Case: The Worse Things Get...
13. Kacey Musgraves: Same Trailer, Different Park
12. Avett Brothers: Magpie and the Dandelion
11. Kurt Vile: Wakin on a Pretty Daze
10. Skinny Lister: Forge & Flagon
9. Charles Bradley: Victim of Love
8. Moon Hooch: Moon Hooch
7. Parquet Courts: Light Up Gold
6. Cloud Cult: Love
5. Chvrches: The Bones of What You Believe


---

Matthew Kauffman Smith is a freelance writer and music critic. Last year he made a case for Weird Al Yankovic's inclusion in the Rock and Roll Hall of Fame.