Music
Heralding the Unheralded
Titanic matchups of PAssion and Soul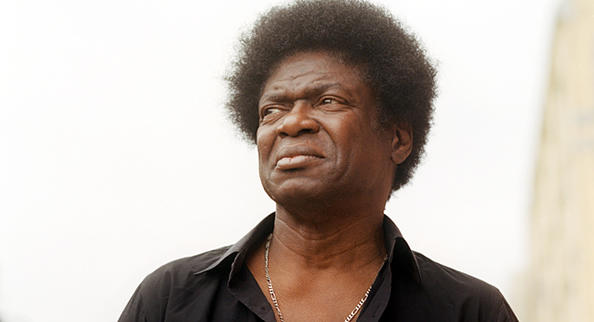 Charles Bradley didn't release his first album until he was in his sixties. His latest is "Victim of Love."

1: Rules | 2: Brackets | 3: God | 4: Underdogs | 5: Flip-flops | 6: Finals

By
Matthew Kauffman Smith


here's a reason I'm not the president of CBS sports. Actually, there are about 1,200 reasons I'm not the president of CBS sports, not the least of which is that I'm not remotely qualified. But suffice to say: what I wish for deep in the annals of my brain is not good for ratings.

Something tells me that CBS would prefer Florida, Arizona, Michigan State, and the winner of Kentucky/Louisville to make the Final Four in this year's NCAA tournament, but I would be perfectly fine with a Final Four consisting of Dayton, San Diego State, Virginia, and Michigan.

Here's how it shakes out in CBS-land:

Final Four game 1: Perennial Power VS. Perennial Power
Final Four game 2: Perennial Power VS. Perennial Power
Final: Perennial Power VS. Perennial Power

In my world:

Final Four game 1: A battle of disrespected, forgotten schools. Dayton (a shunned Ohio school that has lagged behind state rivals Ohio State, Cincinnati and Xavier in tradition lately before beating Ohio State in this year's tourney) VS. Virginia (who despite winning the regular season and conference tournament championships in the ACC, still plays fourth fiddle in conference notoriety to Duke, North Carolina and Syracuse, none of which are still playing in this year's tourney)

Final Four game 2: The Steve Fisher Bowl. San Diego State (coached by Steve Fisher and arguably the most consistent program on the West Coast over the last five years, despite recruiting against Pac-12 schools) VS. Michigan (the returning national runner-up that, before last year, hadn't reached the final game in 20 years, when they were led by coach—wait for it—Steve Fisher!)

All this is to say that sometimes I prefer story to quality of play. I'm not saying that I will advance a band in album bracketology just because I like their story. The album still has to sound good. But if I like two albums equally, the intangibles come into play, and personal connection plays a part.

For example, look at the matchup between Charles Bradley and Futurebirds in the round of 16. I would love nothing more than to advance Futurebirds, an unheralded underdog hailing from Athens, GA, home of R.E.M., Drive-By Truckers and Of Montreal, among many others. Like Dayton, Futurebirds fared better than their in-state institution Of Montreal. I really like that underdog story.


On the opposite side of the bracket, however, is Charles Bradley, the Screamin' Eagle of Soul:


While Bradley's power and charisma may lead one to believe he is a blueblood like the University of Kentucky, he is actually more like the University of Virginia. Though he had some success as a James Brown tribute act, Bradley worked odd jobs throughout the country, dabbling in music on the side until finally, in his 60s, he released his first album in 2011. Like Virginia, Bradley is an underdog even though he's a high seed. He has released two great albums but still remains unheralded.

2014 Album Bracketology: Cloud Cult Region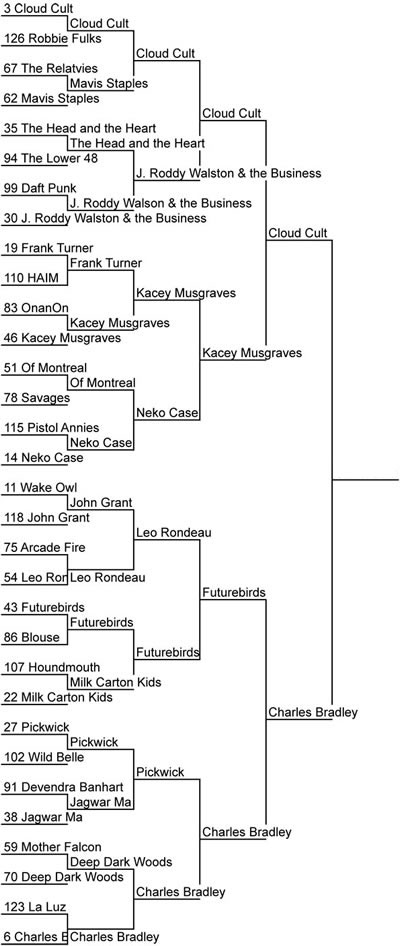 Ultimately, both Futurebirds and Charles Bradley have underdog qualities I cheer for. But when an underdog plays an underdog, there aren't really any winners. Well, except for the one that advances, I guess. Last year, Wichita State, a 9-seed, beat LaSalle, a 13-seed, in the Sweet 16. Both were great stories, and while Wichita State won, there really weren't any losers. Well, except for LaSalle, I guess. Futurebirds are LaSalle. I hate to see them go, but Charles Bradley and his equally compelling storyline advances. Sadly, Parquet Courts then went on to defeat Futurebirds in the loser's bracket. (On a side note and speaking of intangibles: in an imaginary tournament of music that mimics a basketball event, it's really hard not to advance a band called Parquet Courts. Of course, their album is even better than their name.)


We will get back to trends and letters to the editor in the next installment, but this round we update the winners bracket and reveal albums 17-24.

2014 Album Bracketology: Vampire Region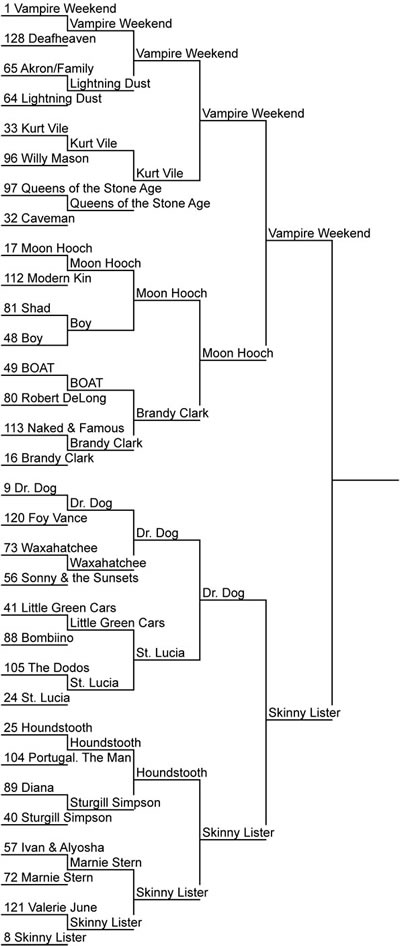 2014 Album Bracketology: Isbell Region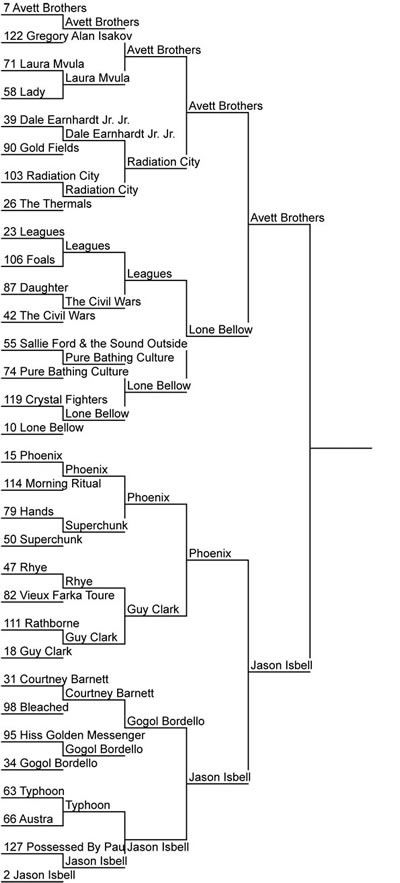 2014 Album Bracketology: Chvrches Region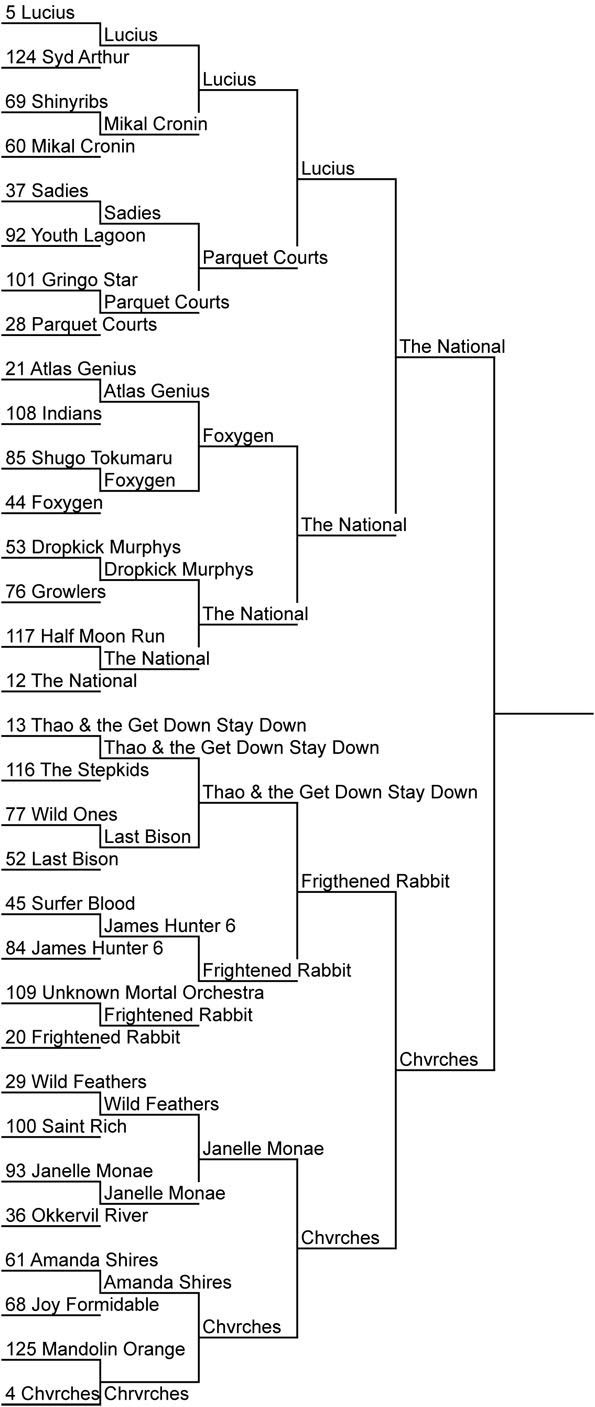 Losers bracket Round 6 (losers comprise picks17-24)

Kacey Musgraves def. Thao
Parquet Courts def. Futurebirds
Houndstooth def. Lone Bellow
Kurt Vile def. Phoenix
Moon Hooch def. Guy Clark
Dr. Dog def. Mikal Cronin
Lucius def. Waxahatchee
Neko Case def. Frightened Rabbit

Rankings of albums that have finished their run in the tournament:

53. Valerie June: Pushin' Against a Stone
52. Rhye: Woman
51. Sturgill Simpson: High Top Mountain
50. BOAT: Pretend to be Brave
49. Of Montreal: Lousy with Sylvanbriar
48. Leo Rondeau: Take It and Break It
47. Milk Carton Kids: The Ash & Clay
46. Pure Bathing Culture: Moon Tides
45. The Last Bison: Inheritance
44. Mavis Staples: One True Vine
43. Pickwick: Can't Talk Medicine
42. Janelle Monae: The Electric Lady
41. Radiation City: Animals in the Median
40. Atlas Genius: When It Was Now
39. Laura Mvula: Sing to the Moon
38. J. Roddy Walston and the Business: Essential Tremors
37. Jagwar Ma: Howlin
36. Frank Turner: Tape Deck Heart
35. Superchunk: I Hate Music
34. Amanda Shires: Down Fell the Doves
33. Boy: Mutual Friends
32. St. Lucia: When the Night
31. Leagues: You Belong Here
30. Marnie Stern: The Chronicles of Marnia
29. Gogol Bordello: Pura Vida Conspiracy
28. Willy Mason: Carry On
27. Foxygen: We Are the 21st Century Ambassadors
26. Brandy Clark: 12 Stories
25. Queens of the Stone Age: Like Clockwork
24. The Lone Bellow: The Lone Bellow
23. Thao & the Get Down Stay Down: We the Common
22. Waxahatchee: Cerulean Salt
21. Frightened Rabbit: Pedestrian Verse
20. Futurebirds: Baba Yaga
19. Mikal Cronin: MCII
18. Guy Clark: My Favorite Picture of You
17. Phoenix: Bankrupt!



---

Matthew Kauffman Smith is a freelance writer and music critic. Last year he made a case for Weird Al Yankovic's inclusion in the Rock and Roll Hall of Fame.