Personal History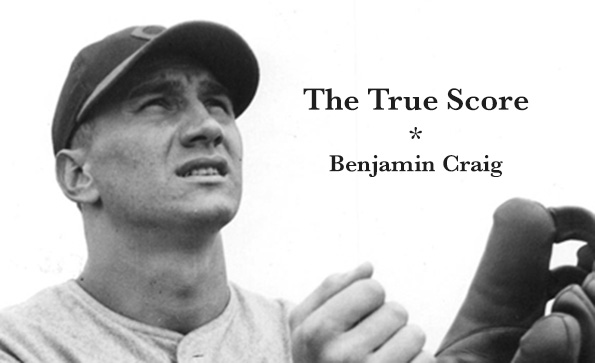 HEN I WAS seven years old, my mother and I were standing in line at a grocery store cash register. I was carrying, with some difficulty, a gallon of milk. I was proud, up to the task. The clerk rang up the bill. It was too much. We didn't have enough to pay. The clerk put on her patience face. My mom chose a few things to leave off and flashed me a quick smile. My heart exploded. I closed my eyes and saw Tony Armas hitting a home run, the straight-armed follow-through and full-speed trot. Armas had the same mustache as my father.

WHEN MY fifteen-month-old daughter stares intently at a book, presses her face to it, and practices turning the pages, I grin. I will her to be a reader, a curious child, a learner, a contemplative creature of the library. She is no such thing. She is, if anything, quickly becoming an athletic type, with an insatiable taste for dancing and slapping. Already, she has moves. She has the fingers-pointed-skyward, the hips-in-a-rhythmic-circle, and the bottom-to-the-floor-and-back. She is currently All About That Bass. She will, of course, be many things before we really know who she is to become. But if she is to inhabit her body so fully, I pray she becomes a baseball player.

I WAS a fringe nerd. The few times I played Dungeons and Dragons, I lost interest not long after the character creation stage. My friends were in band. For proximity's sake I joined choir, though I couldn't sing. I listened mostly to the kind of bands people have heard of, but whose songs they don't remember.

IT WAS BASEBALL. That was my thing. And I'm not sure anyone exactly knew. Baseball was my private obsession. I lived in small-town Oregon with no television at all until age eight or nine, rabbit-ears on a fuzzy thirteen-inch box for a few years after that, and cable only after my step-dad moved in toward the end of the eighties. During the no TV years baseball came on the backs of the cards, where I could find the story of the season that was a year old already, but new to me. Only after getting cable could I watch a few games—the Braves or the Chicago teams that were offered on Turner and WGN. Nothing of my Giants or Mariners. Just the numbers on the cards and the players on the front. I spent hours scouring the backgrounds of player portraits looking for captured Spring Training moments. My prized possession was a 1989 Fleer #616 which clearly showed the words "Fuck Face" written on the knob of Billy Ripken's bat. I wanted to join that fraternity.

AN EARLY memory that can't possibly be accurate: I am four or five years old and I am laying on my side in the grass watching my mother pitch. She underhands the softball in a high arc to the batter, my father. He takes a big cut. The softball falling with visible backspin down through the strike zone and his off-balance uppercut swing give him little chance to make solid contact. Two potato bugs together fall off a blade of grass inches from my face. I can nearly taste their stink. The ball dribbles toward third base. Mom takes a few quick steps to her right and scoops it up.

IN 1987 I binged on video games. Not having a television at home yet and with no hope of owning a console, I spent early evenings hunkered down in the basement of a friend. We played RBI Baseball as soon as we were home from playing catch or building forts or mowing lawns. We played until Webster came on at eight. RBI Baseball was addictive. It was the first game that featured real live MLB baseball players. Always play as St. Louis. Vince Coleman was coming off of two consecutive 100-steal seasons. In the game, if you get him on base, you can steal your way around and score at will. I kept a log of all of our games, studiously copying the box score, willing it to reveal secrets about the players that I could then apply to predicting their real-life performances the following year.

ON OCTOBER 9th, 1989, I ate pizza with a group of friends and watched the Giants beat the Cubs in game five of the NLCS. To lead off the bottom of the seventh, Will Clark tripled, then scored on a sacrifice fly by Kevin Mitchell. The sac-fly was my favorite baseball play of 1989. It felt like something I could do. Hit into the gaps? No, probably not. Over the fence? Unlikely. Leg out a grounder to short? Maybe, sometimes. Hit the ball high in the air straight to an outfielder who had, at most, to lean and snatch the ball out of the air? That, I did all the time. Why not with a man on third?

I SAW my dad the next day. At the time he was living in an old motel that had been converted into an apartment building. We talked about swimming. In the summer he had helped me learn to swim in the chronically leaf-ridden motel/apartment pool. One of my dad's worse dad-habits was to regularly bring up all the things he did for me. Then, I thought: Well, that's easy, because there have been so few. Now, I think: How sad. I miss him, and I mostly forgive him. Then, we talked about the Giants. We had been mutually daydreaming a trip down to San Francisco to visit family, maybe catch a game. This was trouble brewing for this sort of dad. And he took the bait—his own bait. He did it: he told me we'd go. We'd go visit Grandma and we'd get tickets to a World Series game. Game three. The first game that would be played at the Stick.

AS A Little League and Junior Varsity player, my tools outshone my performance. I frustrated coaches with my potential and my apparent nonchalance. I had a "good arm," an appropriately "rotational swing," and a "head for the game." I also reacted slowly on defense and hit pretty poorly. I wasn't about to reveal that I knew precisely what the trouble was, and that no number of drills was going to solve it. It was aesthetics. I was late to recover from a missed diving catch because I was appreciating the cool against my cheek, the worm-smell of outfield grass. My concentration never quite coalesced for the first pitch of an at bat after tapping my foot with the bat and noticing the way the dirt that knocked clean kept the pattern of my cleats. In my way, I enjoyed baseball too much to be any good at it.

I FOUND ways to further abstract the game. I'd never heard of Bill James, but I invented my own homebrew Sabermetrics cobbled together from baseball card stats. In 1988, Andy Van Slyke had 25 home runs, 30 stolen bases, and a .288 average in 587 at bats. His "True Score," as I calculated it, was a 68.8. My formula: (HR + SB\2) + 100(BA). Mark Grace (7 home runs, 3 stolen bases, .296 average) earned a 38.1. The higher your True Score, the more valuable you were. My theoretical perfect player hit .350 with 50 home runs and 30 stolen bases for a nice round True Score of 100. Unimpeachable.

I WAS refining the True Score metric in the pages of a blue, college-ruled spiral notebook when the Loma Prieta earthquake began, collapsing the bay bridge, dislocating my grandmother's shoulder, and threatening to prematurely end the World Series.

ANOTHER suspect memory. I am seven or eight years old and my mother is playing in a softball tournament in the small complex of fields behind the elementary school. Four fields face one another so that the outfields overlap. With no outfield fences, hard hit balls frequently send players jogging into other games. Between games my mother and I get a snow cone. I don't remember the snow cone itself, but I can vividly recall a drip of blue landing on my mother's bare leg. Someone from her team passes and reminds her of their next field and time. Sitting on a bench near the concessions she pulls her uniform pants on over her shorts and begins to tie her cleats, then abruptly stops. She slaps her thigh hard just where I had seen the blue drip of cone flavor, and grimaces. I look up. "Bee," she says.

A WEEK or so after the earthquake, my father picked me up for the weekend in a powder blue Mazda Miata convertible. We didn't talk about baseball. We didn't even talk much about swimming. We did call my uncle to check on my grandmother and her shoulder.

MY VISIBLE baseball life followed the familiar pattern of rural boys. I played until I wasn't good enough. I collected cards when it was okay to do so, and just a bit longer. I came when called to gather in the park to play a few rounds of 500 or three-flys or pepper. To all appearances, my interest waned. And it did, I suppose, for a time.

FOR A while, I watched films. I cut class in high school, drove forty-five minutes to Portland and watched Pulp Fiction and Ed Wood as a double feature. I paid for Ace Ventura and snuck in to Natural Born Killers. I watched and re-watched 12 Monkeys. After films, I read books. I had always read books. I still paid attention to baseball. I still love film. But I meandered for a few years. I drifted. As I said, I was—I am—a fringe nerd, never quite as faithful as the true believers I hope my children become. I want it for them. I want them to love something in a way that simultaneously alienates and consoles.

BONDS brought me back. His chase for McGwire and Sosa's home run magic was maniacal. It elevated him from villain to supervillain. I saw in his pursuit the kind of focus I wanted to channel into my own endeavors. I ignored his inhuman bulk and his new hat size. I half-heartedly defended him to A's fans. If those two could do what they did, what could he do? I wanted to know. Watching a Barry Bonds at-bat between 2001 and 2007 is equivalent to reading and re-reading metaphysical poetry for me. I see the moves, I slow them down, I puzzle over them, never quite able to understand just how the parts make the whole. My father once said, "Ichiro's swing is beautiful. Bonds' is sublime." He got that right.

I KNOW that wanting my kids to be nerds—and what I mean is that they get to experience the single-mindedness, the devotion that loyalty to the uncool engenders—and wanting them to be nerds about the thing I love, is problematic. If my daughter falls in love with soccer, buys Ireland jerseys, and joins the local Timbers army, I will be happy for her. I will egg her on. I will wear a scarf on game days with her, and embarrass her by yelling "goal" in imitation of Spanish-language television soccer commentators. But it won't be the same. I will only be able to play along so far.

WHEN MY much younger brother entered his early teens, I was halfway to earning a Master's Degree in English literature. From afar I saw my father doing everything he could not to repeat any mistakes. My brother played drums in a metal band. My father let his hair grow out and took to wearing black t-shirts and leather. It was admirable, if a bit sad. This is how it will be for me as a soccer dad.

WHEN I say I don't know how all these things fit together, I am either disingenuous or I am hiding my eyes. If I say I have never known the fixation of the true fanatic, I am wrong. As a father I have learned, unintentionally I suppose, to train my attention with laser focus on a point outside of myself. On them. I am the sun to these little anxious planets in irregular orbit around me.

A YEAR before my son was born, my father died unexpectedly. Between his death and my son's birth, the Giants, my father's team, won their first World Series since leaving New York. My father had been just eight years old when the Giants came to San Francisco. The team had brought with them Willie Mays and my father's early favorite, Hank Sauer. My father had his own disappointing father, and a brother who had already left home, and now—just when he needed it—a thing for a boy to care about with other boys: baseball.

WHEN the Giants won that first title in 2010, my father was gone, my brother was living with us, and my wife was not yet pregnant. But that is not how it coalesces when I bring it to mind. When the memory forms we are all present—my father, my mother, my wife, my brothers, me, my son and my daughter, Armas, Ripken, Van Slyke, Grace, Coleman, McGwire, Sosa, Bonds, Mays, and Sauer.

I DON'T want to push. My son is three and a half. We recently sat behind home plate at a local college game in a mini-stadium where a hundred or so fans were scattered. Behind the backstop with us sat five men, their average age probably 75. Three of the five men were keeping score in their own books. All of us watched each pitch intently. I will not push, but I will place him where I think he may absorb things. This is the same as pushing.



---

Benjamin Craig is a Senior Editor at the magazine.