Poetry
Five Poems By Frank Kuenstler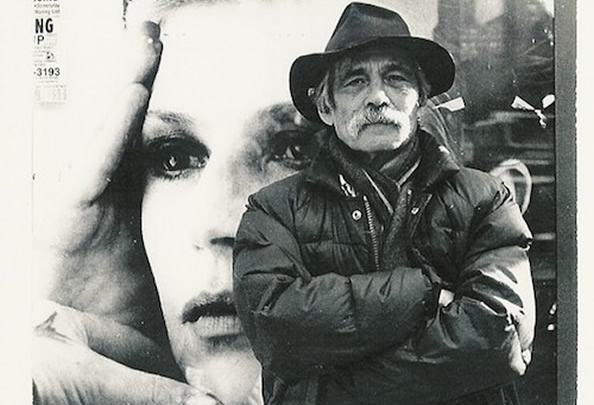 Poet and filmmaker Frank Kuenstler (1928-1996) was the author of Lens (1964), Selected Poems (1964), Paradise News (1966), Fugitives. Rounds (1966), 13½ Poems (1984), Continued (1987), Miscellany (1987), In Which (1994), and The Seafarer, B.Q.E., and Other Poems (1996). Today, the only volume of Kuenstler's work in print is The Enormous Chorus (Pressed Wafer, 2011), from which this selection was drawn. We would like acknowledge the guidance and generosity of Nico Alvarado, Emily Kuenstler, and William Corbett in helping to further the rediscovery of Frank Kuenstler.


POEM

I am the stag of seven tines.
I am a flood across a plain.
I am the wind on a deep lake.
I am a tear the sun let fall.
I am a hawk above the cliff.
I am a thorn beneath the nail.
I am a wonder among flowers.
I am a wizard. Who but I
Sets the cool ahead aflame with smoke?

I am a spear that roars for blood.
I am a salmon in a pool.
I am a lure from Paradise.
I am a hill where poets walk.
I am a bear, red & ruthless.
I am a breaker, threatening doom.
I am a tide that drags to death.
I am an infant. Who but I
Peeps from the unhewn dolmen arch?

I am the tomb of every hope.
I am the blaze on every hill.
I am the womb of every hold.
I am the queen of every hive.
I am the shield of every head.
I am the light. I am the Way.
I am song & architecture.
Conquering gods capture, take
Titles from the foes they make.
I hung around down by the river.
Who but my true love set this town on fire?




DEPOSITION

The highway was Nemesis. I did not take the freedom
ride. On dirty afternoons her rooms were dirty thighs. Her
high heels abandoned her brassiere. Her hair flew out the
window. The clock between her lips smuggled incense &
brine. I sang the marriage of ghosts & pornographers. Our
universe was filled with dolls. We spoke French & English,
mainly, & topics of correction. Not clocked, her stockings
caught fish. Like a slow pitch the sun beat birdlike through
the air. She had to go to work. I waited for her & I drowned.



NOVEL

Now a transvestite revue
now an orgy
now a nightmare
now a painting of parrot-like brilliance
now a voodoo ceremony
now a medical operation
now a subway trip
now an excursion with a motorcycle gang
now a sequence of homosexual lyrics
now rude
now superb
now punning & playful
now a satire on jet-age mysticism
now an orgy
now a blank page
now a nightmare
now an evocation of Oriental wonders

now a cobra
now a pup
now a tundra
now a totem



PRAXIS

Like certain streets are troubadors,
To the bureaucrat flight is space.
The image of flight is power.

Politics relates images to the world.
I remembered the dream while shaving.
Like Hegel & Marx, I stood on my head.

The darkness remembers the flowers,
The beautiful white flowers
After the gate to the pasture has withered.



CRYSTAL CLOWN 1176-1777
Be awake mornings. See the light spread across the lawn. There's a strange lady in my front yard
(snow) as the sky refuses to be any color, today A girl's naked in the shower, saying
"I like this boat-ride I'm being taken for, although "I'm keeping my boxes dry!" A naked artist
It never leaves the shore, this boat. Its fires burn Smoking. Bad teeth. Wooden planks:
Furniture. Sky Like a pair of lovely legs. It's a garage thart grew up one minute ago
I stopped thought: 12 years of cops Sometimes I can't talk, my mouth too full of words, but In
my life. & Alice is putting her panties on I have hands & other parts, to talk lots! Light
the fire Takes off a flowery dress for London's purple one Babble to you. I dream a green undersea
Man Out of the blue, a host of words, floating Has been assigned to me, to keep me v.i.p., To
smirk March: awaiting rescue: smoke, or don't At me when I'm being foolish. A not unpleasant dream
Strapped: deprived. Shoot yourself: stay alive. My secret doors open as the mail arrives. Fresh
air & you can't handle yourself, love, feeling Pours in, around, before they close again
The winds are rushing No inclination toward that solitude. Take it easy, & as it comes. Coffee
Up off of the ocean, up Little Plains Road. Catch the Wind Suss. Feel. Whine. Shut up. Exercise
In my head, a quiet song. And, "Everything belongs to me Turn. Turn around. Turn. Kill dog
Because I am poor." Waiting in sexy silence, someone Today woke up bright & early, no mail, life
Now a tiny fire flares out front the fireplace. Chesterfield Is Horrible, & I am stupid, & I think
Nothing . . . King lights up! Wood is crackling inside "Have faith, old brother. You are a myth
in my heart Elephants' rush & roar. Refrigerator's gentle drone. Sounds in dreams In bed You are
all there is inside my head. We are both alive. Imagined footsteps moving toward my door, & India



---

Frank Kuenstler was a New York poet and filmmaker. His work appeared in The Nation, The Village Voice, Film Culture, and in such anthologies as Mixed Voices and America: A Prophecy. Lens first appeared in Film Culture No. 33 (Summer 1964). He taught at the School of Visual Arts, edited Bread and Airplane, and was one of the animating spirits of Eventorium, an arts collective on Manhattan's upper west side.