Readings
A WRiter Who Makes Readers Want to Write: George Saunders and Language as Participation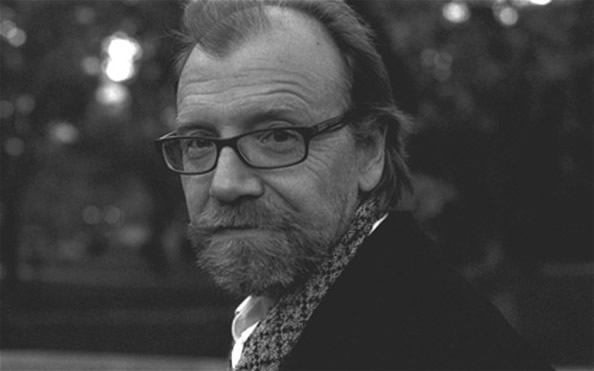 By Rachel Greben

t was four years ago when I read my first George Saunders story. I was ready for the clouds to part after the intensely chiaroscuro experience of raising a baby during years when if felt like the sun forgot how to shine.

I had just finished grad school and moved to a new town a few years earlier, when my daughter was born. Although abrupt life changes were not unusual during my twenties, I never dreamed how different life would be with a new baby and husband, the latter's impermanence soon contrasted with the forever of a child. Infidelity was hidden and swift and, practically overnight, I was raising a two-year-old on my own.

By the beginning of 2009, I was ready for a vibration that went beyond survival mode. Starved for the intellectual creativity that seemed to have ended the day I gave birth, I signed up for an art journalism class. And then one night that February, I read "Al Roosten," a Saunders story that appeared in The New Yorker. I remember talking about the story to my boyfriend, the only person in proximity who might understand. "There's this guy in this story who at first you're laughing at," I said, "but by the end you feel for him, even though you don't really like him."

I was struck first by the author's use of language and humor. The language combined vernacular with trendy self-help-speak in a way I hear all around me but had never seen in writing. The humor seduced readers into the character's head, and the story made us realize that this man hasn't had many breaks, so yeah, looking good at a charity auction may be meaningful to him. In a heightened state of self-consciousness, he interprets a rival's careless remark as an insult, and Roosten launches into a state of self-defeat and petty cruelty. His humiliation bled through the pages, and I felt it. His attempts to self-soothe became painfully poignant. I had never been put through exactly that kind of exercise as a reader, and when given the opportunity to choose my own topic in journalism class, I chose "Al Roosten," and wrote:

He approaches self-truth but retreats to self-help jargon. "That was crap. That was negative. You had to let the healing begin. You had to forgive yourself. Everyone knew that. You had to love yourself. What was positive?" This perpetual conflict of thoughts and emotions leaves Roosten disoriented and paralyzed.

Here is an American who learns from birth that greatness is within his reach, but nothing in his world is great. His cultural heritage has been commercialized. He is urged to "Make it Better!" and "Be positive!" but when these entreaties have failed, what is left? What is positive? The "very vibrant JiffyLube?"

Al Roosten is not an overtly sympathetic or even likeable character. He is on shaky ground in all aspects of his life, and his failures can be linked with personal weaknesses, as well as external conditions. This is why he is so normal. Saunders is unceremonious in his presentation of Roosten's dilemma, which crosses borders of money, sex, and politics, but is very American. He employs humor and language to depict a pressure than shapes us all, and outlines how these pressures can thwart us from our will to help ourselves and each other. In doing so, he gently asks us to consider an alternative.

And I think that was the clincher. The story is not just an exercise in empathy, satire, language, or social commentary. Somehow, all these elements result in a feeling of recognition, which begets a budding kindness. Or compassion. An awareness. That's enough.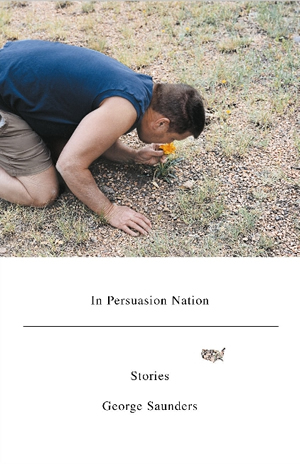 bought a used copy of In Persuasion Nation, Saunders' most recent collection of short stories at the time. I had no idea what I was getting myself into: the worlds evoked in these stories were sometimes surreal, sometimes too real, and often a blend of the two. They were strange, violent, and sublime, and when I finished the collection, I felt somewhat damaged, but elevated.

The stories in In Persuasion Nation depict the enslaving potential of capitalism across the board. The worlds generally involve corporations run amok, terrorizing consumers and bullying workers. Never quite innocent or totally guilty, consumers are no longer in control. Corporate-speak, manipulation of history, robotic coercion, biochemical thuggery, larger-than-life branding actually coming to life—strutting, no less—all of these elements are at play. And yet: characters occasionally find some small loophole through which they can experience humanity.

Within all this bravado and horror and cruelty and fun lie some of the most delicate human moments. They are always surprising, and never predictable. And yet they are made possible by the carnival of man-made horrors. I desperately wanted to recommend this book to others, and was also aware that doing so would possibly label me as insane.



he following winter, I came across another Saunders story in The New Yorker: "Escape from Spiderhead." I wrote in my journal: Holy shit! It's snowing! Meanwhile, George Saunders wrote a love story which I read in the Dec 20 & 27, 2010 edition of The New Yorker.

I wrote about the plot, which involves a young man who is a captive clinical trial participant, upon whom experiments are conducted to test physical responses to drugs that trigger love, arousal, and depression. Trial managers praise Jeff's contribution to science and the exploration of the love emotion, but he is being utilized in part to help measure the toxicity of the drugs. When he is asked to administer a lethal dose of Darkenfloxx™ to another "inmate," an exhausted Jeff finally refuses to participate, and takes the dose himself. A flashing moment of awareness brings Jeff a feeling of release: "for the first time in years, and forevermore, I had not killed, and never would."

"Escape from Spiderhead" and "Al Roosten" are both included in Tenth of December, Saunders' new collection of stories. Many of the stories take place in quieter settings and are pared down from the heightened (surreal? superreal? hyperreal?) states found in In Persuasion Nation.

"The Semplica Girls Diary" addresses the challenges of a college-educated, middle class father of three girls, who is burdened with the responsibilities of family life but free from the restraints of poverty or imprisonment that exist in many of Saunders' stories. The story begins with the dad's purchase of a blank book at Office Max, in which he intends to write a little bit each day for the benefit of future readers. He begins in goofy fashion, as if having to make a joke out of the fact he is writing in a journal. One suspects he also just likes to write.

Initially, he is guarded in what he writes and how he portrays himself, but he grows increasingly comfortable with writing honest thoughts, always in shorthand journal-speak. Basically, he aspires to be something a little grander than he is, like we all do. While the bumper is falling off his rusty Park Avenue he dreams of vacations in the Alps, and feels optimistic that this vision is "meant to be," despite the fact that he is currently despairing over the fact that he can't afford a decorative cheetah figurine his eldest daughter has requested for her birthday. Then he wins $10,000 in the lottery, and his journal entries become ebullient, embracing of humanity and the beauty of the everyday. He and his wife consider using the windfall to pay off credit debt, but he explains in his journal why this isn't an enticing option:

You may say, safe in your future time: Wouldn't it be better to simply not do the thing you can't afford to do? Easy for you to say! You are not here, in our world, with kids, kids you love, while other people are doing good things for their kids, such as a Heritage Journey to Nice if you are the Mancinis or three weeks wreck-diving off the Bahamas if you are Gary Gold and tan sleek son Byron.

Love is equated with status. In order to treat his daughter to a great birthday (while simultaneously keeping up with the Joneses) he orders a Semplica Girl landscaping set, essentially a system of wires that involves stringing immigrant women up as lawn decorations. The only surreal element in the story, it's presented as a common practice marketed as benign and safe—in fact, people tell themselves it's "for their own good," since the girls are paid and can then send the money to their poor relatives. The concept is illustrative because it's crass, cruel, and ludicrous—at this point we don't need the Mafioso-type corporations present in former Saunders stories to overtly bully us. We have internalized the message: to love is to buy, and benign exploitation is okay.

When an unexpected twist later in the story places the man's family in danger of having committed a felony, his wife suggests he destroy his journal to prevent it from being used as evidence. His initial reaction is, he writes in the journal, to "Tell Pam I love writing in book, do not want to stop writing in book, destroy book." It's clear that by confusing love with purchase power, he risks losing what he loves. An easy mistake.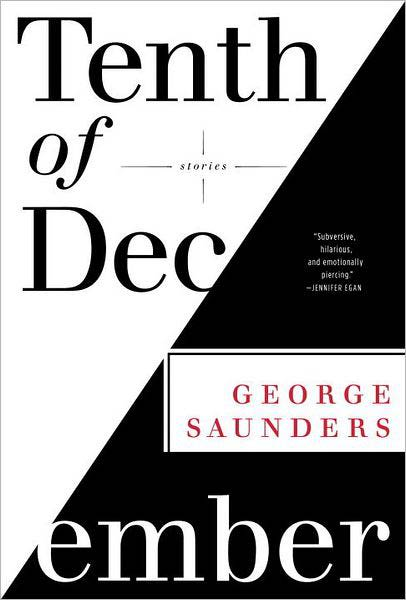 he worlds Saunders creates are not actually that bizarre. We all know our own world can be extremely messed up, and Saunders isn't shy about showing it. Sometimes we are coerced. Many times, we are willing participants. By blowing the insidious nature of consumerism and corporate domination out of proportion, he highlights tiny human moments of love or empathy. There are points in many of his stories when the main character verges on a truth. They may retreat (Al Roosten) or push through (Jeff). Either way, these moments are illuminating.

In "Tenth of December," a sick man flees to the woods to die alone:

He hadn't cried after the surgeries or during the chemo, but he felt like crying now. It wasn't fair. It happened to everyone supposedly but now it was happening specifically to him. He'd kept waiting for some special dispensation. But no. Something/someone bigger than him kept refusing. You were told the big something/someone loved you especially but in the end you saw it was otherwise. The big something/someone was neutral. Unconcerned. When it innocently moved, it crushed people.

Saunders refers to the cold neutrality of nature. You could say the same about the corporation, capitalism, and human, animal nature. Yet in another of Saunders' illuminating twists, the man discovers that he is not alone in being helpless, and finds an opportunity to take action for another human. Cold neutrality may be the way of the world, but Saunders leaves room for kindness.

His panoply of voices and messy humanity creates a kinetic energy that works like an activating agent, prompting us to create our own channels of communication. Seeing the struggle and aspirations of his characters in turn inspires readers to speak, to write, to laugh, to think, to care. We do not become more humane through "Random Acts of Kindness" slogans created in the marketplace, but through careful acts of creation and awareness—such as stories like these.

Saunders' characters are killing themselves to love and survive. Many of us find ourselves in similar situations: we struggle for enough time, money, or status to afford a generous life. Meanwhile, we become polarized during the struggle, and lose the opportunity to truly communicate with fellow human beings. Saunders' stories provoke flashes of insight that break through polarizations, and instead open up conversation. He's a writer who makes readers want to write. Language becomes entry to participation, and then hopefully, if we're lucky, it moves beyond the page.

Maybe it was a coincidence, or maybe I chanced upon these stories at a moment when I was particularly attuned to the intense challenge of being alive. Maybe it's a sensibility always present in me, this sense of life as chiaroscuro. Saunders knows how to give us the dark, but he isn't afraid of the light.

---

Rachel Greben is a writer and arts education consultant. She recently reviewed Lydia Millet's novel Magnificence.