The Conventionalist
Defying the Greeks and the British Middle Class: A.M. Homes' May We Be Forgiven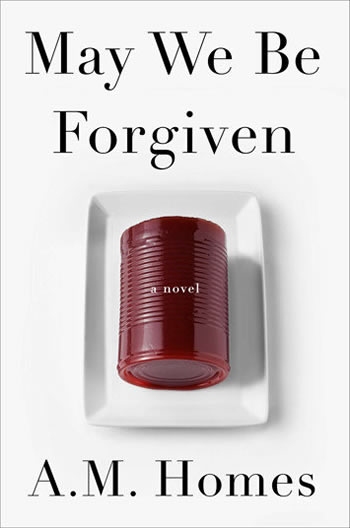 By Patrick McGinty
There is a theory of scene-setting which suggests that scenes are like little tents. It's a modern take on a classical idea. The Greek word for tent is skene, and in classical theatre, the skene was where actors changed, where they spoke as off-stage voices, that sort of thing. Over time, the skene eventually came to mean more or less the entire backdrop behind the stage. The thinking goes that in fiction (or any narrative, really), we can conceptualize a "scene" as little more than a tent thrown over a specific place and time.

As readers, we know what a nice fictional tent feels like. The fire feels hot. The rocking chair is creaky. The person across from us has a nose that opens up the world to oh so many metaphors. The physical reality is fully felt, the idea being that if you can convince the reader of a physical reality, the narrative can swell from the physical to the emotional as needed. This theory has had a pretty good run, with no end in sight. If your seven-year-old self ever had to sit through Holy Communion classes, then you recognize this physical object/emotional experience mumbo jumbo as the thinking behind the Eucharist. It's also the basis of the "epiphanic" modern short story. It is not by accident that while we refer to Joyce's swelling prose as epiphanies, his letters cite his "eucharistic moments." He makes such moments possible by writing scene early and often. To Joyce, who thought of priests as "barbarians armed with crucifixes" yet could never quite shake the Catholic instruction of his youth, who had his brother Stanislaus pace out distances all over Dublin in the name of mercilessly specific scene, few things were more satisfying that a perfectly made tent.

I love James Joyce. I share his love of tents. And this, I think, is why I find A.M. Homes' work so fascinating.

A.M. Homes is not a tent-builder. At times she bends over backwards to avoid all the little gestures and small details that a lover of scenic tents cherishes. Her story "Do Not Disturb" is one of my all-time favorites, and it is full of quick moves that have no interest in scene. A man and wife are discussing parenting options now that the wife has ovarian cancer, and the movement is quick:

The doctor shrugs. "Miracles happen all the time," he says. "The problem is you can't raise a child if you're dead. You don't have to decide now, let me know in a day or two. Meanwhile, I'm going to book the operating room for Friday morning. "Nice meeting you," he says, shaking my hand.

It is actually a mistake to say that the movement is quick. Textually, there is no movement at all. The "Nice meeting you" is written as dialogue tacked onto dialogue, i.e. the previous quote was never completed via quotation marks. Between "morning" and "Nice," the characters have presumably stood up. There is no doubt something happening facially on the man and his wife, on the doctor, on all three. There is a telling fidget, a sob, something. Who knows. We don't see it. We get the words and the handshake and imagine the rest.

The neat little move might strike you as a dodge. It might seem as though Homes is refusing to explore the hardest, grittiest part of her scene (namely: the reaction to the doctor's statements). Or it might strike you as small potatoes. Dialogue within dialogue? Who cares. Fair points. But seeing Homes bend over backward all across her new 480-page novel, May We Be Forgiven, does not feel like small potatoes. It feels like a remarkable effort, in good ways and bad. For starters, there are no chapters. Of those 480 pages, there are probably 300 space breaks, give or take a hundred. The plot takes place between two Thanksgivings, but there is really no organizing principle whatsoever aside from Homes' ability to segue from one scene to the next. I realize that "to segue from one scene to the next" sounds like a terribly generic description of how all narrative art functions, but few writers segue as quickly as Homes. Just as you're connecting tent rods on the proverbial campsite, you look up and see Homes downriver, flattening out a new tent.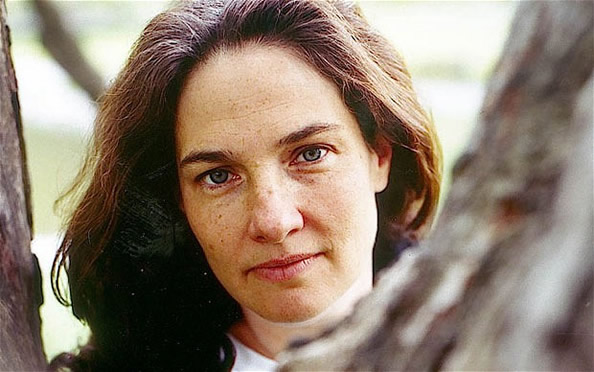 A.M. Homes. Photo by Juergen Frank.

Here is a small, largely meaningless example from the book: a mother has died. Her children and uncle head to the funeral. Notice what happens to the McDonald's:

The Shiva is at Susan's house. It's far, an hour from the cemetery. After we've been driving for about forty-five minutes, the kids start to complain. I ask the driver if we can make a pit stop. The long limo drops out of the procession, waits until all the cars have passed; then we slip into McDonald's.

"My treat," I say to everyone, including the driver.

"I thought they were serving lunch at the shiva," Nate says.

"What would you rather have, a hamburger or egg salad?"

"I'll toss the evidence," the driver says when we get to Susan's house.

There is no McDonald's. There is only the garbage from it, just as there was only a handshake in "Do No Disturb." We have skipped the physical description and gone straight to the aftermath. There are hundreds of moves like this in May We Be Forgiven. I'd guess that in those 300-odd sections, there are probably 200 physical scenes visited. Some are lingered in, fully constructed, and revisited, but many aren't really scenes at all. Many pass as quickly as the McDonald's.

This breakneck pace makes a summary next to impossible. By page 50, a Nixon scholar's brother has killed a family in a car wreck, the scholar has had an affair with his brother's wife, and the brother has killed the cheating wife with a lamp. I've elided quite a bit. Welcome to page 50 of a 480 page book. The pace creates problems. Events often feel slapstick. The law firm named after Saul Bellow characters and the recurring character who looks like Don DeLillo feel less like sound artistic decisions than they do stunts, a motorcyclist without helmet passing you while calmly paging through The Adventures of Augie March. Plot points move so quickly and in so many directions that my own reading experience became something like giving a quick thumbs up or down to linked pieces of flash fiction. A grandmother in hospice complaining to her grandkids about her grandkids, thinking they're their parents? Hysterically awkward. An international conflict involving a forest-based prison compound, an iPad, a tin of cookies, and an Israeli? Slapsticky. A secret "naked laser tag" rendezvous that plays like Michael Bay directing Eyes Wide Shut? Weirdly and effectively sad. By the end, when the book tries to "swell" to an emotional coda at a Bar Mitzvah in South Africa, I found it impossible to give in, instead thinking: "How in the world did we get to South Africa?"

That's a rather negative paragraph, isn't it? I'm making it seem as though I'm dissatisfied, which isn't at all the case. Invoking flash fiction is a misstep—something weighty is carried across these 480 pages. Let me try it more plainly: I might not have loved the book unconditionally, but I loved reading it. I loved watching Homes slide from scene to scene in her crazy, curly plot. And I think what I like most about her work is that she doesn't completely ignore traditional scene. She points to it, includes fragments of it. She gives you the handshake and the bag of McDonald's trash, as if to say "see how much easier it is to just cut to the chase? Isn't that what we're really after?" It's certainly what Homes is after. She obsesses over what we say to one another and how we treat one another and what we do to one another. The tent is just a place we sleep.

Her work brings to mind another theory of scene-setting that goes something like this: The novel rose to prominence roughly at the time of the English middle class. This English middle class liked hearing about itself. It liked reading about elaborate living room furniture, fancy clocks, and all the other knickknacks that go along with new-found wealth. For the writer, "scene" became something like a financial decision. How best to appease my audience? The answer, it seemed, was to catalogue all their new toys.

In other words: scene can be pretty dumb when serving the wrong master.

Much as I might want traditional scene, I do confess that I find noses boring. The scenic approach is a single approach of many, and it comes with burdens. Swelling from the physical to the emotional isn't easy to pull off. The story risks a melodramatic conclusion just as easily as it risks paragraph after paragraph of furniture descriptions. When the writer does achieve the swell, snarky readers like myself often downplay it: "Oh, I see—she's doing that Joyce thing." Homes isn't out to please the Greeks nor the British middle-class nor Joyce. She swerves from their respective traditions and seems to have a good time doing so. She places her Nixon scholar in a tent for a midnight romp with one of the many strange women he encounters. The tent, unsurprisingly, doesn't meet his needs. "Despite my idea that it would be exciting, it's a lot less erotic than I'd hoped. The AeroBed is squishy, the ground beneath it cold and hard."

---

Patrick McGinty's fiction has appeared, most recently, in ZYZZYVA and The Portland Review. He recently wrote about Tom Piazza's novel City of Refuge.