Mostly Novels
Strange and Alienated: Hunter S. Thompson's Hell's Angels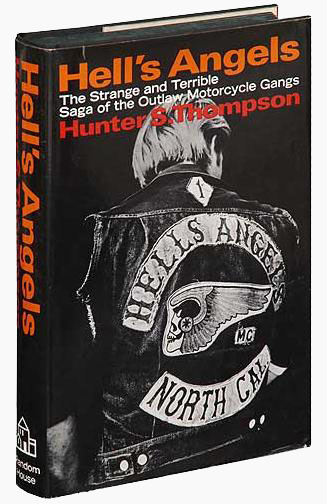 By Emily Burns Morgan
Before his article on them came out in The Nation in 1965, both Hunter S. Thompson and the Hells Angels were relatively unknown. Yes, there was a time before anyone thought to incorporate drugs into their journalism, when riding motorcycles and not bathing was viewed as a slap in the face of the "straight" world. It was a time of transition and upheaval, distress and confusion. It was an innocent time, a sweet time, a time when the Hells Angels and a freelance journalist could forge a friendship.

Even though Thompson is famous, as so many others (Tom Wolfe, Truman Capote, Norman Mailer, etc.) were around this same time for writing, as the introduction to my edition puts it, "aggressively subjective" journalism, he comes across in his 1966 book, Hell's Angels: The Strange and Terrible Saga of the Outlaw Motorcycle Gangs, as a fascinated but unbiased observer. Despite having called the Angels "losers" in the preceding Nation piece, in the book he concerns himself with heaping disapproval on the rest of the press. In a section called "The Making of the Menace," he argues that the Hells Angels weren't the cause for alarm that the media said they were—that is, until they got a taste of themselves in the papers. The hit of fame got the Angels hopped up, so to speak, and ignited a potent mixture of fear, confusion, and excitement in the small-town cops and everyday folks in the towns the bikers passed through. The fuss all began, according to Thompson, with an inaccurate report by the Attorney General of California. "Part of the report stated that of 463 identified Hells Angels, 151 had felony convictions. This is the kind of statistic that gives taxpayers faith in their law enforcement agencies…and it would have been doubly edifying if the 463 had actually existed when the statistic was committed to print. Unfortunately, there were less than 100 [active Hell's Angels members]." This is the kind of sarcastic, endearing tone Thompson sprinkles throughout his reporting.

After dismissing the media's characterizations of the Angels as mere sensationalism, Thompson dives into the task of describing the Angels themselves. According to Thompson they are indeed dirty, and they are often violent—but, he suggests, only when provoked. The problem is that they have not only given up on fitting in with regular society, they have gone to such an extreme at the other end of the spectrum that they will do anything they can to not belong. Truth be told, they don't have much to offer, or at least they have internalized this notion to such a degree that most live only for today, owning nothing, belonging nowhere. Thompson counters his sweeping characterization by acknowledging that some Angels are married, and some even own their own homes. Still, the attitude is one of unattachment, lawlessness, and a general antagonism towards normalcy. The reports of "gang bangs" and all-out brawls are overblown, Thompson says, but yeah, there may have been some of that going on.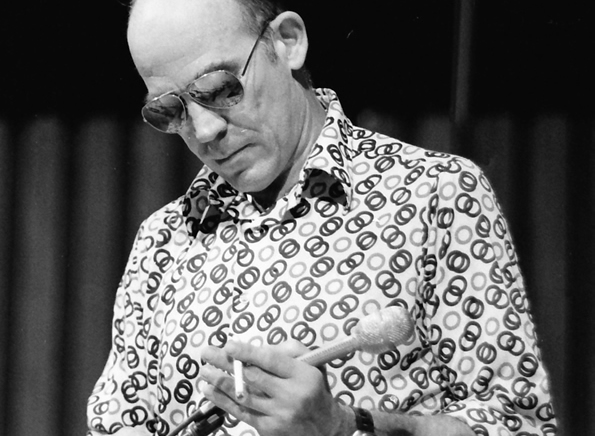 Hunter S. Thompson in 1988.

The best part of the book, though, is toward the end, when Thompson attempts to answer that most interesting of the journalist's questions: Why? Why "Hells Angels"? Why now? What does it all mean? In 1964-65, as the war in Vietnam raged, the Hells Angels, in part through Hunter S. Thompson, became friendly with Ken Kesey, the LSD-promoting psychologist and beacon of counter-culture, and his band of merry pranksters. The Hells Angels loved drugs, and the "hipsters" at Kesey's La Honda ranch loved drugs; for a while things went along smoothly, with many even thinking a political partnership might be formed. After all, the Hells Angels were based in Oakland, nestled right up against Berkeley, "the citadel of West Coast radicalism." But instead of joining up with the counterculture, the young Hells Angels (at this time most were under the age of thirty) decided to oppose it, threatening and in some cases actually enacting violence against protesters at anti-Vietnam War rallies. Allan Ginsberg spoke and read poems and tried to form what seemed to him, and to many of the Berkeley radicals, a natural alliance, but it didn't take. The Hells Angels preferred fascism to communism, swastikas to hammer and sickle. Perhaps they simply couldn't handle the possibility of actually belonging to something bigger; communism is, after all, inherently group-centric, and the basis, perhaps paradoxically, of the Angels' group is that they do not belong to any group. "In terms of our Great Society the Hells Angels and their ilk are losers—dropouts, failures and malcontents. They are rejects looking for a way to get even with a world in which they are only a problem. […] The difference between the student radicals and the Hells Angels is that the students are rebelling against the past, while the Angels are fighting the future. Their only common ground is their disdain for the present, or the status quo." The word Thompson chooses to describe the Angels' underlying condition is perhaps ironic, given that it is a central term in the Marxist philosophy they abhor: alienation.

The outlaw stance is patently antisocial, although most Angels, as individuals, are naturally social creatures. The contradiction is deep-rooted and has parallels on every level of American society. Sociologists call it 'alienation' or 'anomie.' It is a sense of being cut-off, or left out of whatever society one was presumably meant to be a part of. In a strongly motivated society the victims of anomie are usually extreme cases, isolated from each other by differing viewpoints or personal quirks too private for any broad explanation. But in a society with no central motivation, so far adrift and puzzled that its President feels called upon to appoint a Committee on National Goals, a sense of alienation is likely to be very popular—especially among people young enough to shrug off the guilt they're supposed to feel for deviating from a goal or purpose they never understood in the first place. […] America has been breeding mass anomie since the end of World War II. It is not a political thing, but the sense of new realities, of urgency, anger and sometimes desperation in a society where even the highest authorities seem to be grasping at straws.

This is a longer quote than I usually include in these columns, but when I read it, a flare of recognition shot through me. It seems to describe so perfectly what we are going through now, when every day the news is filled with gun violence and rape, politicians seem to care more about one-upmanship than helping people, and many have begun to doubt one of the most central pillars of our republic—that if you work hard and follow the rules you can achieve your own American Dream. In 1966, Thompson writes, the people of the United States no longer knew what we were working for and, by extension, what held us together. We do not know any better now.

---

Emily Burns Morgan is a writer, editor, and professor in Brooklyn. Her work has appeared in The Raleigh Review, Willamette Week, and Martha Stewart Living, among other publications.