Mostly Novels
Charlotte Bronte on Marriage and Equality: Jane Eyre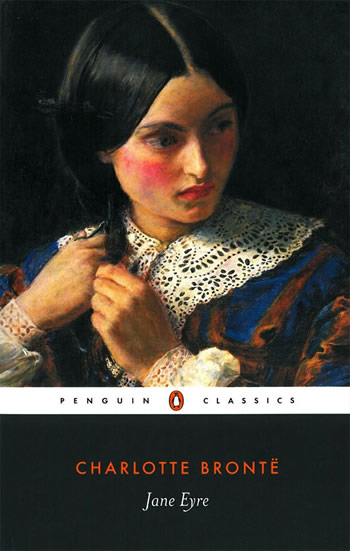 By Emily Burns Morgan
"You've never read that?!"

I hate this question. Not because I believe it implies any negligence on my part, but because it betrays a certain naïveté on the part of the asker. Yes, I read a lot, but do you know how many books there are? Neither do I. Too many to count, or name, and certainly too many to read. So, no, I haven't read them all. Not even all the classics. Slowly but surely, I try to make my way up the mountain. Books like Jane Eyre keep me going.

The novel was not what I expected, and I mean that in a good way. I've read Wuthering Heights a few times, and I knew that Jane Eyre was a love story too, so I thought it would be as dark and tortured as the relationship between Heathcliff and Catherine. I kept waiting for Rochester to turn into Heathcliff. Especially given her impudence, I figured things couldn't turn out well for the little, un-beautiful Jane Eyre. But I was wrong, and what a pleasant surprise it was. Brontë builds suspense by keeping her heroine in the metaphorical dark until the optimal moment. She throws us purposely off track with symbols that appear to portend doom for Jane and Rochester. The tree that's split asunder in the lightning storm after Jane agrees to marry her employer, for example, would seem to suggest that the two must instead, by God's will, part forever. And the way Rochester acts immediately before their wedding troubled me as much as it did Jane. What is shocking about these scenes is not that Rochester suddenly becomes possessive ("He smiled; and I thought his smile was such as a sultan might, in a blissful and fond moment, bestow on a slave his gold and gems had enriched"), it's that Jane recognizes and resists being possessed—even when such ownership would afford her a life of luxury. "Whether is it better, I ask, to be a slave in a fool's paradise at Marseilles—fevered with delusive bliss one hour—suffocating with the bitterest tears of remorse and shame the next—or to be a village schoolmistress, free and honest, in a breezy mountain nook in the healthy heart of England?" Jane knows how to answer the question not because a master tells her; it is not Christian doctrine only that guides her choice, but also her own inner voice. In fact, the next proposal Jane receives proves that she's not willing to give up the fate of that inner voice for the sake of religion any more than for wealth.

While Brontë is careful to steep her heroine in Christianity, Jane is only a blameless woman of God up to a point. She will not "abandon herself" for her religion. In refusing to marry Rochester after discovering the truth about his first wife, Jane gives up love for the sake of morality. When she rejects her cousin St. John Rivers' proposal to marry and travel to India with him as a missionary, she relinquishes martyrdom in favor of her own life. Jane seeks neither salvation nor adoration; what she wants is equality. Since she believes that neither of these marriages, at least given the context in which they are offered, will allow that, she refuses on what, for a woman, is called "selfish" grounds (both men use this word while attempting to manipulate their would-be bride) and what, for a man, would be deemed sensible ones. Rochester himself confesses that, "Hiring a mistress is the next worst thing to buying a slave: both are often by nature, and always by position, inferior: and to live familiarly with inferiors is degrading." Jane understands that her position is inferior to that of her would-be husband and that, were she to marry him, he would quickly come to feel that he had, in a sense, bought her. Her position, then, would soon make him hate her, as he does his previous lovers.

Not everyone is as impressed by Jane Eyre as I am, however. In "A Room of One's Own," Virginia Woolf argues that to write freely a mind must be "androgynous […] resonant and porous; […] incandescent and undivided." A writer must have enough control over her emotions to be untroubled, while writing, by outside concerns like gender inequality. Shakespeare and Jane Austen are, for Woolf, examples of writers who have achieved this equilibrium. Charlotte Brontë is her example of one who has not. "It is clear," writes Woolf, "that anger was tampering with the integrity of Charlotte Brontë the novelist. She left her story, to which her entire devotion was due, to attend to some personal grievance. […] Her imagination swerved from indignation and we feel it swerve." I see what she means. Without recalling the examples Woolf uses in "A Room of One's Own," the same feeling struck me, too, as I read Jane Eyre. "This […] will be thought cool language," Brontë has her Jane write. "Anybody may blame me who likes," and "Who blames me? Many, no doubt; and I shall be called discontented." This passage, in particular, seems more defensive than rings true of the character; surely much of this passion is Brontë's, not Jane's. But while I understand what Woolf means, I can't help disagreeing. It's true that Jane Eyre has some bumpy spots, that it doesn't spool continuously without a hitch. But it has passion, and energy. It is a different kind of book than Austen's or Woolf's; it comes from a different kind of author and it achieves a different purpose. It is an overtly feminist novel, something Woolf herself was terrified to be thought writing. It makes sense that Woolf—who was so against preaching in fiction, who agonized about being thought "sentimental"—would not find the novel to her taste. For me, though, the story is moving and fun to read. The story itself is as inspiring as the message to be learned from it.

When we consider the quality of marriage between men and women today, the phrasing of the famous line at the end of Jane Eyre still resonates: "Reader, I married him." What a difference between this statement and its reverse—"Reader, he married me"! Jane Eyre reminds all of us—who live in a culture that, though changing, still views men as superior and women as only waiting to be asked to be married, grateful for a proposal and defective if we never receive one—that women have as much choice in the matter as men do. Jane marries Rochester only when it works for her. Still, the marriage won't be easy; she will have to take care of him as much, if not more, than he takes care of her. But only with Rochester's power reduced can the marriage be one of equals. We still need to be reminded that equality in relationships is important, that it isn't obvious, and that it's worth waiting for. We need to be reminded that it takes great strength to demand our relationships are built on a spirit of equality. God bless Charlotte Brontë for reminding us.

---

Emily Burns Morgan is a writer, editor, and professor in Brooklyn. Her work has appeared in The Raleigh Review, Willamette Week, and Martha Stewart Living, among other publications.