Aisles
Joy Castro: File Under "Strange, Urgent New Structures"

Island of Bones
By Joy Castro
Review by Sarah Seybold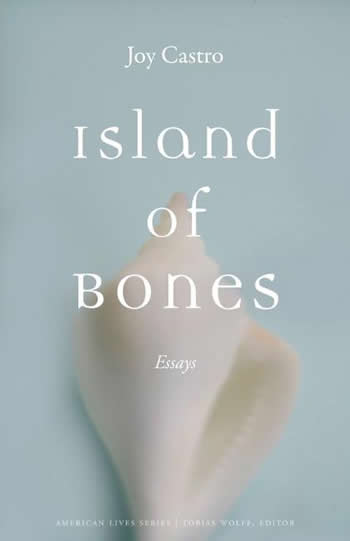 After finishing The Truth Book, Joy Castro's brave and heart-wrenching memoir about the child abuse she survived while growing up in a Jehovah's Witness family, I was eager to read her recent collection of essays, Island of Bones. I bopped into Powell's on an unusually sunny January day, assuming I'd find the book in the Blue Room's "Literature" section. However, a search at the self look-up station revealed that the book was actually located in "Controversial Religious Literature." This puzzled me. Castro's first book challenged the strict rules and silencing nature of the Jehovah's Witness religion, but based on the descriptions I'd read about Island of Bones, that label didn't seem right for the new book.

I ventured into the Red Room and, admittedly, felt slightly embarrassed as I walked down the long "Christian Fiction" aisle. On the bottom two shelves of that aisle's endcap, I found "Controversial Religious Literature," a section I didn't know existed. There among books about Islam and Scientology, with their dark covers and bold red and yellow fonts, was Castro's slim and elegantly-designed collection of essays, part of the University of Nebraska Press American Lives Series. As I delved into Castro's words, though, the "Controversial Religious Literature" categorization unsettled me. Certainly, Island of Bones continues to explore Castro's earlier themes, but this book is about more than that.

Interestingly, in the first essay of the collection, Castro addresses the very issue of not fitting into categories. Her story is complicated. As an infant, she was adopted into a Cuban American family of devout Jehovah's Witnesses. Her adoptive parents divorced after her father was excommunicated for smoking, and both parents remarried. Castro lived with her mother and stepfather, another Jehovah's Witness who twisted the tenets of the church to facilitate his physical, sexual, and emotional abuse of the young Castro. At fourteen, Castro ran away from home to live with her adoptive father, who later committed suicide.

Castro's adoptive parents told her she was Latina, so later, as she prepares for the day she'll get to meet her birth mother, Castro immerses herself in Latina literature. When the meeting does finally occur, however, Castro learns her biological mother is not Latina after all, and "in one sudden yank of the rug" feels her identity has been torn from her. As Castro struggles to defend her Latina identity, she challenges society's notions of what it means to be a Latina writer: "What happens when a Latina not only doesn't look the part but also doesn't write the part? What happens to Latina writers who cross not only boundaries of nation and culture in their lives but also borders of genre and subject matter in their work?"

Instead of conforming to a "publisher's readymade packaging plans," Castro continues to bravely tell her stories. She writes, "I don't fit. I don't fit, and that's okay, and that's where I write from: that jagged, smashed place of edges and fragments and grief, of feeling lost, of perilous freedom. I extract small fragile bones from the sand, dust them off with my brush, and build strange, urgent new structures, knowing too well how small my island is, how vast and rising the sea."

I admire Castro's "strange, urgent new structures." The gracefully ordered essays in this collection are varied in form, from the lyric to the personal to the argumentative. Some essays I'd previously read in the anthologies Without a Net: The Female Experience of Growing Up Working Class, edited by Michelle Tea, and An Angle of Vision: Women Writers on Their Poor and Working-Class Roots, edited by Lorraine López. Others appeared in different versions as sections in The Truth Book. It was interesting to see these pieces placed together in conversation with one another, each essay enriching the reading of the next.

Castro's essays on poverty and class are particularly powerful—the theme of hunger runs strong throughout the collection. Castro writes, "During the late years of my childhood, literal starvation had been both a punishment and a way of life, enforced by our abusive Jehovah's Witness stepfather and mother. Gaunt, malnourished, beaten, suffering from the lack of medical and dental care, my brother and I rattled around our classrooms, the school bus, the Kingdom Hall, and no one intervened."

Silenced and starved, Castro climbs her way out. Her literal hunger transforms into a hunger for education and writing. As a young mother in poverty, the resilient Castro, a first-generation college student with a troubled past, works her way through undergraduate and graduate school, earning a PhD and a faculty position at a prestigious all-male college. But, as Castro explains, "Jumping class comes at a price, and the price is not belonging. Within academia and the publishing world, I often find myself occupying a space of painful ambiguity. I don't fit, don't know the rules—". In this space, Castro finds it "unnerving" that her writing will make available to her students and colleagues her story, that of "a trailer-trash girl from a fucked-up background." But she is compelled to tell the truth. On writing her memoir, Castro declares, "To write my book, I had to reinhabit, without shame, that place of shame, of trauma, of anguish and silence. I had to give it a voice."

In finding her voice, Castro confronts the elitist and privileged attitudes in academia and rattles the power structure. Her call to action is inspiring: "As formerly poor women now working as writers in and out of the academy, the gifts we bring—not only to the readers of our work but also to the institutions that currently shelter us—are an angle of vision and the will for change." Castro urges authors and academics to write what matters, to teach literature by poor women, and to invite all voices, those of women, those of the abused, those of the poor, to the table to speak.

While her Jehovah's Witness past is integral to her writing and identity, Castro's themes go beyond. I don't know where this book is placed in other bookstores, but at Powell's I could have seen it categorized in a variety of other areas, including "Ethnic Studies," "Feminism," "Gender Studies," or simply in "Literature." I worry that readers may not find this book. But I also enjoy the power this book possesses in that it doesn't neatly fit.

---

Sarah Seybold's writing has appeared in ZYZZYVA, North Dakota Quarterly, Cold Mountain Review, and elsewhere. In the fall 2012 issue, she reviewed Gregory Martin's memoir Stories for Boys.