Aisles
Chris Ware's Box of Forking Paths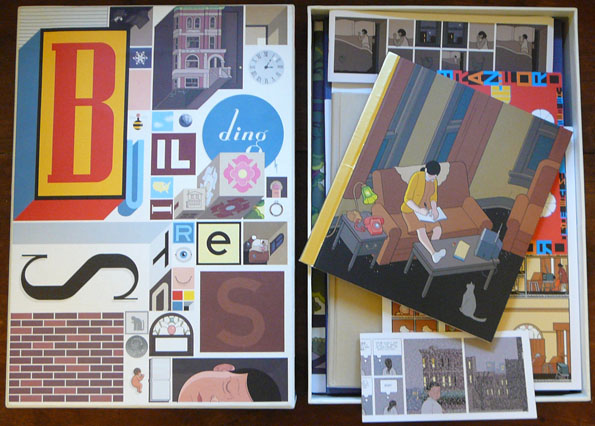 Building Stories
By Chris Ware
Review by Dan DeWeese
One of the pleasures unique to comics as a form is their potential to inject dramatic tension into the very act of negotiating the page. Many authors pass on this opportunity—they keep things strictly left to right, top down—but Chris Ware exploits it, and in Building Stories, his new assemblage (or whatever one calls a box that holds fourteen different books or booklets in various sizes and formats, together totaling 260 pages), he again proves himself a master of design.

Ware's layouts are rigorously gridded—they're often symmetrical, as well—and one of the joys of reading the pieces in Building Stories is the degree to which they involve negotiating a visual puzzle. Ware does use plenty of standard left to right, top to bottom layouts, but he also creates moments in which, upon finishing one panel, there isn't an obvious "next" panel. The reader has to make a decision, and the tension created in these moments pays off in a bit of pleasure when the reader makes a choice and discovers that yes, the chosen panel does work as a continuation of the previous one. There are a number of layouts in which a different choice would work equally well, which is really just a way of saying that Ware is just as adept at the non-linear layout as he is at the rigorously linear. His supreme control over managing the little rhythm of tracking-tension and visual pay-off creates a reading experience that is addictive in a way similar to the shape and pattern negotiation game of Tetris, and as a reader, there's a comfort to knowing you're following the path—and making decisions at the forks—of a skilled craftsman.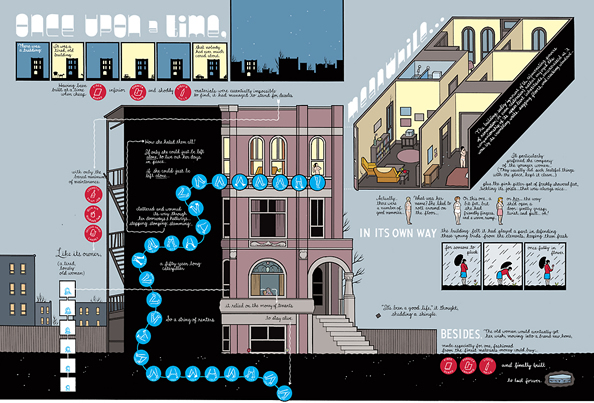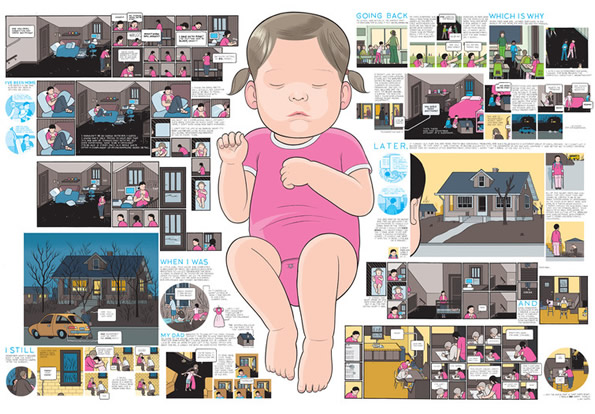 Spreads from Building Stories. Ware's designs bring a Tetris-like addiction to the reading experience.

Non-linear illustrations are certainly not new—the Sunday editions of Joseph Pulitzer's World newspaper featured them at the turn of the twentieth century—but Ware's interest in a non-chronological reading experience at the level of the individual page or spread seems germane, in that this is the same experience Building Stories offers readers at the level of its overall construction. There is no suggested order for reading the fourteen pieces that arrive in the box. Most are saddle-stitched like any zine, but a few are perfect-bound, and some simply unfold into large-format, newspaper-size items. Most of the pieces center on one character, a woman who—if we reconstruct her chronology—we see earliest as an anxious, lonely single woman in Chicago, and then also as a married stay-at-home mom in a suburb. Other pieces, however, include material about the other people in the building she lives in when single, as well as some items about an anthropomorphized bee and his family, who live near the building. No one item seems particularly primary, and my favorite was one of the smaller ones, a fantastic, wordless piece in which we follow the main character from pregnancy through her child's first years in school. Words aren't necessary for Ware to make this interesting and moving, and the moments we glimpse in this woman's life—sleepless nights, silent afternoons, seasons passing—are perfectly intelligible and beautifully-rendered. Compulsively-readable, masterfully designed, and arriving in a sturdy, attractive box: Building Stories is a gift to comics fans.

A word of warning to those considering wading in, though: everyone is sad. By which I mean that there are no characters who possess distinctive energy, compelling enthusiasm, or particular goals they pursue—at least not on the page. The woman's architect husband must, theoretically, be creative in some way, but we don't see it in the pieces themselves—we see his mildly condescending responses to her worries. As we catch episodes in the woman's life from young adulthood through early parenthood (we catch one glimpse of her at a later date, when her child is an adult, but it's a brief moment), we see her feeling primarily depressed or anxious. She attended art school, but gives up on her creative dreams (in a rare moment of wit—it feels like the author stepping in—she decides she was never really an artist, was just "art-curious"), and becomes a housewife who reads blogs about peak oil and becomes mildly obsessed with end-of-the-world scenarios.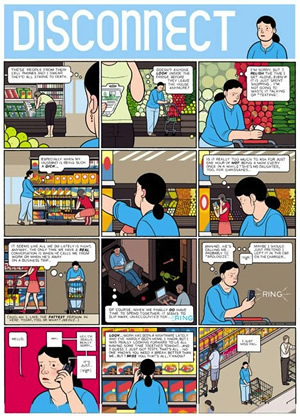 There's nothing wrong with exploring the emotional life and experiences of the non-heroic, of course—plenty of great literature does—it's simply that doing so in a non-chronological, non-narrative fashion creates a kind of doubling-down of existential flattening. Plenty of prose writers have explored non-chronology—certain Oulipo projects come to mind, as does Pessoa's The Book of Disquiet—but prose-only non-linearity tends to turn into what we call a "meditation," and it would be wrong to characterize Building Stories that way. Ware understands and uses a seemingly infinite number of ways of creating visual tension—this is a feast for readers interested in graphic design—but one thing design tensions can't produce is the insight a reader gets when seeing a character respond under stress, when something is, as they say in the narrative business, "at stake." Even in Beckett or My Dinner With Andre, characters want something, even if just to be understood.

There is nothing particularly at stake for the woman in Building Stories, however. She admits as much in one of the sections, saying that her wants and desires have been fulfilled by her husband, and that she has essentially become an "Eisenhower woman." At another moment, however, when trying to choose a book to take on vacation, she wonders why all of the masterpieces of literature are about crazy people or pedophiles—why aren't there any classics about normal people? she asks. It's hard to gauge Ware's level of irony—and that's a strength, in that it forces reflection in the reader—but this smacked strongly of a self-referential moment: the woman is the "average person," which implies that Building Stories is the masterpiece about an average woman. (You may think I'm reading too much self-congratulation on Ware's part into the moment, but the vignette in which the woman is much older consists of her relating a dream she had about all of her journal writing ending up in a book comprised of pieces that, when she describes them, are exactly what Building Stories is—and she says it was beautiful.) The tension between these competing claims—is this a 21st-century everywoman, or an Eisenhower woman?—is intriguing. The women I have known personally, socially, and professionally have certainly dealt with their share of depression and anxiety—as have we all—but they have also actively pursued creative projects, brought fire and enthusiasm to work they care about, and been capable of being wickedly funny, incandescently angry, and entertainingly goofy.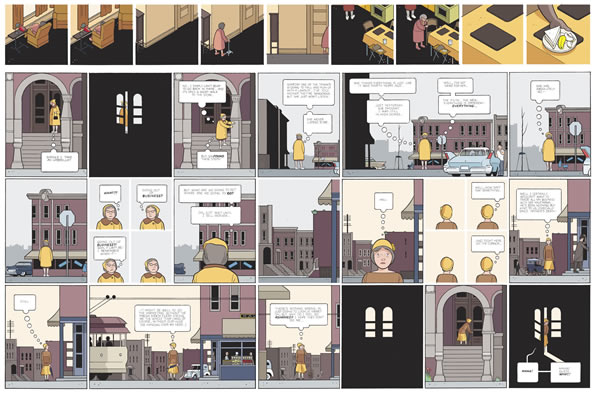 Ware's characters don't present this range. The last thirty years of work in this form—whether you prefer to call them comics or graphic novels—has been fantastically transformative. It has also, for whatever reason, often been a literature of the sad sack. Characters in this vein tend toward a kind of moping, sad acceptance (or sometimes stubborn choosing) of ostracism, a denunciation of social life, and a resulting experience of wounded, repetitive solitude within a prison of the self. While dramatizing these kinds of characters may be an understandably reactive move meant to differentiate projects from the popular superhero genre of comics, there comes a point at which radical disempowerment edges toward becoming just as fantastical as radical powers.

This may be no more than a way of saying that Building Stories is a mirror, not a lamp. We recognize the places this woman lives, the kinds of blogs she reads and worries about, and the larger social dynamics that inform her sense of self and, therefore, the shape of her life. This life is depicted with skillful, loving detail, for our inspection and reflection, but it is not interrogated or complicated. Much great art chooses to reflect rather than dissect, and Building Stories, if it is a mirror, is an exquisite one. Fantastically rendered and designed with a shocking amount of skill, it is an undeniable example of virtuosity in the form. After wandering through Ware's many beautifully laid-out rooms, though, questions linger. One of them may be: Who was that woman?

---

Dan DeWeese is the author of a story collection, Disorder, and a novel, You Don't Love This Man.