Personal History
Grandad Soldier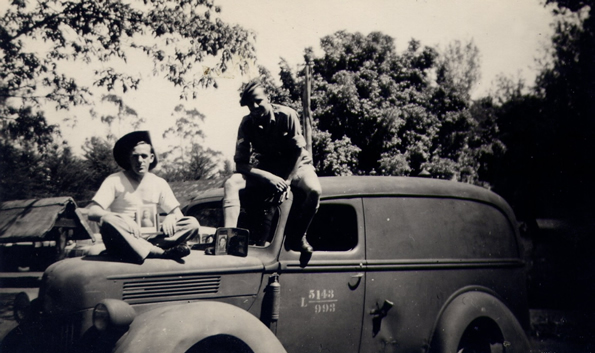 By Mark Savage

uly, 2012. A lady with a clipboard is round at Nanny and Grandad's house on the Isle of Wight in England. She has some questions. They might be eligible for government money to help make the house easier to navigate, perhaps get my Grandad a new wheelchair. Mum is there because Mum is always there now. If they go anywhere beyond the shops down the road, it is because she takes them there, reversing the car right up to the front step of the house and holding Grandad's trousers up as he drags his legs down the steps.

How is your bathroom, Mr. Smith? the lady with the clipboard says.

Lovely, Grandad says. Nanny says nothing.

Do you have any trouble getting in and out of the shower?

Not really, he says. Nanny says nothing.

There's a big step up though, isn't there Dad, Mum says.

Does Mrs. Smith have to help you very much in general?

A bit, but we manage, he says. Nanny still says nothing. Mum looks at her.

She's an angel, Grandad says.

What did you used to do for a living, Mr. Smith?

His eyes animate.

You'll never guess, he says.

There are many answers to this question. 'Soldier' is one, and that word contains millions of meaning and stories. 'Plumber' is another, and he did that for years. Mum has no idea what he is going to say. He leans forward a few inches.

Bodyguard, he says. The lady with the clipboard nods, waiting.

Paul McCartney. The Pet Shop Boys. Whatshisname who leaked stuff to the papers. I met Diana Dors, the British Marilyn. Lewis Collins the actor was my mate.

These are all shards from a particular period. The 1980s. London. There's so much more that I've heard about from this time. Bulletproof Mercedes and Jaguars. Keeping VIPs safe. Looking after the Sultan of Brunei's family, the richest in the world at the time. The Sultan's nephew, a sweating man-child who had a fleet of a hundred cars before he could even drive. Once my Grandad had a friend at the British Museum who, as a favor, managed to smuggle out antique blunderbusses in the back of his car to show the Sultan's nephew, who, inevitably, thought he could buy them. One million. Two million. Name your price. There was a female member of the same family who insisted on walking down London's expensive Bond Street shopping for elite jewelry and paying only in cash, which was carried by a sweating guard in a plastic bag. Fifty-thousand pounds in a plastic bag, and she'd spend it until it was gone. Into the bag would go display trays full of rings, out would come fistfuls of cash.

There was a run-in with Tom Jones' bodyguard, an ape who thought his client's security needs were being infringed by my Grandad's work for his own client (I forget, he forgets). Boy George fans calling Grandad 'Grandad' and telling him to get out of the way. I'm not Grandad, I'm Uncle Frank, he'd say. Still does. All of this I've heard.

The lady with the clipboard nods and laughs at Grandad's snippets, all, in their way, reassurances that he is fine. Mum takes her aside.

You see what's happening, don't you? Dad paints a picture, Mum says.

Yeah, and your Mum's face paints another, the lady says.



ifferent versions. No one in my family makes me think more about the story as it is told and the story as it is lived than my grandad. His life was dangerous glamour. He left for the army the day after his wedding, and didn't come home for two years, losing his wedding ring on the way (and nearly the finger too, catching the gold band on an army truck trailer gate as he jumped out of the back of it). He joined the parachute regiment, the SAS, and acted as security to the richest family in the world. When I was a child in the 1980s, he would work all week in London, driving around VIPs and living in his small caravan. On Sunday he'd turn up early at Nanny's house, in the bulletproof Jaguar, a thin cigar between his teeth and laundry over his shoulder. They spent most of their marriage in separate places.



e was Grandad Soldier. My other grandad, my dad's dad, was in the army too, but we called him Grandad Bike, because he rode one. He was a big man with a marked stoop—one that my dad shows the outlines of. He had electric white hair, slicked back in a quiff from between the wars. He could pull an apple in two with his bare hands. He died when visiting Nanny Bike in hospital after a wall had been blown onto her during a storm. It was only years later that Nanny managed to find out what the medals tucked away ignored in his drawer were for, a feat of incomprehensible bravery in Northern France. But he was Grandad Bike, not Grandad Soldier, and that, I think, is how he liked it.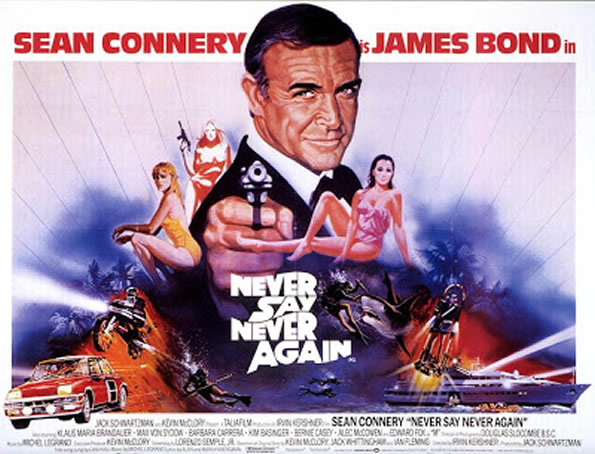 randad Soldier was Sean Connery in Never Say Never Again, a bit past his peak but still tasty. He was a pocket version, built wiry and tough, and quite unlike the longer frames of my uncles and myself. Never Say Never Again, remember, was the 'unofficial' Bond film, a muted retread of Thunderball, with Connery making a comeback (one he told his wife he wouldn't make, thus her credit for the film's title) after over a decade of Roger Moore's raised eyebrows. Octopussy, starring Moore, came out the same year, a double-header that proved (again) that Bond was an idea more than a face. After all, he is a spy who is never undercover, always hidden in plain sight. Even when he is played by a different actor, he is recognized by his enemies.

Quite what my Grandad did with the SAS was unclear to me. Still is, in many ways. The Bond narratives served as a touchstone, a wildly incorrect one, of course, but appropriate somehow. Grandad's stories of derring-do were filled with bonhomie and self-mockery, conveying an image of a life in the British Armed Forces that seemed to confirm that the Nazis, the Russians, or any other foreign enemy were licked by virtue of their inferior sense of humor. This plucky, not-too-serious self-image is one that endures for the English. That's why Timothy Dalton is considered a weak Bond: he turned down the winking self-awareness that Moore had too much of, but he turned it down too far.



randad Soldier was a boy in the Second World War, but still had choice anecdotes. There was the time he changed his mind about which film to see, and so avoided a direct hit on the Portsmouth cinema his mum thought he was at, and walked home to be met with a tearful slap. Then there was his dad, a bomb disposal man, returning for his cigarettes in a cafe and missing the blast that killed the rest of his team. Stories that had to be the way they were, because imagining a world without myself being born is impossible. The hero's death must be well-timed. It cannot come before his birth.

About fifteen years ago I was visiting.

Did I ever play you my tape from the Yemen, Mark?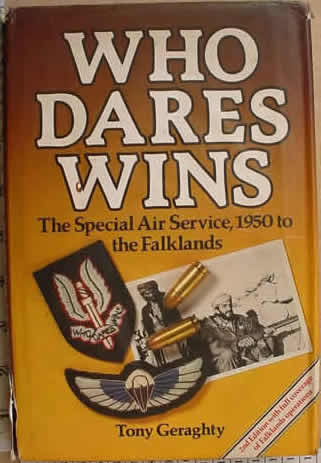 He dug out a small case, and inside was a scrapbook. I'd seen pictures of my grandad in the Middle East in the sixties before. The official book of record of the SAS, Who Dares Wins, even has my grandad on the cover. He is in the desert. His head is covered with a turban and a scarf, his beard is black and thick. But his cheeky blue eyes are the same. Who Dares Wins, by being a record of covert operations, cannot tell the whole story, of course. Another exercise in mythology.

He pulled out a cassette tape. And pressed play. We leaned in to listen. Outside noises. Shouting in foreign voices. Arabic, maybe.

He looked at me. 1965. Me and my mate are sitting on a hill near a village. We were training the locals to defend themselves. The rebels were trying to overthrow the royal family. The Russians were helping them.

There was panicked shouting on the tape.

The locals are running up the hill, he said. They've spotted a MiG jet in the distance. The rebels had jets. We didn't.

He's coming, Frank, a voice shouts.

Yep, another says. My grandad. His voice on the tape was exactly the same, just drier. I pictured the desert.

Louder shouting. And then a noise, a hum growing quickly into a black roar. The tape distorts, and then just as quickly, is gone.

That was the jet flying over, he said.

And then the hum grows again, the roar, and this time it is followed by a clicking sound.

That's my mate having a few shots at the MiG. With a rifle. It was moving too fast for me to even see it.

You just had rifles?

Yep. Like hunting a tiger with a peashooter.

The MiG comes by again. The tape distorts. The clicking gunfire is joined by an echoing rattle, deeper.

That's me firing my rifle, he said. Saw him that time.

Then there's another sound.

Hear that?

What was it?

What does it sound like?

Someone striking a match, I said.

He smiled.

Took me years to figure it out, he said. To remember properly. The jet passed by me so close that it put my cigar out. That was me relighting it.

Bloody hell. He wasn't running. He was lighting his cigar and reloading to shoot at a MiG jet with a rifle. And recording it with a Dictaphone. This man was James Bond.

I can't believe it myself, he said, shaking his head. I don't remember being that calm.

He turned a page in the scrapbook.

There it is, he said.

He pointed to a black and white photo. It was a crashed plane, stretched out across a dry valley. A long groove was scraped into the earth behind it, showing where it had landed, and landed heavily.

You shot it down? With a peashooter?

Yep. Captured the pilot, too.



ow many other lives can a man have? How many other people can be in it? How much family? After a few drinks, relatives might release quiet comments loaded with possibility:

He was always away.

Nanny has always been so patient.

They never thought they'd end up like this, spending all this time together.

He was always away.

You never know. There might be some strangers at his funeral.

In a way it doesn't matter—in a sense, a certain kind of man is always part of another life, even when he loves his family. Still, different versions of the same story. Different lives that he's been involved with, elsewhere. Who might he be to them?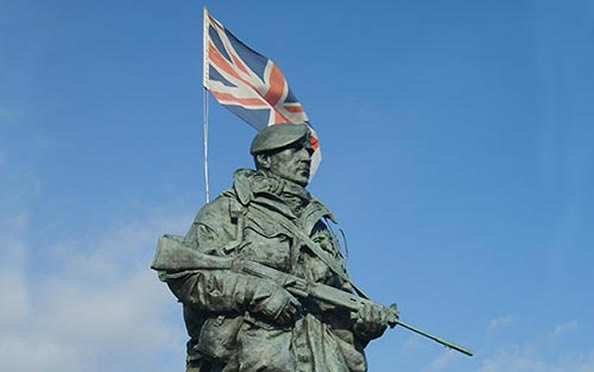 randad Soldier is a maker and breaker of mythologies. He will persuade you to watch a war film, nearly always one based on true events, then pick apart its verisimilitude (truth as fiction, again and again; he did some work as an extra when he was home in the sixties and can tell stories about too-short leading men in tall shoes acting opposite too-tall leading ladies standing ankle-deep in trenches) before rising to make tea long before the credits.

Load of rubbish, he'll say.

There's no way that bloke could survive being shot that many times.

Load of rubbish.

Mark and I couldn't carry one of those guns between us, never mind two each.

Load of rubbish.

Even Stallone couldn't survive that cold in a vest. I don't care how big he is.

He wouldn't ever play trivial pursuit, but would sit and shout out answers. He'd tell everyone what their presents were before they opened them. He is always a stubborn voice against many family rituals, but this in itself is a cherished family ritual. Is, was. My tenses are mixing. He's still here, just less.



fter he retired he ran the Airborne Forces Day, otherwise known as the Parachute Regiment Spectacular, or Para Spec, every summer, on Southsea Common in Portsmouth. This involved parades of veterans, parachute jump displays, stalls, vendors. My grandad would be there the night before, sleeping in a tent and helping set up. It was always a big deal, thousands of people, cadets running here and there in uniform. French veterans would come over and sit in the alcohol marquee with my nan, drinking red wine. Then the parades, these men who had jumped out of planes at various conflicts all over the world, walking stiffly in their maroon berets, grandchildren watching on.

It was a big day in our family calendar. Aunts and uncles from all over the country came, friends who hadn't seen me since I was a toddler, distant cousins who hadn't seen me at all. My mum's school friends, who would appear with new husbands and grown children. I'd be introduced to countless men and their wives (and it was always men, and their wives) who'd praise my grandad. He'd joke, cajole, tease—in his element, lovable, outspoken. Saying something about the French, then buying them drinks. Saying something horribly inappropriate to a big-boned volunteer about her weight, then giving her a cuddle.

Sometimes bad weather stopped the parachute jump display. Then there'd be someone who couldn't make it one year, a veteran who was ill. The next year we might see his wife alone, and then a few years along it would just be the kids and grandkids turning up to remember their parents. That older generation, the ones that my grandad would drive around, bring back for dinner when they were hapless widowers, the ones that fought in the Second World War all died, eventually. But still my grandad was the fittest amongst his contemporaries.

He canoed across the English Channel at 65 with a party of much younger men, for charity. Honoring the difficulty of the task, they called it Operation Straitjacket. The whole exercise was caught on tape. A two hour unbroken shot of men in canoes bouncing on the waves. Grandad's VHS copy sits by the TV, Operation Straitjacket on the label. The family joke is that you need to be in a straitjacket to watch an hour of small heads working oars in steady time, a joke instigated by Grandad. When he left the room we'd fast-forward the tape, watching the oars swing at insane speeds, and he'd return and pretend to be annoyed.



ecent years. He had to sell the last in a line of Jags because mini-strokes affected his judgement; one happened when he was at the wheel, and he kept driving, scraping parked cars on both sides of the street before stopping and looking for help in a pub. The landlord turned him away, thinking his slurred speech and stumble were caused by booze. Such calamities are always retold with a laugh, as if age is a joke. But this is a defense, of course. He was physically fit and strong all his life. Asking for help is hard when you've been so able for so long. The jokes say, I'm okay. It's nothing. But as time has gone on, they've come to mean more, too. Now they say, Even if I'm not okay, you'll never take the smile from my face.



ecember, 2012. My mum is at the doctor with my grandad.

In the waiting room, Grandad, in his wheelchair, watches a man of a similar age struggle through the door with two walking sticks.

There's always someone worse off than you, he says to Mum from his wheelchair, apparently without irony.

Inside the examination room, the doctor asks:

What day is it, Mr. Smith?

Phew. I never need to know anymore.

What about the date? Any idea?

Oh, God.

Take your time.

Eleventh? No, twelfth.

Very good. And the month?

Wait. It is Tuesday. Tuesday, the twelfth.

It is. And the month?

It is November.

December. Close enough. And what year is it, Mr. Smith?

1978.

1978?

Yes.

Are you sure about that?

Yes. 1978.

How old are you?

56.

56?

56.

You're sure of that?

Yep. Getting old.



e's too old to organize the Airborne Forces Day now. Mum and my stepdad took Nan and Grandad to it last summer. It was in a new, smaller location. There were only about twenty veterans there. My stepdad pushed Grandad in his wheelchair on parade around a bumpy field. Nan and Mum, surprised by the direction the parade took, chased after them in the wind.

All four of them agreed to leave early and have a special dinner at the Queens Hotel, where Nan and Grandad have had wedding anniversary parties for years.

When they got there, it was under new management, and none of the staff recognized them. The food was worse, too. They ate anyway.

Shame about the small crowd today, Mum said.

No one organized the event like you did, Frank, my stepdad said. They didn't get the word out.

Nah, Grandad said. Everybody else is dead.

Shame there's not so many of the younger generation that come along, Nanny said.

Nah, Grandad said. Why should they care about a bunch of old idiots walking round a field?



ast forward a year, to July, 2013.

My stepdad and uncle took my grandad to the Para Spec this week. A small affair again. Nanny didn't go, she took the chance to relax with Mum and my aunt.

In the afternoon Mum got a text that Grandad had taken a fall. A sixteen-year-old cadet was pushing Grandad's wheelchair round the field when he hit a bump, throwing Grandad onto his face. He had a bloody nose and a loose tooth. The cadet was mortified.

I took a dive, Debs, Grandad said to Mum when he got home. I had a spill. On my face.

Look at you, Dad. Are you alright?

Yep. The para doctor fixed me up. He said all those years of jumping out planes, and I never could land properly. You've got to roll, he said.

A couple of days later Grandad showed his injuries and told his story in the pub, and all the women filled his glass and kissed him better. A couple of days after that Mum went around to see him and the bruises were gone, and he looked much better.

He still had the story, though.

---

Mark Savage is a writer living in Portland, Oregon. He is currently compiling Fictional Film Club Volume I, a collection of his reviews of non-existent movies that can be seen at http://www.fictionalfilmclub.blogspot.com.  He performs as The Legendary Black Mark Savage, and his musical recordings can be found at http://marksavage.bandcamp.com. He tweets once a month at https://twitter.com/BlackMarkSavage. He was born in Portsmouth, England.