Craft
Crossing the Distance: A Q&A with Alexis Smith, author of Glaciers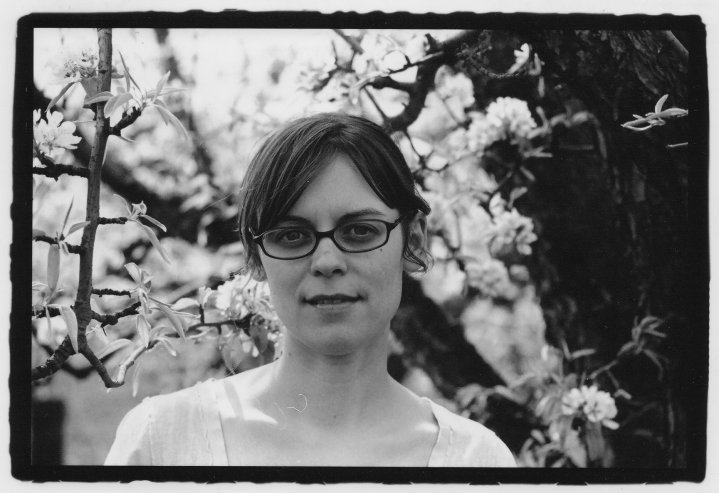 Alexis Smith. "I wanted there to be a feeling of condensation, and with it, room to breathe."
Glaciers, Alexis Smith's debut novel, was published by Tin House Books in 2012. An Oregon Book Award finalist, the novel received further attention when, in a New York Times piece about books that might win the Pulitzer Prize, Michele Filgate, the events coordinator at the Community Bookstore in Brooklyn, stated that Glaciers was her favorite book of 2012. We spoke with Smith recently about her inspirations, the genesis of Glaciers, and the book's place in the genre of war literature. —Propeller

PROPELLER: While reading Glaciers, I was struck by how much I felt that I was reading a "wartime novel." There is an oddness to reading about a wartime setting while your country is still fighting that particular war. I'm wondering to what degree you felt while writing that you were participating in (referencing? critiquing?) the literary tradition of the wartime romance. I'm thinking of novels like Hemingway's A Farewell to Arms or Richard Sherman's The Unready Heart, or even Charles Frazier's Cold Mountain—off the top of my head. There's a question in there somewhere, I think.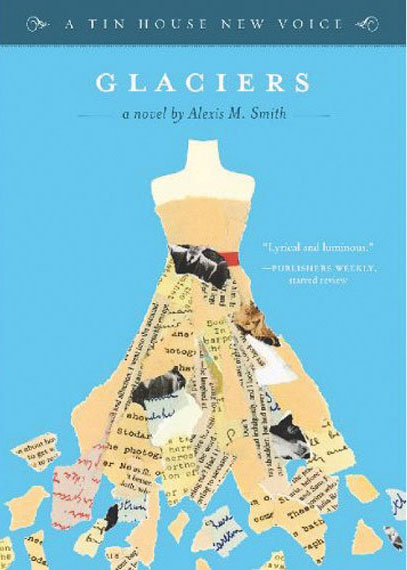 ALEXIS SMITH: Glaciers was consciously a "wartime novel," though, I'm abashed to say I haven't read those three novels you mention. My two most obvious influences were Katharine Anne Porter's short novel Pale Horse, Pale Rider, and Virginia Woolf's Mrs. Dalloway (which is really a post-war, or between-wars, novel). I started writing it about two years into the Wars and finished the last edits before the U.S. had pulled out of Iraq. I was troubled by the lack of a "home front"—this idea that those of us not overseas, fighting, should be keeping close the human lives on the brink. Instead, we on the home front were encouraged to shop more, to vacation, to keep the consumer economy engine running, to stop questioning the cost of the Wars and the reasons for going.

I grew up with pacifist parents, and for a long time had very narrow ideas about who goes to war and why. There isn't a draft anymore, after all. Why would someone choose to take up arms and go halfway around the world to fight? But when I left home for college and jobs out in the world, I would meet these sweet young men here and there—at jobs, in grad school—who had joined the military, and they made the idea of "soldiers" human for me. Spoke was inspired by those young men, and by the disconnect I was feeling. Glaciers was, in some ways, about trying to reach across the distance of experience, of time and space, with a sympathetic presence. (In retrospect, I recognize that this is something both Woolf and Porter do really well in their novels.)

On my way through the Albuquerque airport last fall, I happened to witness the homecoming of some soldiers. There were people of all ages lined up with signs, cheering the men and women (mostly men) as they met their families and friends. I was trying so hard not to cry, standing there, not knowing any of the soldiers personally, my young son there with me, totally perplexed by all the flags and applause. I wouldn't consider myself an especially patriotic person—at least not in the way most flag-waving Americans see patriotism—but seeing the survivors of the Wars in the flesh reminded me why I needed to have Spoke in my story.

PROPELLER: Now that I think of it, the Mrs. Dalloway influence feels quite present. I know drawing specific parallels between your work and work that influenced it can be uncomfortable (or maybe even not useful) but I see a lot of Clarissa Dalloway in Isabel. Isabel's inner life are much more present than Clarissa's ever were, but they feel of the same kind. And, well, they both do spend the day getting ready for a party in their separate ways. Could you speak a bit to Woolf's influence on how you approached writing this character?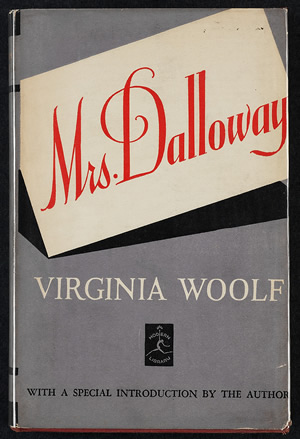 ALEXIS SMITH: I wear my influences on my sleeve, for better or worse. (For worse, I guess, would be risking being called derivative or unoriginal.) As a younger writer, I considered myself a modernist. I was very serious about it. When my classmates were reading David Foster Wallace and Dave Eggers, I was reading Gertrude Stein and Djuna Barnes. I just wasn't interested in postmodernism at all. (I'm still not, honestly.) I saw parallels between the disillusionment post-World War I and the disillusionment of post-9/11, and I found what I needed in writers who wrote through the early part of the last century. The women writers of that time were particularly sharp: Virginia Woolf, Jean Rhys, Marguerite Duras, Katherine Anne Porter... I consider myself a writer in the tradition of these women, and as such, I feel that I owe it to them to say their names as often as possible, to give them credit for their influence. (T.S. Eliot is not a woman, obviously, but I go back to Four Quartets often, and it has probably influenced me as much as Mrs. Dalloway.)

Mrs. Dalloway influenced Isabel directly. I had Isabel's past, but not her present—not really. I knew details, but I didn't really know what she wanted, what she would pursue to the end of the book. Then I woke up one morning and turned on the radio and the London tube bombings had just happened. I remember the same somber silent pauses in the voices of the NPR hosts that they had on 9/11, and for what seemed a long time, I didn't know what had happened this time. When I found out, my first thought was, "What would Virginia Woolf make of this?" or something like that.

I should say that I consider Woolf a genius, and myself, not. It wasn't my intention to write a contemporary Mrs. Dalloway. But the inspiration was there and is meant to be up front. The diurnal narrative, the small, important moments blooming before your eyes, the characters who might otherwise be types—like Clarissa, this superficial, upper-class woman throwing a party—viewed up close, in slow motion. The other characters and their stories all somehow come to us through Clarissa, and also through Isabel, though more directly, in Isabel's desire to salvage, to collect.

PROPELLER: You say that you were trying to "reach across distance and experience" with the presence of Spoke in the story. I think you've succeeded in that. In fact, Spoke's existence in the story feels at times like an intrusion into a world—Isabel's world—that is otherwise very contained. Her habits and affinities seem rooted in her very specific experience and in the places (Portland, a library, vintage clothing shops) of the story. Her Alaskan past and the specter of the war (in the person of Spoke) seem to really complicate things quite a lot for a character like Isabel. And yet she reaches for those intrusions. Did this feel to you like the story of someone who is actively seeking to disrupt a life that has become cloistered?

ALEXIS SMITH: Good question. Yes. I think so.

You can see Clarissa Dalloway struggling with the petty trials of her bourgeois life, all the while, on some deeper, empathic level, sensing that across town Septimus Smith is reliving the nightmares of the trenches. There's an awkwardness about Clarissa and her position in life, her safety. I wanted Isabel to be a proxy for uncomfortable, unknowable distances, too. How does one square the pursuit of a vintage dress (or flowers: the most fleeting of indulgences!) with the terror of battle? It can't be done. Maybe the point is not to square them—to explain away how suffering and death coexist with bliss and beauty—but to enter into the space between them, where the discomfort is, and interrogate it. Isabel asks Spoke why he joined the Army and it "seems like a confession" to her: she's confessing how much she has tried to square her romantic fantasies of him with the image of him with an assault rifle in his hands. It's sexual desire and fear of death all wrapped up in one question. Good questions shift awareness; Isabel's awareness shifts.

PROPELLER: This is quite a short book, really. And, it is divided into chapters that are often very brief. And, the contemporary part of the story takes place over a single day. Tin House also printed the book in rather smaller-than-typical size. There seems to be a strategy in place working between all of these choices. Did you set out to write a novel that worked this way, or did the story just find its way to this kind of presentation? What sort of writing process led you to write this particular novel and not, for instance, a sprawling meditation on love and loneliness and war and nostalgia that this novel might have become in a different writer's hands?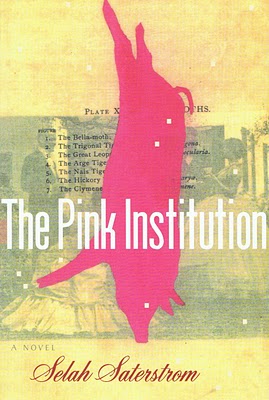 ALEXIS SMITH: I love short novels, might be the easy answer. I love small books. Another easy answer might be: I had never written a novel before, so I set my sights on something contained, something I could handle like an envelope that will only hold so many pages.

The shape happened intentionally, from the beginning. I was writing these prose poem sequences about my childhood in Alaska that became more and more narrative. I didn't know what kind of story I was writing for a long time, but I knew what I wanted the container—the interface of the story and the world—to look like. I was influenced by this spectacular book by Selah Saterstrom called The Pink Institution. Saterstrom uses white space and omitted text, and her techniques helped me imagine a physical space for my story.

All that white space on the page was in the original manuscript from the very early days. I wrestled those increased margins into Word (and Word, that untameable beast, punished me for it daily). I wanted there to be a snowy expanse; I wanted the text to look like glaciers. I wanted there to be a feeling of condensation (of memory, of interiority, of sensory experience), and with it, room to breathe.

I don't think I had it in me to write something "sprawling," to be honest. Sprawl kind of freaks me out.

PROPELLER: So what's next for you as a writer?

ALEXIS SMITH: I'm working on another novel that I have called "a mystery," but it's not really a mystery in the traditional sense. There are no hard-boiled detectives or crime-solving old ladies. It takes place in the Northwest, again, in the San Juan Islands of Washington and in the Malheur wilderness of Oregon, and it involves natural and man-made disasters, a journalist, a park ranger, a former nun, some quasi-religious homesteaders, and mushrooms. I'm hoping to be done with the first draft this summer.

---

Alexis Smith's debut novel, Glaciers, was published last year by Tin House Books. She lives in Portland, Oregon.