Television
Throne of Adolescent "Prestige"
We've Confused the Marketing of Game of Thrones With Its Substance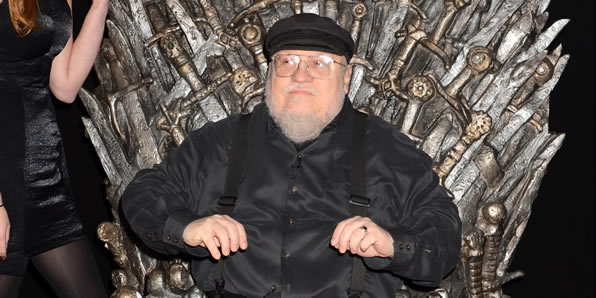 Game of Thrones bludgeons viewers with a sensibility so overstated as to make its critical reception a farce.


By Danny Nowell


few weeks ago—years, in Internet time—Slate's Ruth Graham lit the literary Twitter and blog scene on fire with her "Against YA" argument. Her argument, a provocative if imperfect one, was essentially that the rise in popularity of Young Adult fiction among adult readers is a symptom of a literary culture off its axis. There were responses, and in the way of these things, counter-responses. You might remember the whole thing.

The most persuasive argument against Graham's thesis—a thesis to which I am largely sympathetic—was always that "Young Adult" is more a marketing designation than a critical one. We've known for some time that the notion of drawing strict boundaries between genres is shaky business; falling short of even being a full genre designation, "Young Adult" is less useful for taxonomy than even "noir" or "romance." While Graham is on to something, I think, in searching for the infantilizing agent in the popular book culture, ultimately her target is a term publishers are growing ever more shrewd in using to sell books.

Elsewhere, to similarly-pitched Internet fervor, Game of Thrones was concluding its fourth season on HBO and further demonstrating how corrosive the embrace of marketing terms is to the critical impulse. In the case of Thrones, however, the term in question is "prestige:" a stale and jargonish term now used sparingly and ironically, if at all, to mark actual television shows, but one that more or less categorizes the shows we are supposed to take seriously.

You know prestige programming: high-budget, lavishly shot, hosted, usually, on one of a few hallowed premium networks. Network shows, with their attendant sex and violence, are the stuff of in-laws' televisions after holiday dinners. But prestige television, with its prestigious sex and violence, has become the common tongue of middlebrow cocktail parties in the decade that has seen its proliferation. Whereas "Young Adult" signals to its unembarrassed fans a refreshing lack of pretension, "prestige" makes safe what many might otherwise be too embarrassed to admit to watching.

Put simply: Game of Thrones is a clumsy and juvenile show, whose acceptance as an intelligent series has at least as much to say about the culture as the current popularity of Young Adult fiction. In its fourth season, Thrones confirmed what it had spent the previous three seasons suggesting: that it is a show with only the most sophomoric definition of complexity and a determination to mistake apparent contradiction for nuance.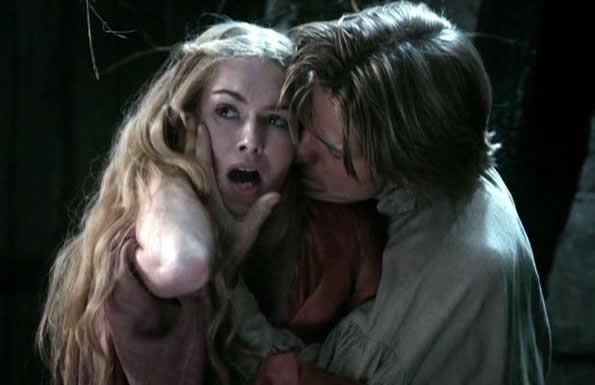 his most recent season of Thrones first drew the ire of fans and critics in its third episode, when villain-turned-complex-antihero Jaime raped his sister (and lover) Cersei next to the tomb of their recently murdered son. Troublingly, the rape was a departure from the books, which included a consensual but still disturbing encounter over the corpse. Compounding the problems were comments from the cast and director of the episode, which ranged from "it's not pretty" to "it became consensual by the end" in their cringe-inducing wrongheadedness.

After that episode—and the subsequent revelation that the show had precious little command of the stakes it was introducing—the next episode opened on not just one but many rapes. A gang of former watchmen has taken over a small compound, in which live several dozen women who had been forced into an incestuous relationship with their father. The watchmen have replaced the women's father as abusers, and the episode opens to breasts bouncing in the shadows accompanied by scattered, muffled cries. Just a week after the show elected to show a rape where the source material described consensual sex, it opened on a scene of exponential cruelty. Neither scene's dramatic value is clear, and it's apparent that the show did not understand the gravity of the events depicted.

These scenes have been rightly seized upon by other critics as evidence of the show's inability to fully empathize with its female characters. More broadly, they are examples of Thrones' supremely adolescent approach to world-building. Showrunners D.B. Weiss and David Benioff, adapting George R.R. Martin's novels, reach time and again for the cruelest, most extreme means of dramatizing their themes, bludgeoning viewers with a sensibility so lurid and overstated as to make its critical reception a farce.

Of course it's impossible to address these failings without at least mentioning Martin's texts, and it seems that Weiss and Benioff have been saddled with some of their problems. Game of Thrones the show epitomizes the prestige television cliché of flawed heroes and sympathetic villains. Every murderer displays some honor, every self-interested liar risks themselves for love, every sharp tongue is hiding a wounded heart. Surely, Martin is partially to blame. These are his characters, and the show's dorm-room approach to "subjectivity" starts with them.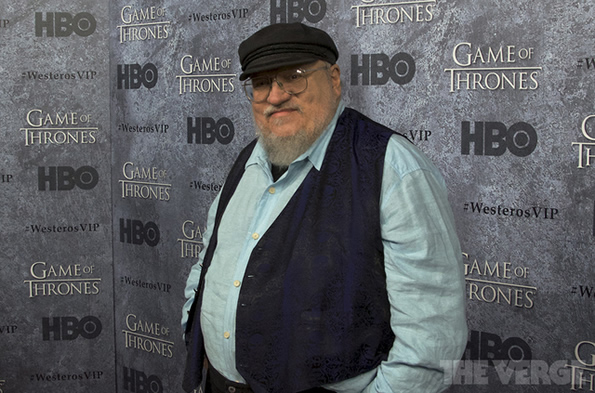 But the show compounds these errors, and not just with plotting differences. Yes, the show turned a consensual sex scene into a rape, but its consistent, lingering focus on brutality has long since lost its narrative usefulness. We are not merely shown that characters are being tortured; we're given minutes-long close-ups on their crucifixions and flayings. We don't just see a character fall in combat; the camera lingers as his head is crushed, eyeballs first, by another character's hands. Having established years ago that theirs was a world marked by violence and cruelty, Benioff and Weiss now revel in the anatomic particulars of that cruelty in a way that can no longer surprise.



t's helpful here to return to the discussion of Young Adult fiction. As Gawker's Michelle Dean recently noted, one of the charges that critics often level against YA is its "manipulative" prose. This is a slippery notion, and without speaking for any other critics, I take it to mean prose that appeals to a reader's emotions outside of the work of the narrative. By just about any definition, however, the camera work—the prose of film and television—in Thrones is intensely manipulative. It is focused on the grotesque detail and the cartoonish pitch of suffering at the expense of composition. This is a show with lasting scenes but almost no lasting shots. Barring the occasional CGI stunner, Game of Thrones' cameras serve to move the audience from one "oh shit" moment to the next, and to linger long enough to turn that "oh shit" from excitement to disgust.

Season four's finale, for instance, dwells for an eternity in the close-ups of a swordfight between two of the show's more interesting characters. Brienne of Tarth, a towering female mercenary whose androgyny has placed her at odds with society, battles Sandor Clegane, himself an oversize pariah thanks to a facial disfigurement suffered in childhood. Clegane is a ruthless mercenary, Brienne perhaps the show's most morally anchored character. Their fight is an interminable series of close-ups, of teeth smashed from mouths and rocks colliding into skulls scored by dozens of grunts and shrieks. It is, by the show's standards, narratively meaningful violence, and still it drags on too long, intent on reproducing what might shock but after four seasons of this treatment can only bore viewers.

And, of course, this approach mirrors the show's approach to plot. Its great triumph is the destabilization of fan loyalty—the first season famously concludes with Nedd Stark, the nominal protagonist to that point of the series, wrongfully beheaded. In the thirty hours that have followed that beheading, the show has expanded on the many ways beloved characters can die or be maimed. They can be gutted while pregnant at a wedding, or shot dead by a child archer. Their heads can be crushed by enormous hands, they can be burned at the stake, they can have their throats cut. They can be castrated. Always, they can be raped. Almost always, we will see all of it.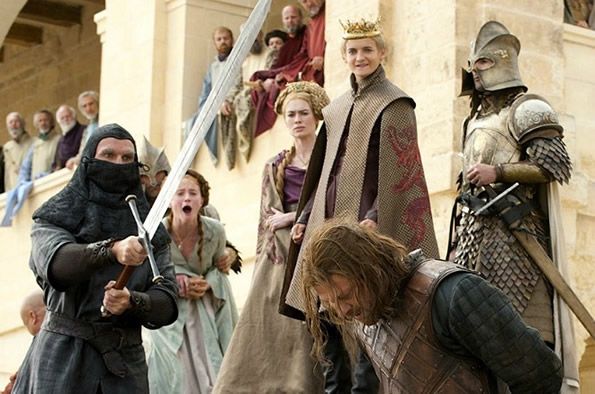 By now, it's more a surprise when characters survive than when they don't, but even here the show fails to offer viewers much. Crooks and cheats survive, if not thrive, and the characters viewers might identify with escape death only by compromising their morals. The indifference of fate to ethics is the one point the show has to make, and it ceased finding new ways of making it with Nedd Stark's execution.

Again and again, the show seems to advance the idea that its simple, if brutal, worldview is some sort of groundbreaking complexity worthy of our time, or at least its incredible budget. Critics mostly seem to reward it, though the number of weary (and largely feminists) critics is growing. Perhaps because it is so recent, or perhaps because Game of Thrones seems to speak from such an adolescent place, I can't help but compare it to the recent YA debates.

There has always been and always will be some handwringing that what is popular is somehow debasing the culture. Since Graham's post on Slate, in fact, Vanity Fair ran a gossipy and incurious piece detailing how some "highbrow" literary outlets have accused Donna Tartt's The Goldfinch of just that. Almost always, these arguments miss the mark, because almost always, they fail to demonstrate that the popular trash in question is siphoning fans, viewers, or readers away from more intelligent material.

But in the case of Game of Thrones, in the age of the "pre-cap," recap and round-up, it is very difficult to resist the conclusion that we are simply wasting too much time on what is essentially vapid. And here that designation of "prestige"—or whatever term you prefer for Thrones' current popular anointment—bothers me. This is not a case of adults consuming art aimed at adolescents, it is a case of art aimed at adults receiving praise for a worldview that has scarcely developed beyond adolescence. For some reason, we've confused the marketing of Game of Thrones with its substance, and a cheap, exploitative show has survived under the camouflage of "prestige."

---

Danny Nowell is a writer living in Portland, Oregon. He has covered the NBA for ESPN.com, and has published fiction, essays, and critical reviews elsewhere. He recently wrote about Gabriel Roth and Little Brown's Twitter marketing stunt.