Quiz
Is YouR Universe A Simulation?
A Simple Quiz Reveals All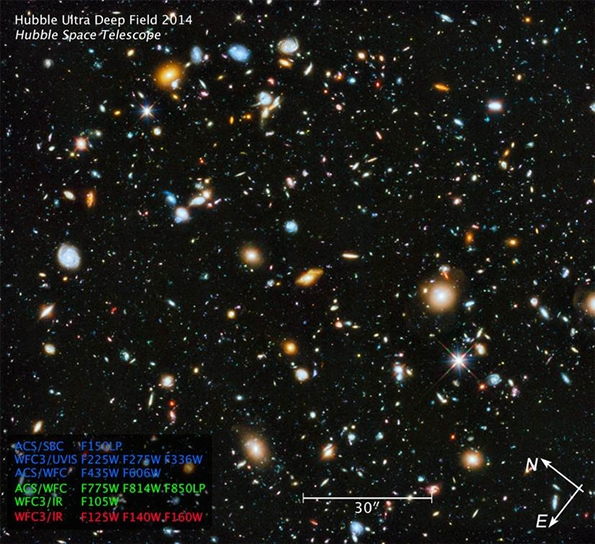 A low-perception image of a (holiday themed?) universe, taken by hominid inhabitants with a piece of glass.

Have people in your universe finally recently begun to wonder if it's a simulation? The following quiz is not meant to be passed between universes. I have placed it on this website concerned with art and literature so that few people will find it. Quickly, before it is erased, read the questions, do the math, and discover the true nature of your reality. I seek only to help you!

1. For the entertainment of the entities watching a simulated universe, that universe will often have eccentric physical rules. Which of the following statements apply to the universe you live in?
—You move effectively through the usual spatial, temporal, and perceptual dimensions. (-10 pts)
—Despite occasional limits on spatial, temporal, or perceptual movement, you can usually ascribe these to the presence of a radial inversion or a nearby lightstorm. (If you're a Trlghn or Uln-gava, those terms are obviously interchangeable.) (0 pts)
—Your universe features preposterously localized forces. When you propel yourself from a surface, for instance, it doesn't work—you return immediately to that surface. Or when you attempt to propel yourself through time, nothing happens. (You may have pseudo-scientific names for these limiting forces, despite their obvious ridiculousness.) (5 pts)
—Though you are able to move in multiple spatial directions, you may move through time in only one direction, which limits your perception. Alternately, you may live in a universe in which you have limited perception, causing you to believe that time moves in only one direction. (10 pts)

2. Simulated universes often have default settings the simulation returns to, regardless of events and in violation of any form of actual logic. Do any of the following describe your universe?
—Through determined work, civilizations in our universe solved the status and identity conundrums, freeing consciousness from physicality and unlocking perceptive mobility. (-10 pts)
—Conflicts and power struggles in our universe usually result in changes that allow us to better understand our situation and attempt different structural resolutions, though not always. (0 pts)
—Creatures in my universe repeatedly align themselves with the same constellation of fantasy-belief identities in order to fight or war with each other. The fights or wars change little or nothing, but the creatures keep the fantasy beliefs. (5 pts)
—The above, but with an additional feature: damaged creatures in my universe routinely use weapons to randomly injure or kill other creatures. Obvious solutions like outlawing the weapons or offering palliative care to damaged creatures before they turn violent are not things the leaders in my universe appear to be interested in doing. This strongly suggests the leaders are pseudo-leaders. (10 pts)

3. Creators of simulated universes will often repeat particularly humorous or bizarre episodes of the simulation for their own entertainment. Though some civilizations consider this poor form—the Gyrrglifian civilization coined the term sussudian as a pejorative descriptor for the act of inducing nonsensical repetitions—it is also quite common. Which of the following descriptions most closely matches your universe?
—Because chance plays such a large role in the amount of local power and/or resources a creature has access to, creatures in your universe naturally go through periods of great access to resources, and also of little access. In order to reduce meritless repetition as a result of chance, every sentient being is offered a turn at being a leader of the social system or a participant in competitions. (-10 pts)
—The same as above, but certain individuals manage more than their share of turns at the highest levels of influence or access to resources, which strikes everyone as suspicious. (0 pts)
—The same creatures and their offspring maintain the exact same access to power and resources despite displaying neither merit nor intelligence. Dispossessed people remain dispossessed. The social order seems painfully or comically locked. (Example: a group has a leader named, say, "George," and this George names his son "George," who also becomes a leader. Later, a spin-off group also has a leader named "George," who also names his son "George," who also becomes a leader, etc. This is a classic simulation joke many creators refer to as the su-su-ssudio joke.) (5 pts)
—In your universe, the su-su-ssudio joke is less robustly developed: you just have a famous swimmer or fighter named George who names all of his children George. (10 pts)

4. In rococo or slapstick simulations, odd sporting events the simulation inhabitants believe are authentic are almost exact repeats. This could involve the same teams re-playing each other with observers repeating the same commentary. A common "irony wrinkle" (that I'll admit I'm a fan of) would be to have creatures believe they are unprepared, due to failed organization, for the contesting of some kind of sports "cup" while they simultaneously believe the outcome of that contest has, through effective organization, been "purchased" or "fixed"—all while unaware their entire universe is itself a highly-organized simulation! Oh, man—good stuff. Check the examples below and see which best applies to your universe.
—Your universe has a significant number of creatures in it—more than five hundred—who are all raised with care and attention, which of course results in different creatures winning the competitions each time. (-10 pts)
—You read the description for #4 and thought, What is "sports?" (0 pts)
—You read the above and thought, But Peyton Manning [or "Mann, the Peytonian"] was on the [clan name] this time, so that's not a repetition. (I'm mostly mentioning this feature because it's a preset, with slightly different naming depending on model, in many simulated universes.) (5 pts)
—You read the above after elsewhere reading doubts about (depending upon your universe) the legacy of a being named "LeBron," "SpeulGartan," or "D@shoi!," admiration of the teamwork of the San Antonio Spurs, the Oort Radians, or the T9815 Timestorm, or speculation on what a being named "Kobe," "Roshtonghh," or "Mgg?" would have done, but a search of your universe's utterance archives would reveal that these utterances are repeated all day long, every single day. (10 pts)

5. Finally, though the following situations may challenge the assumptions of certain forms of consciousness, please read and consider them carefully.
—This quiz did not appear in your universe, so you never saw it and are not now reading it. (-10 pts)
—In your universe, when creatures discover what causes a disease, they immediately discover that that actually doesn't cause that disease, and then that that disease is not actually a disease, at which point the disease often posits that it is the creature, not the disease, and that the entities who believe they are creatures are actually diseases, though their cause is currently unknown. (Creatures from the Converse-Beret Galaxy should transpose all uses of creature and disease in that description.) (0 pts)
—You are a creature devouring the very environment that gave rise to its existence. (Creatures in these universes often believe a snake swallowing its tail is a symbol of infinity or paradox, though creatures in authentic universes realize this simply results in a dead snake of questionable intelligence.) (5 pts)
—You are in a universe that is just increasingly trivial and stupid, and no one seems to care. (10 pts)

Results:
Negative points: You are probably in an authentic universe. Enjoy! (Note: If you scored -50, I think it's poor form for you to be darting in and out of realities this way. Kidding! Drinks on me in The Zone!)
0-30 points: You're in a simulated universe, but a robust one. Try some stuff. Don't be afraid to love.
31-49 points: You're in a simulated universe that has been designed by a trickster or function-humor creator. It's mean and I don't condone it, but there's nothing I can do. Sorry.
50: Did you really not know?

---

Propeller quizzes are not a guarantee of or replacement for actual insight into the physical laws of reality.