Aisles
Ripples refract the shell: Leanne Shapton's Swimming Studies



Swimming Studies
by Leanne Shapton
Review by Benjamin Craig

My wife is a swimmer. I am too, I suppose, but not in the same way. She is an adept: a strong swimmer with a refined technique, capable of describing straight, efficient lines across a lake. I, on the other hand, have no technique, and no ability to focus. We both love the water, though, so when our son was born, we wanted him to love the water, as well.

Not long after my son's birth, Leanne Shapton's Swimming Studies was published. I was drawn to it. I knew I wouldn't need to read up on how to swim or teach swimming—my wife could handle that. And I knew I didn't need to worry about being enthusiastic about the activity—I had that covered. But I wanted something to help me communicate to my son how to love the water we way his parents do. I needed a language for romanticizing community swimming pools and mountain lakes. I approached reading the book with the bizarre expectation that it would make me better at the abstract and unmeasurable task of channeling a love of swimming to a child.

The first chapter of Swimming Studies, "Water," was troubling, given my project. In this brief chapter—hardly a paragraph, eighty-two words—Shapton tells us that defining swimming is like:

…looking at a shell sitting in a few feet of clear, still water. There it is, in sharp focus, but once I reach for it, breaking the surface, the ripples refract the shell. It becomes five shells, twenty-five shells, some smaller, some larger, and I blindly feel for what I saw perfectly before trying to grasp it.


Okay. So Shapton recognizes and is going to confront the difficulty I've identified. I'm happy to learn this right off the bat. I've chosen the right book.

The second chapter is titled "Quitting." I am disconcerted.

I needn't have been, though. As a reader with an agenda, I was too easily thrown. Fortunately, with a review to write, I settled in and was rewarded with a circuitous but unwavering narrative, acute imagery, and some lovely sentences. Shapton illustrates her own difficult relationship with swimming by slowly circling a meaning, tracing some divergent, some converging, themes of water and isolation and competition.

Many chapters follow the path of Shapton's career as a competitive swimmer. Her parents pushed her into swimming. She was good. She was so good, in fact, that she competed in the Canadian Olympic trials in 1988 and 1992. She was once a highly ranked swimmer—eighth in Canada, briefly. She attempted to retire, but was drawn back in her thirties. These chapters make up the bulk of the book, but they are out of chronology. It is not the end that matters, but the meaning of the stops along the path. She is as curious as I am about the meaning of the water, and of swimming, and she doesn't have an easy answer. There is a story, but not one that will lead us to a conclusion, so she doesn't try.

Other chapters are concerned with the ephemera of swimming. A chapter titled "Goggles" begins with a brief discussion of her transition from Speedo goggles, in which she believed she "looked faster," to a pair of Arenas the same as those worn by a more successful swimmer, to, finally, some minimal Swedish goggles that "marked a step up in my swimming career, from okay to good." The changes in equipment tell the story of a changing person as clearly as any explicit narrative, and for my purposes—more revealing. Shapton is leaving clues, breadcrumbs. Another chapter catalogs the swimsuits she wore over the years, and another attempts to capture the smells she associates with a swim meet, though watercolor blots on the page.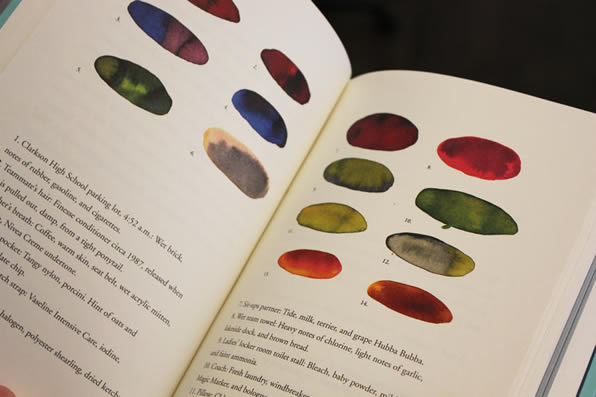 The New York Times review of Swimming Studies describes the book as "pointillistic." There really is no better metaphor for the book. Rather than describing a whole, Shapton reveals one to us by placing one dot at a time on her canvas and letting the image resolve itself over time.

We are left not with an answer, but an impression. Like all pointillism, no matter how fine the points, gaps remain. This is not realism, but not wholly abstract. It is an attempt that reveals all failures of articulation. And those are, finally, the meaning of the text. It is not easy to say what it is that Shapton tells us about swimming, about water, about competition, or identity. But it is certain that she has revealed some part of her relationship to swimming, and of her love.

It won't help me transmit that love to my son, I think, other than to suggest I be patient with him, as Shapton is with her readers. Over time, we may figure it out.

---

Benjamin Craig is a Senior Editor at the magazine. In October, he wrote about Woody Allen and the film Love and Death..