Aisles
Slowly Removing the REalism: John Banville's Ancient Light

By Dan DeWeese
Our lives are deadly serious and a total joke. Most people can acknowledge this at a rational level: we experience life as a story in which every day we are an important figure, while also understanding that the billions of other humans alive right now—not to mention the untold lives already lived or yet to happen—represent overwhelming statistical evidence that, on this planet, at least, life is cheap. We mostly ignore the latter statistical reality in favor of the former, more-flattering experience, and for good reason: waking up crushed by constant awareness of one's redundancy kind of puts a damper on the day, not to mention one's mental health.

In his new novel, Ancient Light, John Banville takes the literary equivalent of this contradiction—characters' lives possess serious meaning; characters' lives are flimsy constructions—and layers them in a way that produces a narrative dissonance. The novel extends the saga of Alexander Cleave, an actor in late middle age whom Banville (winner of the 2005 Booker Prize for The Sea) first introduced in his lovely 2000 novel, Eclipse. In that story, after drying onstage in a production of Electra, Cleave had retreated to his small Irish hometown to worry over his identity and, oddly, since she was not present, also over the safety of his adult daughter, Cass. Eclipse ends with Cleave believing, through a spooky knowledge-at-a-distance, that something awful has befallen Cass, and Shroud, his 2002 sequel, explores the accuracy of his conclusion: Cass has indeed died under mysterious circumstances, possibly in the company of Axel Vander, a—get ready—literary theorist whose hidden past of having written anti-Semitic items for Nazi publications was a match, as many of that novel's reviewers noted, for the actual biography of literary critic Paul de Man. Ancient Light returns us to Cleave years later as, in one strand of the novel, he recalls an affair he had as a teen with his best friend's mother, while in the novel's present-day narrative Cleave finds himself, to his surprise, cast to play the lead in a Hollywood film about the life of…Axel Vander. Dawn Devonport, a glamorous but troubled Hollywood actress roughly the age of Cleave's daughter, will play the female lead—a character who is, of course, dangerously involved with Vander.

One cannot accurately convey a sense of Banville's work without mentioning his tremendous facility with language. He is, first and foremost, a crafter of lyrical, often exquisite sentences. Of a moment of post-coital impatience young Alex has when Mrs. Gray, his friend's mother whom he meets for trysts in an abandoned house in a forest outside of town, claims it is difficult to cheat on her husband since he is actually a good man, Banville writes:

My sole response to this parroting of the romantic claptrap from the women's magazines she was so partial to was an angrily dismissive wriggle. She stopped, and was silent for a long while, and her fingers, too, left off worrying my hair. Outside, thrushes were making the woods round about ring with their manic whistling, and the sun of early summer shining through a broken casement was hot on my bare back. We must have made a striking composition there, the two of us, a profane pieta, the troubled woman nursing in her embrace a heartsick young male animal who was not and yet somehow was her son.

There is a rhythm and bounce to Banville's sentences—derived in part by his fondness for assonance and alliteration—that can have one thinking in the voice of his narrator even when the book has been closed. The r's of "thrushes…round about ring," the s's of "sun of early summer," the b's of "bare back": at its best, Banville's prose carries us quickly and smoothly along the terrain of his narrator's thoughts and memories, and Banville is as interested in the thrushes and the casement as in the lovers' spat. I am far from the first reader to hear echoes of Nabokov in Banville's prose (references to Tolstoy and Proust pop up, as well) and to sense that the game of language is not merely of great interest to Banville, but is in fact the portal through which he asks us to enter his fictional worlds. Where other writers may attempt to "hook" a reader through a shocking event (plot) or the introduction of a unique person (character), Banville's interest is in digging into a moment—an image, a feeling, a posture, a mood, or all of those things fused in a moment of resonant perception—and capturing it so well that we simply hunger for the next moment. His means of readerly seduction is style.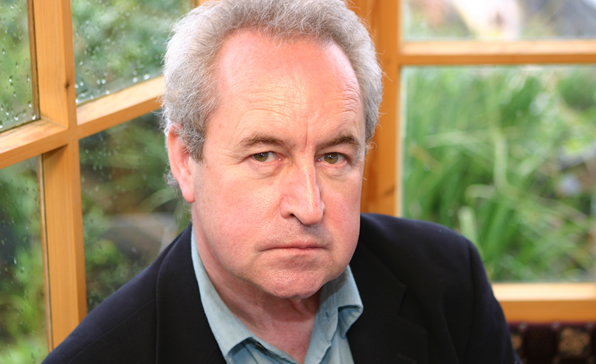 Booker Prize winner John Banville, who also writes mysteries as Benjamin Black.

The dissonance I mentioned earlier, though, arrives in the way we bounce between the elegiac, realist tone of young Alex's relationship with Mrs. Gray, and the goofiness of the present-day movie-making narrative, which Banville does not attempt to make realistic. To make abundantly clear this lightness, in fact, he seeds the present-day narrative with alliteratively-named characters and metafictional nods. In addition to the actress Dawn Devonport, we have executive Marcy Meriwether of Pentagram Pictures, and director Toby Taggart. When we learn the writer of Vander's biography, and also of the film's screenplay, is a man who goes by the initials JB, the coincidence of those initials with those of Banville himself clinches it: the young-Alex narrative operates with a sense that he and Mrs. Gray are characters with actual feelings, and that their sexual relationship could do, or has done, actual emotional damage to each other and to their families; the Cleave-is-making-a-movie narrative seems, by comparison, just an extended joke. It is not merely metafiction—that term itself strikes me as too all-encompassing, sweeping all sorts of divergent strategies under the same rug—but the kind of fiction that flaunts its meta in reflexive-narrative's version of a burlesque show: Watch me, this kind of story says, as I shake and shimmy while slowly removing my realism. When Cleave is first offered the movie role, for instance, and is mailed a packet of information about the man he is to play, we read that:

There were newspaper cuttings and offprints of magazine essays and lengthy book reviews in small print by people I had vaguely heard of, with striking and often difficult names—Deleuze, Baudrillard, Irigiray, and, for some reason my favourite, Paul de Man—all of them considering and for the most part taking violent issue with the work and opinions of Axel Vander.

For readers who know Eclipse and Shroud, however—and I am one of those readers—the mention of Paul de Man as being "for some reason my favourite" is a phrase in which the "my" makes much more sense as a reference to Banville himself rather than to his main character. By claiming de Man wrote about Axel Vander, Banville makes it impossible, in this fictional world, for Vander to be a stand-in for de Man. This small choice in a list of names undoes the reading most reviewers did of Shroud, and it seems to tickle Banville to do so.

It didn't tickle me, though. To be shown in one narrative strand that a fiction can be constructed to be deeply moving, and in another strand that a fiction can be constructed to be transparently cooked-up, is to be shown something that any reader who might buy this book already knows. What one waits for, then, is to gain an understanding—through feeling or intellect—of the purpose that lies behind Banville toying with his characters and narrative in this way. Eclipse began immediately after Cleave went silent on stage; a handful of years later, Banville published Christine Falls, the first of his mystery novels written under his pseudonym "Benjamin Black." The Benjamin Black mysteries take place in locales similar to those in Eclipse and Ancient Light. Are we to read Cleave as a doppelganger for Banville, and the faltering of Cleave's voice onstage as an allegorical version of Banville's decision to break from writing in his usual voice in order to write as "Benjamin Black"? Does Cleave's daughter represent Banville's books, and is the daughters' death in the company of a literary critic Banville's suggestion that critics have killed literature? Should we extend this allegorical reading and decide that the tale of Cleave, his daughter, and her death suggests that the theater gave birth to literature, which literary critics killed, and whose death the theater now traumatically re-enacts in the form of Hollywood movies? Those may be interesting levels to consider, but they lead to a more worrisome question for this reader, who found Eclipse, and especially Banville's depiction of the father-daughter relationship within it, to be entirely persuasive and deeply moving: Was I stupid to be moved by something the author, two sequels later, treats as nothing more than playful, goofy allegory? In other words, what is troubling about Ancient Light's inclusion of characters like Dawn Devonport and Toby Taggart and Marcy Meriwether and "JB," and the literary chuckling that seems to arrive with them, is that it raises the possibility that when we find Banville's work emotionally affecting—and a writer of his tremendous skill possesses equally-tremendous potential for affecting readers emotionally—we are at some level being duped.

Most writers who employ these techniques (and the readers who find pleasure in their work) suggest, either openly or implicitly, that the distancing that techniques like these bring to a reading experience are somehow instructive. They make readers aware of the ways in which narratives work, for instance, or the degree to which fictional worlds, because they are constructed, are contingent and therefore revealing of ideologies or psychologies or market realities at work in whatever discourse community or cultural field is constructing and consuming said narratives. I don't know anyone who disputes these claims. Even the cartoons children enjoy these days are metacartoonish at levels my Warner Bros.-fed mind would probably have rejected, which is why, at this point in the 21st century, these kinds of constructions in fiction certainly still distance and alienate, but I'm no longer sure they're instructive. Many readers are entirely aware—via experience, education, or both—that narratives are constructed and consumed, but they nevertheless continue to seek reading experiences that engage them at intellectual and emotional levels. When a writer clips the wires of the emotional connections, I suppose we can study how the bomb was put together, but the thing's not going to go off.

Because what Banville is doing with his career as a writer is complicated—he is writing and winning praise and awards under two different names, but it's possible (if there are any Banville/Black completists out there, don't hesitate to write) that the world Banville's Alexander Cleave lives in is the same as—or at least a close parallel to—the world Benjamin Black's mystery-solving Quirke inhabits. (In Eclipse, a mysterious character named Quirke appears somewhat out of nowhere and turns out to be living in Cleave's home. Because I haven't read the Benjamin Black mysteries, I can't say if the Quirke in the mysteries is the same Quirke from Cleave's story, though Cleave's name, and the rest of my allegorical theory, lead me to believe he is.) Ancient Light's final pages suggest Cleave's story isn't over, so I suppose we should leave open the possibility that Banville is operating at levels of fiction, metafiction, and pseudonymous meta-metafictional genre-bending that remain in the process of revealing themselves. Perhaps in some upcoming book Banville and Black and Cleave and Quirke will all cross paths, and two universes will fold into one, into none, or into infinite reflections of Charles Foster Kane. My point, however, is that I am so naïve a reader that I opened Ancient Light, started reading from the beginning, and found the story of young Alex Cleave and Mrs. Gray beautifully rendered and highly compelling. Was I not supposed to?

---

Dan DeWeese's story collection, Disorder, was published last fall. He is also the author of a novel, You Don't Love This Man.