Craft
in a certain tradition: A Conversation with Benjamin Lytal, author of A Map of Tulsa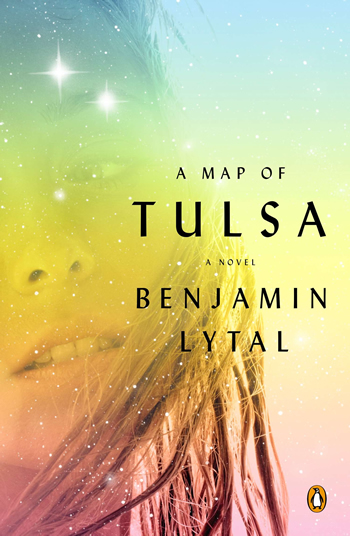 If you have ever driven through your hometown and felt like yourself again, you'll enjoy Benjamin Lytal's debut novel, A Map of Tulsa (out March 26th). If you've ever driven through your hometown and felt imprisoned, then you might enjoy it even more. And if you've ever been in a relationship that made you feel like yourself while more or less chaining your head to your heart, then you will sympathize with Jim Praley. Jim is back in Tulsa after his freshman year of college. Adrienne Booker is perpetually in Tulsa. Jim, a hopeful poet, is jobless for the summer, living with his parents, intent on honing his craft. Adrienne, a high school dropout, lives in a penthouse courtesy of Booker Petroleum, intent on making art and whatever choices she pleases. Part I charts their summer together, Part II their tragic rendezvous back in Tulsa four years later. Propeller spoke with Mr. Lytal about the big moments in Jim and Adrienne's relationship, the side characters that observe them, and department stores in Tulsa. —Patrick McGinty

PROPELLER: Your book has been receiving what I'd call some pretty flattering comparisons—a modern replacement for The Catcher in the Rye, a novel in the tradition of The Mysteries of Pittsburgh, which itself is in the tradition of Gatsby, etc. Is any of the advance praise spot-on about your influences? If not, what were your literary influences as you wrote A Map of Tulsa? I'd also be curious to know whether your influences were more literary or cultural. This might not be a distinction that interests you. I guess a more direct way to ask would be: when you ran up against obstacles in the writing process, did you look to your literary tastes for answers or was the impulse to say "how would this scene/character/line play in Tulsa?"

BENJAMIN LYTAL: I didn't think too much about what would play in Tulsa. But I do have a lot of friends who are very sharp readers, and I would mentally turn to them. I wanted to write a novel in a certain tradition. I had published several short stories, they were metafictional and crazy and I loved them, but I wanted to do something straighter. I did actually look to Gatsby, early. But it's more like I wanted to write against myself.

PROPELLER: One more brief question about influences: were there any "Oklahoma" novels that influenced you? It's been a decade or two since I've read them, but Where the Red Fern Grows, The Bean Trees, and The Grapes of Wrath come to mind, the last of which I guess is technically about a departure from Oklahoma. None of those are exactly current. Am I making a fool of myself for forgetting one? Or did you feel the need to fill a void with regard to fiction about Tulsa and/or Oklahoma?

BENJAMIN LYTAL: The key Tulsa novel must be The Outsiders, by S. E. Hinton. Larry Clark's Tulsa (a book of photographs) is closer to my desk. If Tulsa has a great author, it's Joe Brainard. Much of his I Remember refers to Tulsa. And I would like to gesture toward Invisible Man, because Ralph Ellison was born in Oklahoma, and thus we read his book in high school, and thus his New York is one I can see from Tulsa.

PROPELLER: Almost a third of the way into A Map of Tulsa, there's this four-page paragraph that's either a strange threesome, a succession of four two-somes, or a lot of kissing that ends with two satisfied customers, depending on your definitions. The scene is slow, tense, surprising, and weirdly satisfying. It's a real feat, and because it's structurally different from your other paragraphs, it seems like some "writerly choice" has been made there. When you write a scene like this, are you consciously thinking "I'm going to stay in this paragraph for as long as I can?"

BENJAMIN LYTAL: That scene came late. It came easily. I noticed, later, that it had a long paragraph, and that was something I decided to keep, perhaps because it was an artifact of the writing bout, but more likely because the length of the paragraph spread the scene evenly, sans inflection points. I didn't want to give my narrator time to stop and think.

PROPELLER: At one point Jim talks about how he won't go into Target with Adrienne because he associates trips to Target with his parents. He ends up pacing outside on the sidewalk. It's my favorite moment in the book for a number of reasons. It shows Jim and Adrienne out in town attempting a sort of "grown-up" activity; it reveals (in a way that seems both logical and inarguable) that kids in Tulsa cherish their trips to the air-conditioned Target; it depicts a struggle we've all had at Jim's age and beyond, i.e. seeing the places of our childhood repurposed, literally or figuratively. You're really firing on a number of different cylinders in that section as far as character, location, and language are concerned. I'm actually not sure that I have a question here. It's mostly praise. I guess I can't help but feel that the section is deeply personal. To the extent that you can remember writing it, what were the origins of that scene?

BENJAMIN LYTAL: I love that you brought up this scene. It is one of the oldest in the book. Your reading of all that's going on there is excellent. I can tell you that the themes you mention weren't initially present. It was just that the Target parking lot was important to me, and I had contrived some scene to be set there (I think it was some kind of rendezvous, two cars at high noon, I forget what the intrigue was…) Later I made it a moment of internal crisis, where Jim mentally rebels against Adrienne. That got toned way down, but the contrarian impulse stands. As revisions went on I apparently realized I didn't have to do anything dramatic, I just had to think a few clear thoughts about what the Target means to my character. And then he had to soak it up. I wrote and rewrote the imagery, because I wanted it to be iconic to Jim.

PROPELLER: The minor characters are incredibly well-drawn in A Map of Tulsa. There's Aunt Lydie, Tulsa's evil grandmother. There's Jamie, the long-forgotten friend, now a teacher-in-training. Even easily-forgotten Nic in his cargo pants, calling the ambulance when Adrienne crashes, inspecting the marks on the road, showing up at the hospital: all of them helped me better understand Tulsa. More importantly, they have the collective choral effect that's often necessary in first-person fiction. They all seem to ask Jim: "Do you really know what you're talking about when it comes to Adrienne?" My question to you is: to what extent do you think Jim hears them?

BENJAMIN LYTAL: I think for people like Jim it's like when a hot air balloon lands and a bunch of people run over to wrestle it down and force all the air out and carefully fold it up. Except Jim's trying to do all that by himself.

PROPELLER: Speaking of minor characters, I am a sucker for smallish-town parents. Early in the novel, I found myself wanting more scenes with Jim's parents. Yet there was this dynamic I grew to like: Jim keeps identifying his parents as incredibly important figures in his life, yet he's reluctant to put them on-screen, so to speak. It struck me as a very true rendering of a thoughtful young man. It seems like you're doing a neat inversion of the standard "show-don't-tell" trope to convey something deeper about the narrator, i.e. we (and Adrienne) are told a whole lot about the parents, but we aren't shown a whole lot. Am I reading this correctly? Was the balance between "Jim talking about his parents" vs. "actual scenes with the parents" something you considered as you wrote?

BENJAMIN LYTAL: Yeah, Jim insists on things. He's insistent. But you're right, maybe there's a larger lesson to be learned. I'll leave you with something Gatsby-related, from the initial NY Times review of that book:

In the method of telling, "The Great Gatsby" is reminiscent of Henry James's "Turn of the Screw." You will recall that the evil of that mysterious tale which so endangered the two children was never exactly stated beyond suggested generalization. Gatsby's fortune, business, even his connection with underworld figures, remain vague generalizations. He is wealthy, powerful, a man who knows how to get things done. He has no friends, only business associates, and the throngs who come to his Saturday night parties. Of his uncompromising love—his love for Daisy Buchanan—his effort to recapture the past romance—we are explicitly informed. This patient romantic hopefulness against existing conditions symbolizes Gatsby. And like the "Turn of the Screw," "The Great Gatsby" is more a long short story than a novel.

---

Benjamin Lytal
has written for the Wall Street Journal, the Los Angeles Times, The Believer, McSweeney's, and the Nation. For four years he wrote the New York Sun's "Recent Fiction" column. Originally from Tulsa, Lytal currently lives in Chicago.