Notebook
LAST CHANCE at SFMOMA: Lebbeus Woods, Architect of No-Man's Land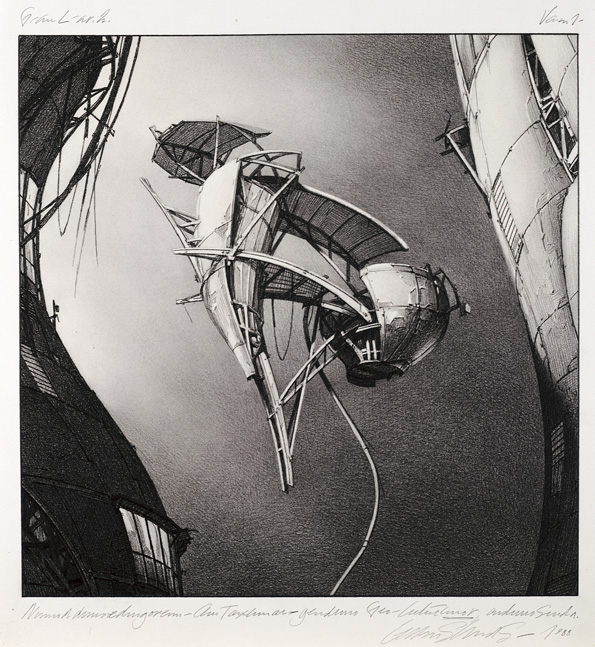 Photon Kite, Lebbeus Woods, from the series Centricity, 1988. Graphite on paper; 24 in. x 22 in. (60.96 cm x 55.88 cm); Collection SFMOMA, purchase through a gift of the Members of the Architecture + Design Forum, SFMOMA Architecture and Design Accessions Committee, and the architecture and design community in honor of Aaron Betsky, Curator of Architecture, Design and Digital Projects, 1995–2001; © Estate of Lebbeus Woods.
By Dan DeWeese

hough it's fashionable these days to speak of "environmental architecture," the degree to which "the environment" has become synonymous with "nature" is curious. There are any number of "environments" we navigate as we go about the business of our lives: students shuttle from the environment of their homes to the environment of their schools, while workers enter the environment of their offices, and we all navigate the environments of our shopping centers, entertainment districts, and other public spaces. This is to say nothing of the political environment—those who hold power over us, those over whom we hold power, those whose positions are uncertain, or those whom the power structure has simply dismissed: the unemployed, the dispossessed, the inheritors of the damaged zones the moneyed elite have ruined and flown from. This environment—the social, psychic, and historical structures we navigate as often as we navigate the aisles of our grocery stores—somehow doesn't qualify as the environment we evoke when speaking of "environmental architecture."

Lebbeus Woods spent an entire career interrogating this issue. "Architecture is a field largely devoted to valorizing the normal," he wrote, and the exhibition of his work on display through Sunday (June 2) at the San Francisco Museum of Modern Art offers a glimpse into the various ways Woods opposed that valorization throughout a career in which he imagined an architecture that acknowledged and openly responded to the human environment. His imagination seized on cities like Berlin, Sarajevo, and Havana because it was in those cities that politics or war had most tellingly resulted in abandoned or damaged "no-man's lands." Rather than "restoring" a bomb-damaged government building in Sarajevo, Woods proposed temporary architectural scabs that would become permanent architectural scars. His was an architecture that would neither erase nor deny what had happened. The building's history would be read on its body, and citizens of a city in which buildings aged this way would have an open relationship—architecturally, at least—with the past. Where there was destruction there would not be reconstruction as erasure, but reconstruction as memory.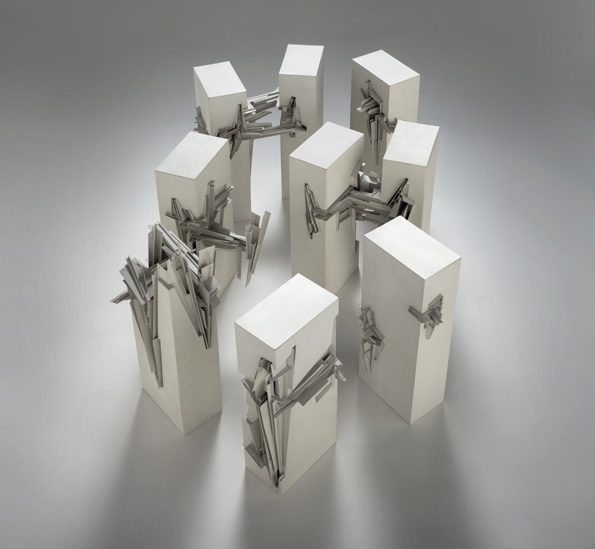 Nine Reconstructed Boxes, Lebbeus Woods, 1999. Plastic models and ten sketches; 11 in. x 8 1/2 in. (27.94 cm x 21.59 cm); Collection SFMOMA, Accessions Committee Fund purchase; © Estate of Lebbeus Woods; photo: Ben Blackwell.

The goal with this kind of reconstruction is not, Woods warned, the creation of austere memorials:

The new spaces of habitation constructed on the existential remnants of war and natural disaster do not celebrate the destruction of an established order, nor do they symbolize or commemorate it. They build upon the shattered form of the old order a new category of order inherent only in present conditions, with which existence feels its strengths, acknowledges its vulnerabilities and failures, and faces up to the need to invent itself as though for the first time.

This is theoretical architecture, of course, which means that Woods' structures are viewable primarily via his art. His drawings, and the text often written over them or scrawled in their margins, possess the allure of science-fiction—in fact, he successfully sued the makers of the film 12 Monkeys to receive acknowledgment (and a six-figure cash settlement) that an interrogation chamber in the film was inspired by his own work.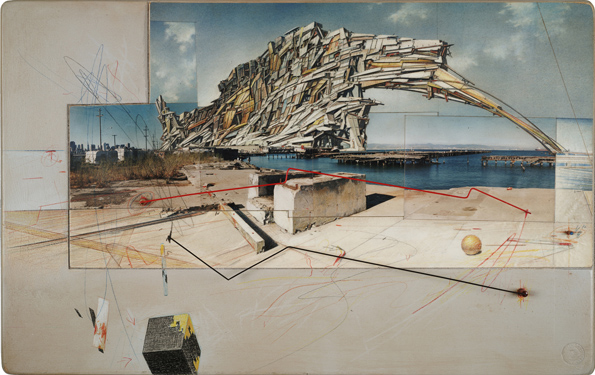 San Francisco Project: Inhabiting the Quake, Quake City, Lebbeus Woods, 1995. Graphite and pastel on paper; 14 1/2 in. x 23 in. x 3/4 in. (36.83 cm x 58.42 cm x 1.91 cm); Collection SFMOMA, Accessions Committee Fund purchase; © Estate of Lebbeus Woods.

To ask the question "But who would actually build this?" is to enter exactly the discussion Woods sought to provoke—because the conversation involves a frank discussion of where money and power lie. Who holds the resources to build? And what are the interests—social, political, and psychological—of those people? A city's citizens live within a built environment that reflects the functions those with resources—the people who build the physical and social structures—feel citizens should perform. Government bureaus, entertainment arenas, sports stadiums, cell-phone malls, "infill" townhouses—these are not "natural" structures. They are simply the options we have been given by those at the top of the power structure.

Woods' projects are designed according to the principles of an architecture that speaks about what has really happened, or is happening—they are structures and "freespaces" meant to acknowledge the existence of people and forces that are otherwise invisible. In his book Radical Reconstruction, Woods addresses the obvious question:

Who pays for the construction of freespaces? Certainly not banks, corporations, governments, or any cultural institution under whose authority the spaces of human habitation have everywhere been coerced into a convenient conformity and reduced by the degradation of violence in the name of false unity and illusory security. Freespaces are financed from below...The barter system must, in the beginning, suffice. The use of salvage provokes a new ingenuity; the idiosyncratic shaping of new materials, the same.

This may be its own form of idealism—will the displaced really band together to construct buildings out of salvaged materials?—but it is an ideal opposed to architecture as an act of papering over history, memory, and political and social conflict.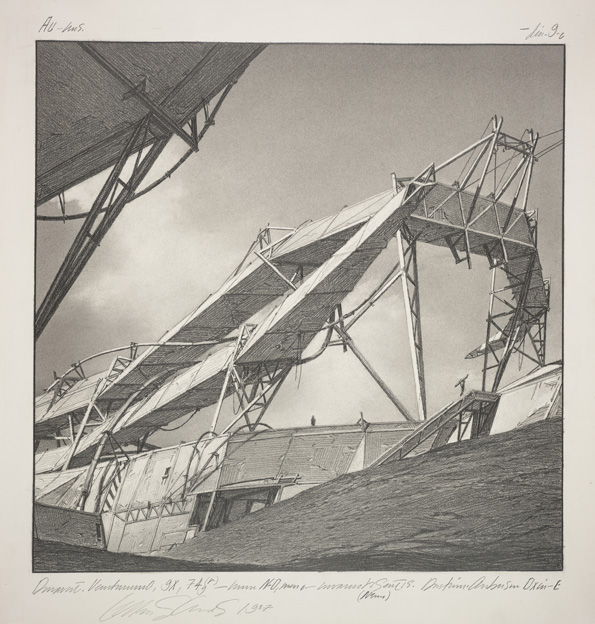 Unified Urban Field, from the series Centricity [no. 37], Lebbeus Woods, 1987. Graphite on paper; 24 in. x 23 in. (60.96 cm x 58.42 cm); Collection SFMOMA, purchase through a gift of Ned and Catherine Topham and the Accessions Committee Fund; © Estate of Lebbeus Woods.



ragically, Woods died late last year, before he could see his work displayed at SFMOMA. But his "theoretical architecture" had already been feeling less theoretical every year. In downtown Portland, Oregon, yesterday, there was an "open house" at a federal building that has, over the last few years, been entirely reconstructed. The old building has not only been gutted and rebuilt on the inside, but is cloaked now in a layer of metal bars. In a helpful video, the construction manager points out how "environmental" the building is now—computer servers in the basement heat the lobby, rainwater is collected on the roof, and so forth. The metal exoskeleton, we are told, has "fins" that block sunlight so the building can stay cool.

Fair enough. But any passerby watching the construction for the past few years has seen a large federal building cover itself in a steel cage. It's no secret that sunlight is far from the only thing federal buildings need to account for. Is the building protected, then, or imprisoned? And if the issue is protection, is it the building that is protected (from what people might do), or the citizens who are protected (from what has happened to buildings)? It's clear the building has been reconstructed with the memory of more than one environment in mind.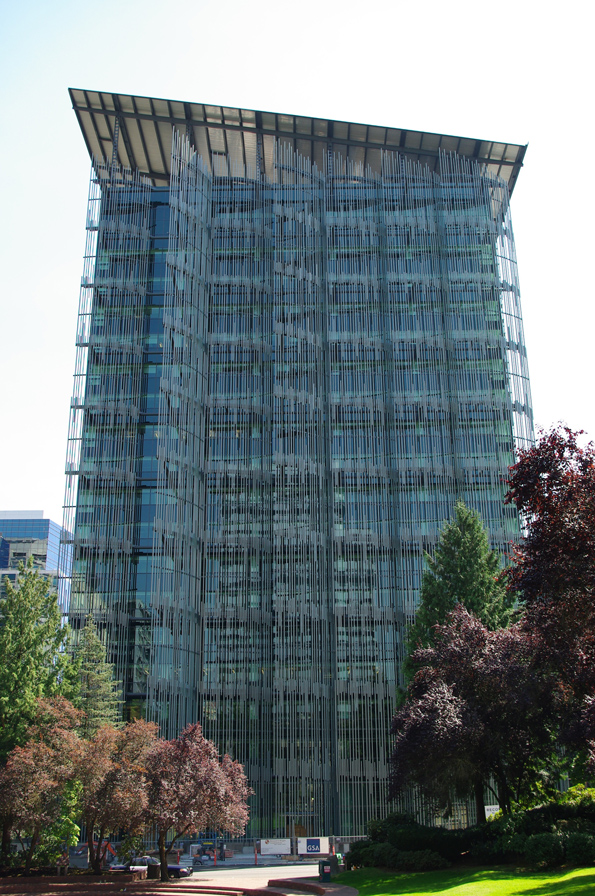 The Edith Green–Wendell Wyatt Federal Building, Portland, Oregon.

"Is there a no-man's land next door?" Woods wrote. "If not, maybe you are already in one." Though our answer is increasingly yes to both, the new/old federal building in Portland reveals a dynamic Woods does not seem to have anticipated. Perhaps because Hollywood has built and then blown up more buildings than anyone, we first saw it in an exploding-building movie: at the end of Die Hard, Alan Rickman's smooth-evil terrorist manipulates authorities into cutting the power to the building he has taken over, and says to one of his fellow criminals, "The circuits that cannnot be cut are cut automatically in response to a terrorist incident. You asked for miracles, Theo? I give you the F. B. I."

So who would actually pay for the (re)construction of buildings that wear the evidence of our contemporary social and political damage like a scar? You asked for avant garde architecture, Mr. Woods? I give you the federal government.

(Note: As if it weren't enough that the Lebbeus Woods show closes June 2, SFMOMA itself will close the same evening, and remain closed until early 2016 as the building undergoes extensive construction and expansion. SFMOMA will, for the next few years, operate as an entity that hosts or curates shows at various locations around the city. If you love architecture or have any fondness for the current building, then: this weekend is it.)

---

Dan DeWeese is the author of Disorder, a story collection, and You Don't Love This Man, a novel.