Film
Before Before Midnight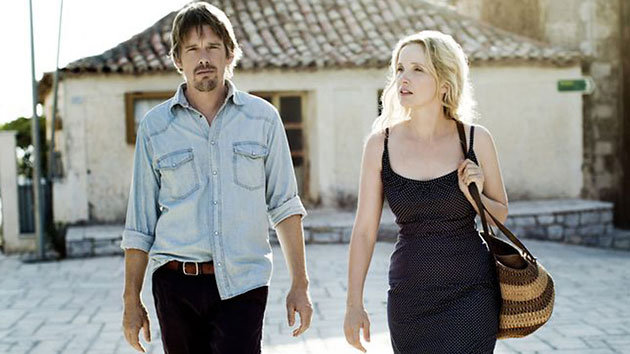 By Rebecca Kelley

pring break, 1995. I caught Before Sunrise in the movie theater. An American guy and French girl meet on a train. When the train stops in Vienna, he convinces her to spend the day with him. They walk around the city all day and night, knowing they'll have to say goodbye in the morning.

I wanted that. All of it. I wanted to be French and wear that white T-shirt and black dress like Julie Delpy. Oh, to have that effortless 1990s French style! When I was traveling around on Eurorail a few years later, I had hacked all my hair off with Swiss Army Knife scissors. Another thing we forget about the nineties is that we thought wearing overalls and men's sweaters—together, as an outfit—was a cute look.

Anyway. I wanted to look beautiful and effortless so that a cute American (or any nationality, really, I wouldn't be picky) boy would notice me and start talking to me. In an instant, we'd connect. We'd just know. Sparks would fly. We'd say witty things about life and books and love and we would kiss on that huge Viennese Ferris wheel just like Jesse and Celine. We'd have coffee in the Kleines Café and walk along the Danube at night and a guy would write a poem about us.

That's how my life was going to work out.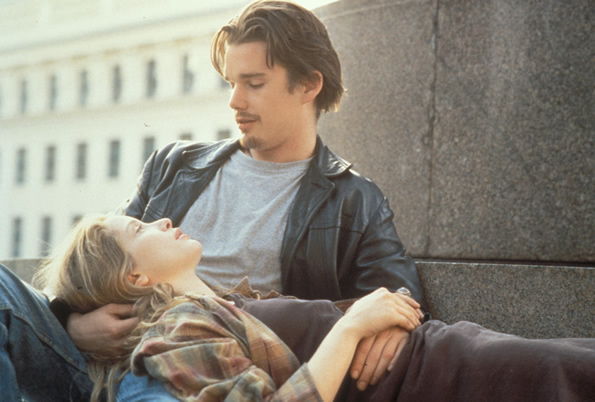 Now if you said you based your entire romantic worldview on a romcom you watched in college, I'd think you were silly—especially if the movie was something ridiculous like Pretty Woman or Sixteen Candles. Don't get me wrong: I love romcoms—no matter how contrived. But I'm also a fan of those movies about married couples who have bitter fights and angry sex and usually one or both of them commit suicide at the end. I'm the one yelling at the screen, "Get a divorce!"

So many romcoms send the wrong message. No, a rich business man is not going to let you use his credit card to replace your hooker clothes with glamorous gowns. The cutest boy in school is not going to pick you with your DIY pixie haircut over the dozens of perky blonde cheerleaders at his disposal. No, not even after that amazing makeover scene. An officer/gentleman is not going to carry you out of the soul-crushing factory and whisk you off to a better life.

But is it so out of the realm of possibility to believe that you—even the nerdy, badly dressed version of you—could meet someone one day and you'd both just know? Within minutes, and definitely after a few hours, you would feel like you were fated to meet. Don't we all have those magical moments of connection a few times in our lives? The person, place, and time all line up for once, and you feel like you could talk all night or just sit quietly side by side, and they'd get it. They'd get you the way so few people can really get you. That's what I wanted.



o I guess I have Ethan Hawke with his dirty hair and cynical smirk to thank for the years to follow. After college I went chasing after my Jesse and Celine moment. I worked at a national park and made out with guys on mountaintops. I taught English in Europe for three years and kissed an Argentine named Gael who taught me how to tango. (Or tried.) I stood on the very train platform where Jesse and Celine stood and had my own awkward/amazing moment with an Austrian named Mattias. I met him (oh, and that other guy I'd rather forget entirely) at the same Hungarian youth hostel. This is it! I said (about each of them). Somehow I managed to turn those chance meetings into two consecutive year-and-a-half-long relationships. It was as if I was the star of my own Richard Linklater movie!

But I may have missed a crucial lesson from Before Sunrise: it's only romantic when the connection is real, but fleeting. It has to end; that's the beauty and the tragedy of it all. Can you take that magical connection and stretch it out over a whole relationship? Before Sunrise doesn't answer that question. She's French, he's American. They both have lives to attend to; it seems impossible. They never have to get to the part of a relationship where they squabble over who will take out the trash. And they definitely don't get to the part where they have affairs and kill themselves.

At least, that's what I assumed when I watched Before Sunrise in 1995. I spent years—nine long years, to be exact—thinking about Jesse and Celine, wondering what became of them. Did they meet again at the Viennese train station in six months as they promised? Or did they never see or hear from each other again, going on to lead separate lives?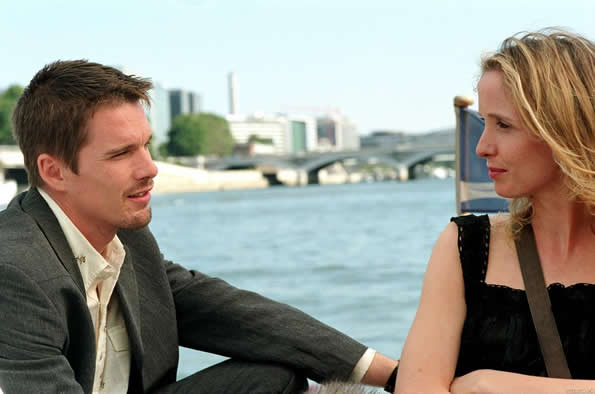 In 2004 I finally got some answers: Before Sunset. A sequel! I had aged nine years, moved out of my twenties and into my thirties. And so had Jesse and Celine. I finally found out what happened after that last goodbye on the train platform. If you're new to these movies, you already know something I didn't back in 1995: There will be sequels. Ethan Hawke has said he can envision this as a "lifelong project." You will find out what happens with these two star-crossed lovers. You won't need to be patient about it—you can watch them all together, in a mad rush. The long trajectory of their romance will flash before you in a matter of hours.



t's been almost twenty years since they first met in Vienna. Before Midnight, the third movie in the series, opens in theaters today. I'm so invested in these characters that I'm almost afraid to go see it. What if they hate each other now? What if, after all these years, they've finally found each other again—and we know they find each other again, because there are sequels—only to find that time and a good dose of dull reality have snuffed out that early spark? Part of me wishes I could have left them in Vienna forever. My imagination could fill in the rest, write them that happy ending.

All those years went by for me, too. By 2001, I'd finally given up on the Austrian guy and the American guy and moved to Portland, Oregon. My hair had grown out and I started wearing more flattering pants. And that's when it happened.

We met cute in a writing class. He thought I was bossy, I thought he was a jerk. Our first date lasted twenty-four hours. We said witty things about life and books and love and we kissed in my falling-apart downtown studio apartment. To this day, eleven years later, we can both recall what we said, the movies we watched, the food we ate. I remember exactly what he was wearing when I opened the door. As Jesse says in Before Sunset, "I remember that night better than I do whole years."

It wasn't so foolish then to seek out that rare flicker of understanding with someone and then try to hold onto it. There can be sequels. Ethan Hawke had not led me astray at all. Connection is everything. Okay, we also have a few common interests and similar goals. But we don't fight about taking out the trash. We are the stars of our own romcom, and fighting about the trash would not make for compelling viewing. That initial magical connection doesn't mean a person knows you—how could they?—but that a person could know you.

You may be wrong about it. But what if you're right?

---

Rebecca Kelley teaches at Oregon College of Art and Craft. She is working on a novel.