Mostly Novels
Invisible Threads: Winterson's Oranges are Not the Only Fruit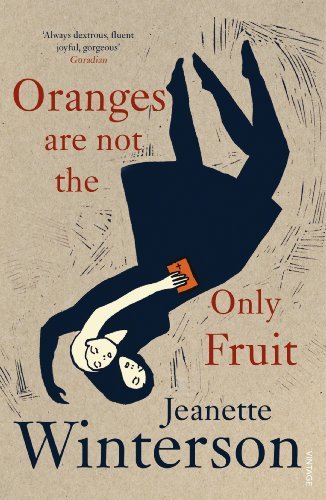 By Emily Burns Morgan

his autobiographical novel's protagonist, who bears the same name as her creator, is adopted as an infant by a fundamentalist couple. The mother is decidedly the head of this household, the father a basic non-entity, too weak or lacking the willpower to counteract his dominant wife, which is probably in part why young Jeanette develops the feelings about men that she does: "As far as I was concerned men were something you had around the place, not particularly interesting, but quite harmless." In fact, with the exception of a pastor here and there, and God (though Winterson doesn't seem to think of God as a man, per se), men hardly appear at all in this book. The narrator makes little of this; it is not a cause for comment but simply the daily reality of the young heroine.

Winterson's dry humor and her simple, elegant prose is enough to make even the grimy North England village where her story is set pleasant to spend time in, and her matter-of-fact tone makes sense for her protagonist as a child, who, as many do, tends to take what adults say quite literally. In this case, it makes equally as much sense that the tone persists even as Jeanette grows up, because the adults in her life are no less literal minded than she is. ("[My mother] never drew shrimps [when she drew the unclean animals God had forbidden them to eat], though, because she liked to eat them in a muffin. I think it had troubled her for a long time." "So I took 'The Annunciation' [a hyacinth she'd grown at school] home and fed it to our rabbit. I was a bit uneasy afterwards in case it was heresy, and the rabbit fell sick.") It's as if, as a child, Jeanette is among equals, but as she grows up and begins to realize her differences, she becomes the adult, while her mother, and most, though not all, of her mother's friends from church maintain the childlike tendency to see the world in black and white. What's unique about the novel is not Jeanette's loss of religion, but rather her deep attachment to it, even after she has been outed as a lesbian and kicked out of church and home.

In fact, Jeanette is not only raised in a religious community, but accepts and joins it with vigor. She becomes a pastor of a kind herself, preaching sermons regularly and working alongside her mother and the other women of the church to bring new souls to Jesus. But when her "unnatural passions" become known when she is a teenager, the church decides it must disown her, and her demons. Their resourceful pastor punishes Jeanette by forbidding her to preach, claiming that because she inappropriately spread the message of God—a task that should be reserved for men—she has also become confused about her gender, and that is why she has started "aping men" sexually. "So there I was, my success in the pulpit being the reason for my downfall." That the women in the church claim to agree with the pastor's view is extraordinarily hypocritical, since they had supported each other's influence and skill in all areas of religion up until this point, when a new story became more convenient.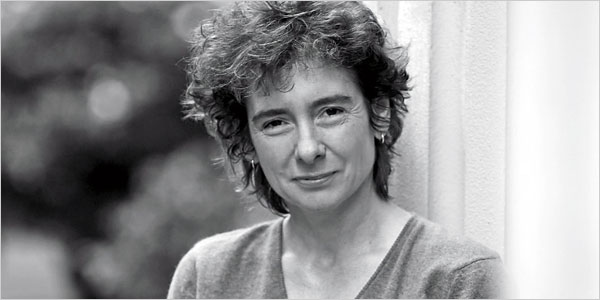 Jeanette Winterson.

Storytelling and its imperatives are a major theme here. The nine chapters are named after the first nine books of the Bible. Other than this allusion, however, the actual stories of the Bible, while woven to the characters much more tightly, don't feature as prominently or stand out as starkly as do the many other fairytale-like stories that abound from chapter three on. Some of these are new, while others resemble the legends of King Arthur. Winterson does not appear to be suggesting that Bible stories equal fairytales. Instead, she's moving in the margins, figuring out if she can create a new text for her life while still holding on to the old one. She is torn between recognition of the very real, seemingly insurmountable problem of her old life—that she was not allowed to love whom she loved—and the messy groundlessness of her new, secular life in the city. She admits that she misses God: "I miss the company of someone utterly loyal. I still don't think of God as my betrayer. The servants of God, yes, but servants by their very nature betray. I miss God who was my friend. I don't even know if God exists, but I do know that if God is your emotional role model, very few human relationships will match up to it." She doesn't know yet if she is looking for a human counterpart to replace her savior, or if there's something else waiting for her.

As the book nears its end, the protagonist looks at her life more and more closely, trying to figure out what happened, and what can happen now. "People like to separate storytelling which is not fact from history which is fact. They do this so that they know what to believe and what not to believe," the protagonist (author?) tells us. By this time she has reached the conclusion that what to believe is not at all simple, and that "fact" and "story" cannot be as easily separated as she once thought. And yet Jeanette cannot simply dismiss all stories as lies; nor can she accept all history as truth. This is the problem: "It is not the one thing or the other that leads to madness, but the space in between them." It is precisely this in-between that Jeanette must navigate. Can she keep any of the old ideas, or are they all tainted by the stains she has discovered? What is the difference between a preacher and a prophet? What kind of story should she tell now?

Towards the end, the narrator's preoccupation with such questions usurps the narrative for a while. Whereas the earlier sections gave us vivid impressions of Jeanette's town, and the people there, through dialogue and scene-setting, the ending chapters offer less of that. One senses that this spiky spot is where the author has gotten closer to the present moment than she is entirely comfortable with. When she's far enough removed by time to make her life into story, she's charming and skillful, but when she comes closer to her present-day reality, the imagery and dialogue give way to thoughts, explanations, and attempts at meaning-making. The only real description we get of her leaving her hometown comes in the form of a fairy tale about a girl named Winnet who spends her life as a sorcerer's apprentice, only to have to leave the only home she's ever known in order to escape eternal captivity. It's a metaphor, of course, but I don't know why we need a metaphor here. It seems likely that this sudden separation from the meat of the "real" story is done more for the author's sake than for the text's. It feels a little bit choppy, but I'm willing to forgive Winterson everything, because the rest of the book is such a delight.

Jeanette heads home soon for a family Christmas. It's unclear how long she has been gone, but in terms of pages we've been away only briefly. As soon as she's on her way back North, things get vivid again. If Winterson has made this shift awkward on purpose—as an attempt to get us to see the difference between the "nothing-at-all facts" and a completely fantastical story—she has succeeded. But perhaps more important is the realization that she's already figured out how to meld the two, and that that union is harmonious throughout much of the book. We just didn't notice it, because the threads were invisible; where history stopped and story began could not be defined by the reader. That, in my view, is the mark of the true craftswoman: part preacher, part prophet, all novelist.

---

Emily Burns Morgan is a writer, editor, and professor in Brooklyn. Her work has appeared in The Raleigh Review, Willamette Week, and The Montreal Review, among other publications.