Mostly Novels
As the (Fiscal) World TUrns: Money and the House of Mirth

By Emily Burns Morgan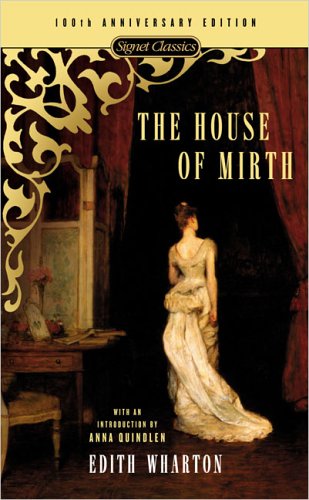 he House of Mirth is a misleading title. Edith Wharton doesn't seem interested in mirth or emotion at all, except in how they relate to beauty and ugliness, and the relative merits of the physical and spiritual varieties of each. The guiding question of the text—can someone raised in and taught to seek luxury at all costs choose to give it up in favor of a more morally-sound lifestyle?—is taken so seriously by its author that, though interesting and often amusing, the book cannot stoop to portray or elicit anything close to "mirth." I wish it would.

Though I don't grasp the title, I do understand why Edith Wharton was a popular writer in her day (1862-1937). In so many ways, her writing is like a soap opera: the characters are rich and beautiful and have nothing to do but scheme against each other. Wharton takes great care to describe the opulent rooms, beautiful gowns, and elegant, refined, and constantly constrained tenor of conversation. Every scene is suffused with an underlying tension such that even the most banal conversations become high stakes encounters. There is a love affair of the early 20th century sort—romantic feelings implied by witty banter, lingering looks in gardens, misunderstandings almost totally incomprehensible to a modern reader (one of the chief problems is that the protagonist's friend lies about her being alone with a man, thus casting her in the role of a fallen woman). And, of course, there is a moral dilemma: the main character, Lily Bart, was born wealthy but is now less so. She lives off the generosity of her aunt and wealthy friends, but she is at a crossroads: she must decide whether she will marry Seldon, the man she loves but who cannot support her in the fashion to which she is accustomed, or continue to try and attract the affection of a number of suitors with more money. As the story progresses, Lily's ethical resolve wavers. One of the most tiresome aspects of the book is that Wharton dwells on these psychological battles repeatedly, telling us over and over that we should not blame Lily because, after all:

Inherited tendencies had combined with early training to make her the highly specialized product she was: an organism as helpless out of its narrow range as the sea-anemone torn from the rock. She had been fashioned to adorn and delight; to what other end does nature round the rose-leaf and paint the hummingbird's breast?

I get it: Lily is beautiful and only following nature, like a flower. Through these redundancies Wharton does manage to elicit my sympathy for Lily, but also some resentment for her creator.

I picked up The House of Mirth at Book Court on Court Street in Brooklyn, that lovely little store that turns into quite a big one when you wander into the next room. The book was cheap and light so I could carry it all over New York City, and I thought that I would especially like reading about places in the city in such a different time, maybe getting a mild dose of history. I turned out to be only partly right; much of the book takes place in the country and in Europe, and even when the action is in the city, the players are inside coaches and drawing rooms, very rarely out in the vulgar streets. (Things get somewhat more interesting when Lily falls further down on her luck, but Wharton is less adept at describing the uglier parts of life; Lily is too depressed to see anything but what she is missing.) The settings were enjoyable but the highlight of the book for me was its examination of the relationships between men and women, as well as women with other women.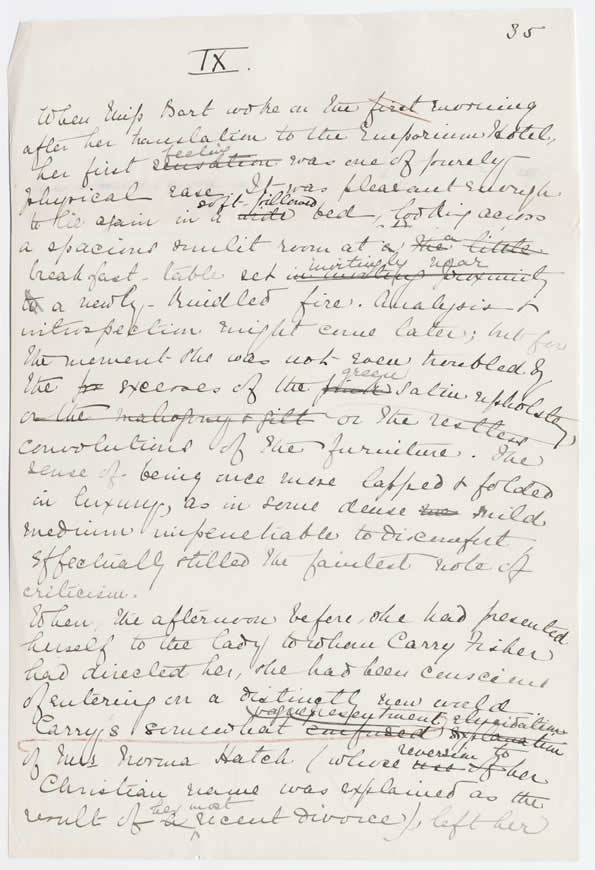 A page from Edith Wharton's original manuscript of The House of Mirth, circa 1905.

Lily's position, interestingly, is not tenuous only because she's a woman. Yes, it is made more so by a situation that would not be so dire were she a man (being alone with someone of the opposite sex, that is), but plenty of the men in her "set" have married for money, just as Lily is trying to do. She does not technically have to do this; it is possible for her to work to support herself. We see the proof of this in her friend Gerty Farrish who, along with her cousin Seldon, is the most likable character in the book (though sometimes almost too good). It's true that Gerty does not possess Lily's beauty, and so perhaps we cannot judge the two by the same standard; if Gerty were beautiful, then maybe she too would pursue a wealthy marriage. But instead she is plain and lives in a cramped apartment by herself, a frugal, compassionate crusader for those even less fortunate than herself. Lily and Gerty discuss Lily's options at length, and Lily also receives advice from other female friends. (The book handily passes the Bechdel Test. Even though the women often discuss the merits of marrying one man or another, what they are really talking about is money, not men at all). The point is that Lily does have a choice, or at least she does for a while. Lily, not society, is her own worst enemy.

Lily (who, from what I've read, is not entirely unlike Wharton herself) has some money, a comfortable place to live, beauty to spare, many friends, and several possibilities open to her. Her real problem is that she can't make up her mind. Lily wavers between the morally good life and the frivolous, vacuous world of luxury. Because the twists of the plot are the fun of this soap-opera-style book, I don't want to give too much away. But I will say that things do not turn out well for Lily Bart. And why not? What is Wharton trying to say about "society," wealth, the meaning of life? A conversation Lily and Seldon have towards the beginning of the novel might be instructive.

'Success?' [Lily] hesitated. 'Why, to get as much as one can out of life, I suppose. It's a relative quality, after all. Isn't that your idea of [success]?' 'My idea of it? God forbid!' … 'My idea of success,' he said, 'is personal freedom. … From everything—from money, from poverty, from ease and anxiety, from all the material accidents. To keep a kind of republic of the spirit—that's what I call success.'

For Wharton, then, money is not necessary for success. But, well, it's sure going to be hard without it. And though much has changed—buildings, societal views, the density of the city in the summer—that is still a message that makes a lot of sense in Edith Wharton's hometown.

---

Emily Burns Morgan is a writer, editor, and professor in Brooklyn. Her work has appeared in The Raleigh Review, Killing the Angel, and The Montreal Review, among other publications.