Aisles
The Importance of Being Lucian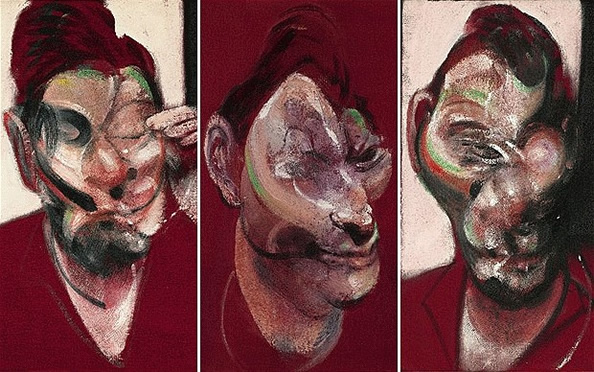 Three Studies for a Portrait of Lucian Freud, Francis Bacon, 1964.


By Sean Warren


first became acquainted with the paintings of Lucien Freud in Venice one summer afternoon in 2005. While time has mostly displaced the memory of what I did in la serenissima the morning prior to this Freudian encounter of a different sort, I think it safe to say that I probably spent time with the Titians and Bellinis at L'Accademia, or being suffused by the Byzantine mysticism of San Marco's interior. If I had a taste for modern art, I might have made my way across the Grand Canal to the Peggy Guggenheim Collection, with its Picassos and Braques, its Jackson Pollock room, and the touching courtyard memorial to Peggy and her dogs. Never during my wanderings would I have expected to come across the work of a living artist (the famous Bienalle was not in session), and even if I had, I would not have been inclined to waste time viewing an entire of exhibit by such an artist in Venice, where the spectacular legacy of so many dead artists is a balm for the anti-humanist wounds inflicted by relentless modernity.

And yet, that afternoon, enticed by an enormous banner hanging at the south end of the Piazza San Marco, I found myself climbing the Museo Correr's grand marble staircase to the rooms where the first major exhibition of Lucien Freud's paintings in continental Europe was taking place. By the time I staggered out of the Correr and into the briny swelter of the Piazza several hours later, I was dramatically changed in the way that great art is supposed to change people: by altering their perceptions of reality and what it means to be human. If this statement is too general to adequately convey the impact of seeing those paintings, let me say that of all the art I've seen in Venice during a dozen trips there—with the exception of Bellini's rueful Madonnas—it is Freud's paintings that stand above the rest for me in the dunes of memory.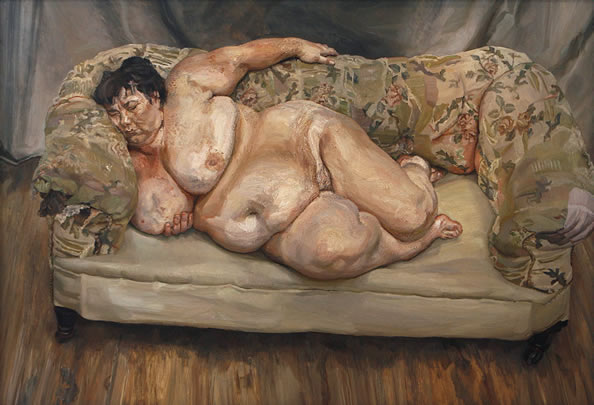 Benefits Supervisor Sleeping, Lucian Freud, 1995.

Look at Freud's paintings on the internet or in a book: they are startlingly figurative, portraying the human body with a meaty, unflattering grandeur that is both alluring and repellent. Painting in the wake of modern art's strivings away from the human form in abstract-expressionism, post-painterly abstraction, super realism and countless other movements, Freud manages to resurrect people as subjects fit for serious artistic consideration by infusing them with contemporary concerns: the obesity of Benefits Supervisor Sleeping; the weariness, post-coital or otherwise, of Blonde Girl Night Portrait; the male angst provoked by Naked Man with Rat. Although Freud was an epic womanizer—as we learn to a sometimes unsettling extent in Geordie Greig's new biography of the painter, Breakfast with Lucian (FSG, $30)—his nudes are rarely if ever sexy, and provide a sobering counterpoint to the images of sleek, pumping flesh inundating us in our hypersexual moment. Beyond the lust-quelling effect of his nudes, however—has anyone ever been turned on by one?—Freud remains perhaps the most supremely tactile portraitist of the last 100 years. This distinction inevitably leads the observer of his paintings to wonder about the life of an artist who spent seven decades immersing his gaze in our fleshy envelopes. As Greig's book relates, Freud was a man who lived as he painted, with a ferocious, unrepentant brio that alienated family, friends, and critics, but also created a cadre of loyalists who cherished their connections with him as much as his art.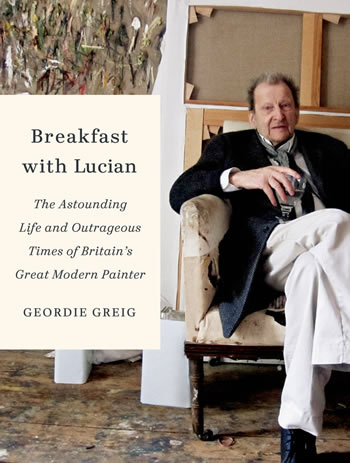 Lucian was born in Berlin, in 1922, to Ernst and Lucie (Brasch) Freud. Ernst was the youngest son of Sigmund Freud, and became a modernist architect to support his family, despite earlier aspirations of becoming an artist, and the wealth (grain merchants) of his wife's family. Lucian was the second of three boys, all of whom became prominent in adulthood, and from whom Lucian would become estranged over what began as a teasing, adolescent assertion by Clement and Stephen, never renounced by them as adults, that Lucian was illegitimate, and therefore not the grandson of the renowned Sigmund. ("It was a really disgusting thing to say," Lucien says of the slur at age eighty-seven, decades after it occurred. "Vile and very difficult to forgive.") Although Lucian's family lived in Berlin—moving to London in 1933, after Hitler was elected chancellor of Germany—and Sigmund lived in Vienna, Lucian recalled his grandfather as being playful and encouraging toward him, and the grandson developed a passion for zoology rooted in Sigmund's discoveries in the field. Lucian's relationships with his parents, meanwhile, were polar opposites. While Ernst was distant—perhaps partially because of Lucian's early demonstration of artistic talent—Lucian was his mother's favorite; but Lucie's consuming interest in him drove her son to a mania for privacy and evasion that only began to recede when Geordie Greig started interviewing Lucian during their eponymous breakfasts, at Clarke's restaurant in London, when Freud was close to eighty.

After a raucous youth in which he was expelled or drifted away from several English schools with seemingly little parental reproof, Lucian wound up at the East Anglian School of Painting and Drawing, run by an artist named Cedric Morris. Morris was self-taught and his method of initiating a painting by focusing on one small detail impressed the seventeen-year-old Lucian. It was Morris who introduced Freud to Cyril Connolly, who edited the prominent Horizon magazine, and published an early self-portrait by Lucian in 1940. (After World War II, Connolly would devote an entire issue to publishing The Loved One, Evelyn Waugh's macabre satirical novel on southern California burial practices.) Although the appearance of his work did little to advance Lucian's reputation as a painter, it did introduce him to a circle of writers and artists, including the poet and critic Stephen Spender and the painter Francis Bacon, who were in turn fascinated, and in some cases infatuated, with the grandson of the founder of psychoanalysis. Beyond his lineage, Lucian was always an electric presence, physically and emotionally: the handsome head with its dashing profile and lush sweep of black hair giving no warning at first glance of the startling, penetrating gaze of the artist, hypnotic and irresistible even now, staring out from a black-and-white photograph taken almost seventy years ago.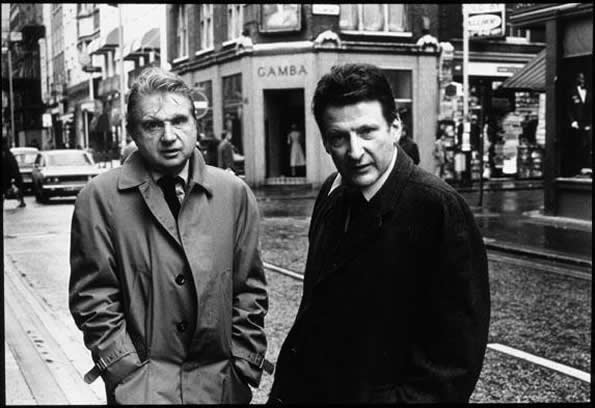 Francis Bacon and Lucian Freud in 1950. (Photo by Harry Diamond)

As attractive as he was to members of Britain's cultural elite, Lucian was even more alluring to women. From his time with Cedric Morris, he bedded them in a prodigious succession, young and older, obscure and titled, pausing just long enough to marry twice, in the forties and fifties. (Freud apparently dabbled as well in gay liaisons, although these seem to have been fleeting and not as numerous and fraught and artistically fruitful as his relationships with women.) Greig's narrative of Lucian's sex life during these early decades, punctuated with commentary from the women involved and Freud himself, is an astonishing, painful, exhausting experience that aroused in this reader equal measures of indignation and inadequacy. But what is most remarkable about this period of Freud's life is that, in the midst of so many serial seductions and betrayals, back-alley abortions, and a social life that would have prostrated ten mortal men, he was slowly but with a tiger-like determination clawing his way from being a talented, youthful artist feted for being a Freud, toward an aesthetic that would mark him, by the end of the fifties, as a singular painter in his own right.


While Freud could never remain faithful for long to any woman, his early paintings of Felicity Hellaby, Lorna Wishart and Kitty Garman—five of which appear in Greig's book—provide an intimate view of the painter's artistic maturation during this time. The Hellaby portrait, Girl on the Quay (1941), is flat and emotionally constricted, with Felicity nearly submerged by the somber background of a moored vessel and the rise of a forest-toned sea beyond. Four years later, Lucian fell in love with the free-spirited Lorna and painted her in two portraits: Woman with a Daffodil and Woman with a Tulip. In these, Lorna's face is depicted close-on against a blank, off-white background. While her expressions are still limited emotionally, Freud's emphasis on Lorna's face represents a significant advance in his figurative aesthetic.

After Lorna, Freud took up with her niece, Kitty Garman. (It was the first of several affairs he had with women who were related to each other, including, decades later, the step-daughters of a former wife and girlfriend.) Greig writes that Lucian was esteemed more for his drawings than his paintings in the immediate post-war period, and in his paintings of Kitty he set out to change this. 1947's Girl With a Kitten is a provocative, surrealistically-inclined portrait of his twenty-one year old lover staring away from the viewer with a wondering gaze while menacingly clutching a kitten by the throat. Kitty possesses a solidity absent from the earlier paintings, and her physical presence convincingly expands Freud's sense and use of space. Kitty managed to remain in Freud's life long enough to be the subject, three years later, of Girl With a White Dog. With its use of a dog, a sparsely furnished background, and its restrained exposure of Kitty's breast, this is Lucian's breakthrough work, the first painting that is recognizably Freudian. Its most profound advance, however, may be found in the extraordinary study of Kitty's face. Surely this is how many of Freud's women felt at the end of their relationships with him: alienated and discarded, yet despairing that this force of nature was about to move out of their lives. That Freud was able to routinely betray and abandon women and then spend hours searching their fraught, weary faces in the studio with his painterly gaze—this is an act of sublime self-justification that remains one of art's great mysteries.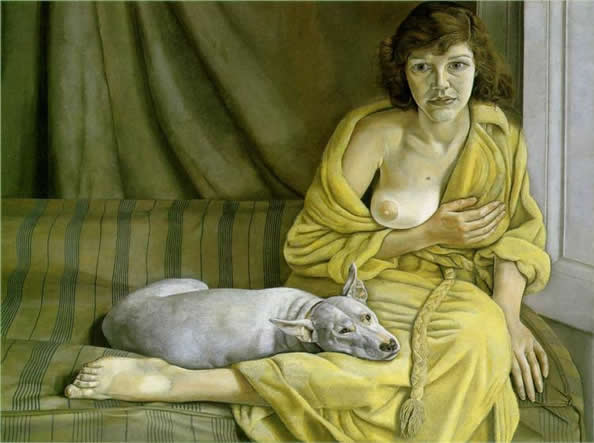 Girl with a White Dog, Lucian Freud, 1952.

Freud's next leap as an artist occurred two years later and did not feature as its subject a woman, but a man: the painter Francis Bacon. The men had known each other since Freud's beginnings with Cedric Morris, were possibly occasional lovers during the war years (Bacon was resolutely gay), and enjoyed a long and friendly rivalry and barbed friendship that was only finally sundered "by jealousy and petty rows" in the years before Bacon's death. (According to Greig, Bacon once flippantly told Picasso biographer John Richardson that the reason Freud wasn't gay was because he was poorly endowed, while Freud said that Bacon complained about everything.) Freud's full frontal oil-on-metal portrait of Bacon's face is like a nightmare balloon from a Macy's parade. Bacon's bulging, hooded gaze simmers with cruelty; the viewer would not be surprised to find him holding a gun out of the frame, or to discover that Bacon was creating at the time his incandescently violent and weirdly witty sequence of shrieking pope paintings. Although Greig says Bacon was an important influence on Lucian, with his "dramatic and liberal use of paint," their treatments of the human form were ultimately radically different: While Bacon's subjects writhe and erupt from their flesh with a screaming, teeth clenching fury, or dissolve into primal, mollusky hulks, Lucian's men and women are churned and illuminated by an inner force that undulates and flushes just beneath the skin without ever breaking it. Compared to the controlled, yet palpably immanent power of Lucian's instantly recognizable portrait of Bacon, Bacon's most famous portrait of Lucian—a triptych recently sold by Christies for $142 million, a record sum—bears no physical resemblance to Freud, but still manages to capture his extraordinary energy in his squirmy, impatient, leg-crossing poses.

Probably in a nod to Bacon's greater fame, Greig subtitles his biography The Astounding Life and Outrageous Times of Britain's Great Modern Painter. Lucian—who died in 2011—was but one of a triumvirate of great post-war British painters, along with Bacon and the Yorkshireman David Hockney. All stood more or less for art rooted in the human form and against the tide of Pollock-inspired abstractionism that Bacon, according to Hockney, dismissed as "l'art de mouchoir" (decorative marks on a handkerchief). And while the art and reputations of each man will be sifted and determined by the inexorable judgments of posterity—and quite possibly be viewed together as representing a renaissance of figurative art—it is hard to imagine Bacon or Hockney being the subject any time soon of a biography as remarkable as Greig's rendering of Freud's life. Journalistic in its fluency and technique, inspired in its artistic valuations, unflinching yet thoughtful in its depiction of Freud's personal scandals (the account of the motivations surrounding the artist's nude portrait of his fourteen-year-old daughter Annie provokes revulsion while unearthing crucial familial and artistic insights), and Boswellian in relating the intimacy and spontaneity of the author's interaction with Lucian, Greig's biography will be read for as long as Freud's work is contemplated and discussed, which is likely to be a very long time indeed.

---

Sean Warren's fiction has appeared in McSweeney's, Washington Square, Blue Lake Review, and is forthcoming in Five Chapters. He lives in Portland.