Mostly Novels
The Playful Exploration of Powerlessness: Murakami's 1Q84

By Emily Burns Morgan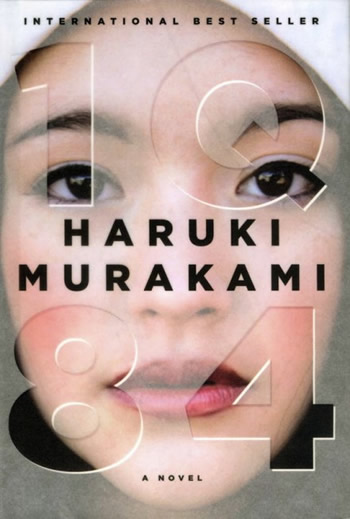 aruki Murakami's latest tome, which clocks in at 900+ pages, sometimes felt longer than necessary. Characters think the same thoughts again and again, and the making of meals is described with a mindfulness that would be admirable in real life but occasionally feels tedious on the page. Murakami might be hindered by the same fate I've suspected other older, usually male, established authors to suffer from—lack of an editor. That is, it seems that young, unknown writers' editors are willing to strip away the excess, whereas the established writers' editors, for whatever reason, are not. Still, the damage done here is relatively small. In fact, I was surprised to find I missed the book after I'd finished it, and I think the slow pace actually might have something to do with that. As I continue my daily subway rides without the world of 1Q84 to escape to, I realize that even though tension is the underlying mood in Murakami's worlds, there is a great sense of peace there as well. His characters lead quiet, orderly lives (despite being disrupted by strangeness). They approach everyday tasks in calm, systematic ways. Getting dressed, taking public transportation, even having sex, Murakami's characters—including the hero and heroine, Tengo and Aomame, in 1Q84—don't get worked up about things. This alternative mode to my own New York City world is attractive for obvious reasons.

Alternate worlds—how they come about and how we react to them—are the subject of this novel. The text hints at an epistemological question: how do we come to know "reality"? The fact that Tengo calls the world of the novel "the cat town" while Aomame calls it "1Q84"—both references to fiction—suggests that storytelling is an important, if not the only, means we have for making sense of whatever world we live in. Here the story follows Tengo and Aomame, both thirty, living separate, solitary lives in Tokyo. They think of each other often, but have not actually met since they were ten years old and in elementary school together. Though they have never spoken directly to one another (Aomame was an outcast because of her family's strict religious adherence), they shared an intimate moment one day when, in an empty classroom, Aomame suddenly grabbed Tengo's hand and held it. This moment continues to connect the pair throughout the story, living on as it does in each of their memories as a touchstone of what they want in life. However, despite the fact that they both continuously return to this memory and desire each other, neither one looks for the other—that is, not until the strange world of 1Q84, with its two moons, takes the place of the "regular" world of 1984, the year in which the book is set.

Though you'd think it would be, I'm not at all sure the reference to Orwell's novel means much here. This book is not about government or systemic societal problems (though violence against women plays a small role). It is far more about how the individual creates her own world, whether she knows or understands it or not. In many ways, Tengo and Aomame are carried along on the winds of fate; they do not seek out the strange jobs that come to them, but they do accept them and in so doing alter their fates. Tengo ghostwrites a book and Aomame kills an important person. I won't delve further into the plot itself because discovering the twists and turns and trying to link them is a large part of the charm of the book, but suffice it to say that all the regular Murakami tropes are at work here—isolation, alternate worlds, uncertainty, sex, violence. Less violence, though, than in the other two big books; here the violence is mostly off stage. This, and the love story element, gives 1Q84 a somewhat cloying sweetness, and it also propels the reader toward the belief that it must be an allegory of some kind, that there must be some deep message about how to live—a misleading implication, in my view.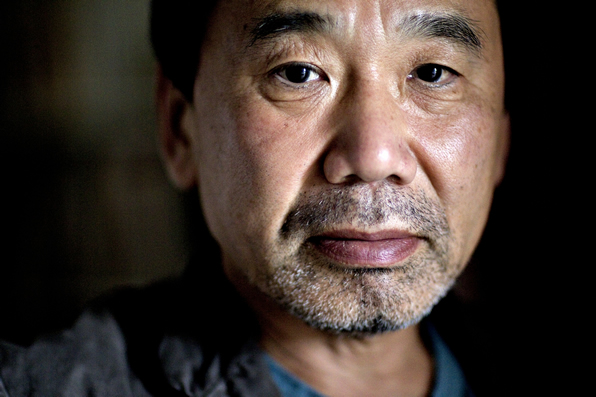 Haruki Murakami.

t is important to read any text with proper consideration for its genesis. This text was born in Japan, so we cannot expect it to conform to Western ideologies. It is called 1Q84, an obvious reference to Orwell, and yet government itself is not the topic. Instead, I would argue, "powerlessness" is. Whereas 1984 warned of citizens' lack of control in relation to an all-powerful government, 1Q84 is not as certain about why people are powerless, though it seems to agree that they are. Rather than a cautionary tale, then, the book is a playful exploration of powerlessness—it's a relaxed attitude far more reflective of the religious beliefs of the country in which it was born than of our own. Whereas the United States, for better or worse, has a history of Christianity, a religion that is pretty straightforward despite its mystical elements, Japan's oldest religion, Shinto, is far more mysterious. Though they have a creation myth, they have no single god or goddess. Instead, Shinto belief states that many forces act on the world all the time. Though humans are generally considered "good," there are no absolutes in Shinto, just as there are no unadulterated truths in 1Q84. The mystery itself is the truth.

Rather than one side or the other coming out on top, it's the balance between forces that seems important in this book. Though we want things to be only "good," "evil" also exists. Most of us in the West would find not knowing which is which to be a problem. In the book, it's not at all clear. Is Fuka-Eri, the 17-year-old author of Air Chrysalis (the book that Tengo ghostwrites) good and Leader (her father, the leader of a communist cult) evil? Possibly, and yet they work together to unite Tengo and Aomame, which feels good, even though there are a few big problems that suggest it might not be. Every one of the characters in the book mentions feeling "powerless" at some point. Part of what the book suggests, then, is that we do not actually have the power to control the world around us. Our own world is surely as strange as the one depicted in 1Q84, and though we would like to think we can change it, experience teaches us otherwise. Weird things happen that we cannot control or even explain. Still, how we respond to them might matter.

To return to that calm feeling I mentioned earlier, equanimity seems essential to staying afloat. There are multiple allusions to duality here—two heroes, two origin stories, two moons, Fuka-Eri and Leader, two girlfriends of Aomame's, two mentors, and, finally, two parts of the same whole born from the air chrysalis, maza and dohta. All this combines to suggest the general idea of balance. It doesn't really matter if people, actions, or places are good or evil, so long as they are balanced. Whether we manage to find this balance depends on the story we tell ourselves. Tengo applies a fictional story about a town of cats to guide him, while Aomame takes comfort in reminding herself that if utterly alien things happen, it's only because she's no longer in 1984, but in 1Q84. This gives her the strength to roll with it, so to speak, and to make her way bravely through a confusing world. Ushikawa, the man who is hired by the cult to find Aomame, on the other hand, had a nice home and family, but didn't believe that story. He tells himself a different one and it comes true. Tengo's father believed so strongly in his own identity as a government fee collector that he continues that role even after he falls into a coma. Murakami makes it seem like Tengo's father chooses this ending for himself, that he didn't like the story in which he was living in a nursing home, so he turns that one off and switches back to a channel he's comfortable with. Tengo mentions a few times that he is "nothing"—he is neither a "real" writer nor a "real" teacher (he teaches three days a week at a mathematics cram school). His father, too, tells him that he is nothing. This has dual implications—both that we are all, in essence, nothing, meaningless, empty; and that Tengo has told himself a story in which he is "nothing" and that story has come true, just like the objects and events he writes in Air Chrysalis also end up happening in "real" life.

The nature of reality and our role in shaping it is a fascinating and worthwhile question to consider, but you'll be better off staying in the realm of consideration. Don't look for any defined moral to this or any other Murakami story. The payoff to these great big books is simply that by travelling to strange worlds, we are reminded of the weirdness of our own. The effect might be to notice and revel in this real-life strangeness, as if we ourselves were Tengo or Aomame, important but confused players in a surreal drama unfolding around and inside of us. After all, what we tell ourselves about the story will ultimately affect its outcome.

---

Emily Burns Morgan is a writer, editor, and professor in Brooklyn. Her work has appeared in The Raleigh Review, Killing the Angel, and The Montreal Review, among other publications.