Music
Milky Edwards & The Chamberlings Cover Bowie's Soul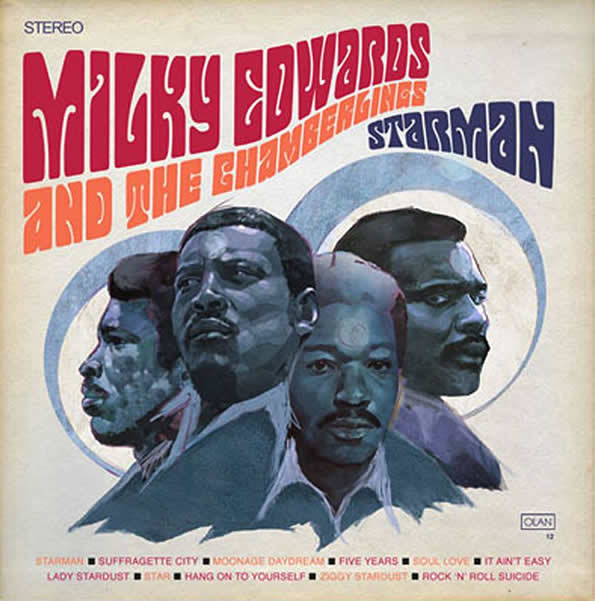 By Alan Limnis


OUL VERSION OF ZIGGY STARDUST UNEARTHED," the post from the Official David Bowie facebook account stated yesterday evening (9/18), after which it read "'Rediscover the music of Milky Edwards & The Chamberlings' runs the catchline on the rather sparse home page for this intriguing outfit." The supplied link takes one to a web page with an image of an album cover titled "Starman" by "Milky Edwards and the Chamberlings" next to a YouTube video of someone dropping the needle on a record of the same name. What plays is a foot-stomping soul cover of the title song:



The audio qualities of the track, combined with the typography and image on the album cover, suggest the 1960s. But if there actually was a "Milky Edwards and the Chamberlings" who covered Bowie's The Rise And Fall Of Ziggy Stardust & The Spiders From Mars in the late-60s or early-70s, wouldn't we all already own it? (By "we" I mean people like me, for whom Bowie is essentially a living deity.) The "Starman" cover opens by quoting The Four Tops before launching into a version of the title song played with the same up-tempo urgency.



The same male voice sings "Moonage Daydream" over a striding piano line, helped along by some crooning falsetto back-up and a judicious sprinkling of sax squeals, the whole arrangement effective enough that I found myself appreciating the lyric "Press your space face close to mine, love" as if it were somehow newly clever rather than decades old. "Soul Love" is covered by a different singer, though with the same backing vocalists. This singer's range is more toward the Little Stevie Wonder end of the continuum, and the song finishes with a smooth shift into a Supremes moment.



By the time I typed "Milky Edwards" into Google, there were already sites arguing over the provenance of the recordings, with some commenters referring to them as a "hoax." The facebook post I saw, though, referred only to something that had been "unearthed." What if this discovery is nothing more than that in the hands of talented musicians, early Bowie can be easily turned into some pretty infectious soul music? In that case, Milky Edwards and the Chamberlings—whoever they are—are the real thing.

---

Alan Limnis is a staff writer. He recently reviewed The Afternoon Interviews between Calvin Tomkins and Marcel Duchamp.