Portfolio
Coast Time
James Herman's Driftwood Forts of the Oregon Coast is About More than Just Driftwood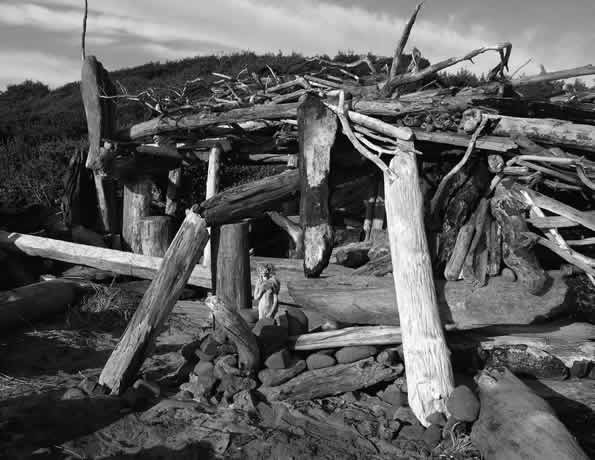 "I was excited about the levels of collaboration and involvement apparent when admiring them."

hen I spent a few evenings at the Oregon coast this summer, I took along a new book titled Driftwood Forts of the Oregon Coast. Published by Nestucca Spit Press, the book features an attractive cover but is otherwise quite modest in its presentation, doing little to outwardly announce itself. I was quickly charmed, however, by the book's alchemy of voice, images, and design. There was much more going on in Driftwood Forts of the Oregon Coast than appeared, and yet at the same time, the book was about exactly what its title stated. A conversation with the book's author, artist James Herman, reveals how this project came about. —Dan DeWeese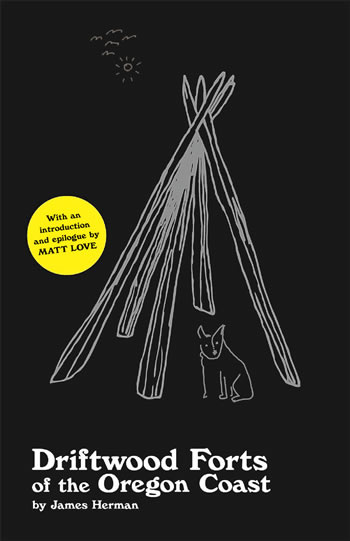 Propeller: In Driftwood Forts of the Oregon Coast, you mention first becoming interested in driftwood forts while doing a Coast Time Artist Residency. I'd never heard of the Coast Time Artist Residency. How does it work? What kind of work were you doing in the residency—what kind of materials were you working with?

James Herman: Coast Time Artist Residency was created by some friends and faculty of mine while at the U of O. The whole premise is to create a no-cost space to think and work on the coast. The program is free and you get to stay in a small house in Lincoln City that has a woodshop and an adjoined art studio. I basically was the guinea pig for the residency, they put me in there before it went public. The program varies in duration but I believe I stayed for three weeks. The only expectation was that I create something to leave at the Coast Time house, and I believe that still is the idea.

I have always been interested in shelter, and habitation—how we put our stuff out there in the world and organize it. So, back then I was making these structures that were somewhere in between sculpture, shelving, and the side of a shed. I would walk the beach and find materials for them. One piece even had a some driftwood in it cinched up in a bundle and hanging from top of the piece. I have always found my materials and colors—there's so much to choose from out there.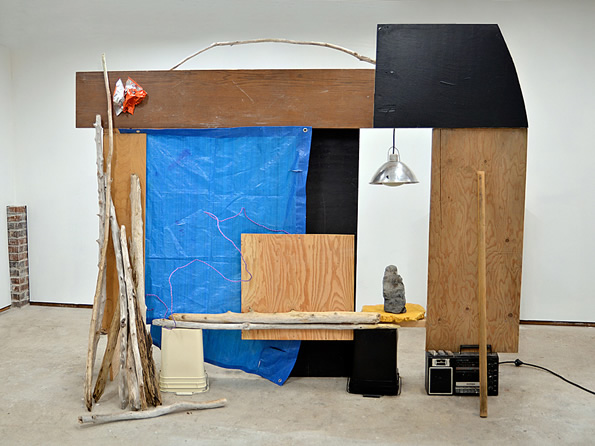 "I was making structures that were somewhere in between sculpture, shelving, and the side of a shed."

Propeller: You mention being struck by driftwood forts while walking on the beach, but there's a big difference between admiring a fort as you walk past and deciding to write a book about them. How did your admiration become this book? Were you thinking in terms of a book from the beginning, or did the project develop in a different way?

Herman: I felt like a crazy person with ideas. I guess the book idea was more or less conceived in that instant, but along with a hundred or so other ideas pertaining to driftwood shelter, and driftwood. The book was what I conceptualized leaving as my piece for the residency—a one-off coffee table book of photographs, and an essay of mine about driftwood and time. I was excited about the structures, and the levels of collaboration and involvement that are apparent when admiring them: time, nature, the tides, animals, and humans.

The project evolved again once Matt Love of Nestucca Spit Press offered to publish it. I had approached him about writing a piece on forts so that the book would would have regional context. He offered to publish it and I began to conceive of the book as more of a two year project that would reference the lineage of self published or small-press published books on beachcombing, shelter and hand-built homes. I wanted it to have its place with what has came before it, to elevate the status of the regionally distinct, and ephemeral structure. It seemed a humorously worthy challenge to me. Matt would say I was just clearly obsessed with forts, though.

Propeller: The book's design definitely recalls the look of 1960s or 70s era small press nonfiction—straightforward informational books. In your book, you list a number of titles that inspired you. How did you first come across these previous, older books? What is it about them that you find compelling?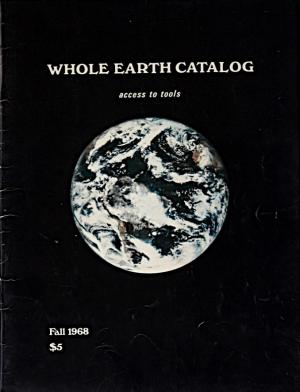 Herman: Growing up in Eugene, Oregon, there was no shortage of Whole Earth Catalogs to dig out of the piles of musty old books in thrift stores and at garage sales. I draw influence from many of the titles featured in Whole Earth Catalog, but also from its iconic use of type and graphic design. I believe I bought my copy of Shelter because I saw it in the Whole Earth Catalog.

Shelter and the Lloyd Kahn-iverse are the most popular books from the handmade homes movement: Shelter, Home-Work, Steve Baer's The Dome Cookbook, Domebook 2, and Handmade Houses by Broericke and Shapiro all offer earnest cues and tips for builders but while carrying a poetic often dogmatic means by which to deliver the straightforward or plain obvious. Those books for me were more than a builders how-to, but a spiritual how-to as well. Multi-purpose.

The other small press titles I am referencing are that of coastal activities, mostly beachcombing, and driftwood crafts. I wanted the book to fit in with what had come before it, but build on what was there. Titles like I'd Rather be Beachcombing by Bert Webber and Beachcombing the Pacific by Amos Wood, among others, shaped the the blurb on the back cover and affirmed my reasoning to include the how-to guide which earnestly tries to teach someone how to do something that is more or less self explanatory. The Webber books all have a wealth of information (which gets reused and recycled through his many print runs and versions of the books) in them, but the facts seem off-the-cuff and purely based on his experience—anecdotal. I fell in love with that rambling structure and tone, it seemed to fit in with the country fried, coastal published mystique, but also in line with the Whole Earthers and their 70s hippie hollows.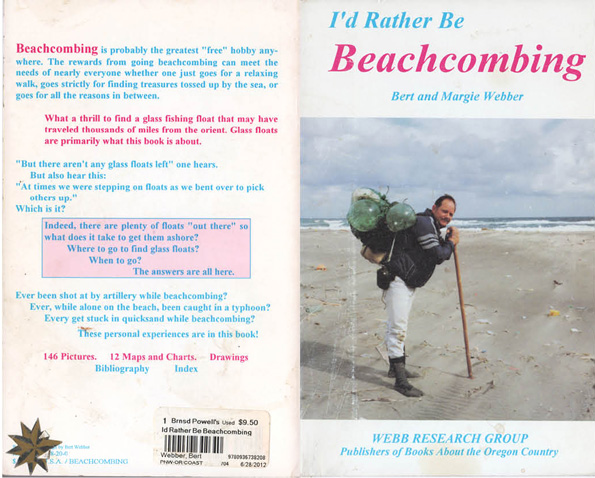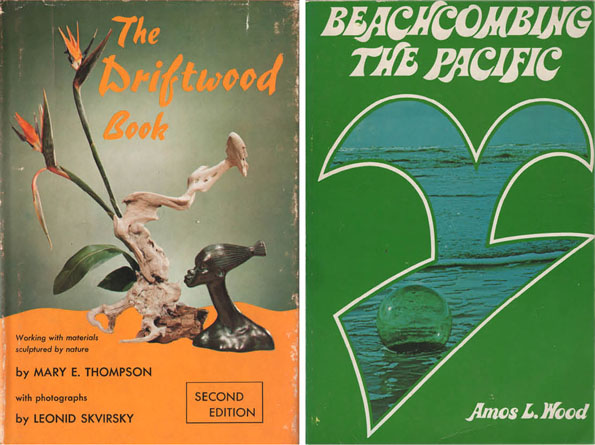 Propeller: One of the things that I found to be so entertaining about your book is how the voice of the writing, though it's brief and ostensibly matter of fact, also manages to provoke thoughts on the proverbial "other levels." In other words, there were times when I wondered whether this book was really about driftwood forts at all. How did you decide what kind of written voice was right for the book? What kind of balance did you want to strike between discussing driftwood forts in a practical manner and gesturing toward the idea that creation, time, and tradition are issues relevant to larger topics, not just forts?

Herman: While writing, Loren Eisley was my biggest influence, then Ken Kesey, but also books like Being There by Jerzy Kosinski and Ecotopia by Ernest Callenbach. I think people naturally come up with interpretations and metaphors if there's space in the content, and I hope that I balanced the voices enough so readers could engage with them. I wanted parts of the book to be "good" and for people to come back to them, like they would a song or a poem, and I approached other areas like they were "canned" lines, and I really tried to go to the extreme of that. Each style had its own compositional pull. I think it's okay to have different styles and ways by which you work in order to get the point across. In this day and age everyone is a sampler.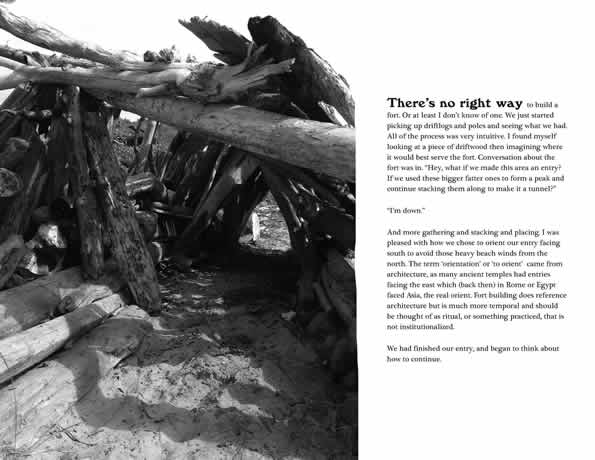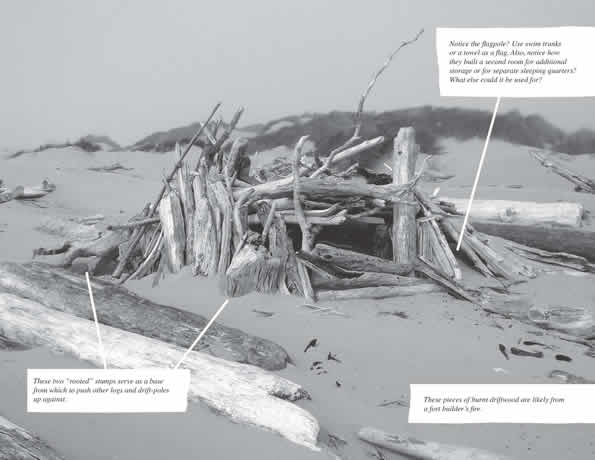 Propeller: You mentioned always having had an interest in shelter and habitation. In your book, you place driftwood forts into taxonomies, and provide many images as examples. Did the act of writing about driftwood forts in this fashion change the way you think about shelter and habitation? Has the book changed the way you think about your use of materials in your art?

Herman: The book was a way for me to talk about how things are built without actually building that thing. In talking to people who have built forts, unanimously the consensus was that building seemed to unlock and tap into a lost part of the human experience. Basic primal needs: food, water, and shelter are something that humans respond to on a deeper level, preparing food and finding water is more a day to day concern for us even though we are divorced from it. I think when building a shelter, going into the woods to camp, or even just going on a hike we connect to a lost part our origins.

I see my art practice having different scales and media that I work in, the book being just one of them. For instance, I will be building some camping platforms in Twentynine Palms early next year, and in the studio I have begun working on smaller sculptures that reference shelters. But as far as materials go? I'm still fascinated with driftwood.

Propeller: You cover some of this in the book, but for those who haven't read it, why driftwood forts of the Oregon coast? What makes the driftwood fort situation in Oregon specific or different?

Herman: Oregon's legacy of publicly owned beaches plus their identity tied to timber and forests equals driftwood forts. These two unique factors deserve some recognition, and are the reason why I chose to frame the book with them in mind. I even open the book with an Oz West quote and a Ken Kesey quote, so that people begin to wrap themselves around the idea as regionally specific, though not exclusive. It's just those two factors combined make for a perfectly cost-free and abundant Oregon pastime—identity, even. Who knows, maybe there's a Driftwood Forts of the Pacific Coast in the works?

---

James Herman is an artist and graphic designer who lives in Los Angeles and travels the West Coast extensively. His book
Driftwood Forts of the Oregon Coast
was published by Nestucca Spit Press in April, 2014. His work deals with the ways in which we inhabit space, and the natural environment. His multi-disciplinary practice uses nature-play, formalism, and various found materials to create sculpture, paintings, collage and photographs. It has been shown across the US, and in 2010 he was awarded an Ellen Battel Stoeckel Fellowship to attend the Yale Summer School of Art.