Aisles
"Do You Understand Life? Do You?"
Asking What Happened in The Room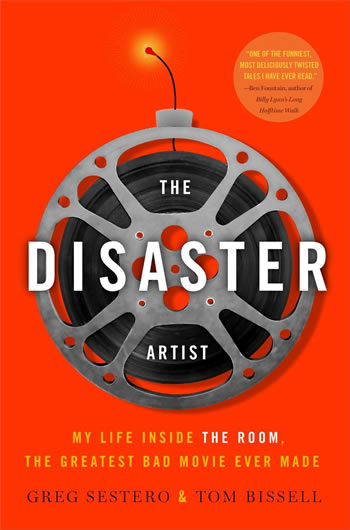 The Disaster Artist
By Greg Sestero & Tom Bissell
Simon & Schuster, 2013
Review by Doug Cornett



riting is often used as a means for catharsis; we peck away at the keyboard in hopes of exorcising some past wound or traumatizing event. The Disaster Artist is actor/producer Greg Sestero's attempt to make sense of, and thus justify to whatever degree possible, his role in the making of the cult phenomenon film The Room. Readers who seek even more chuckles at the expense of The Room will not be disappointed with this peek behind the camera, but the surprising turn in The Disaster Artist is how it capably, even affectionately, humanizes the individuals responsible for the film, particularly its creator, Tommy Wiseau. Sestero and co-writer Tom Bissell, whose recent works include the engrossing Extra Lives: Why Video Games Matter, do what The Room ultimately couldn't: tell a real story about unique characters whose ambitions and fallibilities make them relatable.

To understand why The Room has garnered its cultish fascination, one must comprehend that it is not simply a bad movie—browse your local theater's listings and you will find no shortage of mediocrity. Tommy Wiseau's brainchild is a wedding cake drop in slow motion, a flaming trapeze act of nonsensical dialogue, psychopathically horrible acting, and candle-lit shots of weird butts (the first gratuitous "love" scene begins only two and half minutes into the film and lasts for over three minutes). As all things sublime are also ineffable, it is difficult to convey to those who haven't seen it just what makes The Room so awful. But it's fun to try.

In one scene that has no discernible bearing on the plot, almost every male character in the film gathers in an alleyway to awkwardly toss a football. For reasons largely unclear, they are clad in baggy tuxedos. The "game of catch" lasts for seventeen seconds before one character, Peter, executes the worst fake fall in the history of cinema (there's no way to validate this claim, but if you've seen it you won't disagree). Peter is out of sorts and vaguely injured. "Great idea, Denny," he sneers at the homunculus man-boy who totes a football (or basketball) in nearly every scene he's in. In the span of three seconds, Denny's face transforms from a fun-house grin to a mortally wounded scowl, then back again to the funhouse. The group of friends, dazed and defeated, stumble lethargically off-screen in a huddle. This is the film's second spontaneous alleyway football scene that ends in injury.

The scene is rife with tension, but not the right kind. The protagonist, Johnny, is engaged to marry Lisa, who is sleeping with Johnny's best friend, Mark. In the scene immediately before the alleyway football game, Mark reveals this secret to Peter, then promptly tries to throw him off the roof. Denny, an ambiguously-aged neighbor who has an equally ambiguous drug problem, is in love with Lisa and has admitted as much to an oddly unconcerned Johnny. Exactly none of this interpersonal tension is apparent in the scene. Rather, the tension exists in the consciousness of the viewer, whose prior experience watching films (and engaging in real life) leads her to reject nearly everything that happens on screen.





The Room is an ongoing highlight reel of such moments, all of which eventually prompt the following series of questions: How did this movie get made? Didn't it cost millions of dollars? How many hands did this slip through before landing dead-on-impact on the screen in front of me? The answer to the second question is yes, roughly $6 million. The answer to the third question: so many hands. In The Disaster Artist, Sestero and Bissell finger a laundry list of people to blame/thank for The Room, but they do so with great humor and a self-conscious dose of compassion.

Many who watch The Room experience a kind of cognitive dissonance. They can't comprehend what they are seeing. My wife, for instance, doesn't believe in Tommy Wiseau. "He's fake," she insists. "The whole thing is a hoax, and you're all being fooled."

Wiseau's resplendent wtf-ness is the indisputable draw of both the film and book. As The Room's Writer/Director/Producer/Lead Actor, the burden and glory are all on Wiseau's shoulders, and he possesses that rare combination of magnetism and repulsion that so many infamous people in history have shared. When Sestero and Bissell join in on the fun, the descriptions of Tommy veer into chortle-inducing similitudes: "his face as lumpy and white as an abandoned draft of a sculpture"; "Gene Simmons after three months in the Gobi Desert"; "one of the anonymous, Uzi-lugging goons who appeared for two seconds in a Jean-Claude Van Damme film before getting kicked off a catwalk." It's true—Wiseau is an easy target: the Myposian accent, his "which one of us is he looking at" gaze, and oh, those Neolithic love thrusts. But Sestero and Bissell seem to be hyperaware of the line between good-natured fun and ridicule, and as soon as The Disaster Artist lists too far in a critical direction, they pull it back to center. In fact, the engine of The Disaster Artist is Sestero's somewhat naïve compassion for Wiseau, whose bizarre behavior and lifestyle (e.g. Wiseau's beverage of choice at restaurants is a glass of warm water) would have scared away most potential friends. Sestero even acknowledges the unlikeliness of their pairing: "Tommy and I looked more like Marvel Comics nemeses than people who could be friends. I was a tall, sandy-blond Northern California kid. Tommy, meanwhile, appeared to have been grown somewhere dark and moist." But as Sestero details his struggles to make it as a young actor, their relationship begins to make more sense: neither of them had anybody on their side. Sestero finally admits that he "needed a friend as much as [Tommy] did. Maybe even more."

Through Sestero's inside perspective, the film's virtuosic nonsense begins to make a little more sense—only a little, though. The authors' tone exudes a curious combination of innocent wonder, wink-wink collusion, and shoulder-shrugging guilt. Sestero is our fly on the wall, faithfully recording the hypnotically inept strivings of Wiseau. This particular fly also co-starred in the film, though, and his own culpability acts as a driving subtext of the memoir.

So how did this film get made? There are easy answers, of course, and Sestero and Bissell provide them: Tommy's wealth coupled with his complete lack of self-awareness, and the desperation for so many in show business's middle class to work in any capacity. There are, too, I'm sure, more complicated answers, but searching for deeper insight into Wiseau's mind seems a mistake. To try to superimpose order on the beautiful chaos of both The Room and its creator is an exercise in futility; that way madness lies. Rather, we must take our cues from The Disaster Artist and revel in The Room's incomprehensibility, knowing all the while how rare such perfect oddities are.

---

Doug Cornett is a writer and teacher. His work has recently appeared in Superstition Review and Stymie Magazine. In the spring, he reviewed When Captain Flint was Still a Good Man by Nick Dybek.