The Conventionalist
Loud and Clear as a Bassline
Hip Hop Family Tree Vol I By Ed Piskor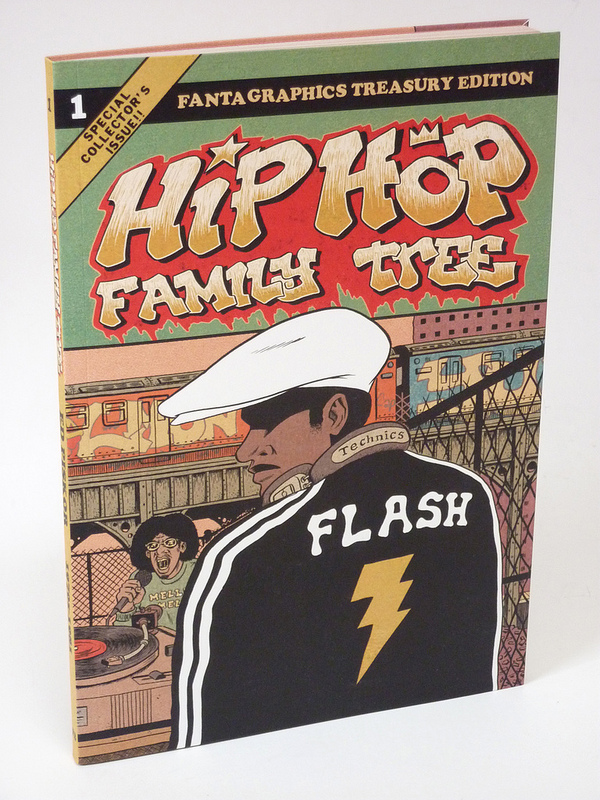 By Patrick McGinty


n the afterword to Ed Piskor's fantastic Hip Hop Family Tree Volume I, 1970s—1981, Piskor makes an animated block-by-block case that hip hop and comics aren't all that different. After all, both were created in New York City and for the most part still play out across urban landscapes. Both rappers and superheroes like a good alter ego. Ditto a costume. Both worlds feature characters forming into supergroups and characters facing off in heated battles.

Piskor's "hip hop/comic book connection" argument is compelling, but I think it shortchanges the accomplishment of this volume. The getups and visions of these characters are as grand as any world-saving superhero, but only in retrospect are they in any way celebrities. Long before he's Chuck D, Carlton D. Ridenour and his Pittsburgh Pirates hat listen to Brother D's "How We Gonna Make a Black Nation Rise" while working on promotional flyers in his dorm room at Adelphi University. In Compton, a mother tells Andre Young to turn down "Funk You Up" by The Sequence. Joseph "DJ Run" Simmons is constantly asking his older brother Russell—lisping and googly-eyed, buck-toothed and bucket-hatted and usually up to no good—to put him on a "rekkid." Big Bank Hank is slicing pizza one minute and the next he's in the Sugar Hill Gang.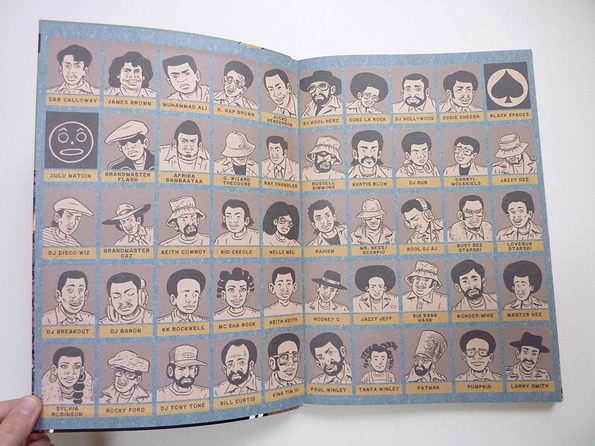 And about that: did you know "Rapper's Delight" was a theft? Casanova Fly can't walk down the street without being told that someone else is rapping his rhymes on the radio. DJ Hollywood invented hip hop, that is unless you ask the other dozen guys who did. One hundred character-heads are featured in blocks inside the front and back cover, and in one of the most awe-inspiring narrative achievements of the year, Piskor tells the early history of hip hop by seamlessly weaving together all of their creative highs and lows, their commercial hits and freeze-outs. Rarely has such an extremely informative historical document been so gossipy, entertaining, and original. Kurtis Blow and Russell Simmons get taken by working girls in France. Cowboy Keith Wiggins gets shot. Kool Herc runs things in the Bronx until he's run through with a knife. One where's-my-money look from Grandmaster Flash is all it takes for Bobby Robinson to pass out. And that's not the half of it.

Even with every speedy transition essentially operating as a "meanwhile," a reader could linger for days in each block. There is plenty to admire visually about Piskor's comic, beginning with the faded colorful pages themselves. Fantagraphics has made a bad-ass, old-school, 9'' by 13'' physical object here. When a DJ turns up the volume, you can see the wiring, sound systems, and faces become blurred and almost doubled. Spray paint comes from cans like angry broccoli clouds. When Grandmaster Flash stands cross-armed beneath a street lamp, the nod to the urban world of the detective and the superhero is loud and clear as a bassline.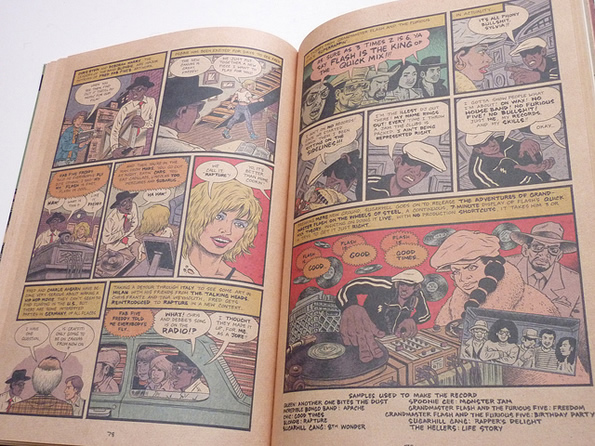 But my favorite thing both visually and narratively about Volume I is a seemingly simple detail, one that is almost unfathomable in modern America. If you walk the most central streets of any U.S. city, you will most likely hear hip hop or one of its many descendants. Maybe it will be playing in a car or a store. Maybe you'll hear it in the mash-up or pop song or guest verse that's playing in your ear buds. In Volume I, those central street blocks are well off in the background in the form of nondescript distant skyscrapers. They appear almost once a page, usually as either pink square buildings under a dark sky or charcoal buildings against a red horizon. Hip hop's forebears are marginal both occupationally and geographically, and in this regard, their story is more suited to the comic's other famed "type," one that Piskor's former collaborator Harvey Pekar helped make famous: the sad sack. Propeller's Editor-in-Chief suggested when writing about Chris Ware's Building Stories that the graphic novel/comic book form has at times leaned on the "sad sack" character as a corrective to the superhero type, and in Piskor's lovingly drawn, carefully conceived work of art, he seems to have struck a perfect balance. The result is young, recognizably human characters with outsized skills, dreams, and obstacles who find themselves on the verge of transforming no less than the art world and the music world and the perception of urban life across the country. With four more volumes on the way, you'd do well to go stock up on Volume I and see what they're up too.

---

Patrick McGinty's fiction has appeared, most recently, in ZYZZYVA and The Portland Review. He recently wrote about Tim Winton's Eyrie.