Craft
Ambiguity, Guacamole, and Dirt
Kevin Sampsell Opts for the Writer's Challenge


evin Sampsell is a brave man. His debut novel, This is Between Us, has garnered much acclaim for its subtle exploration of the unlit corners of a romantic relationship between two thirty-somethings. The novel mines the often-overlooked minutiae of love, illustrating the cumulative effect such intimacies can have on our lives. However, rather than participate in a traditional interview about the book, Sampsell gamely accepted our Writer's Challenge, plunging himself headlong into a series of literary feats of strength. —Doug Cornett

Propeller: Your novel This is Between Us chronicles the nuances of the first five years of a romantic relationship. It is now year thirty of that relationship. What are your characters doing?

Kevin Sampsell: Oh, man. Do you really want me to tarnish the imagination of everyone who's read the book? Seems like a bad idea to speculate on that mystery, especially as the author. Like, what if Bill Murray told you what he said in Scarlett Johansson's ear at the end of Lost In Translation? It would instantly cut off the imaginations of every viewer that has wondered about that. One of the great powers that people who create have is that authority to say when something ends.

But okay, let's say there was an ill-advised sequel to the book and the couple are at retirement age. The whole book would be about them traveling in a mobile home and breaking down in odd little places like Shamrock, Texas, and having awkward conversations about insurance and hearing aids. The narrator might have to take Viagra and he'd be constantly struggling to lose about thirty pounds and stop eating doughnuts. The woman would actually be happier and hotter as an older lady and she'd be constantly fighting off thirty-something dudes who flirt with her on Facebook. But by that year, it'll be called Facewire or something like that. Not sure about the kids. Maybe Vince has joined a cult or become a stuntman. Maxine is probably a model, or maybe in jail.

Propeller: What is the 2nd best sentence in the world?

Kevin Sampsell: Well, if the first best (the best best!) is any random creation by the amazing Gary Lutz, maybe the 2nd best would be something from Barry Hannah's Airships. It's a book full of great ones (like in "Return to Return": He hated the sight of pain and blood, and by this time he had become a thin, weak, balding drunkard of a very disagreeable order, even to himself.) A close third would be Diane Williams (Opening sentence to her story "My Highest Mental Achievement": Baby, I will miss your common sense, and your blindness to psychology.) or maybe one of those cut-up sentences in William S. Burroughs's Naked Lunch. There's also a really awesome story in the new Ben Marcus book (the title story, "Leaving the Sea") that is predominantly one sentence until just about the end.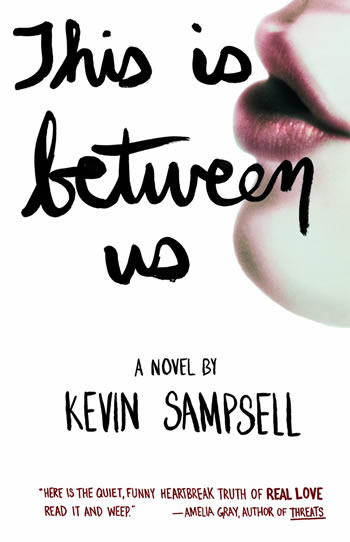 Propeller: Write a short poem about pants.

Kevin Sampsell:

There's a hole in
my left pocket.
I stick my fingers
inside and wonder
about all that I've lost.

Propeller: Write a step-by-step instruction manual for taking over the world.

Kevin Sampsell: This might not be what you expect. But I bet if someone actually did these things, it would work:

1. Read every travel guide published so far this year.
2. Practice voodoo and yoga.
3. Learn how to sing.
4. Go back in a time machine and save John F. Kennedy.
5. Learn how to breed cute Internet-ready cats.
6. Jump out of an airplane.
7. Walk around naked more often.

Propeller: In another vignette from This is Between Us, the protagonist goes on a quest to find a slushie with his girlfriend's teenage daughter. Though nothing monumental occurs, this simple experience brings them closer. Describe the most important quest you've ever undertaken.

Kevin Sampsell: When my wife and I first started dating, it was a long distance thing (she was in L.A., I was here in Portland) and mostly we talked on the phone a lot. One time, she was in Seattle and she had cut her hand while filming a TV pilot. She had to get stitches and even though I had just seen her the day before and had driven back to Portland to work, I used it as an excuse to drive right back up and see her again. She was housesitting for someone and we snuggled on the couch and watched the movie Panic Room, starring Jodie Foster. I had to help her keep her hand elevated. The next day I drove her to the airport so she could go back to L.A. It still seems like a pretty important quest.

Propeller: In a recent interview with Tin House, you said that a little ambiguity can bring the reader closer to the writer. In the form of a math equation, what pushes the reader away from the writer?

Kevin Sampsell: Too many words + no emotion + dull language = sleeping reader.

Propeller: You recently edited a collection of mystery stories set in Portland entitled Portland Noir. Write the first and last lines of a mystery story set in Powell's Books.

Kevin Sampsell: There was a story set in Powell's in Portland Noir, by Chris A. Bolton, but here's the beginning and end of something that I might write:

I wanted to say it was a paper cut but there was too much blood for that and it was all over the bastard's book…

…I glanced again, down the aisle of the Mystery section, where he lay, books scattered, shrapnel-like around him, and in his eyes was a glint of hope, as if I were coming to save him.

Propeller: Music plays a big a part in This is Between Us (and in your life.) Scenario: you are in a Twilight Zone episode in which an evil alien warlord plans to drive you insane by forcing you to listen to the same song over and over. What song would drive you insane the quickest? Slowest?

Kevin Sampsell: "Broken Wings" by Mr. Mister. It just seems like that song incorporates so many bad 80s elements: cheesy lyrics, dorkball synthesizer touches, overwrought singing, feathered hair.



Slowest? Right now I'm fascinated by another 80s band: Trio. I listen to Trio and Error over and over on the record player while I read or write. The song "Out In the Streets" is especially mesmerizing. It has kind of a laid back reggae rhythm and a sad sort of late-night vibe, like a young lonely dude walking the streets thinking about his lost love. Plus, there's German and weird fake skipping sounds, which I thought were actually skips on my record until I heard the song on this video:



Propeller: Give an expert opinion on something you don't know anything about.

Kevin Sampsell: If you mix guacamole and dirt together with a little bit of water it makes a really great polish for cleaning your kitchen and bathroom.

Propeller: Notice something new about the room you are in. What is it?

Kevin Sampsell: There's a U.S. Census form here that I haven't seen before. Am I required by law to fill it out? Seems like a lot of work.

Propeller: Tell an intimate lie about yourself.

Kevin Sampsell: When I was thirteen, I would still wear Garanimals kangaroo underwear because I heard kangaroos were smart and it would help me in school. Plus, they can jump high. I secretly wish I was a kangaroo still.

---

Kevin Sampsell has also published a collection of short stories, Creamy Bullets, and a memoir, A Common Pornography. He is the publisher of Future Tense Books.
Doug Cornett recently reviewed The Disaster Artist by Greg Sestero and Tom Bissell.