Poetry
Elbowing His Way in
Reading Jeff Alessandrelli's This Last Time Will Be The First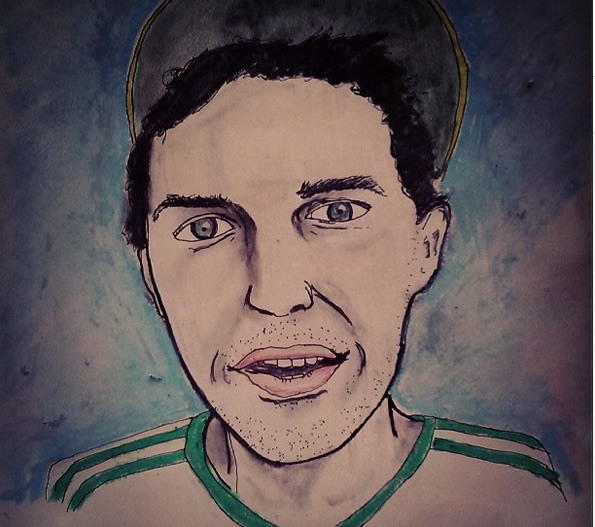 Jeff Alessandrelli. THIS LAST TIME WILL BE THE FIRST is his first full-length book.

eff Alessandrelli's THIS LAST TIME WILL BE THE FIRST is indeed his first full-length collection of poetry, published by Burnside Review Press earlier this year. This slight book is nonetheless full, with layers of references and allusions to other poets and artists, as well as their own quoted words. It dabbles in the absurd, and is often adamantly unsentimental.

The book uses titles to formally bind the poems of each of the four sections. The first section, "People are Places are Places are People," consists of titles referencing other poets or artists, specifically with titles like "Understanding Barbara Guest," an intriguing conceit that draws the curious, learned reader in, and tosses her around within the tangentially imagined world of each poem in which the artist referenced "makes sense." The second section, "Jeffrey Roberts' Dreamcoats," contains five poems about the fictionalized character (that one can't help but read as a sort of alter-ego of the poet). In the third section, "It is Especially Dangerous to be Conscious of Oneself," all titles are brief, one or two words, usually a noun, and contained within parentheses. The final section, titled "You Can't Discover the Lost Treasure if the Ship Didn't Sink," contains only the book's title poem. I invited poet Wendy Bourgeois to discuss our impressions of Alessandrelli's book one afternoon. This is an edited version of that conversation. —Daneen Bergland

Daneen Bergland: So one of the things I think we've agreed upon is that many of these poems make moves that feel like avoidance—that much of the layering of reference seems to bury what's really at stake in these poems, and that the moments where the book works best or where the poems pull us in are the moments where the voice risks something, says something in which there might be an emotional stake—poems like "(Crusts)," in which "Fathers make nothing / happen." What was it about that line that struck you?

Wendy Bourgeois: It struck me because it's so bare. Everyone knows the line "poetry makes nothing happen" from Auden's elegy for Yeats, which is partially about the conflicts surrounding mentorship, an essentially father/son dynamic. So this is an allusion that both illuminates something useful about the other poem and also reveals a grief. To say essentially "Dad was kind of useless" in such a flat, affectless way is heartbreaking.

Bergland: I was drawn to the statement "Dressing in clothes that don't fit properly is one way to refuse the future." In so much of the book, the self seems squirrelly—a liminal state. There is so much potential in a line like that, and it is one of several moments in the book that reveal a kind of hipster angst, a worry that one's not quite grown up yet, that one can't be sure who he or she is, or whether who we should be is the person we want to be.

Bourgeois: "Hipster angst," maybe, is a way to say "identity angst." The hipster moves through cultural identities, searching for the trappings of personhood, working from the outside in, rather than working from the inside out. Of course lamenting a "lack of authenticity," which seems to be what I'm doing right now, is cranky and unfair. Most everybody struggles with identity when they are young, and these poems feel young to me in that way. For example these lines, which I like: "Yo, I'm lazy but I'm crazy too / You never know what I definitely might do" are appealing in their close, childish rhyme, and also appealing because they say what they mean.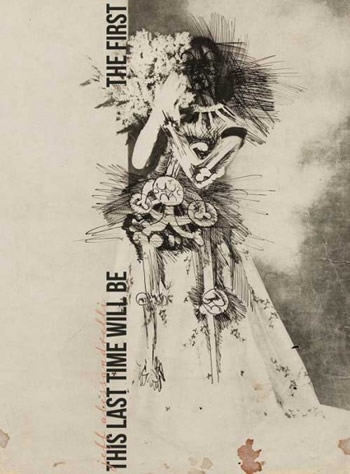 Bergland: I think that's a great observation. The identity crisis (though crisis is too strong a word here) is probably the emotional center of this book, i.e. the last line of "Understanding Jeffrey Roberts": "my most imaginary friend." And that reading helps the beginning section make more sense, too—I can empathize and relate with trying to find a writing voice while reading all these other "important" and historical voices that influenced the poet, and how daunting it is to write when you're not sure you have anything important to say. But I still felt like sometimes the poems just didn't want to be too earnest or seem to care about anything too much.

Bourgeois: Definitely. Even in the syntax there is a reluctance to seem emphatic, passionate, angry. The lines are so short that the emotional momentum the sentences might have felt like it was on a leash. Alessandrelli mentions Creeley in one of the poems, and Creeley loved the short line, but his short lines were jangled and ennervated in a way that these are not. These are more patient or something.

Bergland: A poem like "(Moon)" seems to go to great effort to be flat, to seem to not give a damn (which reads to me like defensiveness). The voice describes what the moon is: "a snowball hoping to hit the earth in the face," and is not: "the viscous and frozen / remnants / of some ancient god's / hocked up / and out / phlegm" and that "the stars are dead, / that's all. / All of the stars / are just dead."

While another poem like "'I Sing Just to Know I'm Alive.' — Nina Simone" does just the opposite. It exclaims, "You can see the stars tonight! / Shining and Bright!" Since the first example comes later, I'm not sure if I'm supposed to read these two poems as a before and after, or two moods of the same voice, or what. But even in the ebullient poem, the outburst depends on the punctuation as much as what's being said—the exclamation points seem to be insisting something that the voice doesn't necessarily believe. Even the fact that all of the poems in one section are parenthetical makes them seem tentative, or stand-ins, or perhaps just skeptical.

You mentioned that some of the poems you liked best referenced physicality. Do you want to talk about that? What did you make of the poem "And Just as He Had Already Lost His Skepticism, So Now He Began Gradually to Lose His Self-Control and the Rest of His Good Sense Also." – Jaroslav Hasek"?

Bourgeois: I love the line "people grow into their bodies / and can grow right back out" and thinking about that now, I realize that lots of the lines I liked about embodiment are specifically about growth, in particular masculine growth—markers of manhood. There's the "my huge fucking biceps" and "His silly billy goat beard / cleanly divorcing his face." Also in that line you mentioned earlier about the clothes that don't fit, there's that same sense of tenuousness, that nothing about masculine bodies is easy or permanent. I like it because this is not my experience of having a body at all. I feel like I'm learning something new.

What purpose do the famous folks that litter these poems serve?

Bergland: Well, my first thought was that the writer must have recently spent a lot of time immersed in the words of all these folks while in grad school, trying to make sense of them, write in their shadows, and that these poems are elbowing their way in, finding context within the other writers' works. And that so many of these writers are "difficult," and purposefully so, made me think these poems might be an effort to understand or explain them. And the fact that they don't really is part of the point.

Bourgeois: So the obtuseness is intentional. But does he pull it off? I think one thing he does pull off is conveying the sense that the speaker is just as "hard to understand" for himself as the others—Duchamp or anybody else. This would be obnoxious if we got the sense that he was saying "Nobody understands me," but instead he's saying "I don't understand me." Example: the repeated line "It is especially dangerous / to be conscious of oneself." This shows up four times: once as a section title, once as a poem title, and twice in that poem. If we're right about repetition serving as emotion in these poems, he feels that shit deeply.

---

Jeff Alessandrelli is the author of the little book Erik Satie Watusies His Way Into Sound (Ravenna Press) and three chapbooks, including Don't Let Me Forget To Feed The Sharks (Poor Claudia). His work has appeared in Denver Quarterly, Pleiades, DIAGRAM, Redivider, Salt Hill, Western Humanities Review, Gulf Coast and Boston Review, among others. THIS LAST TIME WILL BE THE FIRST (2014), from Burnside Review Press, is his first full length collection of poetry.

Daneen Bergland's poems have appeared most recently in Denver Quarterly, Cerise Review, and Poet Lore, as well as in the anthology of Pacific Northwest poets, Alive at the Center.

Wendy Bourgeois, a poet and writer, writes the Reading Lines column. She recently reviewed Allen Crawford's illustrated edition of Walt Whitman's Song of Myself.