Arts
A CurTain Falls in Pittsburgh
A Major American City's Center for African American Culture is Being Liquidated Just Four Years After It Opened. What Happened?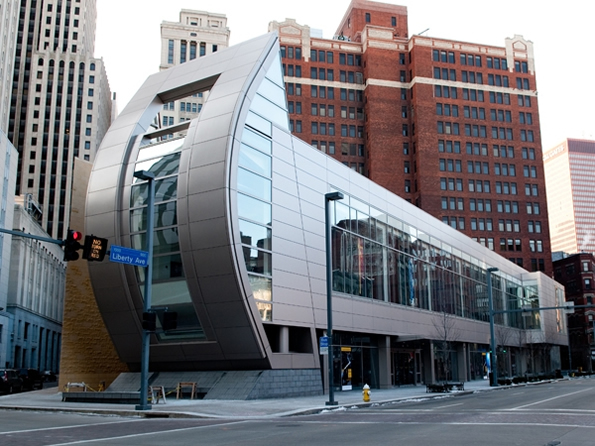 The August Wilson Center for African American Culture in Pittsburgh, Pennsylvania.
By Patrick McGinty

n September 17, 2009, the opening of the August Wilson Center for African American Culture brought nearly eight hundred people to downtown Pittsburgh on a Thursday. The Harlem Quartet played "Take the 'A' Train." DJ Nate Da Phat Barber entertained the lobby while young Latino and African-American musicians from the Sphinx Chamber Orchestra played Bach and Mozart in the theater. The August Wilson Dance Ensemble partnered with the August Wilson World Chorus and the soul food buffet partnered with everyone. The opening gala alone raised $350,000 for the August Wilson Center, named for one of America's most accomplished playwrights.

Born Frederick August Kittel, Jr., Wilson grew up in Pittsburgh's Hill District, a predominantly black neighborhood once known as Little Harlem. Harassed at prestigious Central Catholic High School for being the only African-American student, the playwright tried two other high schools before being accused of plagiarism and dropping out. He immersed himself so deeply in the works of black writers at the Carnegie Library of Pittsburgh that the library eventually awarded him a degree, the first of its kind. There would later be a first Pulitzer, then a second, a New York Drama Critics' Circle Award, then six more. His "Pittsburgh Cycle" (also called the "Century Cycle")—ten plays set mostly in Pittsburgh's Hill District, each in a different decade of the 20th Century—is not only a pillar of 20th-century African-American art, but also a fully realized epic narrative exploration of a race, the likes of which is rare the world over. At the time of his death in October of 2005, Wilson's plays had been shown close to 1,800 times on Broadway. More than 2,000 amateur and professional productions across the country had staged his work. Within days of his death, Broadway's Virginia Theater was renamed the August Wilson Theater. In Pittsburgh, the construction site for what would become the long-planned August Wilson Center was cleared.

Yet as of this writing, just four years after its grand opening, the $43 million August Wilson Center has been told by a conservator to liquidate its assets. The bank is foreclosing. Buyers and options are being sought. Meetings are being had, both private and public.




t's totally heartbreaking to see the way the media is dealing with the August Wilson Center," says Staycee Pearl, owner of PearlArts Studios, a dance studio and recording space in Pittsburgh's East End. Last year, Pearl hosted a meeting for concerned members of the Pittsburgh arts community, four of whom wrote an open letter to the AWC's leadership that Tony Norman published in-part in the Pittsburgh Post-Gazette. In an email, Pearl told me that "[It's] as if it were the first institution to have problems early on. Some forget the type of management and financial problems arts organizations such as the Center for the Arts, The Glass Center, the Warhol [Museum] and others endured before becoming sustainable—the endowments that support them, the level of public support needed for them to survive. The AWC didn't have any of this."

The degree to which the August Wilson Center did or didn't and does or doesn't have financial support is difficult to pin down. The Heinz Endowments declined comment. One foundation's representative began a conversation, then changed her mind. Reluctance on the part of foundations could be due to a February 4th article in the Pittsburgh City Paper, which confirmed that an anonymous group of foundations had offered to purchase the center for $4 million, a price well short of the $10 million debt.

Nonprofit leaders who did speak on record are keeping a level head by leaning on experience and historical precedence.

"It's commonplace in our industry that performing arts and theater complexes open and have major financial difficulty," said Mitch Swain. Swain is CEO of the Greater Pittsburgh Arts Council, of which the August Wilson Center is a member. "Oftentimes there is a large mortgage that creates a huge weight for a relatively new organization, in addition to fundraising for operations. When you're in a start up mode like that, strong cashflow is obviously important. You're building donor base, audience, regular patrons, and because the Center had to deal with a large unpaid long-term mortgage debt, it made it really difficult to operate a successful operation."

Many in the financial sector view these difficulties as both self-imposed and simple. A January 26th article in the Tribune-Review quotes Ken McRory, a downtown CPA and nonprofit consultant: "Too much money was poured into the building and too little was used for an endowment. It's a fairly classic mistake that some other nonprofits have made from time to time." This is a take I heard often when speaking to those in the business community: all the money went into the building, little money came in, and now the building is all that's left. From there, the math that delivers one to liquidation isn't difficult to figure.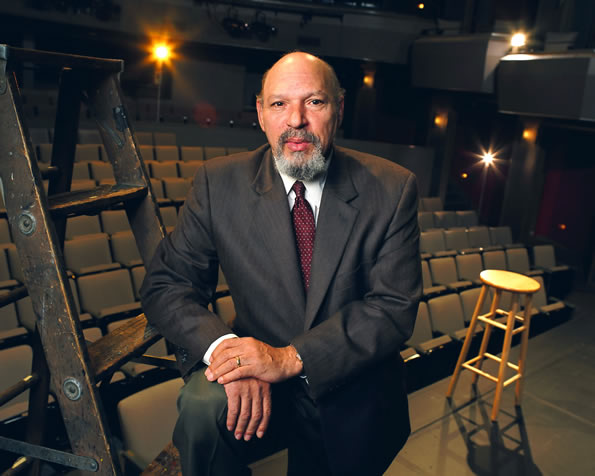 August Wilson, two-time winner of the Pulitzer Prize for Drama, died in 2005.

Yet it is difficult to swallow a purely mathematical perspective on the Center's failures. The same Tribune-Review article quotes former Pittsburgh Mayor Tom Murphy, who says the fundamental lesson in all this is that "when you're trying to build a facility like this, you also need to think about the day-to-day maintenance 10 years later and figure out how that's going to happen." This is unquestionably sound advice, but consider that the former Murphy administration's downtown redevelopment debacle receives its own chapter in Gregory J. Crowley's The Politics of Place: Contentious Urban Redevelopment in Pittsburgh. The numbers and projections were pristine when it came to Murphy's downtown retail plan, the lone unaccounted factor of which was outreach to the local community, business and otherwise—an oversight resulting in the near total alienation of said groups. "I'll pick up a newspaper story and there'll be a map of our street and a Banana Republic store in the space where we are," says a merchant quoted in Crowley's book. "You pay your business privilege tax only to have it used against you to force you out."

If there is a "lesson" to be learned from the Murphy administration, it is that the "lesson" is never purely economic. Yes, the lack of a self-sustaining business model with defined and reliable revenue streams was a type of financial disease for the August Wilson Center. The recession provided highly unfavorable conditions, which contributed to the four-year speed of the Center's decline. But there are also non-economic factors that circle any story like this: alienated alliances, in-fighting and resignations, and the many pesky and personal fissures that leak from a cracked foundation.

"The reality is that most of it starts way before the shovel goes in the ground," says an aide from a former mayoral administration. "I mean, none of this is new. This is Development 101. You lowball an estimate, get 90% of the way there with construction, but then all of a sudden you need more money. Who says no? What city wants a stalled construction project in the heart of downtown? And if it isn't a request for money, it's all these late-stage ideas about future revenue, where you've got to have somebody who was on top of things from the beginning—someone who can say no and you can believe in them, because they can identify in less than a minute exactly where that revenue will come from."




t is cold inside the Center on a hot afternoon last summer. My first and to-date only visit is brief, though the same cannot be said of the Center's enormous lobby, which seems to take up half the building.

"I felt immediately that it was a missed opportunity," says Kilolo Luckett about her first time in the Center. Luckett was Director of Development at the Andy Warhol Museum in Pittsburgh until she stepped down to focus full-time on her biography of Naomi Sims, the first African-American supermodel. In addition to her previous role at the Warhol, Luckett was a signee of the open letter from the Staycee Pearl group. "As you're walking through the space, it felt like it was a void. There were so many voided spaces that could have been activated."

The only real focal point in the wide, shallow lobby is the one other human who is observably present: a kind security guard. White shirt, black tie. Rolling chair on the highest notch behind a lectern bent slightly toward him. He says I can peruse the first floor for free. I'll have to pay for the second. I ask what's up there and he says a gallery. He says "exhibits" when I ask about the computer screens on a dais in the more decorated space behind him.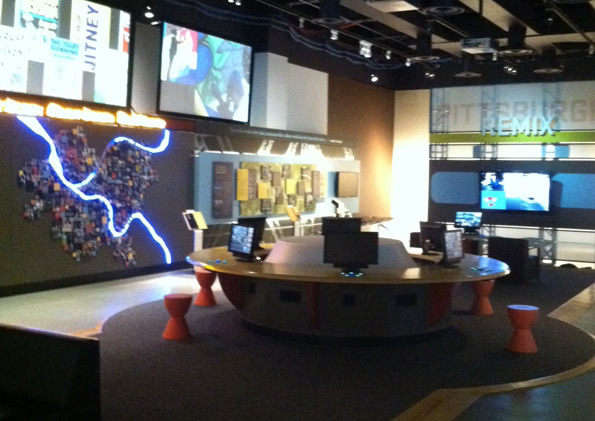 If it is difficult to enjoy community when you want isolation, it is twice as difficult to enjoy isolation when you want community. Wandering the Center alone in the middle of the afternoon, I set myself up for the Failure Narrative that has been so popular in the local papers. The large room in back of the guard is themed "Pittsburgh: Reclaim, Renew, Remix," and there are no children using the computers to reconfigure images and sounds into their own personal Pittsburgh mash-up videos. Previous iterations are projected on a screen—it is unclear how long ago they were created. Photographic portraits on a wall seem too close for such a cavernous space, but on the smaller photos arranged collage-like around a blue-glowing three rivers I find John Edgar Wideman and feel better. I'm happy to see that the timeline-ish markings across the wall mention boxer Charley Burley, son of a black coal miner and white Irish immigrant. Archie Moore called Burley the best fighter he ever saw. Jake LaMotta and other top white fighters ducked him, as did Sugar Ray Robinson. Billy Conn dodged him, too, though Billy got mythologized in Sports Illustrated and was friends with the Rooneys and in his seventies (or was it hundred-and-thirties?) fought a convenience store robber to the ground, so he got a street named after him in Oakland in addition to being forever known as "The Pittsburgh Kid." The brief mention of Burley reminds me there is more than one Pittsburgh, which is why a building like this matters. Some light Googling later that night will reveal that AmazeDesign from Boston did the room on a budget of $850,000. What is it worth to see Charley Burley's name on a wall?

No one refuses me when I go upstairs. What little staff remains is seated in a partially clearwalled office of some kind, the picnic table weighed down by stacks of paper in crisscrossing crumbling firelogs. I am not a reporter or a paying customer but a spy in my own town, slipping past them along the second floor to...another empty space outside of what must be the performance theater. A space befitting wide tables of soft rubbery cheese cubes and trays of drained wine glasses. The doors to the theater are locked. One of them is. It's studded somehow. There are other doors that I do not try.

There is a window, though. A long glass wall facing Liberty Avenue. I used to eat at over at Fernando's twice a week when I worked at the Federal Building. The Brazilian-born Fernando who used to be homeless and then massively in debt. The Fernando whose sandwich shop went gangbusters then went busted only to be saved by the Furries, a story that seems far more at home in Portland's reliably and lovably weird Willamette Week than the Pittsburgh Post-Gazette. Amazing Books is newish and delightfully dim and I check out their Wideman before leaving downtown. The Toonseum features exhibits on the art of cartooning—fifteen years prior, no one would have expected there to be a place on Liberty Avenue in Pittsburgh where you could see an exhibit celebrating the history of women comic artists, which is what's currently there. The street is getting weirder, and if my five years in Portland have indoctrinated me in any way, it is with the belief that weirder is necessary. Weirder is Other, and Other is being heard more and more in that city beyond the glasswalled, empty Center.

I take the stairs back down with only a passing glance at the gallery that I haven't paid to see. The picture taken on my way to the door is quick and underthought, but I want a record of the lobby Now and Later. The next picture will be un-empty, I think. Full. Someone will figure this building out; I'll plan a better visit. I have no skill for photography, centering every subject as though programmed to forego artistry, and it is not until I am home that I see the security guard in the photo. I didn't even ask or say goodbye.

Don't be cynical, I'll think later. I was there at a bad time. Poor planning. No plan, really. Or was I secretly pining for that Failure Narrative? Can't just wander in like that hoping to write something. People have spoken highly of the programming. Good talks, good jazz—I find some of it on YouTube. A clip of Sean Jones talking trumpet, playing trumpet. They can fix this, I'll think, though in two months Mark Clay Southern, the AWC's former theater director, will tell the New York Times that board members rarely attended performances. When he and his own independent company put on a production of Wilson's Gem of the Ocean, management charged him rent and refused to print tickets.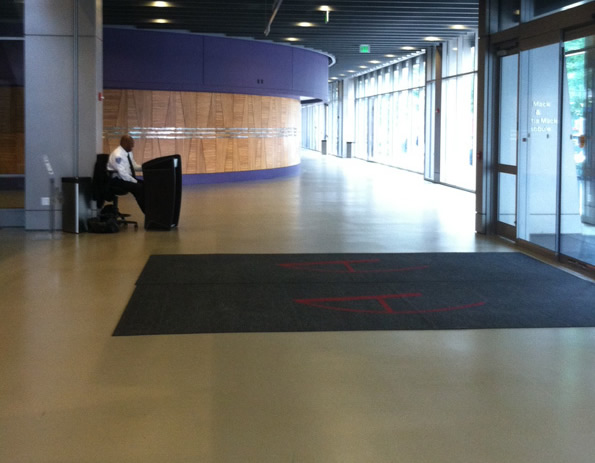 aying that "Art" and "Commerce" have an inherently fraught relationship is both trite and understated. You wouldn't say "In Act 1, Scene 4 of Jitney, Becker and Booster have a discussion." Not when the two go quiet and go loud, stand tall and shrink as they debate who's more guilty for the death of Becker's wife; whether it was honesty or stupidity that drove Booster to shoot a woman who had falsely accused him of rape; whether a life in jail or a life of work pays more debts. The higher ground is traded five, six, maybe seven times. Who is wise and who is blind? Which of Becker and Booster has perspective, and who has a grudge? Is the relationship between Art and Commerce any different from those two in that scene? But who is parent and who is child? Does commerce strangle art or can it perform resuscitation? Does art beget money or does money fund art?

These sorts of debates are the tacit battleground of the August Wilson Center fiasco. In a May 1st, 2013, Art in America article entitled "Creativity and Commerce," Douglas Dreishpoon reminds us who originally choreographed the modern incarnation of the Art-Commerce Tango:
Art as commerce gained an unlikely prophet when Andy Warhol, the wide-eyed boy wonder from Pittsburgh, hit first the ad agencies and then the art galleries of New York City. Warhol's Silver Factory—an industrial loft covered with Mylar, mirrors and reams of silver foil; jammed with paint, silk screens, newspapers and film stock; blaring rock 'n' roll and opera; and humming with all kinds of people at all hours of the day and night—was, as its name so clearly indicated, a harbinger for a whole new socioeconomic formation within the art system. At the same time, his art-makes-good-business philosophy reset how artists, and some of their impetuous collectors, approached the marketplace.

It's worth noting that Warhol was into Art before he was into Commerce. "If you really think about his origin, it's beautiful penmanship and drawings," Kilolo Luckett told me. "Warhol didn't just become Warhol overnight. He did a lot of work and asked for a lot of feedback and evolved his style." From this perspective, Dreishpoon's "socioeconomic reset" is a type of lightning-in-a-soup-can convergence of evolutions: of Warhol's technical craft, of commercial outlets and influences in American culture, and of Warhol's artistic engagement with those influences.

This is the oldest of old news to people more experienced in this realm. The consequences matter, though. This "socioeconomic reset" brought more money to the arts and arts spaces. It brought more meddlesome hands attached to said money. It no doubt helped build and refurbish many of your favorite arts buildings in your community, as well as others that maybe haven't turned out so hot. It championed art. It ruined art. It tricked certain artists into equating the creation of art with the creation of an arts space and it tricked certain businesspeople into thinking art was always a good investment. It made names for tricksters like Warhol who could leverage both worlds. The monetization of artistic Other (and two or three [hundred] other grievances) led Ishmael Reed to refashion museums as "Centers of Art Detention" for pieces from "aesthetically victimized civilizations" in his seminal 1972 novel, Mumbo Jumbo. Four decades later, this socioeconomic impulse leads me to ask interviewees about business models and endowments instead of their favorite Wilson Center experience and what it fostered or wrought in them emotionally.

Dreishpoon continues:
Money has its own reasons for valuing things, reasons that generally elbow other valuations out of the way. Our capacity to respond or think in ways other than monetary is compromised. The dominance of money in the art world may enable the production of spectacle art, but it may also atrophy our ability to appreciate subtle, more intimate and perhaps more difficult statements. When we talk about money and art, we tend to talk only about art at the extravagant end of the market. When Koons, Hirst and Warhol dominate the conversation, everything else seems secondary. Without demonizing those artists, I think this scenario gets boring.

Despite whatever specific shortcomings can be attributed to the staff's mismanagement of the August Wilson Center (they outnumber his plays, and they will not be overlooked herein), it isn't difficult to imagine a scenario in which the spectacle that is August Wilson "the building" served as a sort of one-time extravagant experience for patrons who then deemed other programming "secondary," in Dreishpoon's words. The Pittsburgh Tribune-Review reported that attendance peaked at 19,838 in 2009 and was at 9,136 in 2012, less than a tenth of the 2006 projections. Rent has gone unpaid since last February. Layoffs were last May, foreclosure on the $40 million building in September. Or should I say $43 million? Thought I read $39.5 million somewhere. The numbers have a way of sliding around—a half-mil here, a half there—and every slight difference from publication to publication slyly perpetuates the idea that the figure doesn't really matter. The figure is secondary, like much of what's inside the building.

What's primary and "heartbreaking" for Staycee Pearl and others is the Failure Narrative that fossilized long ago, the one that says "This Is All Somehow Destined." Look: this line of dialogue in this Wilson play. The work the building seeks to uphold foretells of these problems. For months I have begun reading articles on the August Wilson Center with trepidation and dread—will they lead with a joke about the building being yet another Wilson play? Or will they end with one? Maybe crack a witty one right before a space break? Independently, such small quips may be harmless, but when repeated over and over, they are a rap of knuckles on a hardened doomsday story which implies the scenario at hand predates our attention and control. Even the admirable Chris Potter applies a quick knock in the February 5th Pittsburgh City Paper: "Say this for the August Wilson Center for African American Culture: Its plight proves why Pittsburgh is the perfect setting for so much of Wilson's work."




ecause I am more "concerned citizen" than "professional journalist," every conversation that becomes interesting on the public-construction front either ends or goes off-record. I ask a representative from a community development corporation why it is that urban development projects seem to either get snagged in enthusiasm-drowning red tape or pushed through with a future-crippling short-sightedness, and he says, "Right, and the Steelers always run when they should throw and throw when they should run." And what about the bank? Why did Dollar Bank make a loan on a building that everyone agrees had a thin-air business plan? I ask a municipal financing banker who's done work in the region if white guilt—"It is a disgrace to see the African American community in Pittsburgh so marginalized in general," writes Franklin Toker in his otherwise buoyant if not downright reverent book Pittsburgh: A New Portrait—could have prompted a bank and developers and an entire city to keep nodding along in spite of the Center's obvious lack of a self-sustaining business model. "When you see money being thrown around for construction, I can guarantee you that no one feels guilty," he told me.

"You see it a lot in Detroit right now," he continued, speaking to me via phone from his New York office. "People are mad at the banks for making claims on buildings, but what else can they claim? They're owed money and all of it has been put into the building. They should've built in stages and been smarter with their funding."

This is a retread of McRory's line of thinking in the Trib, and my father's own appraisal in addition to, increasingly, my own—and even after reverse engineering the Center's lifespan with academics and artists and businesspeople, I still can't answer what seems like a simple question: How did this thing get built? If the mistakes are so common and so classic, how did everyone overlook them?

"That's what we're all trying to figure out," E.J. Strassburger told me.

Strassburger is an attorney who has been recommended by himself and others to take over conservatorship of the building. Strassburger said that the facility needs a "credible board, a credible vision, and a credible business plan." When I asked why there wasn't a better business plan from the start, he responded, "Anybody can have a business plan. But what's the vision here? Is it an African-American center and museum? Is it a community space for the performing arts? Because then you're talking about different business plans. Most arts spaces can't exist solely on their operational revenue. You need a patron system. You need all sorts of things that derive from a vision."

"The Center was built to be a performance space," says Vanessa German, a performance artist and sculptor living in Homewood. German was in the inagurural class of August Wilson Center fellows. She was involved in the meetings at Staycee Pearl's studio and the resulting open letter. "There's a beautiful fold stage and interesting exhibition stages and meeting places, so clearly it's built to be that."

"I don't believe all of our legislators agree," says Pearl, "but I'm certain there is a unified vision for a strong African/African Diaspora presence."

From the exterior, the building certainly sides with Staycee Pearl. San-Francisco-based architect Allison G. Williams was inspired by Swahili slave ships during the conception of the four-story Center, which is comprised of a long horizontal column that features a taller glass "sail" on the end. In the past, I have side-eyed the artistic merits of architecture, because the endeavors seem so twisted up with commerce. Zoning, estimates and re-estimates, neighborhood concerns—the amount of metaphorical noise gumming up the process has at times struck me as leaving the intention of the artist hopelessly, almost fundamentally, compromised.

This is misthought on my part. As acquisition proposals and bids begin to pile up, it is likely that no single person or organization can front a stronger resistance to options that fail to prominently feature the African-American community than the building itself, though I confess that when I worked next door at the Federal Building during the construction process, I tended to see less of a ship than a leviathan's futuristic ice pick laying claim to Liberty Avenue and William Penn Place.

Part 2: The Academy and the Street

---