Arts
A Curtain Falls in Pittsburgh
Part Two: The Academy and the Street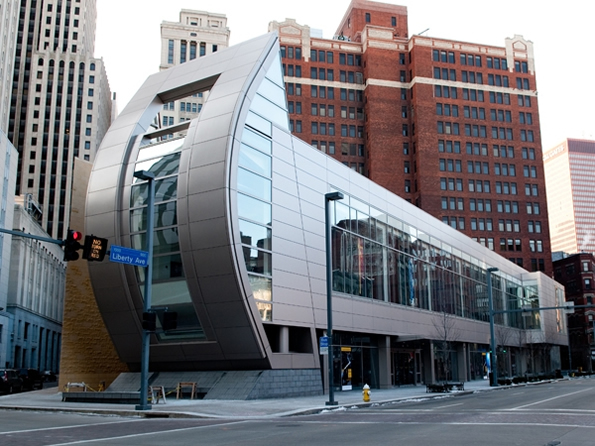 Part 1 | Part 2: The Academy and the Street

he Honorable Judith K. Fitzgerald was named conservator of the August Wilson Center in September of 2013, and though she's been taking fresh-pierog-grade heat for her speedy approach to the liquidation process, this public discontentment should not be aimed solely at Fitzgerald. In her January 21st report recommending the Center's liquidation, made public by the Post Gazette, the subheading "Asset Collection" is particularly damning for the Center's staff:
The Conservator is working with AWC staff to finalize an inventory and where applicable valuations of personal property. This is a time-consuming and tedious task as AWC [has?] much paperwork [that?] is either missing or incomplete. The list of inventoried items that is available in AWC's books and records has not been updated to completely reflect what is actually on site and what is owned by AWC versus being leased. Thus, staff at AWC is required, in essence, to start fresh to itemize the contents of a 65,000 square foot building.

If you're feeling charitable, this type of financial distress can be seen as simpatico with many arts-related endeavors—it is likely that every chair of every Arts or Humanities department in the country has, in some dark moment of their chair-ship, cursed themselves for not possessing a stronger business acumen. But the reality is that a four-year old building should not need to "start fresh," nor should four years be enough time to accrue enough paperwork to completely saddle an organization, staff layoffs be damned. Fitzgerald's writing in Case No. 6380 of 2013 in the Court of Common Pleas of Allegheny County is less a recommendation than a message in a bottle: the shipwreck is total, and we're consumed by the wreckage. Send help.

And while it would be easy to keep jotting out the many managerial failures of the August Wilson Center, it also isn't difficult to see how the Center could so easily have a second life. South Hills High School in Pittsburgh has been turned into a LEED Gold certified retirement home, for instance. The opera is in an old Strip District brake factory, the Church Brew Works in St. John the Baptist. There are dozens if not hundreds of such stories in the city, because while adaptive reuse and land conservation and other such buzzwords have become trendy in recent years, that game is old hat in Pittsburgh. When other American cities were in the adolescent phases of developing their own cultural and economic identities, Pittsburgh had risen and collapsed and begun a long process of rehabilitation in the truest "change or die," recovery-meeting sense of the word, i.e. through a zealously narrow focus on day-to-day baby steps via a constant, continuous acknowledgement of prior screw-ups. By 1954 the city had reduced its smoke pollution by 90%, but does one feel pride in the accomplishment or shame about the need for it? Is a hardened work ethic worth a ravaged environment? For almost a century now, these have been the questions asked by a people who Toker suggests in A New Portrait might have, at one point in its steel-crazed history, been the single most overworked non-slave group of humans in the history the world. The city did not invent adaptive reuse, but few American cities have been grappling with the competing forces of traditionalism and progressivism for as long. Few cities have such a learned aptitude for second acts.

"I'm very hopeful that the August Wilson Center will continue to operate as an arts center and arts complex," said Mitch Swain, who reitereated multiple times that the AWC had the Greater Pittsburgh Arts Council's support. "I don't know what exactly that means, but there's strong interest from local government and local foundations and from individuals to keep this thing running. The conservator has been instructed to move toward liquidation but I don't think we're anywhere close to seeing trucks pull up to take things to auction. I think we need to give people time to plan how to give this thing another chance."

"To just give up on it after what I see as a first try is just not right," said Staycee Pearl. "I know for sure that most of us in the African American community here in Pittsburgh has not given up on the Center, or more importantly, the advancement of black arts."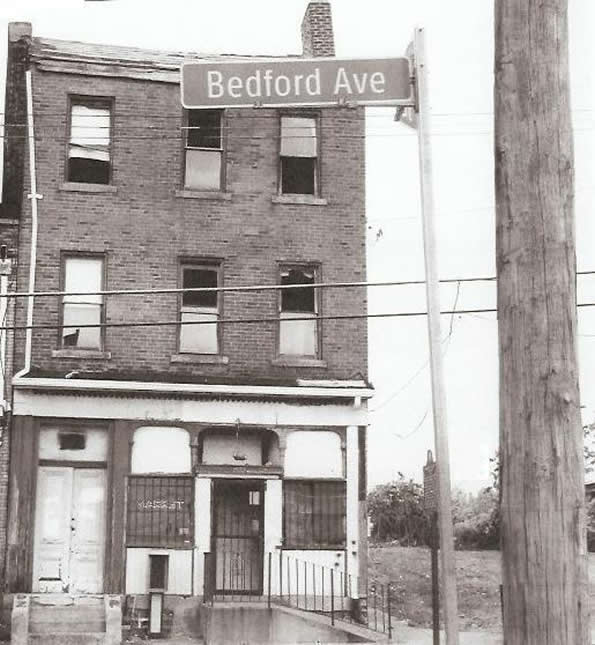 August Wilson's childhood home, at 1727 Bedford Avenue in Pittsburgh.

This would be the same African-American community that has not witnessed the same fervor for adaptive reuse as other Pittsburgh neighborhoods. The same community so often on the wrong end of highway construction and renewal, no different than old Central Albina (now Eliot) and other areas of Northeast Portland. I have not sought any statistical proof, but judging by the 412-neighborhoods they're in and my own experiences at such places, the opera house and the Brew Works and a Pittsburgh retirement home are not catering to a large portion of the African-American community. Efforts have improved in recent years—the Miller School Lofts, for instance, have turned historic Miller Elementary in the Hill District into office space and 26 housing units—but with Pittsburgh Public Schools eager to acquire the August Wilson Center, white churches renting out the space, and corporate and nonprofit entities being invited to sit down and discuss future revenue-laden opportunities for the building, any student of Pittsburgh's last half-century must ask to what degree the African-American vision of the building will be compromised for a better business model (the Senator John Heinz History Center, for instance, partnered with the Western Pennsylvania Sports Museum to help bolster revenue). The smartest of these students will laugh at the bespectacled white writer asking questions about "the African-American community" and "a downtown theater" as though the building itself is more important than ongoing reinvestment efforts in the Hill District and Homewood, once-integrated communities that have been solidly black and largely neglected since renewal.

Some interviewees suggested that the August Wilson Center is a litmus test for those community efforts, while others scoffed. What everyone can agree on is that an innovative brand of leadership is required to right the Center.

"I think the city is waiting for a visionary," said Vanessa German. "Someone who says 'Yes, this is the August Wilson Center, and we can discuss what African-American means and how these ideas resonate in all of our communities.' Someone who can show us what the center is and what it can be, because it doesn't necessarily have to be exactly what it was."

"Presenting is one thing, but they should be partnering with local and regional institutions and organizations, and looking nationally and internationally," said Kilolo Luckett when asked about leadership and programming. "They never capitalized on his name. They never did anything with the August Wilson Theatre in New York. It should be somebody that's progressive but very global-thinking, building off of the history of black culture in this country but from the worldview of the African Diaspora. Someone who can look at the relevancy of black culture and art and ask, Where are we? Where are we going?"

Who this person might be is up for debate. EJ Strassburger has ideas for the board but isn't ready to wage public support. Two anonymous sources championed janera solomon, Executive Diretor of the Kelly Strayhorn Theater in East Liberty, for interim leadership. She could not be reached for comment. The other rooms in which private conversations are being had about thankless, important leadership and large, necessary funding were difficult to slip into from 3,000 miles away.

"The Center needs that kind of morally and culturally courageous voice so Pittsburghers start to do what they do," said German, "where they say don't take this away from us. It's our place. It's on our map and people are going to come from around the world to see it. Where they say it's going to be a cold miserable day in some other hell when you take my stuff away from me."




n Oregon, Portland Playhouse recently finished a three-week run of August Wilson's Jitney, the organization's fifth production of a play from Wilson's "Pittsburgh Cycle." A brief write-up in Willamette Week suggested that a week in, the play—set in a jitney (cabbie) station in 1970's Pittsburgh—was still working out some "kinks." The actors needed to "give some exchanges more room to breathe."

It's a risky game calling bull when you are as biased and blinded as I. Yet even with my prejudices upfront and accounted for—as someone who gives Wilson plays for birthdays, holidays, and graduations; as someone who semi-regularly badgers his mom about her book club doing Golf Radio now that they've read Fences; as someone whose lone fantasy about a tattoo on his straight-edge arm is a line from Two Trains Running—I find that I can't stop myself. I'm bellowing it. Howling and yowling it. Bull! Bull on you, Willamette Week. Comparing cities is so often embarrassingly aggressive and unnecessarily dramatic, a clear indicator of a limited imagination, and you have now wandered into such a bound and hindered mind. Because while the Pacific Northwest can claim Wilson as a late-life Seattle-ite all it wants, that there up on stage isn't Seattle. It certainly isn't passive-aggressive Portland. The characters aren't going at one another with side eyes and eye rolls. They don't stop where there's no stop sign just to let the intersection "breathe." Guarantee you they'd use salt in a snowstorm without worrying about hurting the road's feelings, because in Pittsburgh, you face up and deal. Takes as long as it takes. My mother doesn't care if class-time is up or if you go to old Oliver or Fox Chapel—you will face up and deal with that SAT practice problem if it takes all of her night and yours. If you leave the bar at two and topple the planter in front of Eureka Chocolates then you better look twice the next night, 'cause my aunt will sleep out on that stoop dying to deface and displace you. At Christmas it was four, maybe five seconds of shout-shoving dealing with my brother in the kitchen (my bad, my fault) and a slow-burning polite and thoughtful half hour later that night with my dad standing on my brother's spot. A moment of silence for the men drawn to my sisters. I'm not saying any of this is wise.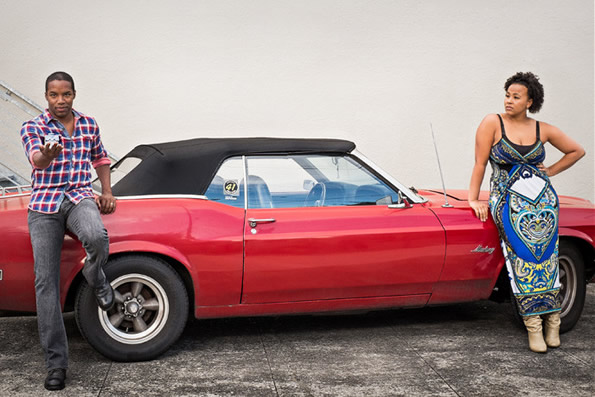 A publicity photo from Portland Playhouse's production of August Wilson's Jitney.

What I'm saying is that an August Wilson play makes fighting a type of sport. Competitive TalkOpera, Open Division. Weight classes foregone. As Turnbo, Victor Mack lands smiling hummingbird jabs and dodges counters and reason like he's Floyd Mayweather with a gut, his pitch high and whiny, chirping at the same sharp angle as his floppy, side-worn beret. Mujahid Abdul-Rashid plays Doub like a learned heavyweight, every fatherly salvo loaded up with a long "Well…" or "Now..." As station owner Becker, Kevin Kenerly speaks with a deep preacher's voice that you'd like to box and open in your darkest moments. He crouches down into himself, shoulders lagging, low to the ground, like he's ready to pounce or shrivel.

And it's not pure machismo up there. Pittsburgh women—Holy Mary. Mother of God. Please don't berate this sinner now and at the hour. I will spend my life clawing for and running from and returning to the tough love of such family and friends, and as Rena, Ashley Williams more than holds her own with the boys, though yes, I can hear feminist critic bell hooks in each stomp of those platforms asking: How do Wilson plays upset the gendered order? Show me ten plays where male characters and male lines outnumber us two and three and five to one and I'll show you "sexist values re-inscribed." I'll show you a patriarchy gone "uncritiqued."

She's not wrong. But a thought: Women are an Other in a Wilson text. Mame Wilkes in Golf Radio and Risa in Two Trains Running and Rose Maxson in Fences and Berniece in The Piano Lesson and yes, Rena: they're the pushback, solo. They champion stability and accountability and full families and neighborliness, less talk and more show-me. Among the many things that Wilson plays have taught this straight white male, one lesson is that I am not dissimilar to a straight black female. Yes, I am a son, and I teared up twice as Becker and his son Booster went at it for twenty minutes with no ref. Yes, I see more of my friends and family in Turnbo than I'll confess to publicly. But when I scan the stage of a Wilson play for a representation of my 'self,' it is the Wilson woman who speaks either as me or for me. The Wilson woman, who enunciates her convictions with such tenacity over the spoken fray of Sameness—men bigger in stature, with voices big as the theater, growling bigger with an 'n' and biting off the 'r.' The Wilson woman, who cuts through that noise and announces clearly to each character and tacitly to every face in what's usually a mostly non-black audience that be it gender or age (or even you and your race out there), Otherness should not go unheard. That when we cut through the bull, Otherness is a lie.

Said more elegantly by Hilton Als in his recent book White Girls: "I see how we are all the same, that none of us are white women or black men; rather, we're a series of mouths, and that every mouth needs filling: with something wet or dry, like love, or unfamiliar and savory, like love."

Said more tersely, by Flannery O'Connor as quoted by Als: "An identity is not to be found on the surface."




n Jitney, the identities in the chairs are all male when Becker calls a meeting to discuss the station's future. It is one of the only times all of the drivers share the stage. The sprawling map of Pittsburgh by the far door—the one into which drivers stick pins before heading out to the Giant Eagle, to East Liberty, to wherever somebody needs a jitney, a service that is both illegal and full-steam in areas of today's Pittsburgh where car ownership is low and public transport shoddy—the black-on-white map is empty. All the pins are at "HOME." The pendant lights flicker. There is usually a central object in a Wilson play—the family piano in The Piano Lesson, the restaurant countertop in Two Trains Running—and in Jitney it's the desk phone, centered in back of stage. It remains silent throughout the meeting.

Historical perspective makes the scene a tough sit. Urban renewal and arena-building in the lower Hill District was at the tail end of displacing over 8,000 residents and four hundred businesses. Of the displaced, the Pittsburgh Neighborhood Alliance cites 1,239 of the families as black, 312 white. And while anyone familiar with their Hill District history can glumly recite what was lost during renewal—one of the country's most renowned jazz scenes ("Scratch any Pittsburgh jazz musician, and what you get is not blood but an exudation of civic pride," writes Gene Lees in Friends Along the Way: A Journey Through Jazz), any remnants of baseball's Negro Leagues, the Hill going thirty-odd years without a supermarket—a familiarity with Wilson's work can quiet your troubled renewal-remembering mind and start to do some funny work on you. The actors on stage have all played several Wilson characters before, and the characters themselves have been played by hundreds, no thousands of actors, and in these rare moments when the play breathes a bit, a Wilson play suddenly squeezes ten and twenty and thirty personas on stage. Victor Mack isn't just Turnbo up there. He's Levee in Ma Rainey's Black Bottom and Stool Pigeon in King Headley II and just like Samuel L. Jackson before him, he's been Boy Willie in The Piano Lesson. You can tell Abdul-Rashim has been Troy Maxson in Fences without looking at the program, a role most associated with James Earl Jones and his big gut and voice, a role recently inhabited by Denzel Washington during a Broadway revival alongside Viola Davis. And how many others have lived in those characters? Shouldn't Pittsburgh chisel every single name into the Empire State Building and Sears Tower and Gateway Arch and anywhere else the region's steel is sitting pretty, posing tough? What better export does Pittsburgh have than the two hours a night at some rehearsal or show in some state of this country where the movements and voices of the city come alive? It's as though the stage at the Winningstad Theatre spills over with every face you've ever seen in those roles, all of them banding together for the cause.

"The city's fixing to board up the place come the first of the month," says Becker. "We got to figure out what we're going to do."




itney closes with all the drivers on stage again, minus one. Becker has died in a mill accident. The drivers are still dressed in black from the funeral. They have shared the stage to save the station and now they share the stage to mourn.

In 1973, four years before Wilson's Jitney is set, another Pittsburgh literary forefather found himself at a Pittsburgh wake. The death of John Edgar Wideman's grandmother had brought him back to Pittsburgh. "As we sat late, late into the night," he writes in the preface to his Homewood Trilogy, "fueled by drink, food, talk, by sadness and bitter loss, by the healing presence of others who shared our grief, our history, the stories of Homewood's beginnings, were told."

Wideman continues:
The wake as a symbol of renewal—life reasserting itself after the fall, the reversal, the extinguishing of hope and expectation—is a rite observed by many cultures. It became clear to me on that night in Pittsburgh in 1973 that I needn't look any further than the place I was born and the people who'd loved me to find what was lasting and significant in literature. My university training had both thwarted and prepared this understanding, and the tension of multiple traditions, European and African-American, the Academy and the Street, animates these texts.

With the August Wilson Center at its wake moment, it's time to size up these multiple traditions and influences animating public discussions. When it comes to commercial interests and stakeholders, a quick perusal of Fitzgerald's message-in-a-bottle indicates that they are desperately needed in the elements and influences that seek to revive the August Wilson Center. Dogged and experienced pursuit of patronage and/or fundraising as well as meticulous bookkeeping and projections are not optional. Yet this attention to the spreadsheet cannot, to reference Dreishpoon, "atrophy our ability to appreciate subtle, more intimate and perhaps more difficult statements." Charley Burley may not be worth $850,000, but his story has worth. A building that has the African-American community built into its bone structure can't house commercial impulses that ignore the exact stories the building was built to promote.

What thwarts those of us with artistic impulses, though? We often feel that in the pursuit of artistic creation, we need time and space and to be left the hell alone. This conviction may be true, but the stubbornness required to create time and space is problematic, because that stubbornness also tends to at best underplay, and at worst ignore, that pay and credit is due to curators and editors and agents and sound people and lighting techs, as well as publishers, theater ushers, bookstore owners, donors, readers, ticket-takers, and the many, many other individuals who devote their hours to bringing attention to the creative work that was the result of someone being left the hell alone.

As the conservator's March 31st deadline approaches, those offering solutions or proposals for the August Wilson Center will have to be creative, but without the benefit of time and space to be left alone. Artists who seek involvement with the Center will have to listen to difficult financial statements in addition to making difficult artistic ones. If there is one thing clear in the story of the August Wilson Center, it is that the creation of an arts space is not the same as the creation of art.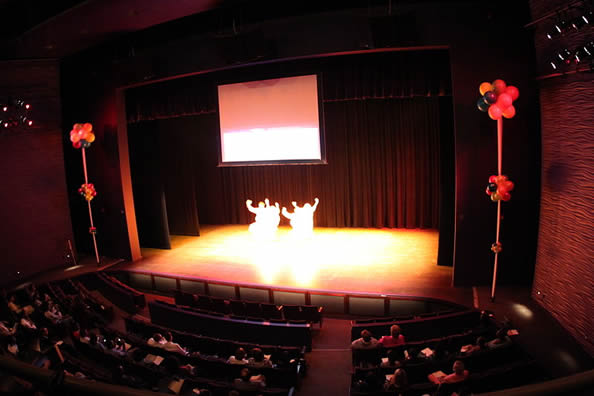 ---

Patrick McGinty's fiction has appeared, most recently, in ZYZZYVA and The Portland Review. He recently wrote about Ed Piskor's Hip Hop Family Tree.