Portfolio
Fantastic Worlds
Martin Venezky's Dynamic Book Design is Part Translation, Part Theater

Martin Venezky. "A designer can sometimes build a complete, fantastic world."

he following conversation with designer Martin Venezky occurred over the course of three months, via emails which began to carry an increasing number of images of design spreads, photographs, and film stills. The genesis of the conversation, as explained below, began at the time of the release of The Wes Anderson Collection, which Venezky designed. The conversation did not formally begin until a year later, however, upon the release of ALTMAN, and did not conclude until after the release of The Grand Budapest Hotel, a companion book to The Wes Anderson Collection. Throughout the exchange, Venezky was generous with his thoughts and examples, and displayed a greatly appreciated patience on a number of occasions when the interviewer asked for further clarification. —Dan DeWeese

Dan DeWeese: We should probably start by explaining that we started this conversation over a year ago. I reviewed The Wes Anderson Collection and in the review claimed that the appearance of books in Anderson's films is a clue to the fact that rather then being "twee" or "precious" or any of these kind of meaningless terms film reviewers tend to lob at his films, his visual style is often just high quality book design. You, as the (high quality) book designer of The Wes Anderson Collection, emailed me to say you agreed. You said you hadn't run across discussions of the relationship between cinema and book design anywhere else, but that (and here I'm just going to paste from your email) "being primarily a designer of books, I think about it all the time. In fact, when teaching (which I also do a lot of), I often use filmmaking to describe the process of design as a creative act of translation and theater." Translation and theater both stopped me there—especially theater. Could you say a bit more about what you mean by book design being an act of translation and theater?

Martin Venezky: Right. Design education is so focused on "problem solving," which is okay as long as the problems being solved can be defined broadly enough to include the kinds of "problems" that a filmmaker has when translating a written text—novel, short story, script, whatever—into visual form. We rarely consider filmmakers as problem-solvers, but as creative individuals translating a story from one medium into another. (I realize that's not always the case, Robert Altman preferred his actors to venture off-script and ad lib, which would be a different process...) Furthermore, the final film is considered not simply a translation, but a complete and independent creative work.

I much prefer thinking of design as a similarly creative act, with similar opportunities. Decisions we make along the way—style, sequence, illustration and so on—can help make the final book an equivalent independent creative work, at least as far as the audience is concerned. And just as a filmmaker must create a complete physicality that the words in the text rarely provide, so a designer can sometimes build a complete, fantastic world that moves the book well beyond the manuscript and image choice.

Such was the case with The Wes Anderson Collection, in which I took the word "collection" literally and imagined an Andersonian character who might collect stamps and trading cards. There was no brief or directive given for that, and no material that demanded such a "solution", if you could call it that. I think that creating the props and situations around this imaginary world was a creative act that was sensitive to the material (like most filmmakers attempt to be) but reframed it into a unique, independent narrative. This is a way of working that I like to discover in all my projects, but I'll be the first to admit that it doesn't always make sense, and it isn't always welcome. Most the time the type of intervention is much more subtle (as is a filmmaker's).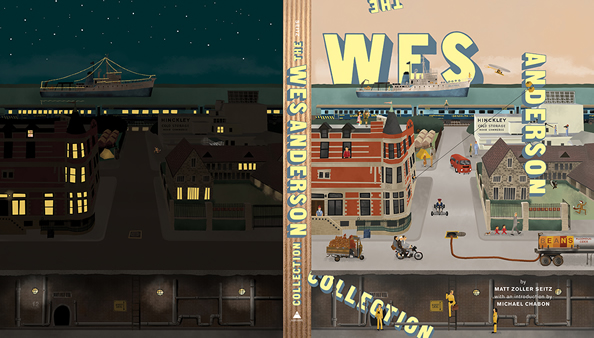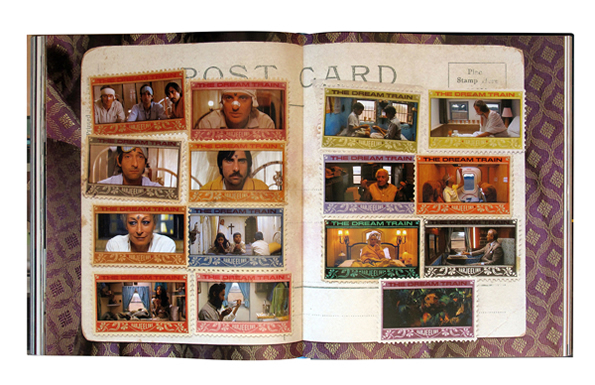 DeWeese: Could you say a bit more about what you mean by "unique, independent narrative"? Because obviously, regardless of your approach, you were still designing The Wes Anderson Collection, so your intervention wasn't going to be unique at the level of the material. And when you say it wouldn't always make sense, what situations or projects are you thinking of?

Venezky: I imagine that a filmmaker who is basing a film on a work from a different medium (say Robert Altman's Short Cuts or M*A*S*H) wouldn't want their work judged exclusively on how it succeeds in perfectly matching the original. They would more than likely hope that the film would be also discussed on its own terms...as a unique independent narrative. Very often the film completely overwhelms the original work (as in M*A*S*H). We generally don't hold that against the creator. And although it's inevitable, I don't want all my work being judged strictly on its appropriateness to the material, or cleverness in mimicking it (as in the Wes Anderson books).

There are always artists, photographers, authors, who want the designer to stay as far out of the frame as possible. Sometimes for pretty good reason. I tend to work best with creators who consider a book a collaborative project. I suppose the best case is when my work harmonizes with the material and elevates or reveals unexpected sides of it.

DeWeese: So when you said you think of book design being an act of "translation and theater," I think what we've discussed so far is mostly the translation part. What do you mean by theater?

Venezky: Theatricality is a type of process that I use in my own work and that I teach to others. It can take many forms, but the most basic is to consider the page (or screen, or wall) as a kind of stage upon which the elements act out a situation. It can be as simple as two design elements courting each other, or as complicated as a highly choreographed crowd scene. What this process provides is a motivation for making design decisions that goes beyond simply making something "look nice" or a poster being "pleasing" or "cool." Instead, the elements develop relationships with each other that can be worked out and escalated or resolved through the pages of a book, or a succession of screens on a website, or within a poster series. This process also provides a scaffolding of logic that can become an engine for creation. Even thinking of one set of elements being "inside" and another "outside" can be enough to propel a whole fantastic world. I imagine to a lot of designers this sounds silly, and once again, it won't work all the time, but it is a great tool to have in your toolkit when trying to create something out of nothing (or very little). And once again, theatricality is a way of understanding design as a creative act beyond just "being clever" or "pushing stuff around to make it look nice."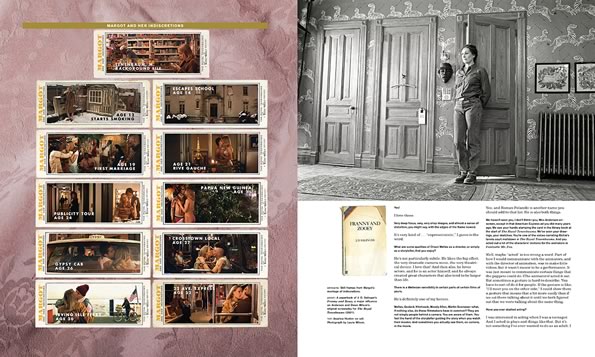 DeWeese: I'm not sure how many readers here will have seen The Wes Anderson Collection, but the more I look at the book, the more I wonder about just how much time you put into the theatrical production of it. There are just so many pieces to the design, Martin. It looks like you fabricated cards and made stamps and all sorts of other items on your own, and then worked these fabrications into the layouts. How do you know when you need to shut down InDesign (or whatever you use—what do you use?) and just start creating physical objects? How long did it take you to design the Anderson book?

Venezky: The whole book took over two years from initial meeting to final printed piece. But within that time there were a lot of stops and starts for various rounds of internal and external approval. The stamp and card collecting idea came about very early in the process and was developed as the work progressed. I am definitely a collector by nature, and I have a lot of stamps, cards, postcards, and similar ephemera already in my library. All of the pieces were crafted digitally (sorry to let you down), but cobbled together from small bits of real objects. Each one was created individually so that the perforations, trim, placement would all be slightly off and unique, just like in a real collection. I think those kinds of details work as an undercurrent of authenticity to make the whole conceit seem believable (not unlike Wes, or many other filmmakers who are concerned with details which may actually show up on screen very briefly—The Grand Budapest Hotel is a great example of that). That believability—how do things really look and act—is critical for me, and that's what makes all of this take such a long time.


I sourced all of the paper textures, backgrounds, and fabrics. I really enjoy coming up with materials that reference, rather than imitate, the subject. We shot all of it right here in my studio so we could control all the variations ourselves and yes, every time a background appears, it is altered slightly to make the whole book seem more "alive."

DeWeese: When you say you "sourced" the materials, what do you mean by that? I'm not sure I'm clear on what you mean by "reference, rather than imitate," but I sense there's an important distinction there.

Venezky: Sure. I knew I wanted to use a number of fabrics as backdrops to sections of the book. I suppose I could have called in a stylist to help with that, but I enjoyed searching out the possibilities myself at fabric stores and antique shops. I brought along stills from the film to remind me of what I was looking for. (See below images of fabrics Venezky chose and their references within the film, some of which became patterns created to decorate different sections of the book, others which were featured in spreads of the covers of some of the books-within-books.) I enjoy these unexpected aspects of book design. They are never assigned. It wasn't part of the project brief, or even within the expectations of my role. As a designer, it is up to me to take the initiative and make suggestions that could add to the project and not simply wait to be told. If you wait for those kinds of things, they will almost never happen.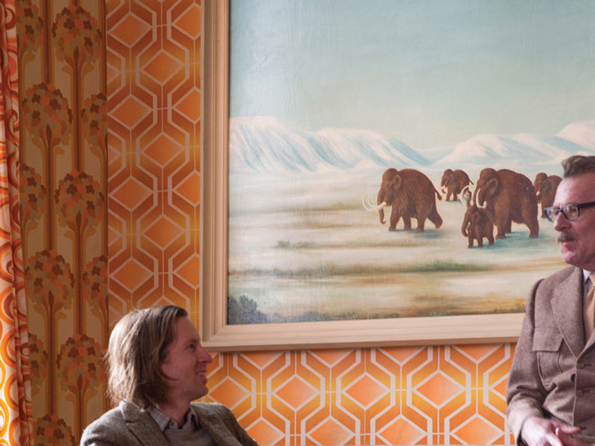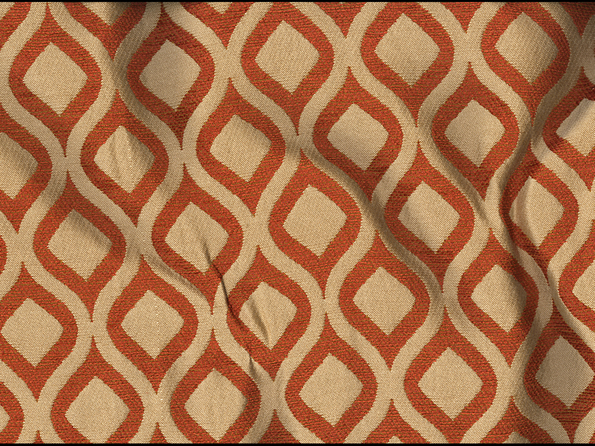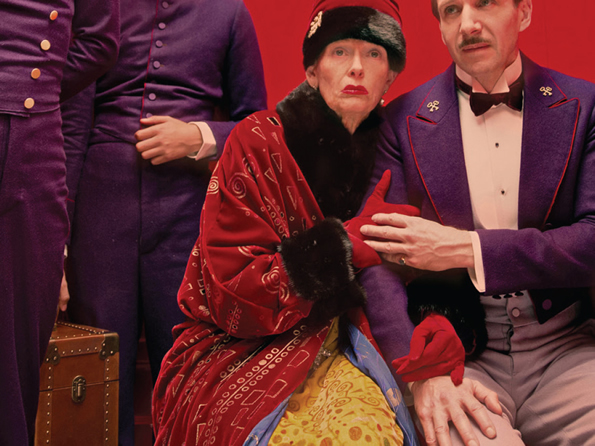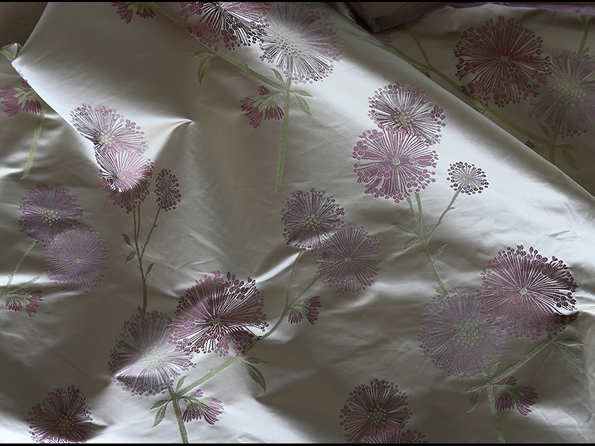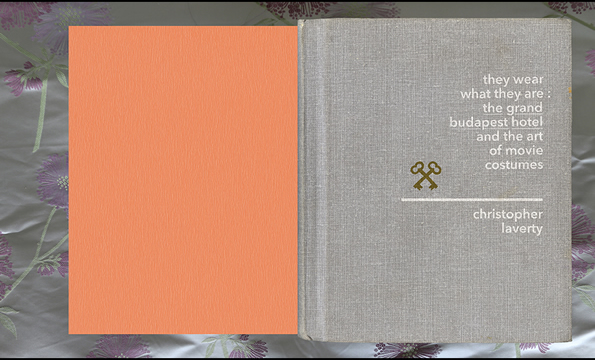 Above, fabrics Venezky chose and their references within the film. Some of the fabrics became patterns created to decorate different sections of the book, while others are featured in cover spreads of the books-within-books.

DeWeese: I want to circle back to something interesting you said earlier, which was that you think of your design elements as operating within a "scaffolding of logic." Normally—or maybe I should just say "in my limited conception"—there's a lot of attention paid to setting up "the grid" of a book's design. But that's maybe just scaffolding, right? By thinking about the design as not just scaffolding, but a scaffolding "of logic," it seems to me you're widening the possibilities and potentials in the design, but also the number of questions. Traditional use of a grid is at a certain level an attempt to have all design questions answered—once you set up the grid, you just pour the text into your columns, the images in your boxes, and you're done. A scaffolding of logic seems to provoke further questions for the designer rather than provide answers. How do you then find constraints or limits to how deeply you're going to go into the conceptual logic or theatricality? Or is that not something that becomes a problem?

Venezky: Maybe scaffolding wasn't the best word since it implies a grid or structure to the page. I was thinking of the way design details may shift throughout a book (for example the pages moving from day to night, or vertical to horizontal) and that the shift creates logical expectations. Or for example, in The Grand Budapest Hotel I designed a series of books within books. There were different styles of books designed specifically for different kinds of content. All interviews were created in one particular style, all essays in another, and reprinted excerpts in a third. A logic of expectation develops as the reader approaches each kind of design (there were several of each kind in each of the chapters). In the Altman book, there were different design structures for the short essays, for the film-by-film picture sections, and for Kathryn Altman's scrapbook pages. Each had to be worked out so the reader understood what was happening (and hopefully looked forward to the shifts). And they couldn't feel random or arbitrary, but organic.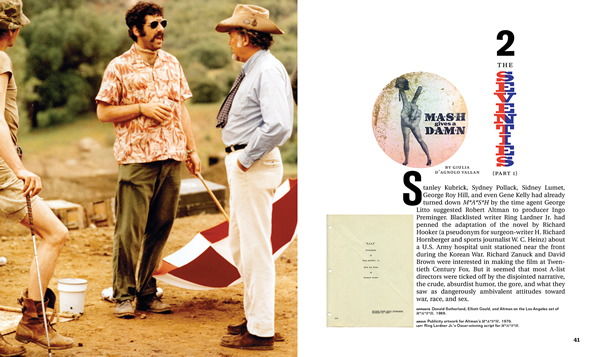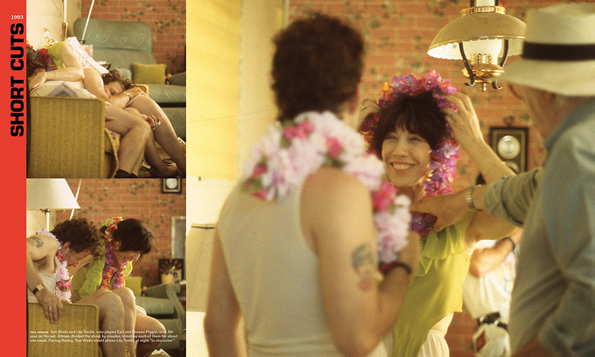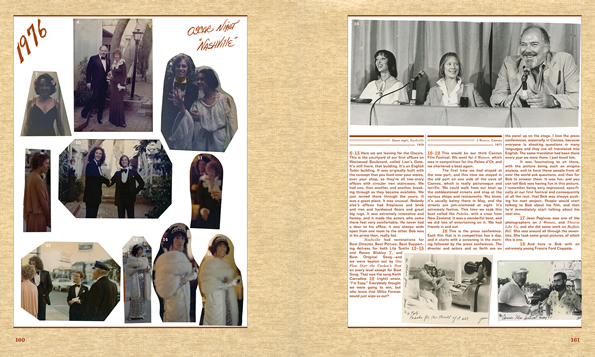 DeWeese: You've mentioned ALTMAN, which is a fantastic book both in content and design. Could I ask you about a specific aspect of the design there—the type? Though Altman of course worked all the way up to the year of his death, he's heavily associated with the 1970s, and there are many source documents in the book that are from those years and therefore feature the typography of the era. You've used a variety of different types in the book for a variety of different jobs. How did you make those decisions?

Venezky: Starting with the cover, the type choices became an important part of the design. And I believe it all did begin with the cover (which often has to be crafted well ahead of the rest of the book—not my preference, but important to the publisher). Altman is not just associated with the 70s, but with a certain breed of American filmmakers, and that was the main distinction I was trying to establish with the type on the cover. For ALTMAN, I commissioned David Wolske of University of Utah to set the letters using real wood type. David is an expert on American wood type and oversees a magnificent library of it. From there I chose a wide range of typefaces with which to set all the movie titles. These were all set letter-by-letter using old alphabet sheets. None of them came from digital fonts, so it was time consuming, but working slowly allows me to slowly develop the rhythm. The whole front and back cover became a puzzle as I tried to fit in all the titles so they felt natural and comfortable together.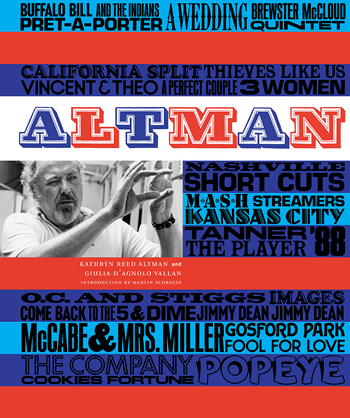 Like a lot of books I've been designing recently, this one had several distinct sections that shuffled throughout the pages. It's important to make each section distinct, and yet keep the whole feeling cohesive. Type, texture, color, and strategies of picture/text relationships are all factors in creating these distinctions. I used a decidedly 70s typeface for the titling of the essays (which is a real font) since I wanted them to feel flashier, and set up a structure that was a little more magazine-like.

By far the hardest section to set was Kathryn Altman's scrapbook pages. These changed around a lot, with a lot of editing, and each time there was a change the whole puzzle then shifted and had to be reworked. But I guess I'm getting away from the original question, huh? I hope I answered it: less about 70s and more about Americana, quirky, individual, yet cohesive.

DeWeese: Could you contrast the typography and design decisions you made on the Altman book with decisions you made for another book on film, but whose subject matter is entirely different? I'm looking at The CG Story, and I'm guessing you didn't go the wood type route on this one. Knowing the subject matter in that book is a history of computer generated animation and special effects, how did you alter your approach?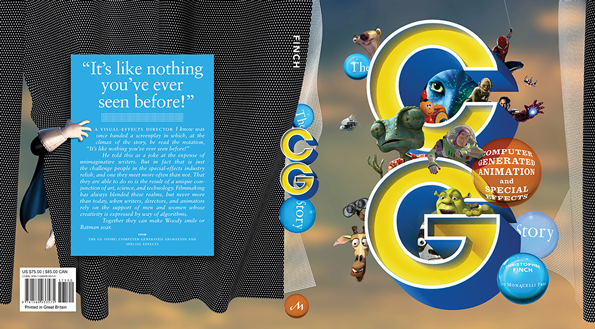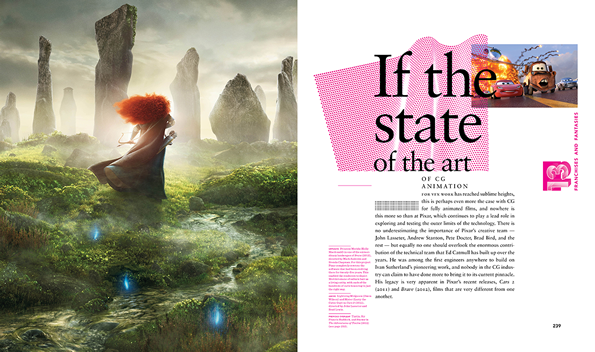 Full cover and chapter opening spread from The CG Story, featuring dot screens photographed by hand.

Venezky: Sure. The CG Story, being such a digitally driven subject, comes complete with all sorts of visual indicators of computer graphics: shiny chrome, smooth gradients, and so on. So, to avoid that, we worked in opposition to that expectation. The chapter openers were the driving force for the design of this book. All of the dot screens that we used were styled, shaped, and photographed by hand! And then they were placed over the pictures to create an old-fashioned theatrical experience, with two types of curtains: a sheer one, and a heavy one, a feature some old-style cinemas still use. The original number designs came from an old font that mimicked three-dimensional signage. We created them and lit them using contemporary digital technology and then incorporated them as a mediation between the film still and the curtains (as well as the page and the reader). For the start of each chapter, I used a technique that I enjoy, which transitions the type from large headline all the way down to the standard text format. In this case, it bounced around through a whole series of formats before it settled into its "normal" style. Everything else follows from there. Except for the numbers, we used classic fonts throughout this book so that the form of the type wouldn't conflict with its styling.

DeWeese: The subject matter of The CG Story is the history of computer-generated visuals in the world of film, but the design world obviously uses many of the same techniques (even some of the same software) in image creation. It's interesting to see you discuss working on design elements by hand for The CG Story. As someone who is not only a working designer but also at teacher, what do you feel is to be gained by doing things by hand? What is the danger of creating in entirely digital processes?

Venezky: For me, the biggest advantage is that it allows me to slow down and watch and think as the work develops. Time is a valuable commodity. It allows concepts to take root, it allows form to be generated from materials and mark making, rather than imposed from outside. And finally it helps remind us of the design's proximity to art and craft, rather than business and commerce. And that's something awfully easy to forget.

DeWeese: We've somehow not quite managed to discuss the very issue that spurred this conversation, which is Wes Anderson's visual style. You've designed The Wes Anderson Collection and now also The Grand Budapest Hotel. When you're looking at Anderson's work, what kind of frames strike you? Which aspects of his visual style resonate with you as a book designer?

Venezky: I think of Wes's films like books in a number of ways. Of course there is his use of chapter divisions, often with title cards. There is his constant use of typography as caption or title or introduction throughout the film, in effect addressing the page/screen as a separate information-carrying entity. And then there is his use of the birds-eye view, often looking directly downwards onto a scene, which mirrors the way we are situated when we read a book rather than when we look at movies or television or theater. That distinction is especially important to me. It also ties into his use of symmetry and careful balance, which also matches the symmetry of an open book: no matter what is happening on the pages, there is always a left-hand and right-hand page and they (almost) always match each other.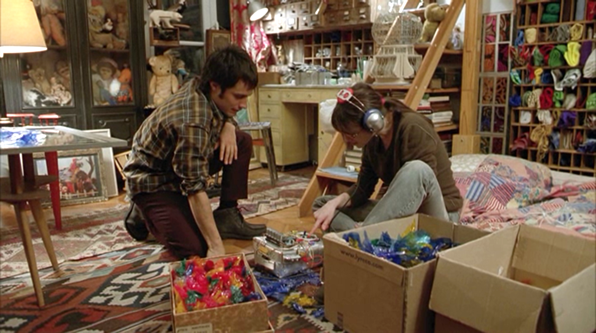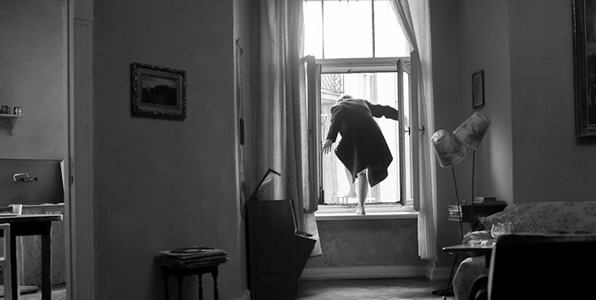 Stills from The Science of Sleep (dir. Michel Gondry) and Ida (dir. Pawel Pawlikowski).

DeWeese: I've noticed that in your design work you don't utilize actual left-right symmetry that often—your left pages and right pages are often doing different things. Are there potential compositions you feel filmmakers overlook when they exploit book design, or even just creating "highly composed" film frames? Maybe another way of asking this question is to ask which other film directors you might cite as people who exploit design in particularly interesting ways.

Venezky: Early films often employed literal book-like introductions to their stories—either a big leather-bound book would open up to reveal a written introduction, or the text would scroll along in real time. That transition between a written story and a filmed story is interesting to me, and it might be interesting to inspect that middle ground between the two, not just as a beginning or ending, but throughout a film.

So many film directors use design in all sorts of ways that it would be hard for me to call out particulars. I think Wes Anderson's overt use of design principles is one reason that I'm drawn to his aesthetic sense of the frame. I always appreciate filmmakers who have a lot of patience and are willing to slow things down, either behind the scenes in building magical sets (Michel Gondry is a favorite of mine, especially The Science of Sleep) or as the camera rolls to create space and silence. I just recently watched the Polish film Ida by filmmaker Pawel Pawlikowski and was really taken with the use of silence and space as well as the way frames were set up, especially the unexpected use of diagonals as image structure.

One aspect of filmmaking that I would like to see tackled in more design work is a deeper consideration of the reader's placement in the experience or within the story. We don't always have to be situated in front of a piece of paper on which there is text and pictures. We could consider any number of metaphors to describe the page, what's in front of it or on top of it, and what's behind or beyond it, and where we, as readers, fit.

DeWeese: When you suggest considering what's "behind or beyond" the page, what kind of potentials are you thinking about?

Venezky: I'm attaching a couple of examples from some of my past projects where the surface of the page is questioned. Sometimes these are sudden moves, other times they are a main component of the overall design language. You can see that the page becomes a window or a room that divides an imaginary space between the reader and the image. There are other ways of handling this, of course, by using light, shadow, reflection, surface, texture. Graphic novels can do this by trading our position as observer for participant in an action or on a set.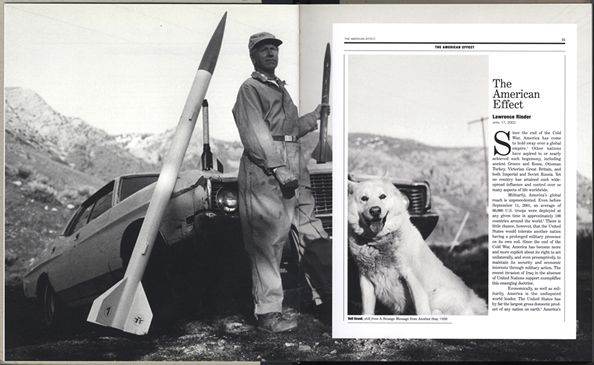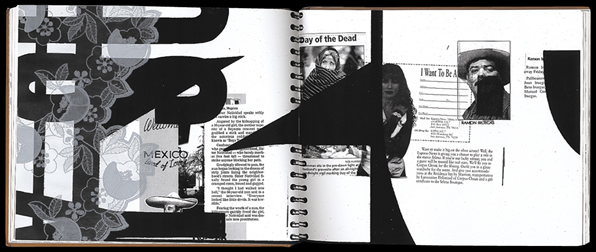 Above, spreads designed by Venezky in which the surface of the page is questioned. Below, stills from films directed by Yasujiru Ozu and Alfred Hitchcock.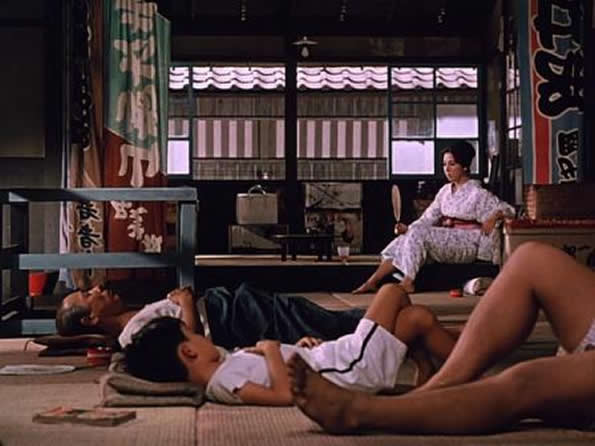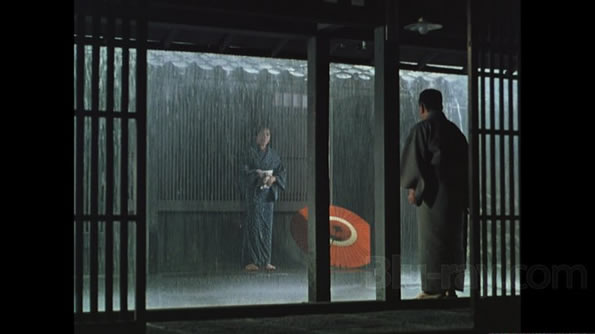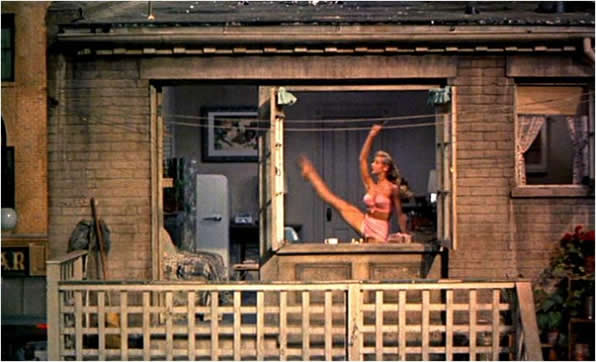 DeWeese: Got it. This reminds me of film directors who compose for multiple planes. A well-known example would be Ozu, who not only composes for multiple planes but also divides those planes in various ways—I tend to think of Floating Weeds when visualizing this, though it's of course true of any Ozu film. Hitchcock lifts from Ozu in something like Rear Window, though in that film Hitchcock gives each window its own story—the compositional strategy becomes the narrative. Because the challenge for a film director is not just to compose but to do so in a way that directs the viewer's eye, do you think about that when designing? When you're working with light, shadow, surface, etc., do you do so with a sense of the order in which you'd like the reader's eye to be attracted to certain elements, or the way in which you'd like the reader's eye to track the page? Or is the director's need to direct the eye to certain spots for narrative reasons a constraint a book designer is free of?

Venezky: I can answer the question in a couple of ways. I am always concerned with the effect that pages I design play on the eye….especially text-heavy pages, which can often feel dull and hard to get through. I like to use a variety of typographic techniques to add a "sparkle" to the page. Sometimes this comes from changing up punctuation, creating unexpected spaces in and among the text, or the proximity of different fonts. The technique of changing fonts for quoted or spoken material (serif to sans serif) goes back to my Speak magazine days.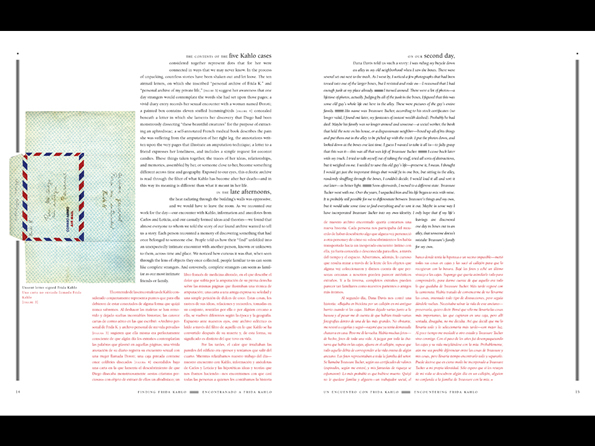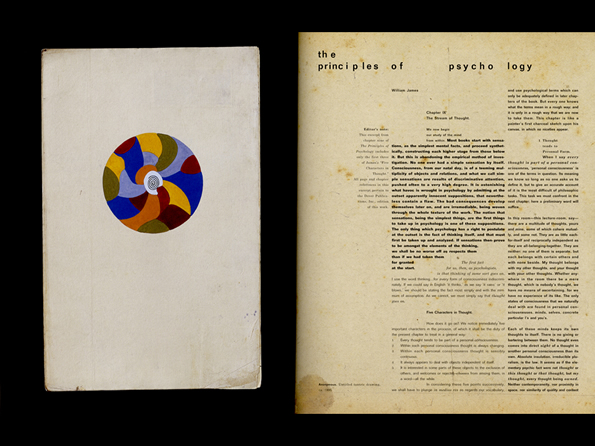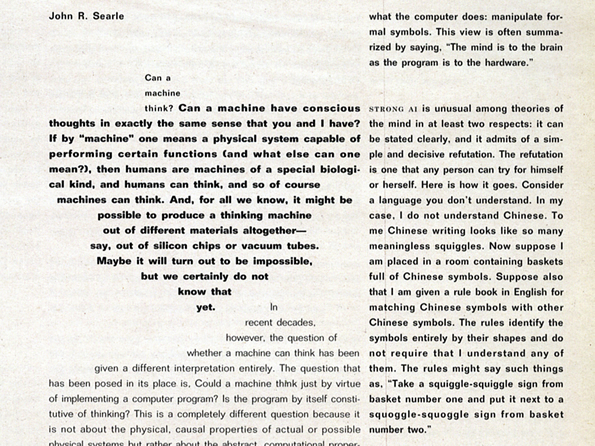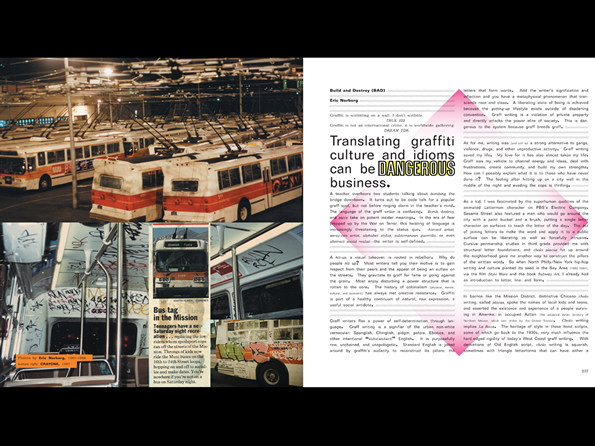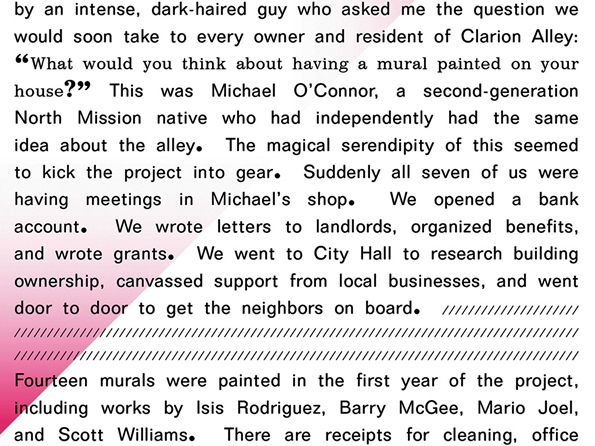 Above, typographic techniques in Venezky's work. Below, a visual poster for the New York Times.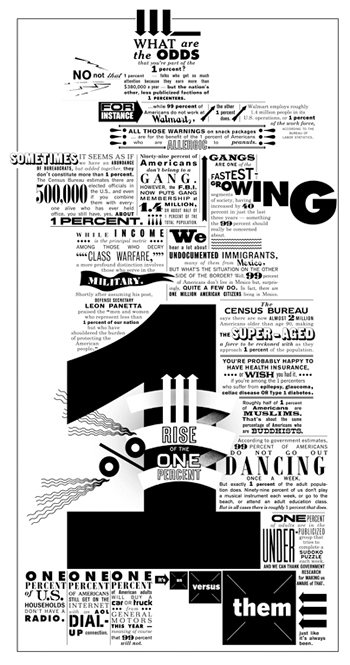 Venezky: In another other case, I was asked to turn a lengthy text into a sort of visual poster for the New York Times. Here the tracking of the reader's eye is critical. I tried to gently guide the reader through the text while entertaining the audience at the same time.

DeWeese: I don't want to end this conversation without mentioning Camera Era, the book you made with Barbara Levine. How did that project come about? Were there design challenges specific to creating a book that worked as a translation/extension of an art exhibition?

Venezky: Camera Era is a book whose positive reception has dwarfed its modest size. Barbara and I have worked together on a number of books: Snapshot Chronicles, Around the World, Finding Frida Kahlo…all involving collecting, organizing and curating artifacts. Our sensibilities are complementary and compatible which makes working together more like an extended conversation rather than work. Barbara had been working with The Cherryhurst House in Houston, helping organize their new gallery space. She was curating their first show—a collection of vernacular photography—when she invited me to collaborate on a self-published companion book. It wasn't meant to simply reproduce the exhibition, but become its own work. I felt comfortable including pieces from my own collection as well as some of my own photography into the mix. As the collection of material expanded, I began to look for resonance between the images and between image and text. I enjoy tackling these challenges head on, without too much pre-planning beyond scanning the originals. A lot of ideas flowed through the pages and was discarded. Neither of us has a problem wielding our veto power. All of the pushing and pulling found a balance in the final product.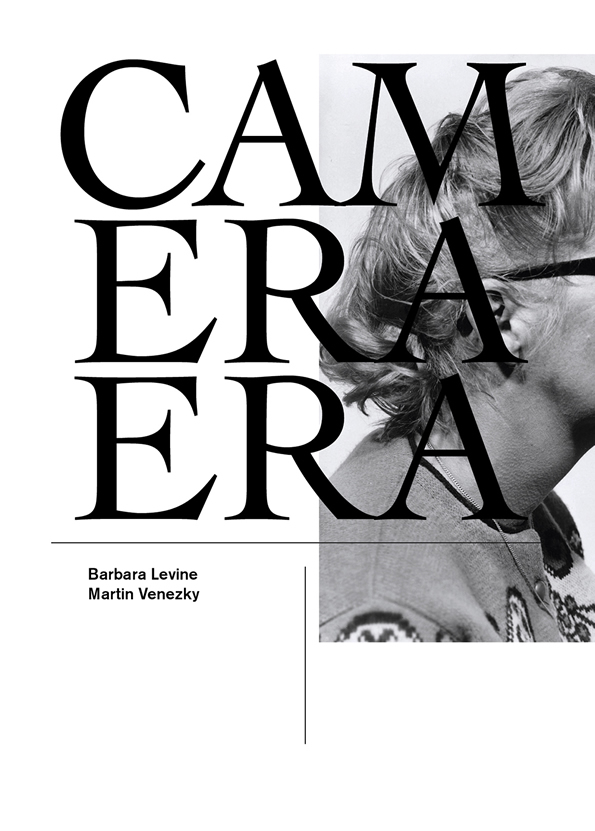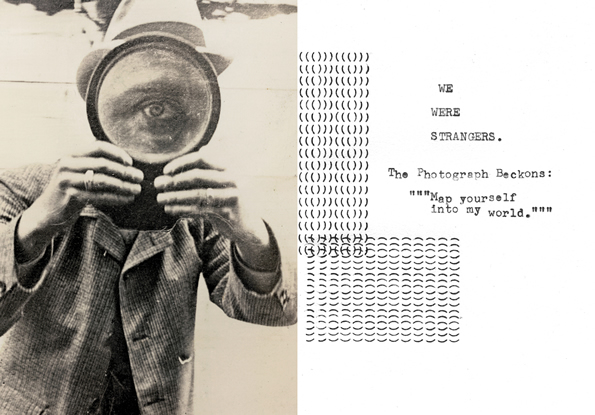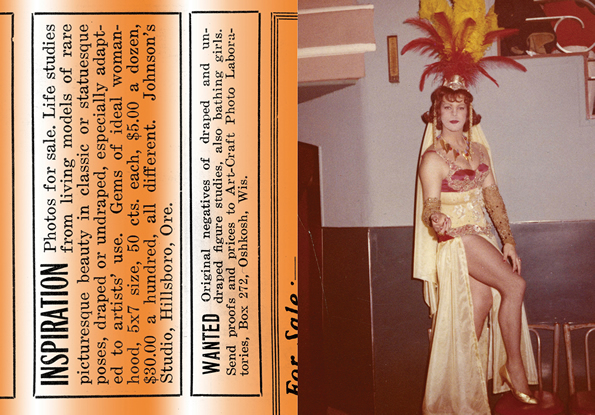 The cover and two spreads from Camera Era by Barabara Levine and Martin Venezky.

DeWeese: What are you working on next? Are there particular design challenges or techniques you're interested in right now that you know you're going to be exploring further?

Venezky: A couple of things. I'm working with editor Eric Klopfer and author Matt Zoller Seitz again on a book about Oliver Stone—an exact opposite of Wes Anderson, wouldn't you say? So the design strategies for this book get to be completely refashioned. I'm doing a series of projects for music label Dust-to-Digital, run out of Atlanta by Lance and April Ledbetter. Their sensitivity to old, discarded, and fragile music appeals to me, and the challenge of creating powerful design statements that complement the music's other-worldly charm is exciting.

But the most exciting new body of work evolved out of a series of projects created last year for a gallery space and an outdoor installation. I've been distilling these large photo-based installations into a series of details that are now being reconstituted as photo prints. The work has gone from digital photo to physical print to large-scale installation and now back into a physical print. All of these steps add a resonance to the finished work that I am really excited about. Photography, collage, abstraction, color—it's all there.

---

Martin Venezky first gained renown for his design of Speak Magazine. With his firm Appetite Engineers, Venezky continues his dedication to craft, process and detail. Venezky's work for clients like Reebok, Sundance, and Chronicle Books has been widely published, and in 1997, he was among I.D. magazine's "ID40" list of influential designers. In 2001 the San Francisco Museum of Modern Art honored Venezky with a solo exhibition, and in 2005, his monograph, It Is Beautiful…Then Gone, was published by Princeton Architectural Press. In 2012, the American Association of Museums awarded Venezky its Smyth-Ravenal Prize for Excellence in Publication Design for the International Center of Photography's Mexican Suitcase catalog. Venezky's interests center around the complex relationships between form, material, process and authenticity, and how they translate into a working design language.