Film
Earnest And Dumb is a Good Look
Watching (and Surviving) Roar!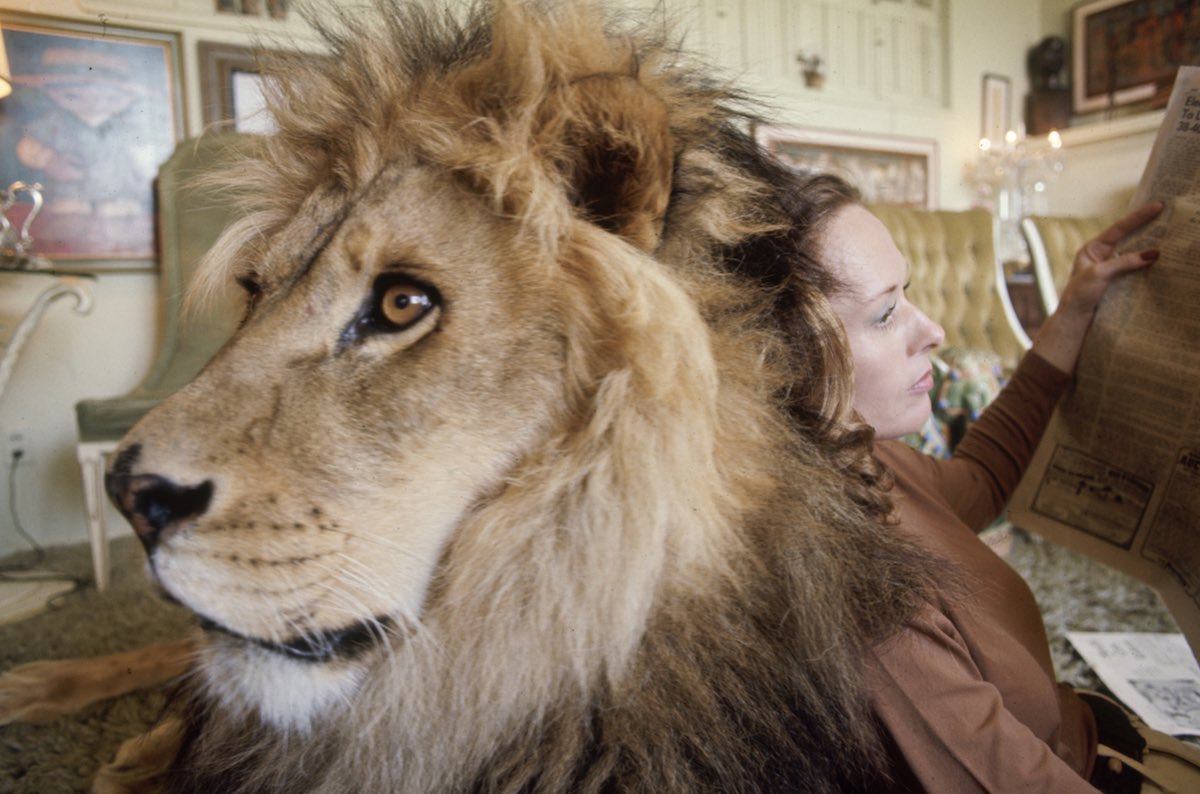 Roar! (1981)
Dir. Noel Marshall
Starring: Noel Marshall, Tippi Hedren, Kyalo Mativo, Melanie Griffith, John Marshall, and Jerry Marshall
Review by Benjamin Craig

ote: This is an imperfect recollection. The film may not be accurately described. However, the writer's response to the film is very nearly authentic.


6:40
The theater is filling up. This is a strange crowd. I'm concerned. No one in this room is in their 30s. There's a strong showing of over-50s and a smaller contingent of mid-20s. Some dude keeps shouting "Roar!" He just spilled beer on himself. I really hope this isn't the not-quite-snuff film it was marketed as. He just spilled beer on a stranger. Fuck.

7:05
The theater manager is speaking about how the movie was marketed, emphasizing the violence, the injuries that occurred during filming, and the wild blue eyes of Noel Marshall. He tells us that, though these things are present, we should be prepared for the beauty of this film. We should revel in the photography and appreciate the unique moment that allowed this film to be made. The director, Noel Marshall, is also the star, along with his actual wife Tippi Hedren, and his actual children. It's a family movie, in its way. Then he makes a joke about smashing audience member cell phones and tells us that a crew member spoke at last night's screening about puncture wounds and gangrene. Beer guy yells "Roar!" and the crowd cackles.



7:15
Noel Marshall is riding a motorcycle. He is weaving through a small pride of adult lions on uneven ground, not wearing a helmet, while they playfully bat at and chase him. I am working at tempering my anxiety. I know this is going to get much, much worse.

7:17
He's still on the motorcycle, but now he's speeding across a faux-savannah, matching speed with a couple of galloping giraffes. There's something distracting about the way this is filmed. It appears that he is in the foreground, but each time he and a giraffe cross one another the giraffe's legs obscures our view of Marshall. So the giraffe is closer to the camera. But the scale is off. Is it a baby giraffe?

Music:
Now the clouds have all rolled on
And the storm has come and gone.
And while the road was long the spirit helped us through.
Here we are in Eden,
Here we are at last!
Here we are in Eden,
And though we hope to stay,
It almost slipped away.

I'm feeling less cynical. This is going to be ridiculous, but it is beautiful. Noel Marshall gliding through the tall grass, hair a mess, giraffe by his side, set to the shouts and hand claps of the film's main theme—"Here We are in Eden," with on-the-nose lyrics and tone-deaf foreshadowing—is just so 70s, in just the right way. I'm more a fan of Grizzly Adams than Dukes of Hazzard. 1970s environmentalism, with all its tunnel vision and romanticism, charms me. Earnest and dumb is a good look.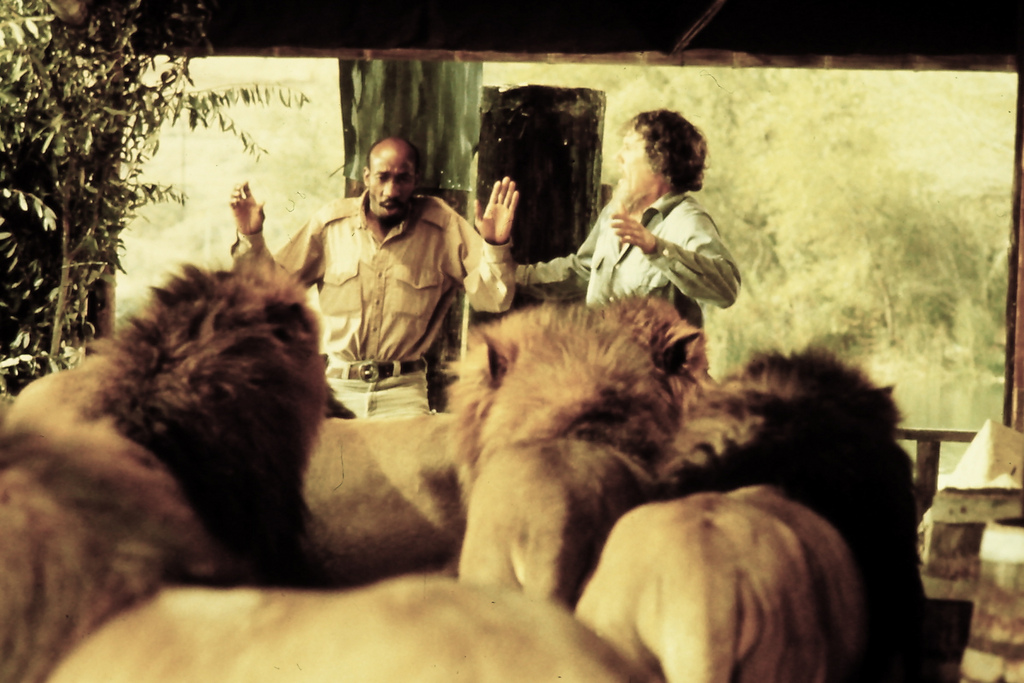 7:20
We're jumping back and forth between Marshall trying to convince his friend Mativo that the lions are mostly harmless (while they relentlessly paw and gnaw on both men) and Marshall's family (Hedren, Griffith, and the two Marshall boys) arriving at the local airport, dressed for Burning Man and packed for a three week Hawaiian cruise. We learn quickly that Marshall is supposed to be meeting his family at the airport, but is too busy half-heartedly cleaning his house and rhapsodizing about lion pride politics to be bothered. His family, fearing they will be stuck at the airport if he does not arrive, hops on a bus. Marshall next hosts a small meeting of locals in an attempt to convince them to leave him and his cats alone. The lions, tigers, cheetahs, and panthers promptly begin to attack the locals and drive them away. Marshall seems surprised. Eventually he decides to go get his family. He and Mativo set off in Mativo's boat (the house is built on the edge of a small river) to retrieve his family. Marshall invites two tigers to ride along, despite Mativo's protests, and a short while later the tigers sink the boat and leave the two stranded. Mativo secures a couple of bicycles from a local tribe and they set off again. After Marshall destroys his own bike, he leaves Mativo to distract the lions by climbing up a tree and waving his jacket like a cat toy. Marshall runs the rest of the way. He arrives at the airport about ten hours late.

Meanwhile Tippi, Melanie, John, and Jerry arrive at the house and begin to settle in. They open up all the doors and windows and decide to clean the house and surprise Dad.

What happens next is predictable. The lions, tigers, etc. creep in every opening, chase and terrorize the family for the next hour, trapping them in cabinets and ice-boxes, repeatedly tossing them from the roof of the three-story house into the water, tackling Tippi Hedren, laying on top of Melanie Griffith and attempting to teethe on her face, knocking John and Jerry around a bit, and destroying everything in sight—the house, everything in it, all of their clothing and food, a boat, a motorcycle, and each other.

There's some sort of b-story happening, too. A couple of the locals are pissed that Marshall imported tigers to Africa and that they're now mating with the local lions. This seems reasonable. Their response is to walk around shooting lions. After a few scenes of poorly acted and melodramatic cat death, the two antagonists are killed and played with by a lion.

8:00
The last few shots of Melanie Griffith have her face awkwardly veiled by her hair. She must have been bit in the face.

8:05
A tiger is chewing on Noel Marshall's bandaged bloody hand. He makes excuses for it.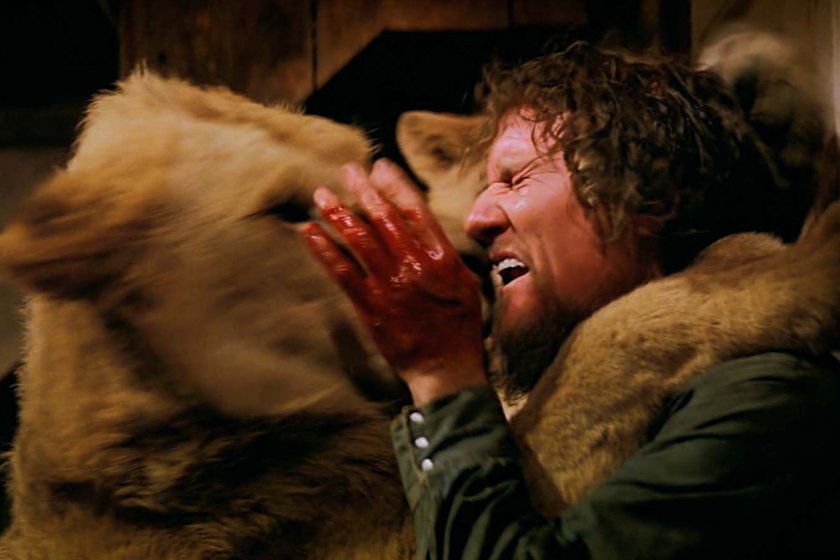 8:10
Beer dude yells "Roar" again. Everyone laughs. I guess he's been doing this the entire time. I can't remember, really. I've spent the last hour clutching my forehead and looking for excuses to glance pointedly at my wife and make my "astounded" face. This allows me a brief respite from actually watching the film, delaying my rising panic slightly.

8:30
I guess everything is fine now. Marshall is home (he borrowed then wrecked and abandoned the pilot's car) and his family forgives him and they all love the cats now, even Mativo. Marshall just told Mativo not to tell his family about how all these cats just killed two people. He'll let them know later. We're in a montage.

Music:
When we lost our way at night
Love became a guiding light,
Shining ever through the struggle and the fight.
Now we're home in Eden,
Now we're home at last!
Here we are in Eden
And though we hope to stay,
It still might slip away.

Huh. Okay.

8:40
The crowd files out, punch-drunk. No word from beer guy.

8:45
The film really was beautiful. Scenes with a dozen or more lions and tigers gamboling, teasing, and nipping with humans doubling as toy mice are truly terrifying, but as near to sublime as you can get on 35mm. In the trailer, a critic is quoted as saying that "just watching the movie feels dangerous." It does. This kind of intimacy is impossible. This kind of proximity to these creatures is simply not possible. It is a feat. It is extraordinary and unfathomable. Noel Marshall is a dick. Those are his kids. Incredible.

---

Benjamin Craig is a Senior Editor at the magazine. He recently wrote about the San Francisco Giants and the True Score metric.