Music
Album Bracketology Opening Rounds
Contradictions Abound, Editorial Staff Gives Up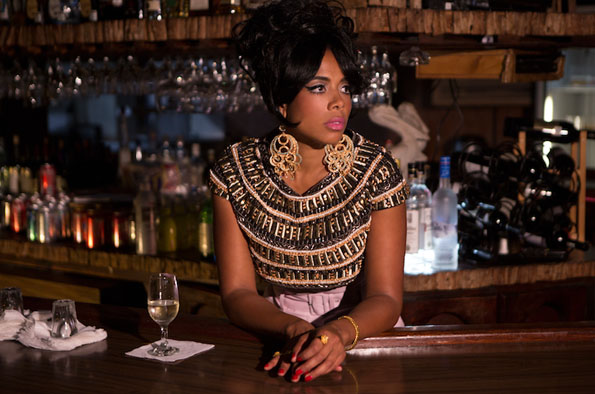 Kelis. Best known for her song "Milkshake," her new album is entitled Food.
Part One: The Confusing Tourney Intro
Part Two: The Contradictory Opening Rounds
Part Three: The Double-Negative Middle Rounds
Part Four: The Alarming Tilt Toward Easy Listening
Part Five: "Nice Little Stories" in the Loser's Bracket
Part Six: A Dubious Distinction is Earned

By Matthew Kauffman Smith

ear Bracketidiot: I actually made it through your whole article from beginning to end and I'm glad I did. Watching the video of a cat wearing a shark suit and riding a robotic vacuum cleaner made up for having to read your incessant drivel. If you print this letter, it is sure to be the best-written part of your next article. More cat videos!
— Sincerely, Morris Fellini

Thank you for reading the whole article. That means a lot! That cat video was meant as a mere supplement to the more important matter of playing out the tournament. [Ed. note: Readers, keep in mind the author's claim here that "playing out the tournament" is an important matter to him.] Here at Album Bracketology, we have too much integrity in the tournament to cater to every request for more cat videos (and there have been lots).

Speaking of the integrity of the tournament: In the previous installment, I introduced you to my friend and 2014 album-of-the-year contender Heather Kropf, who will be scouting her opponents and offering analysis on her own matches via an ongoing conversation we've had on Facebook Messenger. In the first round, Heather drew Kelis, best known for her song "Milkshake" from last decade—a song that has always annoyed me. Building on that milkshake theme, this year Kelis released Food, with song titles like "Jerk Ribs," "Cobbler," "Friday Fish Friday." Considering how much I disliked "Milkshake," Heather should have a walk in the park on this one, like Kentucky over Hampton, right?



So, I told Heather the results, including who she lost to (and who she beat but hold that thought) [Ed. note: To readers rightfully baffled by this sentence, despite the author's earlier claim that "playing out the tournament" is important to him, it seems here that he has already played out large swaths of the tournament—if not the entire thing—and is simply describing it to us in installments. It is thus possible for him to tell Heather the results of the tournament despite the fact that, on the page, the tournament appears to have just begun. That, at least, is our best guess at what this sentence might mean.], so this reaction isn't just to losing to Kelis.

Heather: WHAAAAT?
Me: Welcome to my world.
Heather: Not a judgment, just an emotional response.

Next up for Heather: a date with Deep Sea Diver's Always Waiting EP in the loser's bracket. While we let her scout her next opponent, here is a look at this year's brackets: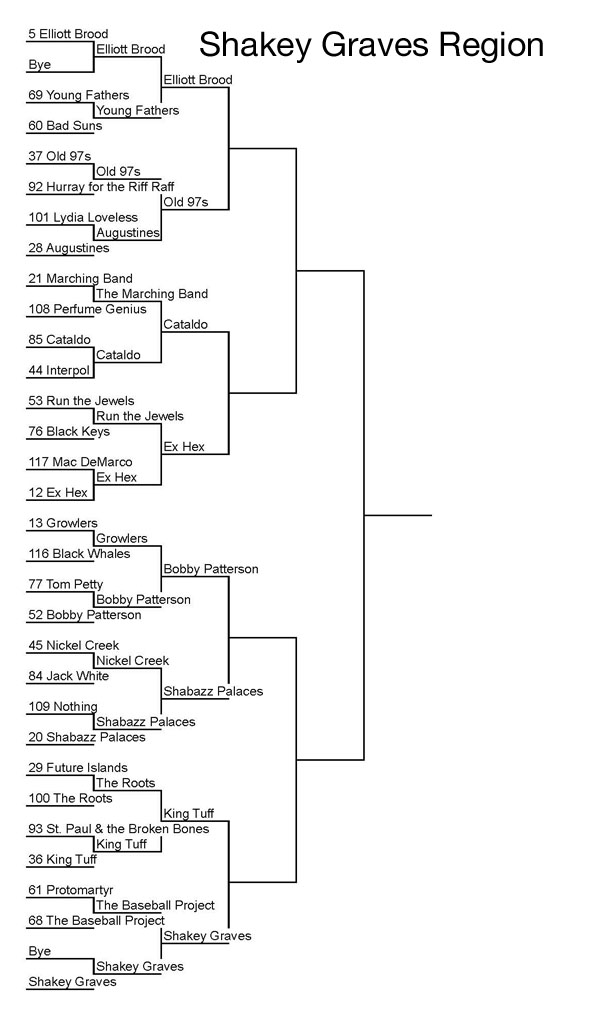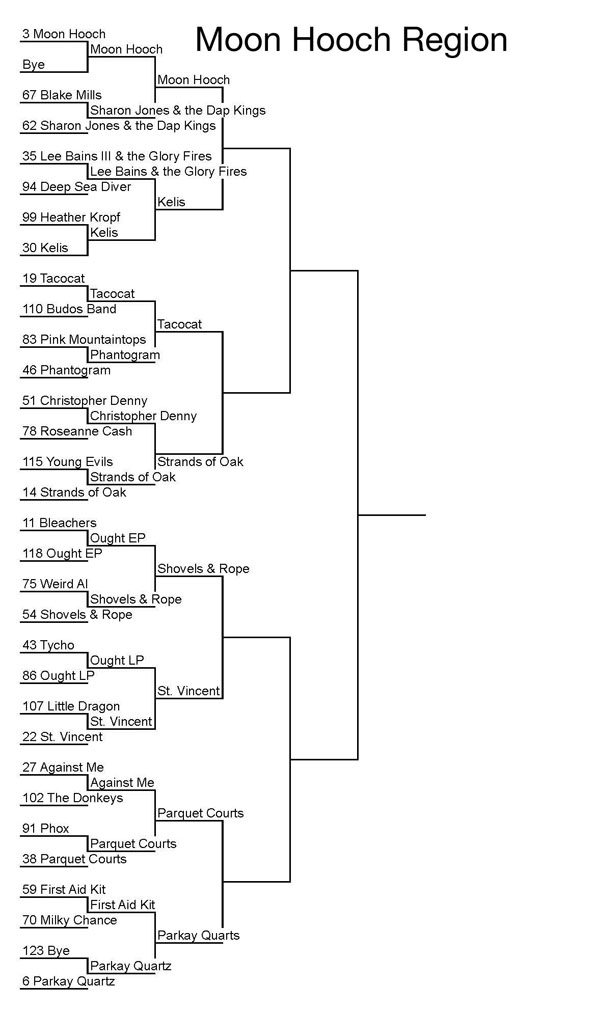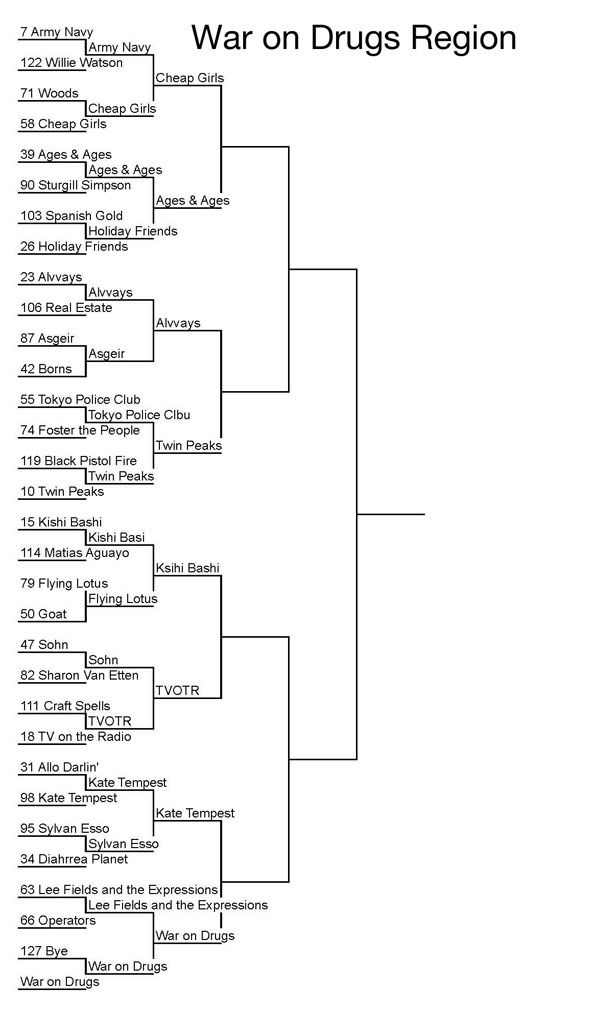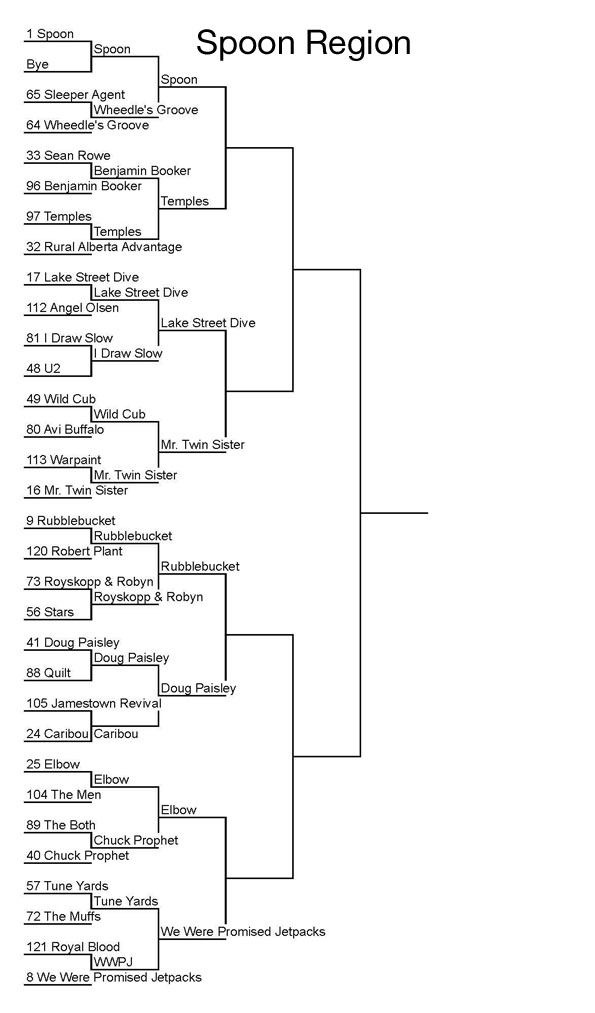 There is some controversy with EPs being included in the bracket. Should they be allowed, just like in the glory days of Indiana high school basketball? In the olden days, Indiana's one-class system could produce a champion from a school of 60 students or from one of 2,000. Every team had an equal chance. Or maybe allowing EPs is like allowing an NAIA school into the NCAA tournament without proper credentials.

Ought's Once More With Feeling EP was only four songs but 24 minutes long, which was about the same length as Perfect Pussy's critically acclaimed LP debut Say Yes to Love. And speaking of bad band names, Diarrhea Planet released a 16-minute, five-song EP in 2014, which is five minutes longer than Tony Molina's 12-song album Dissed and Dismissed. Not that total time is everything, but by comparison, Heather's Chrysalis album is 50 minutes and Always Waiting is four songs and 18 minutes. I asked Heather to weigh in on the EP vs. LP debate while she listened to Deep Sea Diver, a band she has grown to love over the past two weeks.

Heather: I think this band's work is similar to mine—they have the same concepts of keys and guitars and harmony vocals—but turned up to 11. So good! I would not be sad to lose to them but I will say that the EP puts them at a disadvantage. It's like they built this incredible lead but fizzed out by the first minute or two of the second half. Will my team's depth of field and calm, methodical playing chip away and take the lead? Not sure.

Before we get to the results, let's put them side by side. Deep Sea Diver does seem to have a larger video budget, though by the looks of things, not by much. [Ed. note: In this sentence the author suggests that by looking at the videos we will see that DSD has a larger video budget, but by the looks of the videos, we will see that the video budgets are similar. If we begin correcting contradictory and/or nonsense material in this tournament, however, there will be no end to the editorial process, so we have decided to let this stand.]





Me: So you beat Deep Sea Diver. Next up: The Roots…and then you shoot your cousin.
Heather: I can't beat The Roots because you would lose all credibility.

Hold that thought, as we reveal the first part of our list. As was explained last year in perfect sense, any album that advances to, at the very least, loser bracket No. 4, makes the top 48. [Ed. note: Readers, we don't know what "loser bracket No. 4" means anymore than you do.] To account for albums that received unlucky draws but are still worthy of being called among the year's best, I created five honorary spots. It's kind of like the First Four games in the NCAA tournament, with the main difference being that my first five can't actually advance anymore—so, you know, not really a similar comparison at all. [Ed note: No idea what's going on. Just no idea at all.] Or maybe it's like honoring teams that played hard but came up empty, like Purdue against Cincinnati. Side note No. 1: What did Purdue do to lose a 7-point lead in the last minute? Side note No. 2: The first two bands on the list are Swedish, a country known for its pop prowess, but not so much for its basketball dominance. Side note No. 3: The only thing that the bottom five bands have in common is that they are included in this tournament, a tournament none of them know exists.

53. Marching Band: So Much Imagine
52. First Aid Kit: Stay Gold
51. Sylvan Esso: Sylvan Esso
50. Sturgill Simpson: Metamodern Sounds in Country Music
49. Young Fathers: Dead

Heather: Ok, The Roots and I play entirely different games. It's just a matter of whose game had the night. I think the Roots/Kropf match depends in part on the bias of the refs. And that it's subjective...
Me: Well, you're probably getting some home cooking on that one.

Well, Heather: thank you for thinking that I ever had credibility but you beat the Roots. Look, the Roots have released two of my top five hip-hop albums in the past decade and have been in the top 10 of this tournament twice. Maybe that's why my expectations were so high. My feelings about this album are pretty much the same as my feelings for my beloved Texas Longhorns this season: they had so much talent that was underused/mismanaged. There were a lot of good pieces that had some moments of promise, but in the end, they were an incongruent mess.

Next up for Heather: The Baseball Project, a supergroup band featuring R.E.M.'s Peter Buck and Scott McCaughey of the Minus 5, singing factual songs about characters in baseball's lore. But first we get down to the top 40:

48. The Growlers: Chinese Fountain
47. I Draw Slow: White Wave Chapel
46. Flying Lotus: You're Dead
45. Army Navy: The Wilderness Inside
44. Shovels & Rope: Swimmin' Time
43. We Were Promised Jetpacks: Unraveling
42. Phantogram: Voices
41. Cheap Girls: Famous Graves

I really like the Baseball Project. They don't do anything fancy. They play rock and roll and sing about the infamy of Dock Ellis, the amazing Oakland A's, and Robin Yount's brother Larry. The band members share a love of baseball, but that may not be enough to beat Heather:

Heather: Ok a little trash. Why am I playing against a tribute band? Seriously. They could be the Harlem Globetrotters, or the adult league for indoor sports.
Me: That's some nice trash talk.
Heather: They clearly are playing for love of the game but the Baseball Project lacks poetry or reaching for greatness that I think a champion needs to display. They are a fun, solid team. In the second half, they subbed in a new center for one song (drummer Linda Pitmon singing lead vocals) and what a difference. They should have kept her on because I think with her they could have a shot. P.S. I did enjoy it. The music, I mean. Not the lyrics, though. But the female singer kind of sold the sound for me.
Me: You kind of have to appreciate baseball on a historical level and by the fact that baseball has a lore about it. And I buy that.
Heather: Yup, and I agree! It's a cool concept, but it's a tribute concept and not greatness.

Heather won that round and we at Propeller have decided to ignore the fact that she can lobby for victories. [Ed. note: The author does not speak for "we at Propeller." Propeller is on spring break and is reading these pieces with a mix of horror and outrage.] On the other hand, she's the only musician in the tournament that will talk to me. To mix things up a bit, however, from now on Heather will not be learning of her fate until she reads it in Propeller. [Ed. note: Readers, you are correct: The author claimed earlier in this article that he had already told Heather her results. So is the previous sentence a contradiction, a lie, or has the writer failed to explain even the basics of this incomprehensible tournament? You be the judge.] Once she learns her place in the countdown, she can talk smack to the teams that beat her and try to retroactively lobby to move up, which won't happen because this year's Album Bracketology trophy has already been sent to the engraving shop. If she loses, Heather will have more time to ponder what she has to do to win the tournament, why she doesn't incorporate more horns into her sound, and why Japanese game shows are so ridiculously ingenious. We pause for a television timeout.




---

Matthew Kauffman Smith has made a convincing case for Weird Al Yankovic's inclusion in the Rock and Roll Hall of Fame.