Music
Overly Experimental 2015 Music Tourney Names 2014 Champion
Dubious Distinction At Best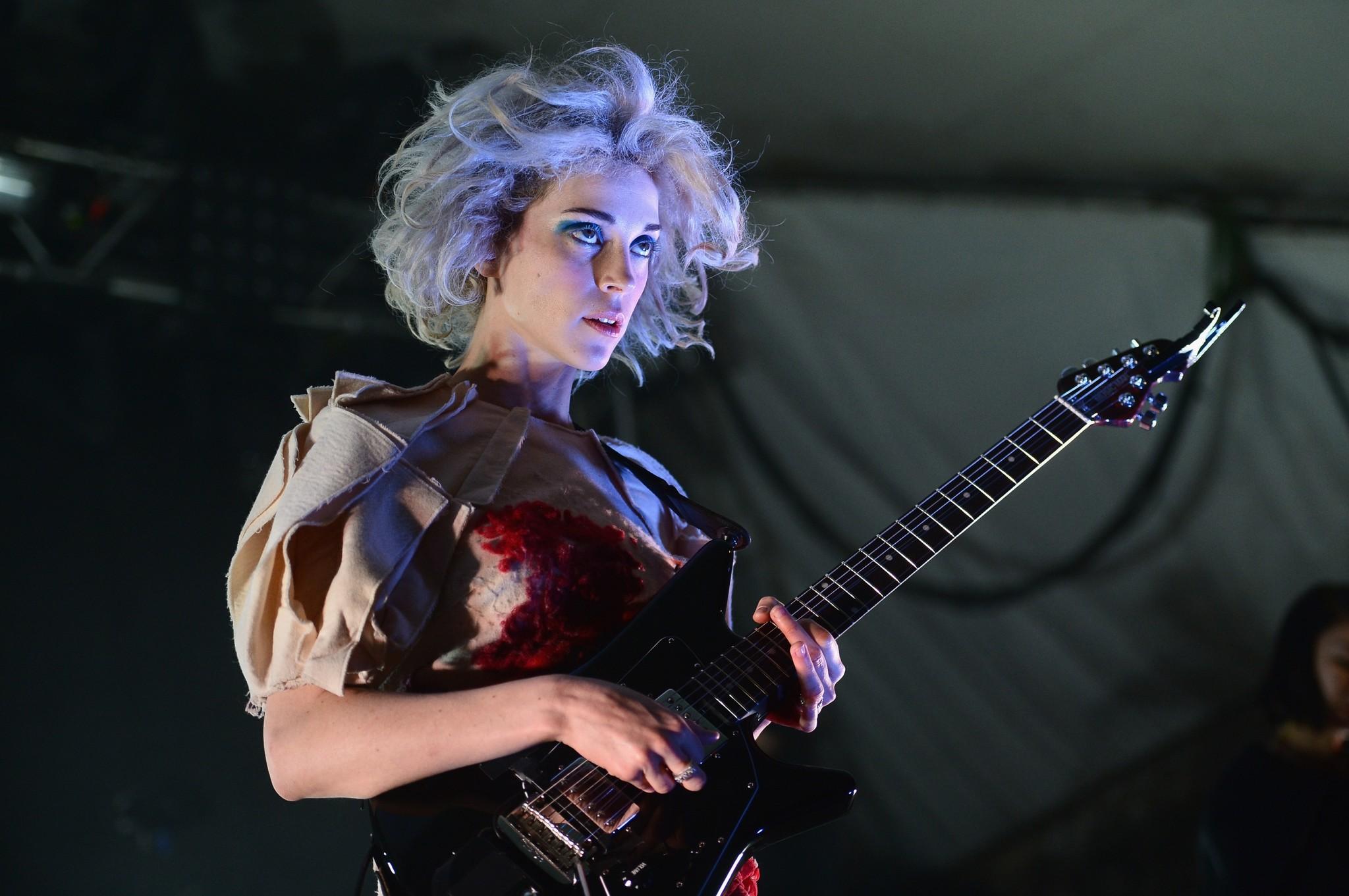 Annie Clark, also known as St. Vincent. Her self-titled album is excellent.
Previously:
Part One: The Confusing Tourney Intro
Part Two: The Contradictory Opening Rounds
Part Three: The Double-Negative Middle Rounds
Part Four: The Alarming Tilt Toward Easy Listening
Part Five: "Nice Little Stories" in the Loser's Bracket
Today: A Dubious Distinction is Earned

By Matthew Kauffman Smith

haven't seen Heather Kropf this fired up since our high school in Indiana discontinued its track and field program. Heather had qualified for the state meet the year before, and if the 3,200-meter run had ended after one lap instead of eight, Heather would have been state champion. True story. Now, twenty-five years later (Class of '90 rules!!!!), Heather is involved in an international tournament to choose the album of the year three months after the year ended. Though Heather lost a few rounds back in Album Bracketology, she has been an Album Bracketology analyst. Unlike most analysts, such as current coaches who join the in-studio panel after their teams lose in the tournament, Heather can—and will—talk trash to the rest of the field.

Heather: My trash talk of St. Vincent may arrive too late, but it is simply this: St. Vincent CANNOT win! I would trash talk her latest album but I can't bring myself to listen to it again. Let's just say this: I love her skills but this is the wrong album for people with post-traumatic brain injury anything. Her music just literally hurts. So think of all of the sports people you will be alienating before you place that trophy in her mighty hand.

Me: First of all, it's a cup, not a trophy. Second of all, Heather is too late because my mind has already been made up and the winner of my bracket of integrity has been written on the cup. [Ed. note: You've used the word "integrity" in a sentence in which you report that Ms. Kropf's analysis doesn't affect outcomes because you've decided those ahead of time. I think you mean something different from "integrity," don't you?] So decide for yourselves: brain injury waiting to happen or a guitar genius who could shred cheese just by playing next to it?



I admit that St. Vincent has bothered me in the past because I felt like she was overly experimental. Her album previous to last year's didn't chart in the tournament, but this time around she was the preseason No. 1 for a reason. She honed in on her bread and butter: her guitar playing. (Side tangent: let's not call Annie Clark of St. Vincent one of the best female guitarists in the world. Drop the "female." Sleater-Kinney drummer Janet Weiss and Rachel Blumberg are two of the world's best drummers, period. Gender qualifiers need not apply.) [Ed. note: Side tangent: Do tangents really have positions? Is there a top tangent? A bottom tangent? Are they quarks?] I also think she explored melody a bit more on this album.

[Extended ed. note: In the previous paragraph, you mention having felt St. Vincent was "overly experimental." The video above shows a rock band whose members play guitars and drums. The band is appearing on a network television show. It's unclear to this editor how this qualifies as experimental. Also, your use of the term "overly experimental" implies there is such a thing as a "correct" amount of experimentation. Not to belabor the point, but do you see how a band that employed a "correct" amount of experimentation would probably not really be experimental at all? Is it possible that when you use the term "overly experimental" you actually mean "rock music"?]

Heather's comments, however, do shine a beacon on this tournament's potential contradictions. [Ed. note: By "potential" contradictions, do you mean the very present and entirely operative contradictions that underly the entire tournament and render it nonsense? Also: "shine a beacon"?] Are St. Vincent's last two albums really that different or have my mental taste buds changed? I give St. Vincent a pass on goofy dance moves and experimentalism [Ed. note: "rock music"] but I disqualify Tune Yards for being too sonically busy and making my senses want to take a nap from exhaustion. I don't like Mac DeMarco's precious slacker vibe but I don't have problems with King Tuff (well, the King's guitar riffs are much better). And then I just flat out don't like Bon Iver. I give no reason other than this tournament's best friend and excuse for everything: likability. St. Vincent, therefore, reached the final four this year. As of press time, Annie Clark of St. Vincent could not be reached for comment in regards to Heather's taunting. Speaking of St. Vincent, she's next up in the loser's bracket:

Loser bracket round 11 (loser finishes fourth)

Kishi Bashi def. St. Vincent

Kishi Bashi continues the most impressive run through the loser's bracket in the history of this esteemed tournament. After TV on the Radio roughed up Kishi Bashi and bounced him to the bad side of the brackets, Kishi has made the loser's side cool again. He next faces the loser of the winner's bracket, either top-seeded Spoon or underdog TV on the Radio. Let's not waste any time:

Winner's bracket championship, presented by Propeller

TV on the Radio def. Spoon

Spoon stays alive thanks to the "double-elimination" part of a double elimination tournament. We pause now to check the mailbag.

Dear Bracket Goober: why is this tournament still tournament still going on? Once you reveal the winner of the winner's bracket, don't we know the winner? —Jon Calamari

Jon: winning the right side of the bracket doesn't guarantee anyone anything. Well, actually, it guarantees an album to make the top two. But, it doesn't mean an artist's name automatically goes on the cup. If you recall last year's edition of Album Bracketology, Vampire Weekend defeated Jason Isbell, only to lose to Jason Isbell in the next listen-off, setting up a rubber match listen-off in which Isbell prevailed. [Ed. note: Any readers wondering whether there is either literary or musical integrity in this tournament need only read that sentence again. The answer is no.] So, TV on the Radio has not been crowned anything yet. It is time, however, to meet TVOTR's championship opponent.

Loser bracket round 12 (loser finishes third):

Kishi Bashi def. Spoon

In the last installment, I compared Spoon to Kentucky and Kishi Bashi to Wisconsin, which turned out to be pretty prophetic, given that both Kishi and Wisconsin pulled off the upset here. Please ignore any other band/team comparisons from that last article. Keep your eyes on the prize, which, in this case, is the Album Bracketology Cup, or, as we call it around the Propeller offices, the big ABC. [Ed. note: Checked with everyone here. You have never been to Propeller's offices. You do not want to know what we call your tournament.]



That sets up a rematch of the third round, when No. 18 TV on the Radio defeated No. 15 Kishi Bashi. For those of you counting at home, TV on the Radio is 7-0, while Kishi Bashi is 11-1 heading into the finals. Here are the respective artists' roads to the championship:

TV on the Radio: defeated Craft Spells, Sohn, Kishi Bashi, War on Drugs, Twin Peaks, St. Vincent, Spoon.

Kishi Bashi: defeated Matias Aguayo, Flying Lotus; lost to TV on the Radio; and then defeated the Growlers, Kate Tempest, Lake Street Dive, Rubblebucket, Kelis, Moon Hooch, Ex Hex, St. Vincent, Spoon.

Before we crown a champion and present the big ABC, let's take a look at the future.

Dear Deadbeat Bracket Dude: Can this be your last year doing this? You there at Propeller, are you bringing this guy back? —Sonya, Portland, OR

Dear, Sonya: After this article, I'm being sent to Propeller's developmental division, where I will once again be writing for Propeller's unpublished sister zine, Pontoon.

[Ed. note: Dear Sonya, We don't "bring him back." We shut down for spring break, and then the music tournament just starts appearing on the site. It's disturbing. You know who we really feel bad for, though? His wife. Can you believe this guy is married? It boggles the mind.]

My future is just one of the questions to be answered for the 2015-16 season. In the seventh edition of the tournament, will we finally have a repeat champion? Will Titus Andronicus really release a rumored 30-track rock opera based partly on manic depression and Nietzsche? Could Torrche become the first metal band to hit the top 10? And in a competitive Big Ten next year, how will Purdue do?

2015-16 preseason No. 1: I mentioned in the first installment this year how an iTunes glitch wreaked havoc on play counts across the world, skewing my seeding. While Apple purportedly fixed the problem, the issue resurfaced for a few days on my iPhone this year, and it's pretty clear that the Decemberists, Sleater-Kinney, and Guster will be the top three seeds next year, barring additional glitches. The Decemberists won the 2011 tournament and look to be the first repeat champion. Had this tournament existed in the late 90s/early 2000s, Sleater-Kinney probably would have won one or two. Now they're back from an extended hiatus. Technical difficulties aside, these two albums are legitimate contenders. And apparently these bands both know lots of famous people.

[Ed. note: There was much editorial discussion about whether the following videos should be removed. The discussion emerged out of an editor pointing out that he can't get through a single day without hearing about The Decemberists at least once. Another editor claimed he couldn't get through a single day without hearing about Sleater-Kinney at least once. They agreed: it is impossible to get through a single day without having to hear something about The Decemberists and Sleater-Kinney. Viewers beware: the editors claimed it was difficult for them to watch these videos without becoming violently ill.]





Next year's Ages and Ages: Last year, Houndstooth took home the honors as the top Portland band and this year that honor went to Ages and Ages. [Ed. note: There was also discussion about removing the Ages and Ages video that appeared in a previous installment.] Next year, it could go back to Houndstooth, who just released their latest album in March. After a quiet 2014, however, 2015 is shaping up to be an above-average year for Northwest bands. In addition to the aforementioned Decemberists and Sleater-Kinney, lesser known bands Lost Lander and Summer Cannibals both released solid albums thus far this year.



Other contenders: Lately I've been streaming classic 1970s and 1980s episodes of the American Top 40 with Casey Kasem, so even if I'm begged to write this series again next year, I don't know that I will have listened to enough albums. [Ed. note: Crickets.] Casey Kasem's voice is soothing; it has influence. If I do end up listening to enough 2015 albums to produce another world-class tournament, Skinny Lister, a top 10 band last year, released an album in 2014 but it isn't available yet (legally) Stateside until this year. Yasiin Bey, a.k.a. Mos Def, was No. 1 in 2009 and has been teasing a new album ever since. 2015 will also feature new albums from contenders Built to Spill, Passion Pit, Alabama Shakes, Mikal Cronin and Surfer Blood, who finished second in 2010. Surfer Blood did not chart last year, however, which is why we here at Propeller often refer to the "curse of the runner-up." [Ed. note: We actually refer to the "curse of the recurring album tournament series" far more often.]

Speaking of the man who broke that curse this year, let's get back to this year's championship and Kishi Bashi, who finished runner-up in 2012 and made it to the finals again this year, facing TV On The Radio. It's time to play some videos and reveal a champion.

The 2014 Album Bracketology championship, presented by Pontoon





I'll be honest: I'm not sure how I feel about Racer Steven in this video, but I am sold on Seeds, the TV On The Radio album that is the winner of the 2014 Album Bracketology Cup. I have long been a fan of TV On The Radio, but this time around they focused as much on melody as they did on sonic experimentation [Ed. note: Again, by "experimentation" you appear to mean "rock music."], and the result is an album that I can sing along to every time I play it. Every song. Also, Kelis, who beat Heather Kropf in the first round, sings back-up vocals on a song. And wait, there's more! TV On The Radio band member Dave Sitek produced Kelis' album Food. The cup has been sent to Propeller's Engraving Division (PED) to make the victory official. [Ed. note: Just as soon as the Engraving Division finishes engraving "NEVER AGAIN" on each other's forearms.] Below are the esteemed Top 53 albums of 2014. We here at Propeller congratulate the champions.

53. Marching Band: So Much Imagine
52. First Aid Kit: Stay Gold
51. Sylvan Esso: Sylvan Esso
50. Sturgill Simpson: Metamodern Sounds in Country Music
49. Young Fathers: Dead
48. The Growlers: Chinese Fountain
47. I Draw Slow: White Wave Chapel
46. Flying Lotus: You're Dead
45. Army Navy: The Wilderness Inside
44. Shovels & Rope: Swimmin' Time
43. We Were Promised Jetpacks: Unraveling
42. Phantogram: Voices
41. Cheap Girls: Famous Graves
40. Heather Kropf: Chrysalis
39. Asgeir: In the Silence
38. King Tuff: Black Moon Spell
37. Alvvays: Alvvays
36. Doug Paisley: Strong Feelings
35. Benjamin Booker: Benjamin Booker
34. Temples: Sun Structures
33. Parquet Courts: Content Nausea
32. Run the Jewels: Run the Jewels 2
31. Mr. Twin Sister: Mr. Twin Sister
30. Shabazz Palaces: Lese Majesty
29. Ought: More Than Any Other Day
28. Chuck Prophet: Night Surfer
27. Elliott Brood: Work and Love
26. Kate Tempest: Everybody Down
25. Tacocat: NVM
24. Bobby Patterson: I Got More Soul!
23. AgesandAges: Divisionary
22. Augustines: Augustines
21. Lake Street Dive: Bad Self Portraits
20. Sharon Jones & the Dap Kings: Give the People What They Want
19. Royskopp & Robyn: Do it Again
18. Lee Fields & the Expressions: Emma Jean
17. Parquet Courts: Sunbathing Animal
16. Strand of Oaks: Heal
15. Old 97s: Most Messed Up
14. Against Me: Transgender Dysphoria Blues
13. Rubblebucket: Survival Sounds
12. Twin Peaks: Wild Onion
11. Kelis: Food
10. Cataldo: Gilded Oldies
9. War on Drugs: Lost in the Dream
8. Moon Hooch: This is Cave Music
7. Shakey Graves: And the War Came
6. Elbow: The Take Off and Everything After
5. Ex Hex: Rips
4. St. Vincent: St. Vincent
3. Spoon: They Want My Soul
2. Kishi Bashi: Lighght
1. TV ON THE RADIO: SEEDS



---

Matthew Kauffman Smith has made a convincing case for Weird Al Yankovic's inclusion in the Rock and Roll Hall of Fame.