Music
Album Bracketology Marches On
Just Because it isn't popular doesn't mean it's wrong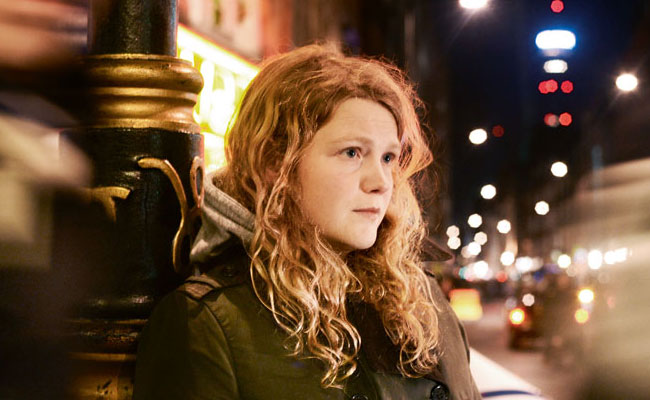 Kate Tempest. A playwright and poet, she also released an album in 2014.
Part One: The Confusing Tourney Intro
Part Two: The Contradictory Opening Rounds
Part Three: The Double-Negative Middle Rounds
Part Four: The Alarming Tilt Toward Easy Listening
Part Five: "Nice Little Stories" in the Loser's Bracket
Part Six: A Dubious Distinction is Earned

By Matthew Kauffman Smith

here are only three artists in the history of popular music to chart Top 40 hits in four different decades. I'll give you a hint for one of them: she just released her latest album last week and goes by one name, which rhymes with Shamonna. While you're pondering that, let's get to the mailbag. Most of the letters said pretty much the same thing, only in different ways, so I decided to combine them into one conglomeration.

Dear Cluelessmusicallyilliteratebracketmonkey:

How could you pick _______________ [insert name here of any winner who won two rounds] over _______________ [insert name here of any loser who lost to said winner—most popular choices included Jack White, Angel Olsen, Tune-Yards]?

Sincerely,
We Know More Than You Do

UCLA lucked out last week when a referee called a controversial goaltend against an SMU player on a 3-point shot. That proved to be the game winner and I saw no fewer than nine analysts comment on that call, with slow-motion replay seemingly repeating on an endless loop. UCLA wasn't a popular choice to even get into the tournament. The goaltending call, while annoying and disappointing to anyone who wants to see a game end on a legitimate buzzer-beater, was correct. And now UCLA is in the Sweet 16. Remember, young'uns: just because it isn't popular doesn't mean it's wrong. [Ed. note: Ah, the joys of the double-negative combined with the indefinite antecedent! So you're saying that because UCLA is popular, that does mean they are right? No? Are you saying that if we're not against you, don't cross this line, but if yes, do? Also: who are the "young-uns"? You know what? Forget it. Excuse me while I jump out this window.]

OK, back to the trivia question: you may have figured out that one answer is Madonna, which rhymes with Shamonna, which is close to "Come on" or "Shamone." Who used what sounded like "Shamone" in his popular 1987 hit "Bad"? Hold that thought.

Heather Kropfdate: We have been following the tournament progress of my friend Heather Kropf, a favorite among fans and referees alike. Heather is 3-1 heading into her next round match-up with Kate Tempest.

Me: It's a British rap album. She's an accomplished playwright and poet and this album follows the trials of characters Becky and Harry.
Heather: Oh good lord. Sounds way interesting. I'll get my game face on.

Three days later:

Heather: There isn't much my team can do against the brilliance of songs entitled "The Beigeness" and lines like "nothing don't heal 'til it hurts". Tempest is conceptual and catchy on repeated listens, winsome in its stylish use of sounds and thought provoking in its honest look at the struggle to survive and thrive in life and love. I'd say my game looks at the exact same things but with a softer lens. I don't think I'm outclassed but her sense of beauty is fierce while mine is tender. We all know who wins that contest.

Here is a look at Tempest in some first-half highlights:



Heather: And that accent! I had one of them for a second, when I was 2. If I had included audio of me reading nursery rhymes, then that would have counted for some serious defense, maybe a couple of clever assists, you know? I will say this, there are some self-destructive characteristics in the characters of her team. They party a little too hard. If they're hung-over on game day I got a shot!
Me: Sadly, Tempest showed up sober.

Heather has been eliminated And now, after a week of Heather getting to scout her opponents, she is finding out her place on the list at the same time all of you handful of readers are. To refresh your memory from last year's tournament: once a round ends and multiple artists are eliminated at the same time, I rank the albums in the more conventional sense of year-end lists: choosing which album I like better and ranking them accordingly. [Ed. note: Quick question: I was wondering something: could you consider the following: stacking more colons into that previous sentence?] In this case, Heather was eliminated at the same time as 15 other albums. Heather now has the opportunity to retroactively trash talk albums she lost to.

53. Marching Band: So Much Imagine
52. First Aid Kit: Stay Gold
51. Sylvan Esso: Sylvan Esso
50. Sturgill Simpson: Metamodern Sounds in Country Music
49. Young Fathers: Dead
48. The Growlers: Chinese Fountain
47. I Draw Slow: White Wave Chapel
46. Flying Lotus: You're Dead
45. Army Navy: The Wilderness Inside
44. Shovels & Rope: Swimmin' Time
43. We Were Promised Jetpacks: Unraveling
42. Phantogram: Voices
41. Cheap Girls: Famous Graves
40. Heather Kropf: Chrysalis
39. Asgeir: In the Silence
38. King Tuff: Black Moon Spell
37. Alvvays: Alvvays
36. Doug Paisley: Strong Feelings
35. Benjamin Booker: Benjamin Booker
34. Temples: Sun Structures
33. Parquet Courts: Content Nausea

As is customary, we give a video salute to an outgoing contestant. Doug Paisley is a Canadian singer-songwriter, which is perhaps why few people know him. But Canadians had a good year in the tournament, so we pay homage:



Parquet on Parquet crime: As mentioned in the first installment of Album Bracketology, the brackets set up perfectly for Parquet Courts, last year's tournament darlings, to face itself. Parquet Courts released Sunbathing Animal last spring and then released Content Nausea later in the year as Parkay Quartz. Though there were a few different band members, the difference in sound really wasn't distinguishable so we are calling them Parkay Quartz in the printed brackets only. Parquet Courts did get a bad draw having to face itself. It's unprecedented. What would Purdue do if it had to face itself?

Montreal band Ought, whose derivative speak-singing and steam-of-conscious musings have led to me call them Clap Your Talking Heads and Hold Steady, released an LP and EP last year and faced each other in the loser's bracket. The LP won, eliminating the EP.



Back to trivia: OK, so Madonna and Michael Jackson each had Billboard Top 40 singles in four different decades, two of only three people to accomplish that feat. This is one of many reasons why they are members of the Rock and Roll Hall of Fame. Who is the third artist who can boast charting high in four different decades? Weird Al. With "Word Crimes" charting, Al joined elite company. Do you know who isn't in the Hall of Fame? [Ed. note: Let me guess. Is it Weird Al?] Weird Al. [Ed. note: How did I know? How is it that I ever managed to guess? Oh, the answer is...] Yes, I have written about this at length, but consider this: with the release of Mandatory Fun in 2014, Weird Al scored his first No. 1 Billboard album—over 30 years into his career. He released one video each day for eight days to celebrate the release of his album, and proved that not only is he a marketing genius but he is also at the height of his popularity at the age of 55. He is playing the largest venues of his career on his upcoming world tour, including two sold out shows at the Oregon Zoo in September. What started out as a something cute—Oh, look at the Hall of Fame toying with a parody artist—is now officially an outrage. We are a year away from Al fans getting restless and showing up at the induction ceremony with signs that read "If Al doesn't get into the Hall, then we riot." Of course, they won't riot. The riot will consist of singing parodies of all of the inductees' songs until security is called. So though Al didn't make the top 53 this year, we are giving him the career achievement award.



Upset alert: Looking at the brackets [see the end of the article], we are down to 16 undefeated teams and the No. 3 seed Moon Hooch is advancing through the loser's bracket after losing to Kelis. Moon Hooch rallied to defeat Benjamin Booker and then my beloved Tacocat.



Here's a look at the loser bracket results:

Loser bracket round 4 (losers comprise picks 33-48)

Lee Fields and the Expressions def. King Tuff
Shabazz Palaces def. Flying Lotus
Cataldo def. Asgeir
Elliott Brood def. Army Navy
Against Me def. We Were Promised Jetpacks
Ought def. Doug Paisley
Mr. Twin Sister def. Phantogram
Sharon Jones and the Dap Kings def. Temples
Kate Tempest def. Heather Kropf
Kishi Bashi def. Growlers
Run the Jewels def. Alvvays
Augustines def. Cheap Girls
Chuck Prophet def. Parquet Courts Content Nausea
Royskopp & Robyn def. Shovels and Rope
Tacocat def. I Draw Slow
Moon Hooch def. Benjamin Booker

Loser bracket round 5 (losers comprise picks 25-32)

Lee Fields and the Expressions def. Shabazz Palaces
Cataldo def. Elliott Brood
Against Me def. Ought
Sharon Jones and the Dap Kings def. Mr. Twin Sister
Kishi Bashi def. Kate Tempest
Augustines def. Run the Jewels
Royskopp and Robyn def. Chuck Prophet
Moon Hooch def. Tacocat

That puts us down to the top 24, but first here are numbers 32-25

32. Run the Jewels: Run the Jewels 2
31. Mr. Twin Sister: Mr. Twin Sister
30. Shabazz Palaces: Lese Majesty
29. Ought: More Than Any Other Day
28. Chuck Prophet: Night Surfer
27. Elliott Brood: Work and Love
26. Kate Tempest: Everybody Down
25. Tacocat: NVM

And now we say our goodbyes to one of my favorite songs of the year:



There are many underdog stories that we'll get to next time: how Soul Man Bobby Patterson, the lowest undefeated seed left at No. 52, waited over 40 years to release his latest album; why Elbow is making middle age cool again; and the curious case of why Rubblebucket isn't the biggest band in America. Shamone!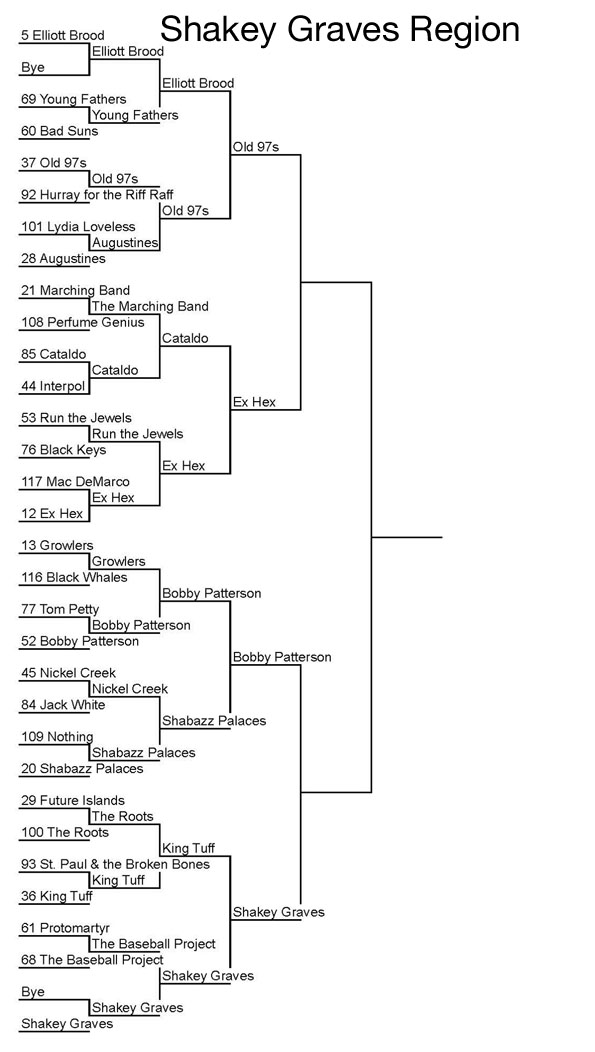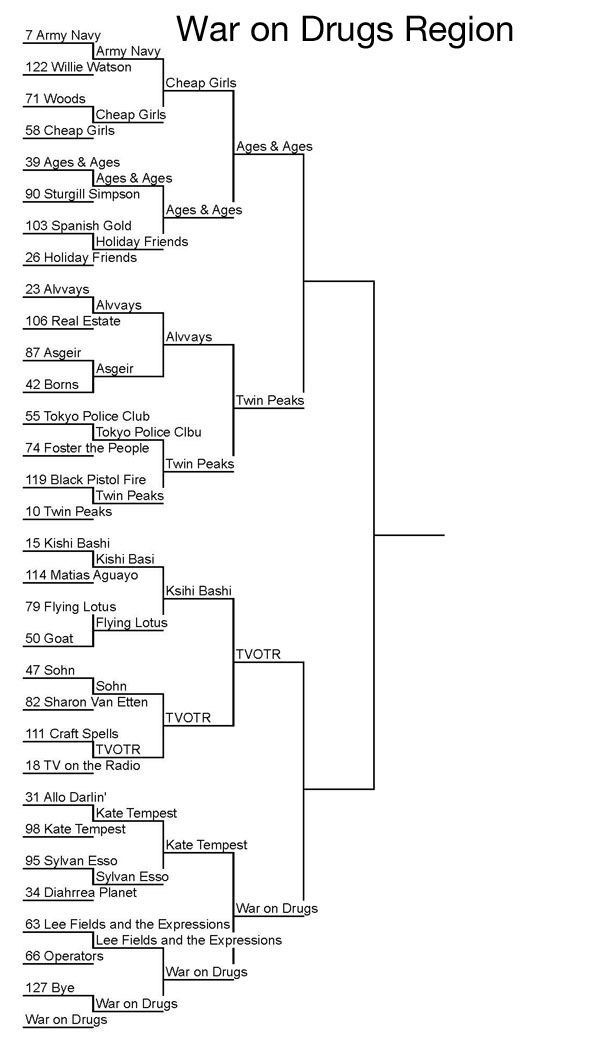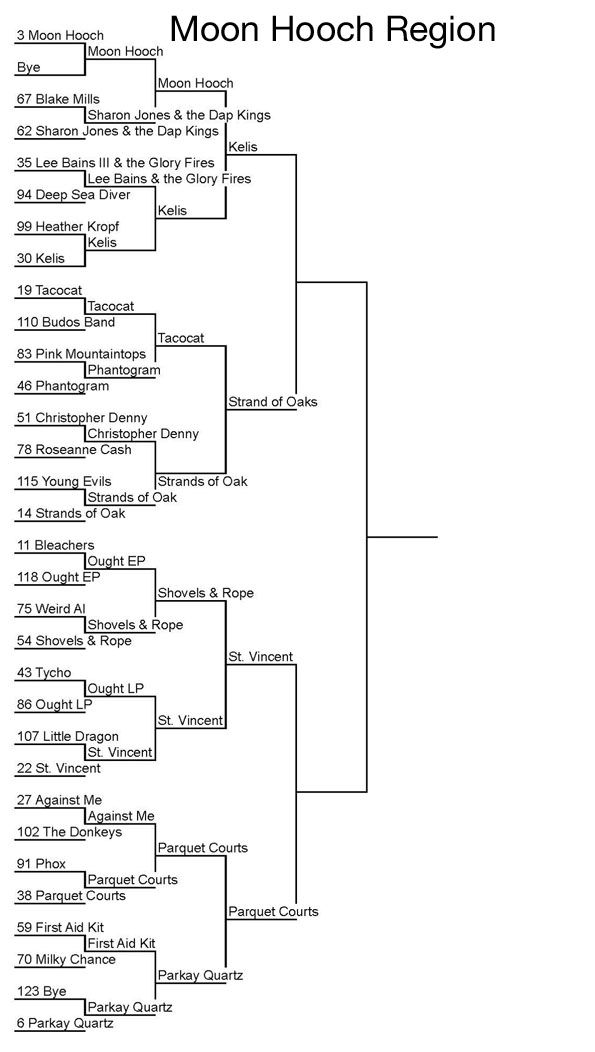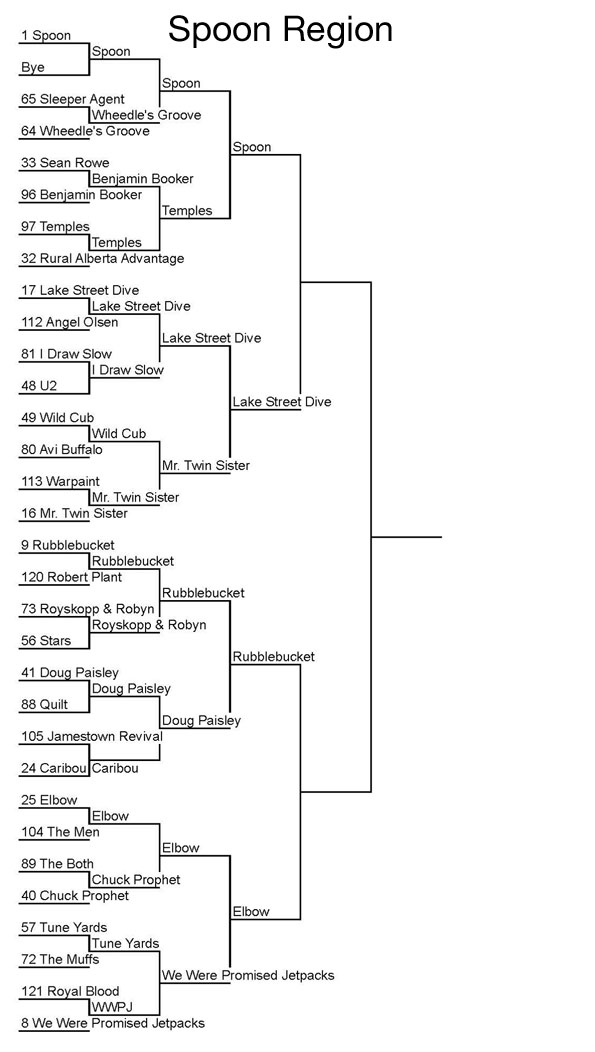 ---

Matthew Kauffman Smith has made a convincing case for Weird Al Yankovic's inclusion in the Rock and Roll Hall of Fame.