Music
And Then There Were Four
With A "Nice Little Story" in the Loser's Bracket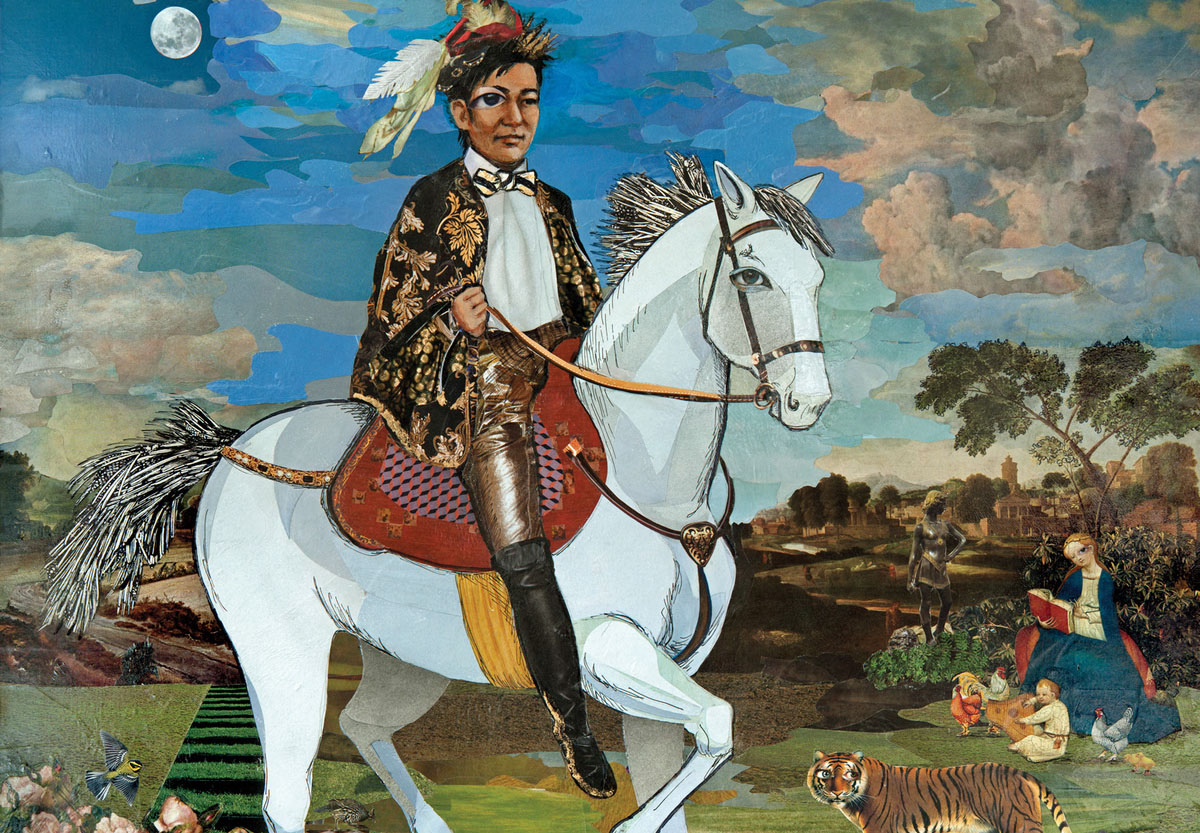 Detail from the cover of Kishi Bashi's latest album, Lyghght.
Part One: The Confusing Tourney Intro
Part Two: The Contradictory Opening Rounds
Part Three: The Double-Negative Middle Rounds
Part Four: The Alarming Tilt Toward Easy Listening
Part Five: "Nice Little Stories" in the Loser's Bracket
Part Six: A Dubious Distinction is Earned

By Matthew Kauffman Smith

ear Bracket Stooge: I've lost interest now that you have eliminated War on Drugs. That was the album of the year. —D.W., Philadelphia, PA.

Dear D.W.: Thanks for having had interest at one point in time. We here at Propeller welcome fair-weather fans. We understand that once your team is eliminated, it's difficult to fully invest in the rest of the tournament. If you're a Texas Southern fan and care about nothing else, you lost interest shortly after your team lost to Arizona. We get it. Spin named Lost in the Dream its album of the year. So did Paste. Even too-cool-for-brackets Pitchfork named it No. 3. But finishing ninth in the biggest double-elimination, album-of-the-year tournament on the Interwebs is pretty impressive. At any rate, stick a pitchfork in the WOD, they're done.

Dear Matthew: Please stop using the phrase "We here at Propeller." —The Propeller editorial staff.

Dear Editors: Thanks for actually reading the articles! We here at Propeller believe that teamwork is the foundation of victory. It takes a village to raise these articles.

Dear Syntaxically Challenged Dummy: You articles make me dizzy. It's like an urban area with bad city planning. You sprawl all over the place. Do you even edit your own stories? It's all drivel. —Jeff in Dallas

Dear Jeff: Last article was twice as long as usual. That actually makes it double drivel, which may be an on-the-court violation. Look, there are no second chances in March Madness; it's one and done. Album Bracketology has the same philosophy—well, except for the fact that it's not one and done; it's actually a double elimination tournament to decide the champion album of the world.

Speaking of the tournament, there's a nice little story going on in the loser's bracket with Kishi Bashi. As we mentioned in last year's album tournament coverage, Kishi Bashi was faced with the runner-up curse. He finished second in 2012, which is a great accomplishment. Surfer Blood and the Head and the Heart, however, finished second in 2010 and 2011 respectively, only to see them miss the Top 53 entirely last year. They were essentially the 2004 Georgia Tech team that reached the final game, only to lose to Connecticut in the championship. The Yellow Jackets haven't made it past the second round since, and have only qualified for the tournament three times in the past decade. [Ed. note: How Georgia Tech's NCAA basketball tournament record in the last decade is like two bands not appearing on your list last year is a bit hard to understand here. Is it maybe because those two things have nothing to do with one another?] Kishi Bashi, however, has broken the curse this year by guaranteeing himself a top-8 finish. Since losing to TV on the Radio in the third round, Kishi Bashi has rallied to win his next five rounds. Well, make that six rounds. [Ed. note: Perhaps this is churlish of me, but what you refer to as "the curse" is just some results you've written out in your made-up tournament, and Kishi Bashi's "breaking" of "the curse" is also you writing out some results. Not asking for a change here—just trying to keep you an inch or two this side of total delusion.]

Loser bracket round 9, presented by Propeller (losers comprise picks 7-8)

Elbow def. Shakey Graves
Kishi Bashi def. Moon Hooch

Like Kishi Bashi, Moon Hooch didn't suffer a psychological setback in its return to Album Bracketology, and finishes at No. 8 for the second consecutive year. The New York band features dueling saxophones and a drummer whose facial expressions make Animal from The Muppets look like a drummer from the Lawrence Welk Show. The band also adheres to the old adage, "If life gives you a pylon, tie it to a sax with caution tape."



And thus we say goodbye to Alejandro Rose-Garcia, a.k.a. Shakey Graves. Long known for his live shows (and for playing The Swede on the Friday Night Lights TV series), Shakey proved he can funnel his on-stage mojo into an energetic album that toggles between folk, blues, classic rock, and duets.

See attached picture of Shakey Graves with some random dude. [Ed. note: Is this sentence directed at us? Because there was no photo of "Shakey Graves with some random dude" attached to your article, and the staff refuses to try and find a photo of "Shakey Graves with some random dude." Readers, maybe just imagine a dude with some random dude?]

Winner bracket Final Four, presented by Propeller

Spoon def. Ex Hex
TV on the Radio def. St. Vincent

With Shakey Graves eliminated, top seed Spoon is the only of the top four seeds to actually advance to the final four, setting up a winners' bracket championship with TV On The Radio. Keep in mind that the beauty of this real-life [Ed note: By which the author means "not real"] double elimination music tournament is that everyone who made the winner bracket final four remains in the competition, albeit in the loser's bracket.

Breaking news: Well, so much for the beauty of double elimination, as we say goodbye to two more. It seems like just last paragraph there were six teams alive, heading toward a common goal of hoisting the Album Bracketology Cup. [Ed. note: Please be advised that if there is to be an Album Bracketology Cup, you will need to provide this yourself. Propeller does not allocate budget for trophies, cups, ribbons, or incomprehensible music tournaments.]

Loser bracket round 10 (losers comprise picks 5-6)

St. Vincent def. Elbow
Kishi Bashi def. Ex Hex

Pete Townsend may have had the windmill guitar action and Gene Simmons could make a crowd go wild by sticking out his tongue, but for my money, the greatest on-stage maneuver in rock and roll today is Guy Garvey's microphone squeeze. The Elbow frontman both cuddles with he mike and also draw in the crowd in one simple move.



Elbow barely lost on a buzzer-beater listen off to Ex Hex in a contest that could have gone either way. But in the end, I preferred rocking out this year.



Before we reveal the final four, here is a joke sent to us from Penny Boilermaker in Halifax, Nova Scotia:

Q: What do you call call the condensation that is on the grass in the morning in West Lafayette, Indiana?
A: Purdue dew.

Good stuff, Penny! [Ed. note: No. Not.] And now we're set for the final four as Spoon takes on TV On The Radio in the winner's bracket and St. Vincent tries to knock out Kishi Bashi. Since we're down to the Final Four in the actual basketball tournament, I've been asked to offer up parallel comparisons of our finalists in both tournaments: [Ed. note: Who? Who has asked you to do this? No one has asked you to do this.]

Kentucky = Spoon: Kentucky and Spoon have both rolled through the competition this year and they don't really have weaknesses. Yes, Willie Cauley-Stein struggles on offense, and maybe Britt Daniel's lyrics are a little abstruse, but at this point, we're just nitpicking near-perfection.

Wisconsin = Kishi Bashi: When you see Kishi Bashi come out on stage with just a violin and a looping pedal, expectations aren't super high. But when the full band comes out to accompany him, the audience is on sensory overload. When All-American Frank Kaminsky comes out on the floor,he looks lumbering and nonathletic. But he can hit the three, drive in for a reverse lay-in or pass it out to any number of guys who can and will hit a 3-pointer.

Duke = St. Vincent: These are two polarizing entities. Duke is oft hated for being slick and a bit elitist. St. Vincent is oft hated for being overly experimental to the point of pretension. However, both are super talented.

Michigan State = TV On The Radio: Not many people ever predict Michigan State to win the whole thing, yet we're never surprised to see the Spartans make it to the final weekend. TV On The Radio isn't an obvious choice but they usually end up on year-end lists anyway.

We here at Propeller [Ed. note: Stop it.] hope you tune in to the finale on Monday as we reveal a champion and look ahead to next year.

53. Marching Band: So Much Imagine
52. First Aid Kit: Stay Gold
51. Sylvan Esso: Sylvan Esso
50. Sturgill Simpson: Metamodern Sounds in Country Music
49. Young Fathers: Dead
48. The Growlers: Chinese Fountain
47. I Draw Slow: White Wave Chapel
46. Flying Lotus: You're Dead
45. Army Navy: The Wilderness Inside
44. Shovels & Rope: Swimmin' Time
43. We Were Promised Jetpacks: Unraveling
42. Phantogram: Voices
41. Cheap Girls: Famous Graves
40. Heather Kropf: Chrysalis
39. Asgeir: In the Silence
38. King Tuff: Black Moon Spell
37. Alvvays: Alvvays
36. Doug Paisley: Strong Feelings
35. Benjamin Booker: Benjamin Booker
34. Temples: Sun Structures
33. Parquet Courts: Content Nausea
32. Run the Jewels: Run the Jewels 2
31. Mr. Twin Sister: Mr. Twin Sister
30. Shabazz Palaces: Lese Majesty
29. Ought: More Than Any Other Day
28. Chuck Prophet: Night Surfer
27. Elliott Brood: Work and Love
26. Kate Tempest: Everybody Down
25. Tacocat: NVM
24. Bobby Patterson: I Got More Soul!
23. AgesandAges: Divisionary
22. Augustines: Augustines
21. Lake Street Dive: Bad Self Portraits
20. Sharon Jones & the Dap Kings: Give the People What They Want
19. Royskopp & Robyn: Do it Again
18. Lee Fields & the Expressions: Emma Jean
17. Parquet Courts: Sunbathing Animal
16. Strand of Oaks: Heal
15. Old 97s: Most Messed Up
14. Against Me: Transgender Dysphoria Blues
13. Rubblebucket: Survival Sounds
12. Twin Peaks: Wild Onion
11. Kelis: Food
10. Cataldo: Gilded Oldies
9. War on Drugs: Lost in the Dream
8. Moon Hooch: This is Cave Music
7. Shakey Graves: And the War Came
6. Elbow: The Take Off and Everything After
5. Ex Hex: Rips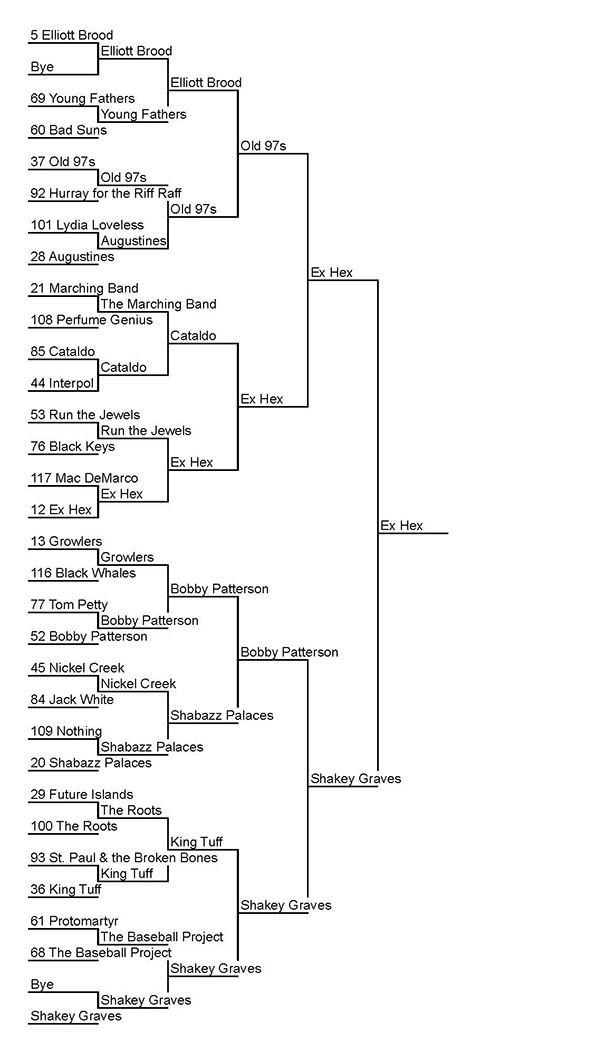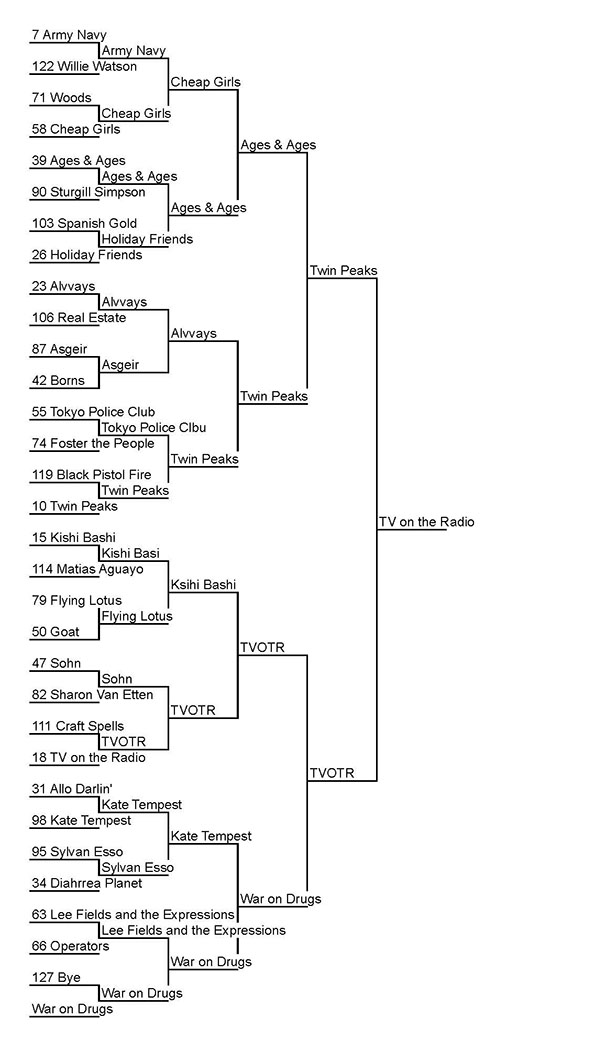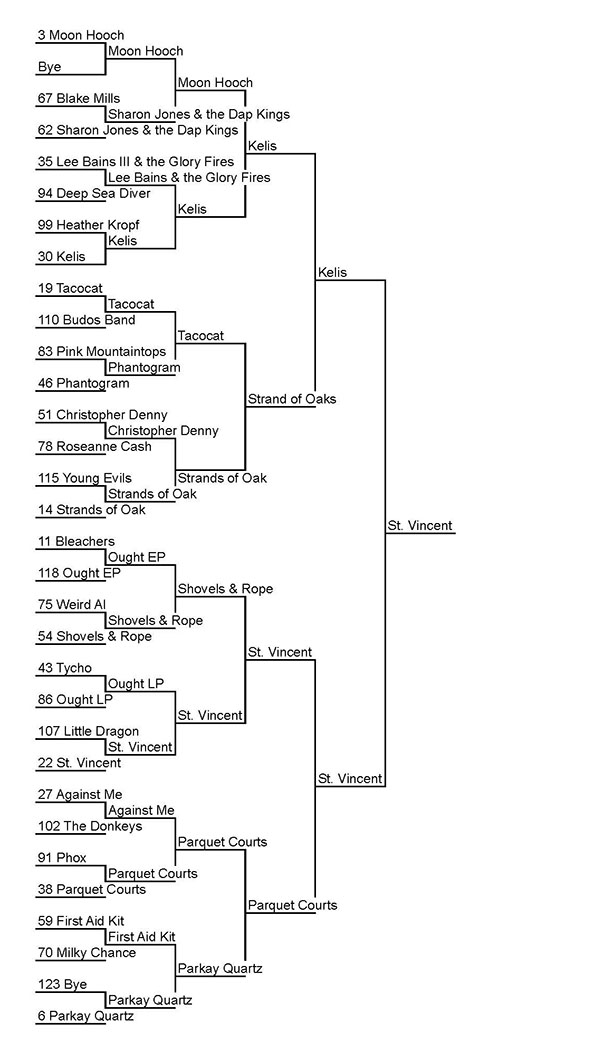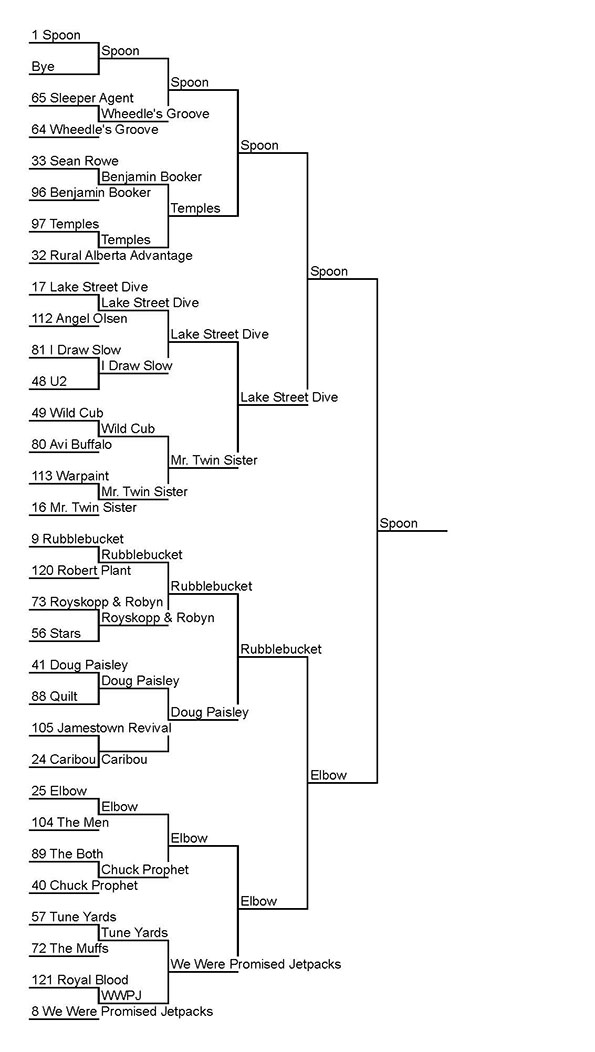 ---

Matthew Kauffman Smith has made a convincing case for Weird Al Yankovic's inclusion in the Rock and Roll Hall of Fame.