Music
Album Tourney Needs Rosetta Stone
Also Reveals Least Diverse Video Ever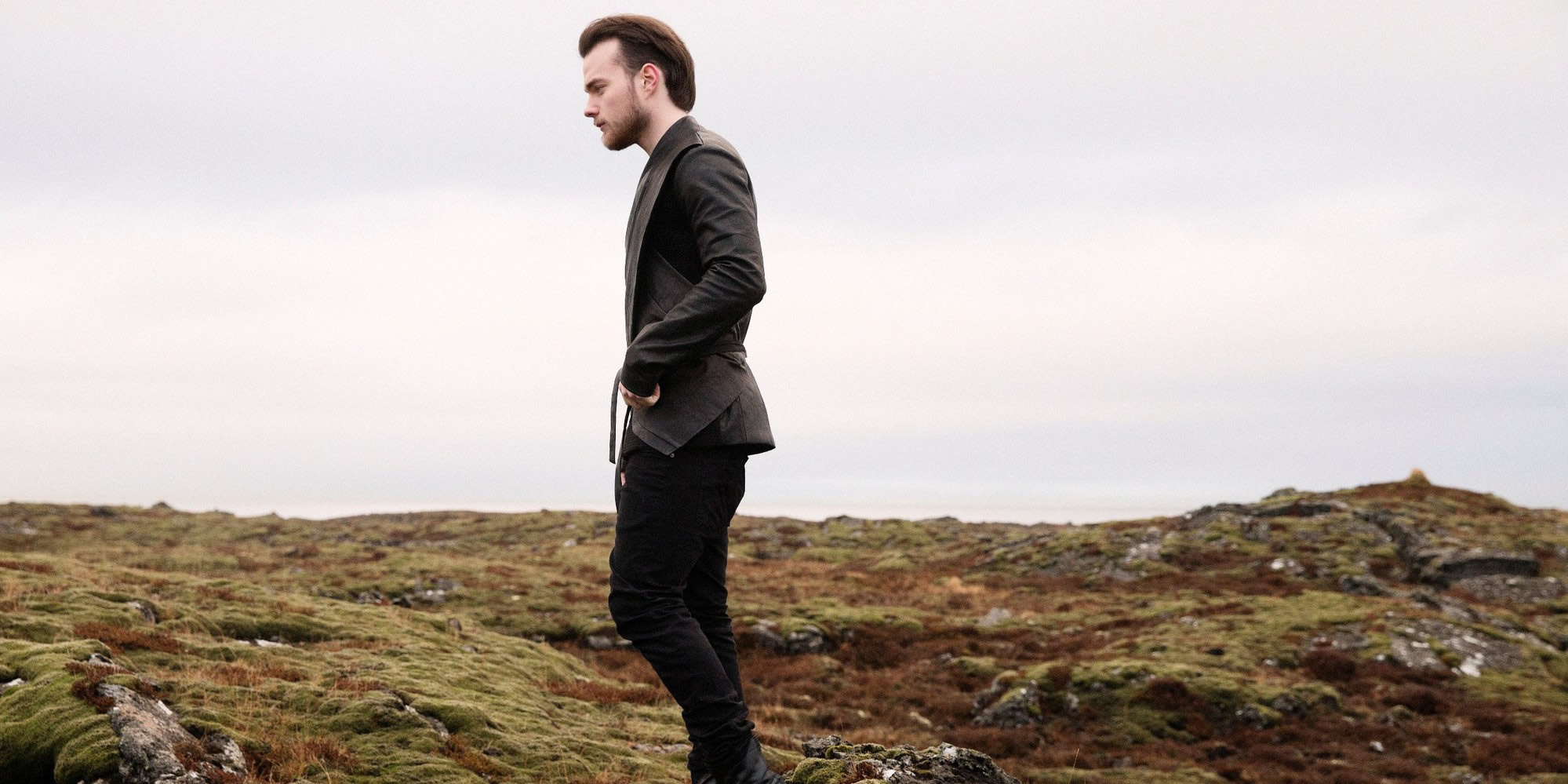 Asgeir Trausti. He released both an Icelandic and an English version of his latest album.
Part One: The Confusing Tourney Intro
Part Two: The Contradictory Opening Rounds
Part Three: The Double-Negative Middle Rounds
Part Four: The Alarming Tilt Toward Easy Listening
Part Five: "Nice Little Stories" in the Loser's Bracket
Part Six: A Dubious Distinction is Earned

By Matthew Kauffman Smith

y friend Stacy once asked out a student that very few people on campus had the nerve to even approach. At first glance, Stacy doesn't strike you as a guy (for the record, Stacy is a male) who would take risks that no one else would take. Stacy is one of my favorite people of all time for many reasons, including: his endless vocabulary; his self-deprecating humor, including the time he called his body "190 pounds of man flesh"; his laugh: in college, we had a radio show together, and during every episode we played a sound effect of "an excited duck" and told people that meant they only had 27 minutes to get in their last-minute, excited duck requests, and then Stacy would just giggle into the microphone while the ducked quacked on; and for this: when his bold moves failed, Stacy at least recognized that these moves, at the very least, made for a good story.

Stacy probably tells the tale differently, but I remember that he, without any sort of thought of repercussions, just asked this young woman out one day after we were finished with our weekly duties putting out the student newspaper. It was probably 5 a.m., and Stacy started rambling on, soon realizing he was going nowhere fast. He stopped talking, looked at the woman, and said "Ching ching." I don't think there was any logic behind the comment. "Ching ching" just came out. What seemed like perhaps the worst dating proposal of all time ended up enduring, in history, over two decades later.

Stacy is basically Notre Dame, and to draw a comparison to Album Bracketology, Cataldo. Notre Dame didn't care that they were playing Kentucky; they knew who they were, played their game, and almost pulled off a historic upset. Stacy didn't care about his odds of getting a successful answer (though he did—for one date at least. Ching ching!); he knew his game and stuck with it. Cataldo is led by Eric Anderson, a singer-songwriter with pop sensibilities, Stacy's vocabulary (and Stacy's college hairstyle), and the ability to mix in French phrases without making them sound out of place. Basically, it's "Ching ching" the musical, and it works.

I just started listening to Cataldo in February of this year, so a short listening period left the band at the No. 85 seed. They upset Interpol, knocked off the lovable Swedish pop band Marching Band, then lost to No. 12 seed, Ex Hex. Cataldo then beat Iceland's own Asgeir (who finished one spot above fan favorite Heather Kropf), and Canada's Elliott Brood, completing an impressive streak of international dominance. Last year, Moon Hooch and Parquet Courts appeared out of nowhere to land in the top 10 of the 2013 albums of the year. Cataldo, like Notre Dame, got on a roll. The band attracted fans (or at least one fan) later in the Album Bracketology calendar year, which runs from January of one year until mid-March of the following year. That sets up a match-up with Parquet Courts. We here at Propeller salute the underdogs, like Notre Dame, Stacy, and Cataldo—well, at least as long as their winning streaks last. [Ed. note: Bracketology is the work of an individual. There is no "We here at Propeller." Cataldo appears to a be a band that felt Death Cab for Cutie's mistake was they were too hardcore to be played in a Walgreens.]



Heather Kropfdate: We'll get back to underdog stories in a few paragraphs, but when we last left Heather Kropf, she had been eliminated but didn't know where she ranked until the last installment of Album Bracketology, presented by Propeller, published its results internationally. [Ed. note: So Propeller "presents" material that appears on Propeller. Okay. Why stop there? Why not name it "Matthew Kauffman Smith's Album Bracketology, written by Matthew Kauffman Smith"?] Heather finished a more-than-respectable No. 40, one spot below the aforementioned Asgeir. Side note for the sake of context: I mentioned to Heather that she should consider adding more horns and maybe she'd rank higher. Horns, however, are an expensive addition, especially for someone without a video budget.

Me: I guess the tiebreaker is that he released the same album twice—once in Icelandic and once in English. If you can release Chrysalis in Icelandic, then I can give you the retroactive victory.
Heather: First of all, if you don't know how to pronounce "Asgeir," it's pronounced "Art Garfunkel." And we play a pretty similar game—mid tempos, attention to space, aiming for something sublime, when possible. I'm pretty sure I got beat on this one. His is a beautiful album. The only upper hand I might have is that his project might sound dated someday, whereas mine was aiming for something timeless. So I can't beat a man who sings like Art Garfunkel. That's some pretty arc on all the shots, and all net. I've got some game with lyrics over him in the poetry department. It's slight but it's there, and might count for a lead that flip flops late in the second half.
Me: I'm going to venture that he sounds more poetic in Icelandic.
Heather: Yeah, you're probably right. I'd sound more poetic in Icelandic too. Where's my Rosetta Stone?
Me: I can check to see if the publisher of Propeller will sign off on Rosetta Stone as a business expense. [Ed. note: He said no. He asked if it was for the "guy who writes the nonsense music thing." When told it was, he said, "Tell him he needs to buy Rosetta Stone for English first."]
Heather: So essentially, if I put out that album Sports & Love that you told me I should make years ago, add trumpets, sing in Icelandic, throw in samples of myself at two years old reciting nursery rhymes with my Jamaican/British accent, and make videos with a bigger (read: any) budget, I've got a shot at this thing!?!
Me: ABSOLUTELY.
Heather: Hmmmm. I'm strangely inspired.

It's time to say goodbye to eight more albums on the list, but first, a look back at some trends from the tournament:

Soul survivors: Bobby Patterson, Lee Fields and the Expressions, and Sharon Jones & the Dap Kings finished in the top 24 this year. Patterson is 71 and was known mostly as a songwriter and producer in the 1960s but hadn't released his own studio album since 1998's I'd Rather Eat Soup. This year's I Got More Soul featured songs he had written more than four or five decades ago. Lee Fields, in his 60s, keeps getting better. Sharon Jones overcame a battle with pancreatic cancer to release Give the People What They Want. She may be in her upper 50s, but she can outlast anyone on the dance floor.



Last year predictions: In the final installment of last year's Album Bracketology, I mentioned Lake Street Dive as one of the bands continuing the trend of smart, female-driven pop music. Also, we at Propeller predicted that Ages and Ages would be the top charting Portland band, and that turned out to be true. [Ed. note: As before, there is no "we at Propeller." There is a writer making his own predictions come true.] They were actually the only Portland band on the list. And they finished 17 places ahead of Heather because they use horns.



[Ed. note: HOLD IT. The only Portland band on this list is also a band that made the least diverse, most uncomfortably white music video ever filmed? Is this music video real? You need to let us know if you're linking to fake music videos designed to provoke readers.]

Home Court Advantage: What does Purdue do to earn my occasional love? Nothing, really. The Boilermakers, along with Indiana, Butler, Notre Dame, and Valparaiso have my undying devotion due in large part to the fact that they're from my home state of Indiana. Heather happens to be from Indiana, as does Timothy Showalter, a.k.a. Strand of Oaks, who grew up in my hometown of Goshen. His latest album even features a song called "Goshen '97." Hometown bias aside, Heal is a great album, by far Showalter's best.

Upset alert: Cataldo has defeated Parquet Courts! What? Here is how the latest loser bracket round played out:

Loser bracket round 6 (losers comprise picks 17-24)

Strand of Oaks def. Lee Fields and the Expressions
Cataldo def. Parquet Courts
Against Me def. Ages and Ages
War on Drugs def. Sharon Jones and the Dap Kings
Kishi Bashi def. Lake Street Dive
Rubblebucket def. Augustines
Old 97s def. Royskopp and Robyn
Moon Hooch def. Bobby Patterson

Middle-aged dudes have their place: British band Elbow hardly looks like a rock and roll band, but they, along with Spoon and the Old 97s, are proving that middle-aged crises can yield some great music. I actually broke up with the Old 97s a decade ago but kept buying their albums just in case. Well, that faith paid off. I didn't like the last four albums at all but on Most Messed Up they return to their sound from 20 years ago, though with the perspective of an aging band. And it works. Finally.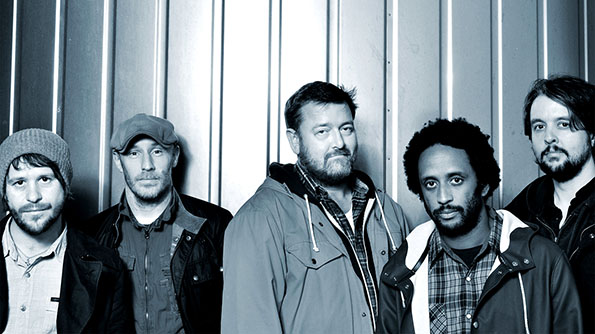 The author claims Elbow doesn't look like a rock and roll band, as if others in this article do.

Against the world: Against Me! made headlines nearly three years ago when lead singer Thomas Gabel came out as transgendered and changed her name to Laura Jane Grace. Thoughts and experiences from that transition became the basis of powerful punk album Transgender Dysphoria Blues.

Upset alert: Cataldo defeats Strand of Oaks! Let's say goodbye to four more:

Loser bracket round 7 (losers comprise picks 13-16)

Cataldo def. Strand of Oaks
War on Drugs def. Against Me
Kishi Bashi def. Rubblebucket
Moon Hooch def. Old 97s

Thus, we say goodbye to Rubblebucket. I understand that music is personal and sometimes we can't choose who we like (you know, the "listenability" and "likability" things I explain now and again). But I do not get why Rubblebucket isn't more popular. They're easy on the ears, have a dynamic lead singer, and, oh yeah, they have horns. And the lead singer even plays a horn! Maybe people are scared of them because they invite a faceless flower mascot on stage to dance. At any rate, Rubblebucket deserves your love.



Upset alert: Our first Top-4 seed has been eliminated as No. 4 Shakey Graves defeated No. 2 War on Drugs in the loser's bracket. Speaking of which, only one top seed, Spoon, won its region. Other region winners include: TV On the Radio winning the War On Drugs region; St. Vincent winning the Moon Hooch region; and Ex Hex winning the Shakey Graves region. [Ed. note: It's really helpful that your regions are named after bands that didn't win them. Also, you forgot to append "presented by Propeller" to the name of each region, for further ease of readability.] So we are down to a final four in the winner's bracket and the Elite 8 total:

Loser bracket round 8 (losers comprise picks 9-12)

Elbow def. Cataldo
Shakey Graves def. War on Drugs
Kishi Bashi def. Kelis
Moon Hooch def. Twin Peaks

And so we say goodbye to Stacy. I mean Notre Dame. Actually, I mean Cataldo. It was an impressive run out of nowhere. Cataldo looked Elbow straight in eye and said "Ching ching," but that move only works once.

53. Marching Band: So Much Imagine
52. First Aid Kit: Stay Gold
51. Sylvan Esso: Sylvan Esso
50. Sturgill Simpson: Metamodern Sounds in Country Music
49. Young Fathers: Dead
48. The Growlers: Chinese Fountain
47. I Draw Slow: White Wave Chapel
46. Flying Lotus: You're Dead
45. Army Navy: The Wilderness Inside
44. Shovels & Rope: Swimmin' Time
43. We Were Promised Jetpacks: Unraveling
42. Phantogram: Voices
41. Cheap Girls: Famous Graves
40. Heather Kropf: Chrysalis
39. Asgeir: In the Silence
38. King Tuff: Black Moon Spell
37. Alvvays: Alvvays
36. Doug Paisley: Strong Feelings
35. Benjamin Booker: Benjamin Booker
34. Temples: Sun Structures
33. Parquet Courts: Content Nausea
32. Run the Jewels: Run the Jewels 2
31. Mr. Twin Sister: Mr. Twin Sister
30. Shabazz Palaces: Lese Majesty
29. Ought: More Than Any Other Day
28. Chuck Prophet: Night Surfer
27. Elliott Brood: Work and Love
26. Kate Tempest: Everybody Down
25. Tacocat: NVM
24. Bobby Patterson: I Got More Soul!
23. AgesandAges: Divisionary
22. Augustines: Augustines
21. Lake Street Dive: Bad Self Portraits
20. Sharon Jones & the Dap Kings: Give the People What They Want
19. Royskopp & Robyn: Do it Again
18. Lee Fields & the Expressions: Emma Jean
17. Parquet Courts: Sunbathing Animal
16. Strand of Oaks: Heal
15. Old 97s: Most Messed Up
14. Against Me: Transgender Dysphoria Blues
13. Rubblebucket: Survival Sounds
12. Twin Peaks: Wild Onion
11. Kelis: Food
10. Cataldo: Gilded Oldies
9. War on Drugs: Lost in the Dream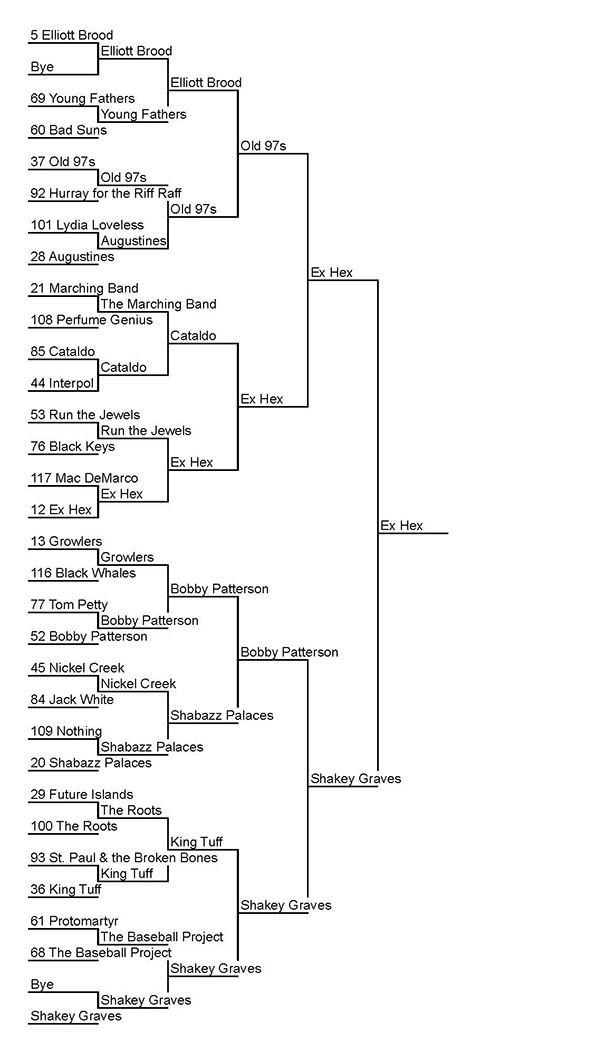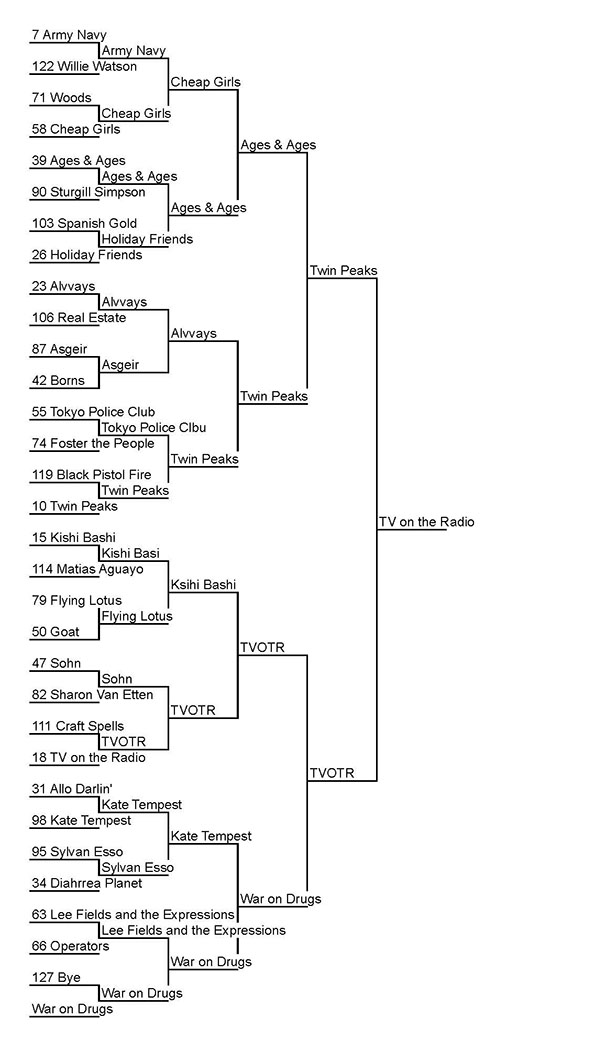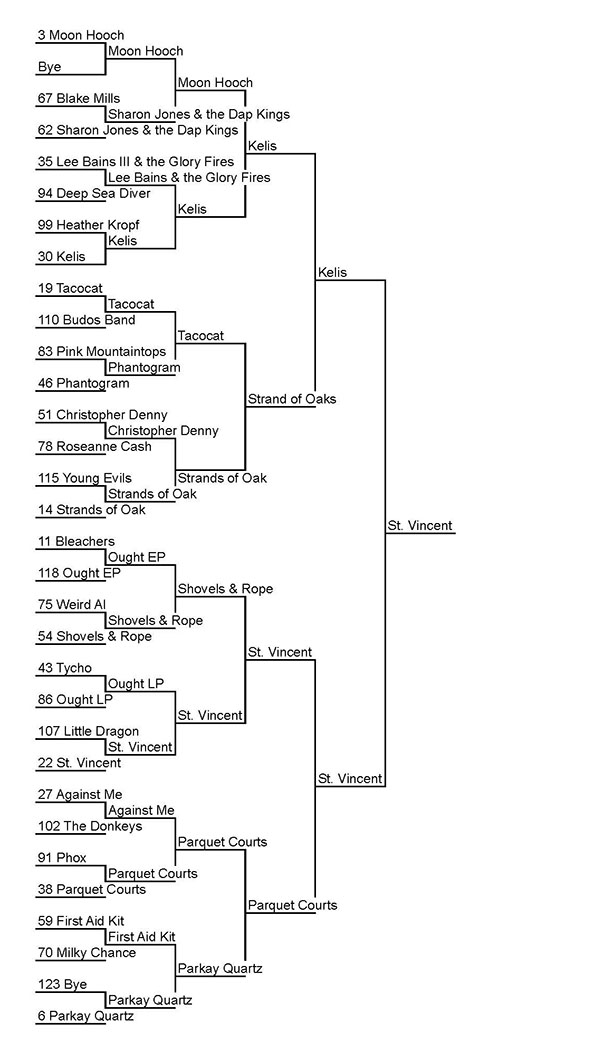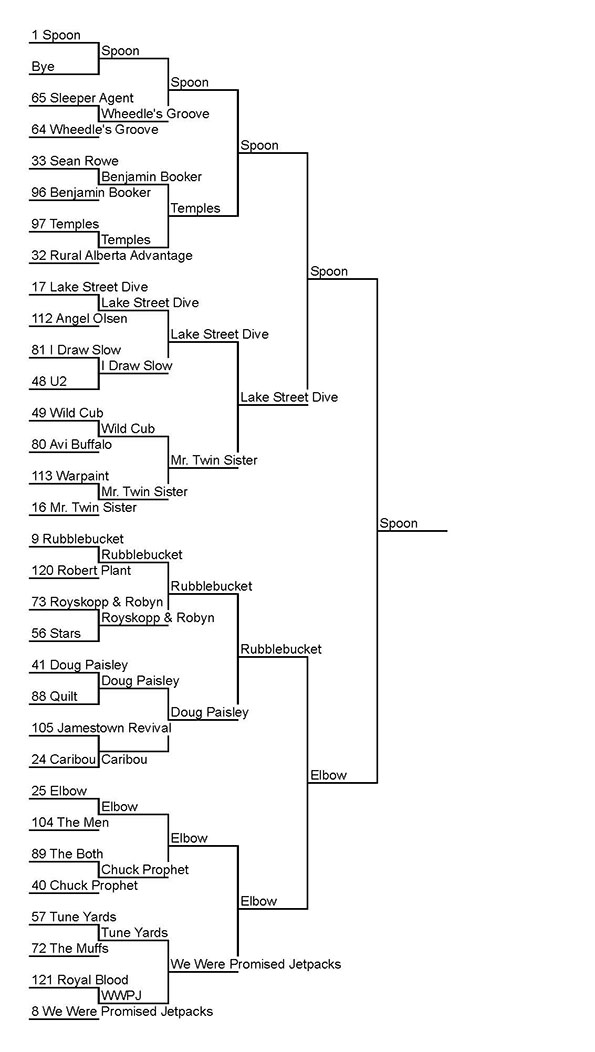 ---

Matthew Kauffman Smith has made a convincing case for Weird Al Yankovic's inclusion in the Rock and Roll Hall of Fame.